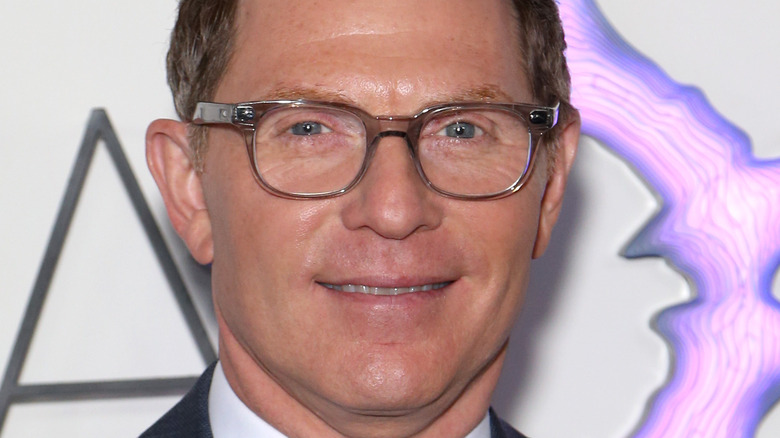 Bobby Flay is one of the most recognizable and noteworthy celebrity chefs in the world. Culinary enthusiasm has flowed through Flay's veins since he was young, having once requested an Easy-Bake Oven for Christmas. Flay bucked tradition and dropped out of high school at 17 and got a job at the popular New York restaurant Joe Allen. From there, his culinary star began to rise with his boss pushing him to attend New York's French Culinary Institute and him opening up his own restaurant. And he, as we all know, eventually worked his way onto the small screen, captivating many with his boyish charm and flare for innovation.
Despite his serious skills in the kitchen, Flay's pop culture fame may also be due to his tumultuous personal life and his string of unsuccessful marriages with leading ladies of the culinary world and Hollywood celebrities. Bobby Flay has been marrying and divorcing since the early '90s, as he experienced rising success as a culinary master. Each time, news of his marital bliss and subsequent divorce made headlines. While some splits turned out amicably, others have not. One thing rings true, however: His loyal fanbase enjoys watching the ups and downs of each new relationship that Flay embarks upon.
Let's take a closer look at Bobby Flay's relationships with his ex-wives.
Bobby Flay's first marriage was short-lived and maybe a little competitive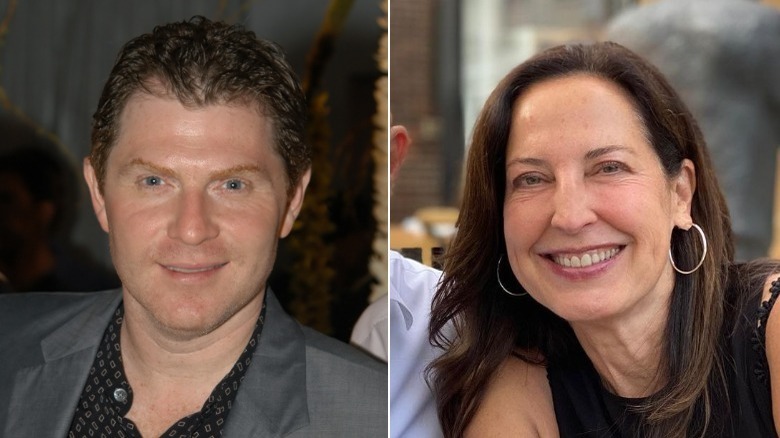 Bobby Flay was just 26 years old when he met his first wife, Debra Ponzek, a well-known New York chef who ran the French restaurant Montrachet. The young chefs met at a charity event in which they were cooking tasty meals for guests. The New York Times reported, "Their courtship was short and sweet. A few weeks after meeting, they decided to get married." Both Flay and Ponzek were culinary celebrities in their own right and caused quite a stir in New York's food scene when they decided to wed. The two remained married for two years.
Notably, in 1992, both chefs were nominated for the James Beard Foundation's "Rising Star Chef" award, as noted by Delish. Flay, who'd previously been nominated in 1991, asked to drop out, not wanting to run against his wife. His request was denied, and Ponzek ended up winning the award that year. Flay was nominated for the "Rising Star Chef" award for a third time in 1993 and won it that time. As the previous award winner, Ponzek was responsible for presenting her ex-husband with the award. Sounds awkward.
Bobby Flay proposed to his second wife, Kate Connelly, after only few months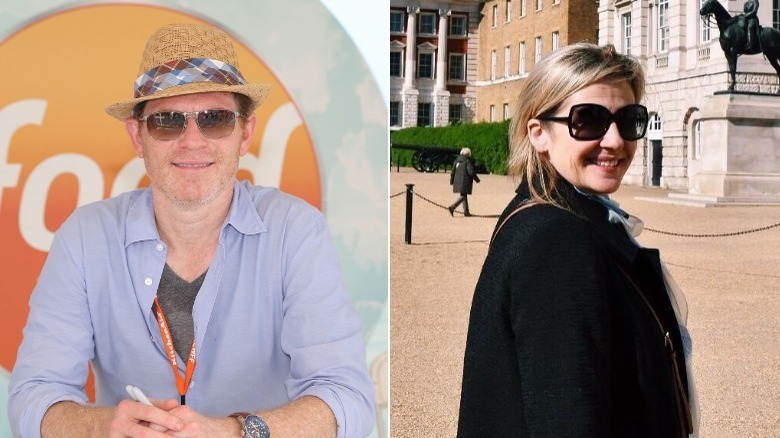 A few years after divorcing Debra Ponzek, Bobby Flay found love again in a similar place — on the Food Network. In 1995, he met Kate Connelly when he was a guest on her show "Robin Leach Talking Food." The New York Times described this unlikely coupling, writing, "He was divorced and living in an apartment with white furniture, white carpets and modern art on the walls; she was an unmarried mother whose apartment was decorated with the kinds of rugs and chairs that camouflage peanut-butter-and-jelly stains."
After their first date at the Monkey Bar, Connelly was surprised by how much she enjoyed the now-famous chef's company. Flay exhibited a bit more restraint than in his last courtship and dated Connelly for a few months before popping the big question. She said yes and the pair were married during a private ceremony which featured dishes from Flay's restaurants and a host of celebrity chefs the pair had met along separate journeys to culinary stardom.
Bobby Flay became a stepfather and father during his second marriage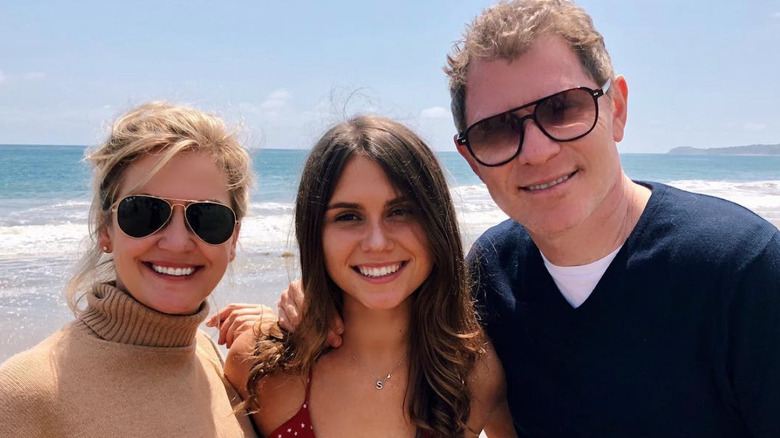 In marrying a second time, Bobby Flay became a stepfather to Kate Connelly's 9-year-old son, Jonathan. He officially adopted the young boy, and the three became a family. When asked about his thoughts on fatherhood and becoming a husband for a second time, Flay told The New York Times, "It's a complicated situation and the odds are against us, but that's what's great about it. If there's no challenge, then why do it?" Flay was certainly up to tackle a variety of challenges throughout the '90s, as he opened restaurants in New York like the famous Bolo Bar & Restaurant in the city's Flatiron District. 
Flay stepped into the role of stepfather, and he and Connelly added a fourth member to their family — a baby girl in 1996, Sophie Flay (via Delish). So, while this next marriage wouldn't last, it did result in Flay's one and only child.
Bobby Flay and Kate Connelly appear to co-parent their daughter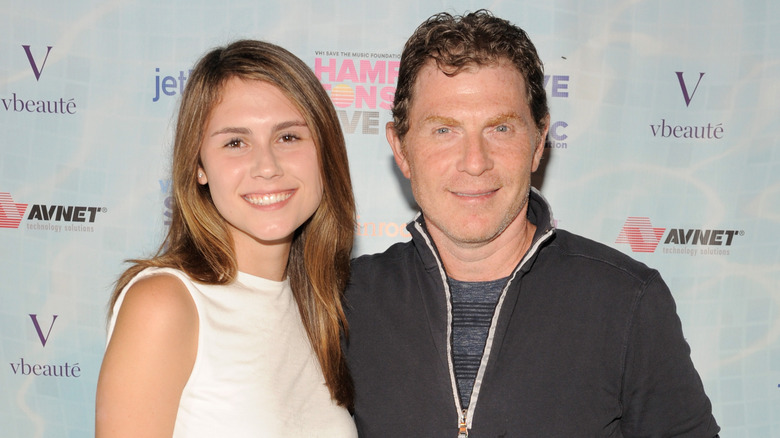 Much remains hidden about the pair's divorce in 1998. Rumors didn't swirl, and speculation remained scant. Each went on to continue careers in the culinary industry, but while Kate Connelly withdrew from the public eye, her now ex-husband, Bobby Flay, did not. Connelly never stepped back into the spotlight; however, her daughter, Sophie Flay has. According to Eater, Sophie and her dad have appeared side by side in several cooking shows, including the "Rachael Ray Show" and "Beat Bobby Flay."
In 2018, Sophie posted an Instagram photo after graduating from the University of Southern California, showing her, her mother, and her father together at the beach. It would appear that Flay and Connelly were able to separate somewhat amicably in order to co-parent, although this information has never been confirmed. It is not known if Flay maintains a relationship with his stepson, Jonathan.
Bobby Flay met his third wife, Law & Order star Stephanie March, on a blind date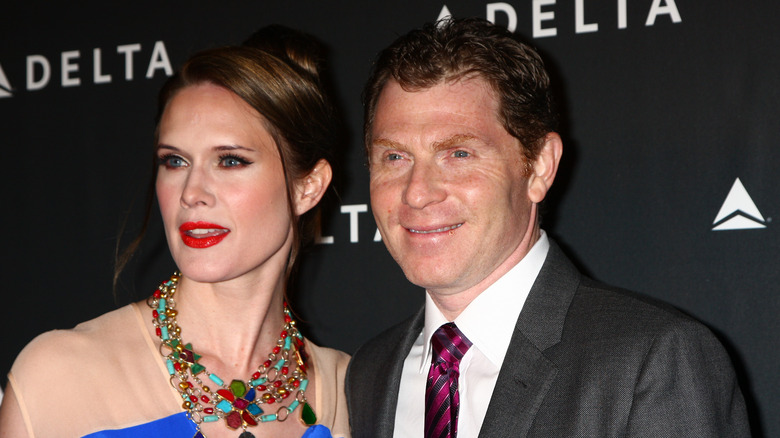 Bobby Flay's third marriage was his longest and most dramatic, spanning a decade and ending in court battles, alimony disputes, and tabloid buzz. Unlike his previous two wives, Bobby Flay's third wife was not entrenched in the food scene but rather gained her fame and fortune as a star cast member on "Law & Order: Special Victims Unit." Stephanie March played assistant district attorney Alexandra Cabot and was a regular cast member from 2000 to 2003. Following her leave from the NBC hit show, she starred in other TV shows, including "Conviction, "30 Rock," and "Grey's Anatomy."
March and Flay met on a blind date, according to CNN, and he later proposed while ice skating at Rockefeller Square in 2003. As reported by The New York Times, they married in 2005. Over the next ten years, the couple faced many elongated periods of marital bliss, appearing at premiere events together and finding success within their own industries. However, they also went through public bouts of strife.
Flay allegedly cheated on March with a few noteworthy individuals, including an employee at his restaurant Bar American, according to Page Six. This created quite a buzz in the culinary community and prompted March to leave him.
Stephanie March was reportedly willing to forgive Bobby Flay and work on their marriage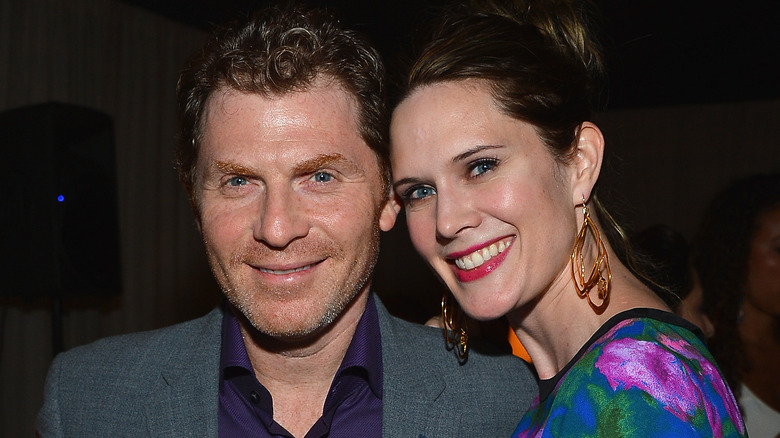 After Bobby Flay's alleged affair with an employee, March wanted a divorce. However, Flay made a grand apologetic gesture when he surprised March in Europe, begging her to stay and work things out, as reported by Page Six. She agreed, and the pair gave it another shot by going to therapy.
Actress Maia Madison told Page Six that Flay and March could have reconciled and stayed together. However, Flay took a trip to Miami for the South Beach Wine & Food Festival and brought a team of assistants, including the employee with whom he had reportedly had the affair, along for the trip. For March, this was reportedly the last straw, and she called it quits for good. 
Madison elaborated on a conversation she had with March previously regarding the marriage, recalling that March had said, "I wasn't asking for much. I would have stayed if he had given me one date night a week and tulips on our anniversary."
Bobby Flay was accused of having an affair with January Jones during his third marriage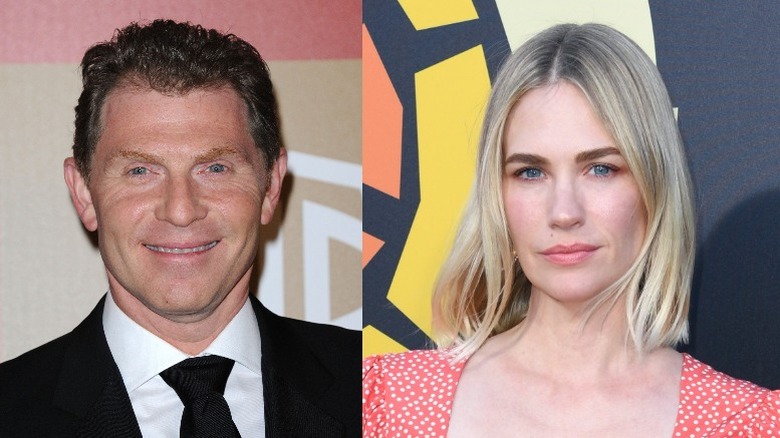 One noteworthy beauty intertwined in Bobby Flay's romance saga is reportedly January Jones. During divorce proceedings, Stephanie March accused Jones and Flay of conducting a long and sordid affair, according to the Daily Beast. March claimed that the pair had sex on many different occasions. When Flay received a star on the Hollywood Walk of Fame, a plane flew over pulling a banner that read "Cheater." Some speculated that March was behind this, but she has denied the claims, as noted by Us Weekly.
Evidence of the Jones-Flay affair remains scant; however, TMZ reported that Jones was in a car accident and called Flay for help. Flay explained that the pair were acquaintances but never gave any indication as to whether they were romantically linked. Still, some speculate that Flay is the father of Jones' baby (via ABC News).
Stephanie March fought the prenup and demanded more of Bobby Flay's money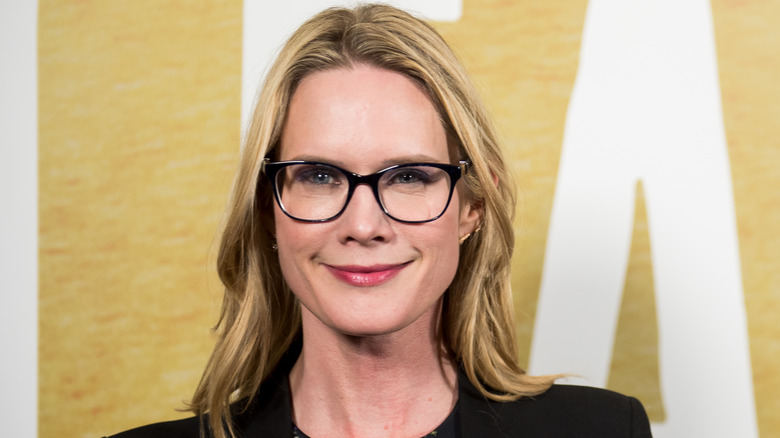 Like many other famous duos, Bobby Flay and Stephanie March found a good deal of fame and fortune prior to meeting. Both had assets to protect and so they designed a prenup in which March would receive $5,000 a month in alimony should the couple split. According to TMZ, as the pair was divorcing, Flay cut off March's credit cards, causing the tension between the two to rise further. 
According to Page Six, March and her lawyers wanted to dispute the prearranged alimony agreement. March alleged that she was a driver in the success of Flay's restaurants and his estimated net worth of $20 million, as the Daily Beast reported. Therefore, March felt she was entitled to additional financial restitution from the celebrity chef. Ultimately, their divorce was finalized and March was not granted additional alimony. The pair went their separate ways, over burned bridges.
Since then, Flay has continued dating, but he has not married a fourth time.
Fans thought either of these women could have been Bobby Flay's fourth wife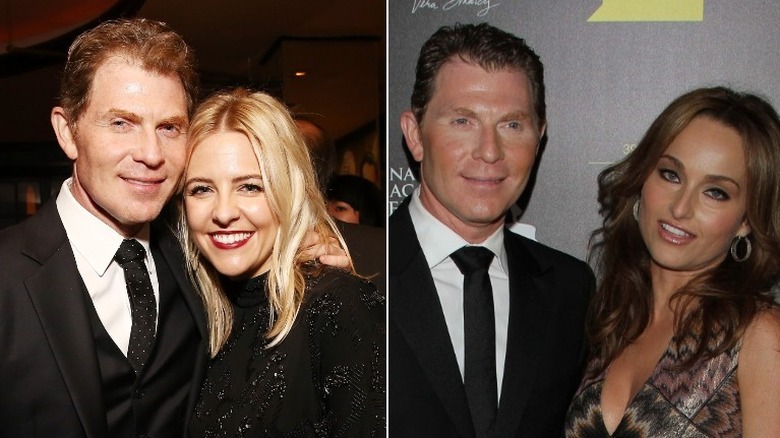 Following his heated and very public divorce from Stephanie March, Bobby Flay became quieter about his love life. Then, a happy accident occurred when he met actress Heléne Yorke — known for her roles in shows like "Quantico," "Katy Keene," and "Masters of Sex" – at a New York Knicks basketball game. According to People, the pair hit it off instantly and began their relationship. During their time together, Yorke even appeared as a guest star on Flay's show "Beat Bobby Flay."
Yorke and Flay remained relatively private throughout their relationship, occasionally attending premieres and culinary events together. Each shared nothing but sweet sentiments about their significant other, which is why it came as such a surprise when they decided to part ways. No one knows the exact cause of their separation, but Flay noted that he'd been "kicked … to the curb," presumably by Yorke, as reported by People.
Another contender for Flay's heart — according to fans, at least — was Giada De Laurentiis. In 2015, the two sparked romance rumors after her split from fashion designer Todd Thompson when they were spotted grabbing drinks (via Radar Online). However, De Laurentiis has denied these rumors time and time again, citing Flay as a dear friend and nothing more, as E! Online reported. Food Network fans will just have to be satisfied with the cooks' fun, albeit flirtatious, friendship.
Bobby Flay is currently very single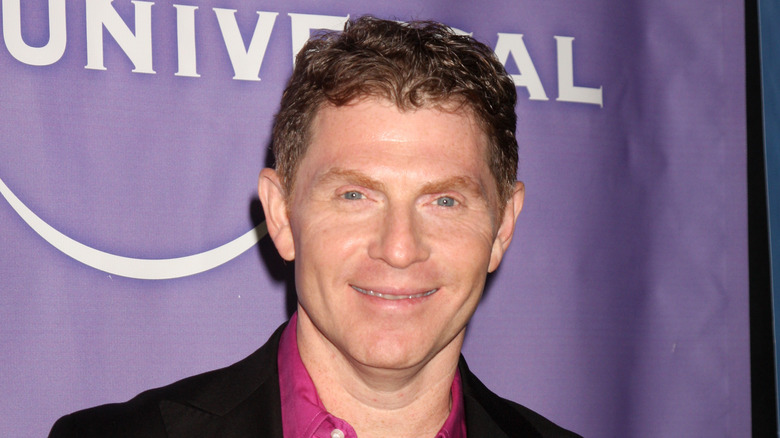 While fans of the celeb chef remain curious as to whom he will date next, Bobby Flay hasn't openly confirmed a relationship to anyone after his split from Heléne Yorke. In the fall of 2019, People reported that Bobby Flay confirmed his singlehood on "Beat Bobby Flay," and fans went wild with the news, posting their reactions across various social media platforms with heart-eyed emojis. Despite his string of divorces and alleged affairs, Flay remains one of the culinary scene's most eligible bachelors — at least according to his loyal fanbase, even if some may consider him to be somewhat of a ladies' man based on his decades of high-profile relationships.  
Maybe one day he'll find the perfect recipe for making love last, but in the meantime, he's not doing too bad for himself. Flay has found extreme success in the global culinary scene, writing books, hosting cooking shows, and opening well-regarded restaurants. His stardom and culinary expertise remain secure, and this celebrity chef isn't falling off the radar anytime soon.
Source: Read Full Article