During his presidency, Donald Trump was a prolific tweeter, to say the least. At all hours of the night and day, Trump would take to social media to fire off angry, divisive missives, often riddled with typos or bizarre made-up words — covfefe anyone? Trump's controversial and vicious tweets kept the media and general public alike fixated throughout his four-year term.
However, things took a dark and dangerous turn following Donald Trump's 2020 presidential defeat, when he began rallying his supporters to march on the U.S. Capitol building "to fight" against what he claimed was a "stolen" election. Trump's civilian troops followed his orders, and, as reported by the BBC, on January 6, 2021, thousands of MAGA protestors descended on the hallowed halls of Congress, resulting in a violent and deadly riot.
In the chaos that followed the unprecedented attack, Twitter and Facebook banned Donald Trump from their platforms. Facebook made the call on January 7, 2021, later expanding the suspension of Trump's account for two years. One day later, Twitter followed suit, declaring a lifetime ban. Just like that, Trump had lost access to his nearly 89 million followers, but that wasn't the last we'd hear from him, far from it. Courtesy of his ramblings on his own short-lived "communications platform" and his epic CPAC speech, here's a selection of Donald Trump's strangest statements since getting banned from social media. 
The 45th president's odd, tenuous grasp on campaign finance rules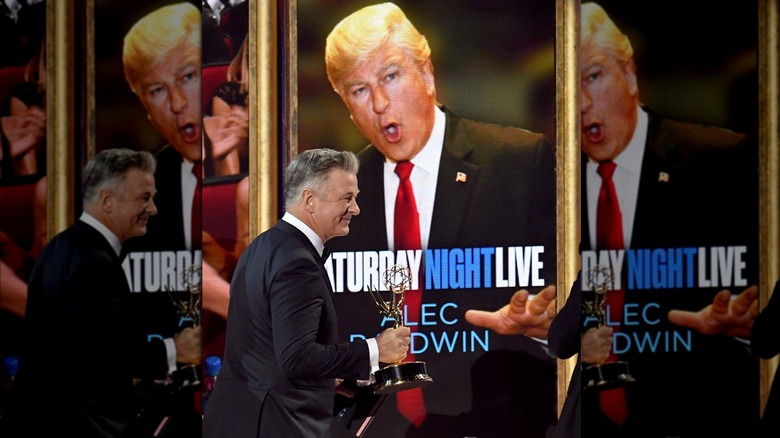 Donald Trump took to his blog on June 22, 2021, to slam a Daily Beast story. The report claimed Trump had once consulted "advisers and lawyers" to see if it was possible to launch a Federal Communications Commission inquiry into the long-running NBC comedy fixture, "Saturday Night Live," for "mocking" him.
Trump has no limit on the people and things he blames for losing the 2020 Presidential election. The former reality TV star also seemingly has no end to his hatred of Alec Baldwin and "SNL." Throughout his presidency, Trump regularly fired off furious tweets slamming the two, including  this March 2018 misspelled missive [via Time], "Alex Baldwin, whose dieing mediocre career was saved by his impersonation of me on SNL, now says playing DJT was agony for him. Alex, it was also agony for those who were forced to watch. You were terrible. Bring back Darrell Hammond, much funnier and a far greater talent!"
"It was fabricated, there were no sources, and yet the Lamestream Media goes with it. I did say, however, that Alec Baldwin has no talent, certainly when it comes to imitating me," Trump wrote in apparent reference to the Daily Beast story, before going on to admit, "With all of that being said, however, I do believe that the 100% one-sided shows should be considered an illegal campaign contribution from the Democrat Party."
Donald Trump's bogus boasts about his border wall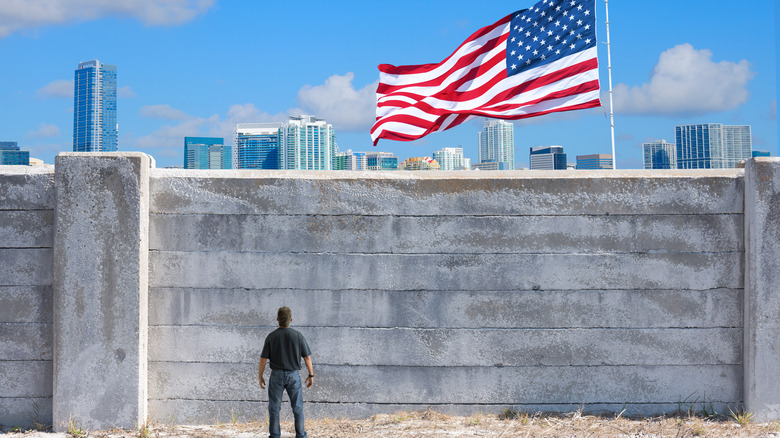 One of Donald Trump's election promises was to build a "great wall" on the southern border of the USA. Trump also claimed (per The Washington Post), "I'll have Mexico pay for that wall." However, Mexican government officials made it crystal clear they wouldn't contribute even one peso towards the building of a wall. But, that didn't stop Trump's repeated false claims that they would, in its entirety. The "great wall" was a fiasco from the get-go, and an engineering nightmare — given the border runs for 2,000 miles, from the Pacific Ocean to South Texas.
"We had built almost 500 miles of great border wall," Trump falsely claimed during his CPAC speech in February 2021. "It's amazing, considering that the Democrats' number one priority was to make sure that the wall would never, ever get built, would never, ever happen, would never get financed. We got it financed."
However, according to the BBC, the actual amount of newly built wall that was completed during Trump's term was a paltry 80 miles. And, surprise, surprise, Mexico did not pay for it. Customs and Border Protection told PolitiFact that the Trump administration determined the construction costs would be met by the USA's Homeland Security and Defense and the Treasury Forfeiture Fund. But, Congress only approved $1.57 billion of the $25 billion needed to construct Donald Trump's "inexpensive" wall.
Happy Father's Day, Losers! Love, Donald Trump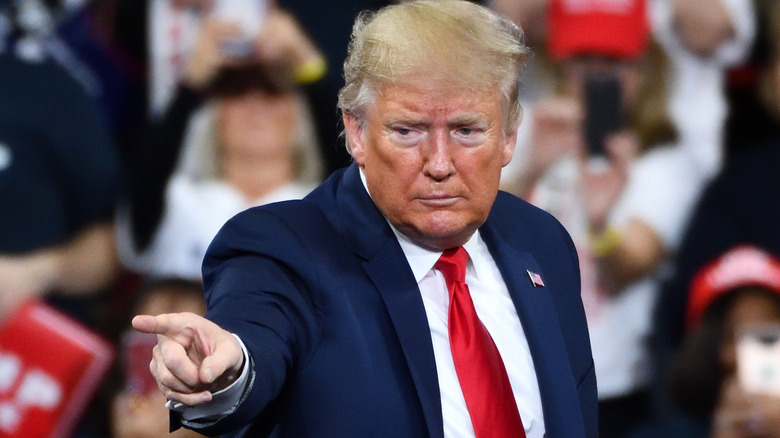 You could have been mistaken for thinking that on June 20, 2021, Donald Trump would have stepped away from his keyboard for just a few hours, kicked back, and enjoyed celebrating Father's Day with his four children. But, they say there's no rest for the wicked, and there certainly wasn't any downtime for The Donald. "Happy Father's Day to all, including the Radical Left, RINOs, and other Losers of the world. Hopefully, eventually, everyone will come together!" Trump posted on his now-defunct blog. Because nothing says "come together" like name-calling, ridiculing, and downright division.
According to the Macmillan Dictionary, for those not in the know, RINO is an acronym for "Republican in name only." The "statement" was also shared on Twitter by the RSBN Network, racking up over 10,400 likes and 2,800 retweets — in addition to a decidedly mixed bag of comments, mainly hostile and ridiculing in tone. One commenter was quick to draw a comparison between Trump's discordant and bizarre message and the tweet posted by his successor, President Joe Biden.
"Contrast this with President Biden's tweet," @emwcee2 wrote, before quoting the 46th POTUS message: "Happy Father's Day to the fathers, stepfathers, grandfathers, and father figures who enrich our character, love us unconditionally, and give so much of themselves every day so we can live lives worthy of their dreams and sacrifices." 
Was Operation Warp Speed the savior Donald Trump claimed it to be?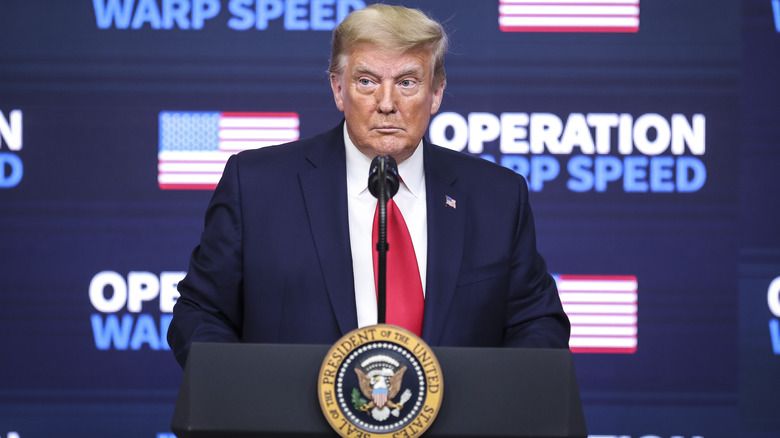 Donald Trump's promise of administering 40 million COVID-19 vaccinations before the end of his presidency fell far short of the mark. According to The Washington Post, Trump's "Operation Warp Speed" resulted in just 20 million shots. President Joe Biden [via the BBC] branded Trump's efforts "a dismal failure." Still, not surprisingly, Donald Trump claimed otherwise — in addition to continuing with never-ending false claims of "election fraud."
"Let them go on and on with their Fake Campaign and Fake Election results and Fake Media, but without the Trump Administration's Operation Warp Speed, millions of people would be dying all over the world that will now be saved," Donald Trump wrote on his blog in June 2021. Trump also alleged vaccines wouldn't have been available until "October or November of this year" if it wasn't for him. However, as CNN reported, the first "fully tested vaccine" was administered in the UK on December 8, 2020, nearly a week before the US.
Blowing Trump's claims even further out of the water, according to the AP, Pfizer received zero funding "to develop, test or expand manufacturing capacity under Trump's Operation Warp Speed." Instead, the pharmaceutical giant chose to use $2 billion of its own money on developing the vaccine in partnership with its German creator, BioNTech. The first human trials began in Germany in April 2020, a month before Trump announced his Operation Warp Speed initiative.
Who exactly are 'they' and did 'they' really try to 'cancel' Donald Trump's boat parade?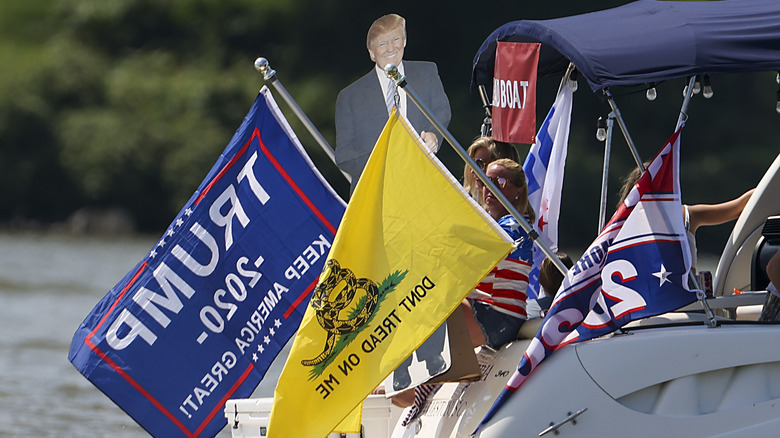 Florida Attorney General Pam Bondi joined Donald Trump Jr. and Kimberly Guilfoyle for the Labor Day "Trumptilla" rally. Honoring Donald Trump, the boat parade sailed from Jupiter to Mar-a-Lago on September 7, 2020. Police spokesman Michael Ogrodnick insisted that officers would be working hard to ensure the event proceeded safely via the Palm Beach Daily News.
Ogrodnick said officers would be monitoring all bridges along the route to prevent possible protests. "We're doing so to address any concerns of people on the bridges that may attempt to disrupt the parade by throwing or dropping anything on the parade participants," he said. However, Trump claimed a mysterious "they" had "tried to cancel us" — all while boasting about the bigly turn-out. "Wow! I hear they have thousands and thousands of boats parading in Jupiter, despite the fact they tried to cancel us," he wrote on his blog.
There are no reports of attempts to cancel the parade, and it appears the only thing that could have put it in jeopardy was the arrest of Carlos Gavidia, one of the leading promoters. As the Palm Beach Post reports, Gavidia, who was previously sentenced to 20-months for drug trafficking, was "charged with sending a text threatening to kill or do bodily harm" to a neighbor in his gated community. The police report alleges Gavidia also used an anti-semitic slur and called the victim's companion the "C" word, which Gavidia's lawyer denies. 
Donald Trump insists he 'turned down two book deals'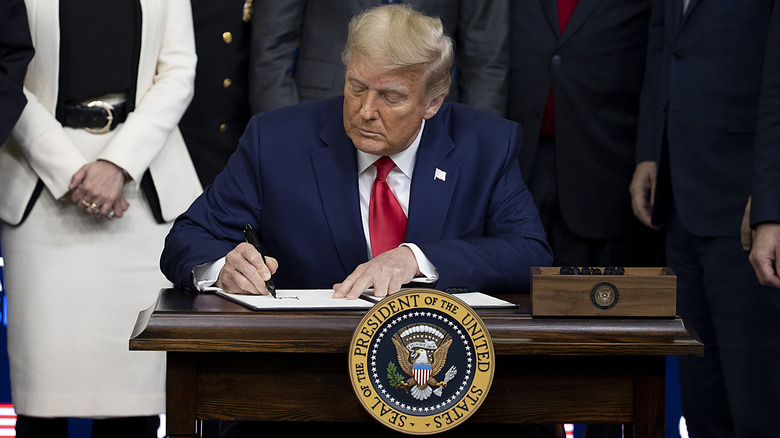 Before Michelle and Barack Obama vacated the White House, they were fielding memoir offers. Penguin Random House eventually won the bidding war with a deal for a reported $65 million. However, it seems Donald Trump is persona non grata in the literary world, despite already having over a dozen books to his name. Even Former Vice President Mike Pence landed a $3-4 million Simon & Schuster contract in the months following Trump's presidency. But The Donald? Not so much, at least as of Summer 2021.  
According to Trump, though, he's in hot demand — but, sadly, he has more "important" things to do. "I turned down two book deals, from the most unlikely of publishers, in that I do not want to do such a deal right now," Trump claimed on his blog. "I'm writing like crazy anyway, however, and when the time comes, you'll see the book of all books. Actually, I've been working on a much more important project right now!"
Perhaps unsurprisingly, Trump's claims fly in the face of reports from respected news outlets. According to Politico, publishers are circumspect in signing Trump book deals, despite the fact that copies would probably fly off the shelves. The main reason? Trump's well-documented history of telling lies — The Washington Post estimates 45 told over 30,573 untruths during his 4-year presidency. As per The Independent, The Donald hit back at the report, and the publishing industry in general, calling them "sleazebags."
Donald Trump falsely claims Detroit is 'most corrupt election city'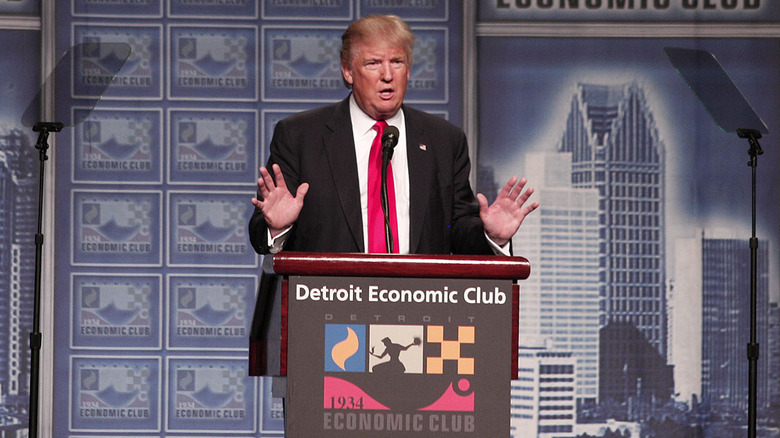 The Michigan Senate Oversight Committee shut down Donald Trump's false election fraud claims in June 2021, declaring Joe Biden the victor in the 2020 U.S. presidential election, yet again. The Republican-led committee released a report of its findings, following an 8-month inquiry. "This Committee found no evidence of widespread or systematic fraud in Michigan's prosecution of the 2020 election," it states. As per NBC, Biden won Michigan by 154,000 votes, a number that did not change despite Trump's flurry of lawsuits filed against individual Michigan counties. 
However, Trump still continued his obsession with Michigan. In a vitriolic "statement" Trump posted June 24, he falsely alleged Senators Mike Shirkey and Ed McBroom were going out of their way "to stop Voter Audits" in a bid to "hide the truth" about November 3. "Corrupt (?) politicians falsely claim there was no Voter Fraud in Michigan (has anyone looked at what is considered the most corrupt election city in the U.S., DETROIT?), however, they admit to "problems with the numbers," he claimed.
Trump also falsely insisted the election was "rigged" to favor Biden and posted phone numbers, demanding, "Call those two Senators now and get them to do the right thing, or vote them the hell out of office!" According to The Guardian, the Oversight Committee branded Trump's multiple fraud allegations "ludicrous" and found zero evidence to back up his accusations about dead people's "votes" being counted or of a pro-Biden ballot drop occurring.
Asa Hutchinson becomes that target of another strange Donald Trump falsehood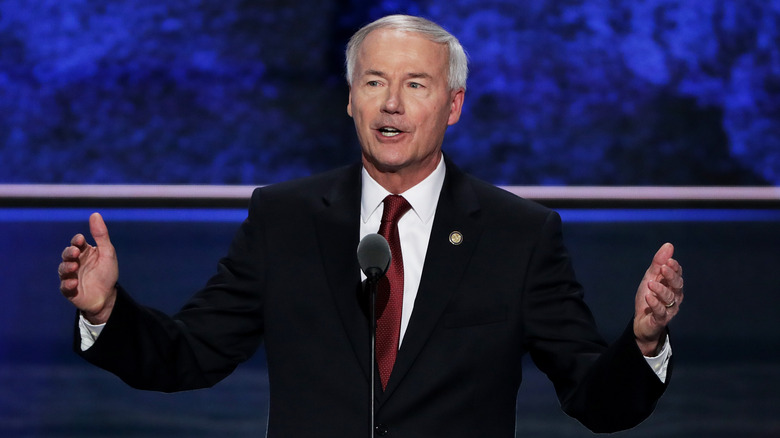 In 2020, eight U.S. states began considering bills "seeking to restrict transition-related treatment for transgender youth," per USA Today. The outlet reported those backing legislation claimed they wanted to "protect minors from medical changes" they'd grow to regret. While the opposition argued it would prohibit doctors from providing services authorized by the American Medical Association. At the heart of the debate were medications that block "testosterone and estrogen — that lead to puberty-related changes in your body," according to Planned Parenthood.
Arkansas Governor Asa Hutchinson vetoed his state's legislature's proposed bill that sought such restrictions, telling NPR the legislation "really puts a very vulnerable population in a more difficult position. It sends the wrong signal to them." The Arkansas State Legislature, however, reversed Hutchinson's decision. Donald Trump was quick to attack Hutchinson, who had previously criticized the former president over numerous incidents, including his response to the white supremacist protests in Charlottesville [via Arkansas Times]. "Asa Hutchinson, the lightweight RINO Governor of Arkansas, just vetoed a Bill that banned the CHEMICAL CASTRATION OF CHILDREN," Trump wrote on his blog. "Bye-bye Asa, that's the end of him! Fortunately for the Great State of Arkansas, Sarah Huckabee Sanders will do a fantastic job as your next Governor!"
However, puberty blockers do not equate to "chemical castration." As STAT News points out, they're "fully reversible, cause few side effects, and have an overtly positive impact: They significantly reduce suicidal thoughts among transgender youths."
No, people did not quit social media in droves after Donald Trump got banned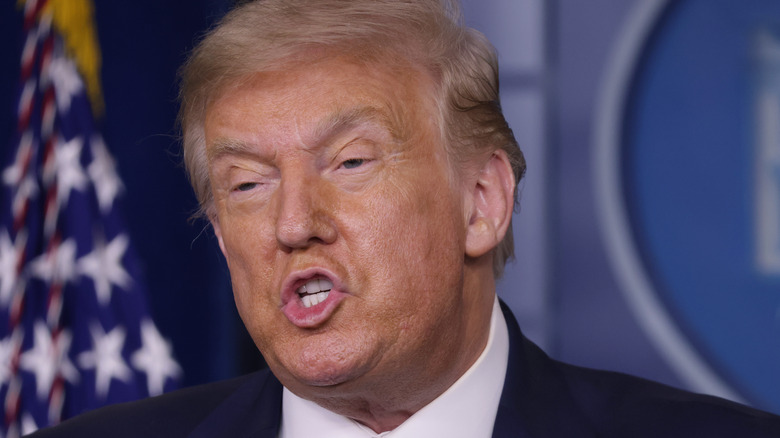 Donald Trump was a permanent fixture on Twitter throughout his presidency. Following the news in January 2021 of Trump's permanent Twitter ban and two-year Facebook suspension, calm descended over social media. Trump's never-ending barrage of angry tweets and lies ceased, people stopped constantly talking about him, and levels of misinformation sharply declined. According to The Seattle Times, one week after Trump's ban, the level of false information surrounding alleged election fraud dropped by 73 percent. One thing that didn't decline, though? Twitter's user numbers and profits — but, Donald Trump appeared to think otherwise.
However, the numbers don't lie, unlike Donald Trump. In a statement released in May [via Newsweek], Trump claimed "tens of millions" of his followers had quit "boring" and "nasty" Twitter and Facebook. But, according to Twitter's quarterly letter to shareholders, during January 2021, their increase in daily users was "above the historical average from the last four years."
Meanwhile, the "communications platform" that Trump launched following his social media ban died a rapid and painful death. "From the Desk of Donald J. Trump" lasted just 29 days before closing down. Senior aide Jason Miller told CNBC that the blog was "just auxiliary to the broader efforts we have and are working on. Hoping to have more information on the broader efforts soon, but I do not have a precise awareness of timing."
Crime stats aren't as bad as Donald Trump falsely claims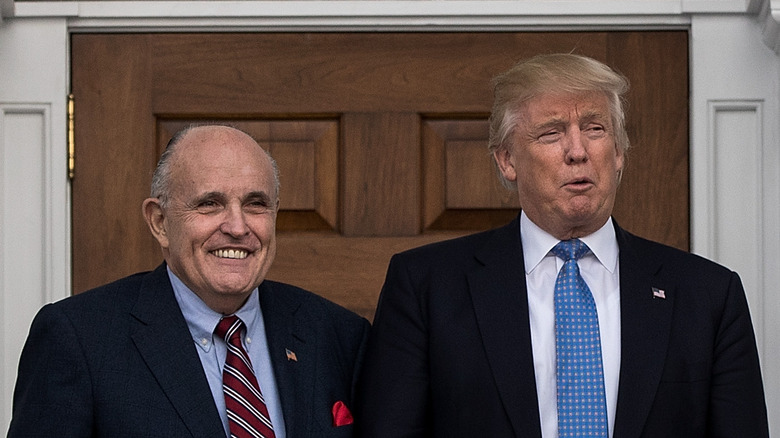 New York has suffered a startling increase in violence. According to Gothamist, "In 2021 alone, 299 people have been shot, a 54% increase over the same time last year." However, citing FBI statistics, the outlet also points out that murder rate across the whole US increased by 25 percent in 2020. According to VOX, there are varying opinions on what's causing the violence: a gun sales surge, animosity between police and communities, and COVID-19-fueled financial instability.
Not surprisingly, Donald Trump weighed in with — you guessed it — more falsehoods. "Can you believe that New York wants to strip Rudy Giuliani, a great American Patriot, of his law license because he has been fighting what has already been proven to be a Fraudulent Election?" Trump wrote on his blog in June, adding, "The greatest Mayor in the history of New York City, the Eliot Ness of his generation, one of the greatest crime fighters our Country has ever known, and this is what the Radical Left does to him. All of New York is out of control, crime is at an all-time high—it's nothing but a Witch Hunt, and they should be ashamed of themselves. TAKE BACK AMERICA!"
However, NYC crime is not at "an all-time high" as NBC reports, "the carnage, however startling, pales in comparison to the bullet-riddled years of the early 1990s" not to mention the frightening levels of violence that accompanied the crack epidemic of the 1980s.
Donald Trump sees dead voters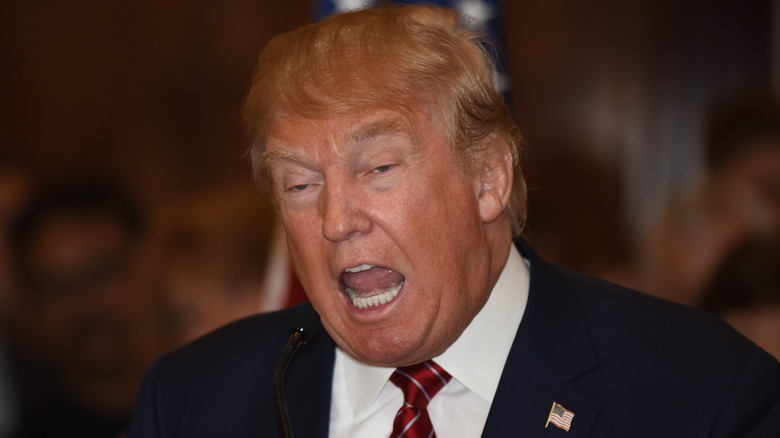 Ever since the announcement that Donald Trump lost the 2020 U.S. presidential election to Joe Biden, unsubstantiated allegations began flying about fraudulent votes being cast by "dead people." According to FactCheck.org, "Election experts say that while this occasionally happens, most often with votes cast by a spouse, it is exceedingly rare, and would not likely affect the outcome even in a relatively close race."
However, Donald Trump has never been one for facts and figures, and he took to his blog in May 2021 to spread his conspiracy theories. "Breaking News! Massive numbers of dead people "voted" in the 2020 Presidential Election, far greater than anyone has known or seen before," Trump falsely claimed, adding, "Some of these "dead people" even applied for an application to vote. This is just one of the many fraudulent aspects of the 2020 Presidential Election. People are just now beginning to understand!"
According to The Guardian, the dead voter conspiracy theories are actually the result of "Trump supporters' fundamental misunderstandings of the election system while creating a game of conspiracy theory whack-a-mole for election officials." LMU Loyola Law School Professor Justin Levitt told the BBC that it's simply a case of people with the same names, with different dates of births and deaths, being confused. "It's simply a matter of statistics that if you cross-reference millions of records with millions of other records, you'll get a sizable number of false positive matches. We've seen this before," Levitt explained.
Was Donald Trump right about 'everything'? (Hint: No)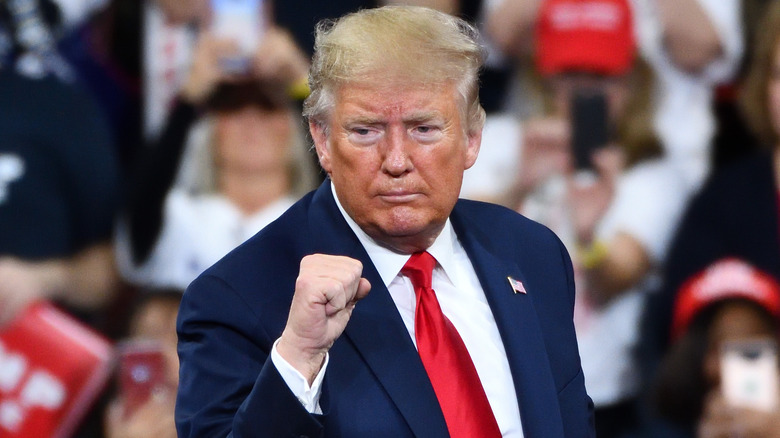 Donald Trump is renowned for his bragging — according to Trump, nobody does anything as well as Trump. He once alleged (via The Washington Post), "Nobody has ever done a better job than I'm doing now as president."  So, it's little surprise Trump was still claiming to be right about everything, even months after leaving office.
"Have you noticed that they are now admitting I was right about everything they lied about before the election?" Trump falsely claimed on his blog on June 12, 2021. He went on to list everything he claims he was right about, including "Critical Race Theory is a disaster for our schools and our Country" and "Hydroxychloroquine works." Trump doesn't mention who "they" are, a group he regularly refers to: once warning, "they're after you" in a tweeted meme that was removed for violating copyright laws [as per CNBC.]
But even the Department of Health and Human Services doesn't "admit" that "Hydroxychloroquine works." The agency stated in a news release, "A National Institutes of Health clinical trial evaluating the safety and effectiveness of hydroxychloroquine for the treatment of adults with coronavirus disease 2019 (COVID-19) has formally concluded that the drug provides no clinical benefit to hospitalized patients." As for critical race theory, NBC investigative reporter Tyler Kingkade told NPR's Terry Gross it's people who object to the Black Lives Matter movement who are against CRT, and the majority of educators are actually in favor of it.
Donald Trump calls a horse a 'junky' amid more nonsensical ramblings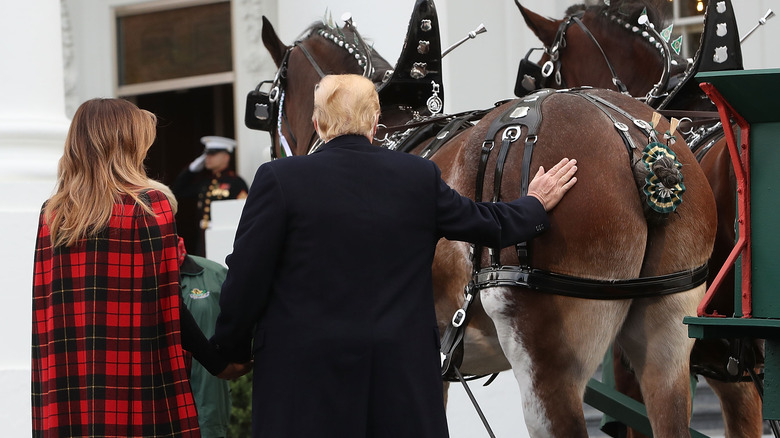 When Medina Spirit won the 2021 Kentucky Derby, controversy followed the horse's hooves. According to Forbes, the thoroughbred "tested positive for a banned steroid," leading to the possibility of disqualification and losing its winning title in addition to $1.86 million prize money. The drug test "detected 21 picograms of betamethasone," which is double the allowed amount. An attorney for the horse's trainer, however, claimed that DNA testing would show that the substance was the result of a topical treatment for a skin condition, rather than a performance-enhancing "injection." 
Donald Trump assumed the role of trial, judge, and jury when he posted about Medina Spirit on May 9, 2021. He also took the opportunity to mention, yet again, his thoroughly debunked "fake Presidential Election" theories, and moaned about U.S. borders, too, for some reason. "So now even our Kentucky Derby winner, Medina Spirit, is a junky. This is emblematic of what is happening to our Country. The whole world is laughing at us as we go to hell on our Borders, our fake Presidential Election, and everywhere else!" Trump posted on his blog.
USA Today reports Medina Spirit flunked a second drug test but has yet to be disqualified, as organizers await DNA test results and legal wrangling continues. As for the whole world "laughing" at the USA? As per The Pew Research Institute, the USA's image overseas has drastically improved since Trump left office.
Source: Read Full Article