Red Table Talk has truly carried the weight of hosting some of *the* most important convos in Hollywood these days. Case in point? Jordyn Woods's interview post-Tristan Thompson cheating allegations, and Olivia Jade's tell-all, where she was described as "the epitome of white privilege" by co-host Adrienne Banfield-Norris. So, yeah…many, many 🤯🤯🤯 moments have happened at the Red Table. And tomorrow, the Facebook Watch original series returns with a premiere episode featuring none other than Jennette McCurdy, who recently published her book I'm Glad My Mom Died and will join Adrienne, Willow Smith, and Jada Pinkett Smith to discuss it.
A refresher: Jennette's mother died in 2013 from cancer—an experience she has openly expressed having mixed feelings about both IRL and in the memoir. I'm Glad My Mom Died is a brutally honest account of how the 30-year-old's mom treated her, from encouraging her eating disorders to forcing her into a brutal childhood acting career.
In the exclusive clip above, the former iCarly actor is asked by Willow just how surviving her mother affected Jennette's own relationships. She answers in a chilling and honest manner that also manages to showcase just how far she's come on her own healing journey.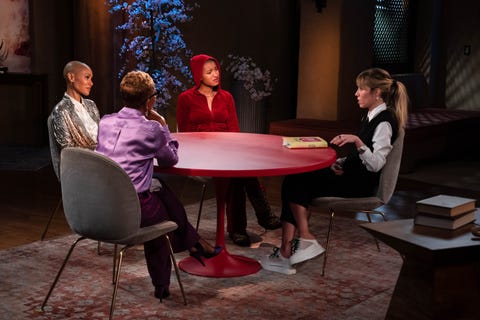 "Oh, that is a big, juicy question," she begins. "So because I was enmeshed and codependent and very anxiously attached with my mother, I found relationships that reflected that dynamic. And so I fell into unhealthy relationships where then I was supporting the other person and I really felt like that's what I bring to the table, and it has been a lot of work to unpack. I learned to be really on the lookout for narcissistic partners; I learned to be really on the lookout for enmeshment and codependency. I'd be lying if I didn't say…like, there's still a part of me that's wired that way."
Thankfully, the author has a lot of support, including from her three brothers Dustin, Marcus, and Scott McCurdy. Jennette even told The Hollywood Reporter that her brothers were not upset by her book's direct title, saying, "My brothers have been so supportive, so understanding. They get the title, to put it simply…It was also a title that I knew I wanted early on. I wanted something that was bold and also something that I meant sincerely. I would never use a bold and attention-grabbing title if it weren't authentic. I would never do it if it were just coming from a flippant place. That's not my approach to humor."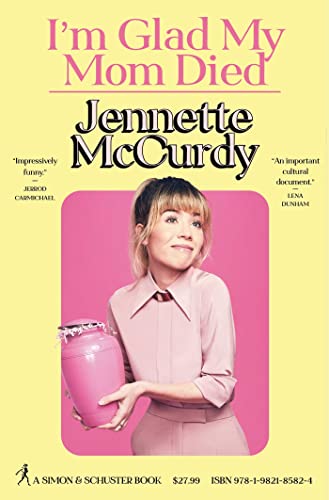 To watch Jennette's Facebook Watch Red Table Talk interview in full, make sure to tune in on Wednesday, September 7 at 9 a.m. PT/12 p.m. ET.
Source: Read Full Article