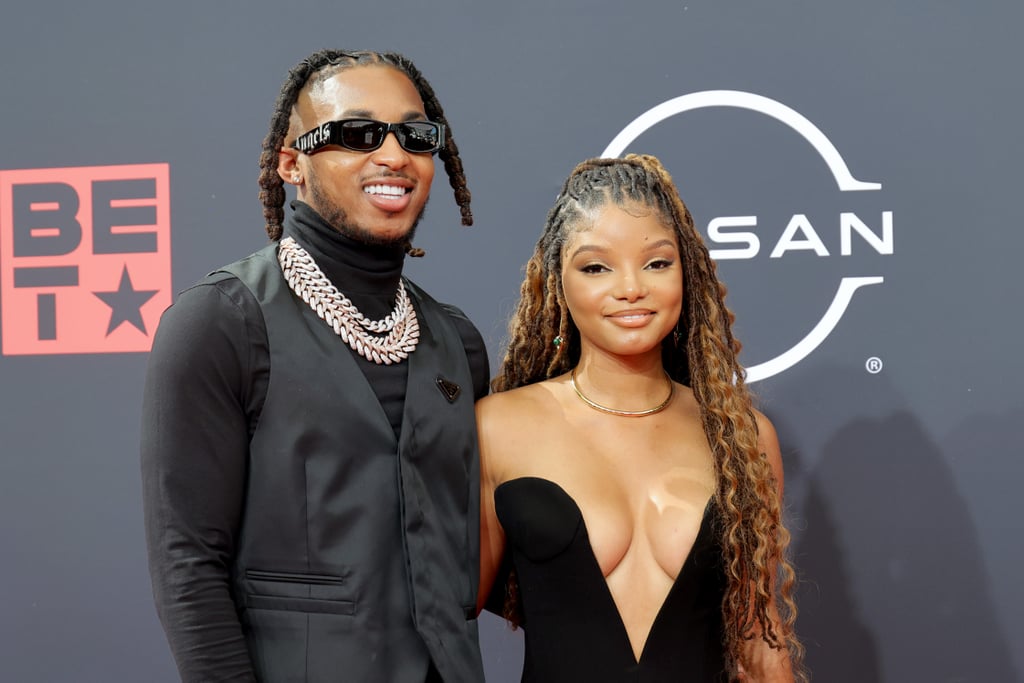 June 2022: Halle Bailey and DDG Make Their Red Carpet Debut

Things between Halle Bailey and DDG are getting serious, per the singer's latest comment about their romance. In Bailey's September/October cover story with Essence, she shared new details about how the couple first got acquainted, revealing music brought her and the rapper together.
"I grew up being on YouTube and would always see the young Black creators and was constantly inspired by them. He was one of them," Bailey told the outlet. She added that she first noticed DDG online in 2015, but they didn't connect until she heard of his new music. ". . . I saw that he was dropping music, and I really gravitated toward this one song. Coincidentally he messaged me — and the rest is history."
Bailey and DDG made their glamorous red carpet debut as a couple at the BET Awards on June 26, but the pair have been dating for quite some time now. Romance rumors first began swirling when they were spotted together at an Usher concert in January 2022. Two months later on March 27, they went Instagram official.
Since then, the couple has only had good things to say about each other. "She honestly motivated me to be better and work harder and get to certain levels," DDG said of his girlfriend in a July 5 interview with DJ Akademiks.
Bailey is currently gearing up to star in the live-action "Little Mermaid," which premieres in 2023. In an interview with ET at the BET Awards, Bailey spoke about seeing herself on screen as Ariel for the first time and said she "cried" when she saw clips. "I was like, 'I don't understand how this is happening! How this is even me?'" she shared. "It's very overwhelming. I get really emotional just talking about it." Meanwhile, DDG is gearing up to release his new album, "It's Not Me It's You," on Sept. 16.
From posting cute snaps of each other on social media to Bailey giving DDG singing lessons on TikTok, read more about the couple's relationship timeline ahead.
Source: Read Full Article