Eliud Kipchoge is considered by many to be the greatest marathon runner of all-time. The long-distance runner came from humble beginnings in Kenya where he grew up running out of necessity instead of sport. Him and his classmates used to run to and from school everyday, and they were in the habit of running to most places, as he told BBC in 2020. Kipchoge also built up his otherworldly stamina as a child riding his bike for 25 mile round trips to nearby towns where he would collect milk from farmers to sell. A childhood of constant cardio, combined with a disciplined workout regimen when he was older, led Kipchoge to a wildly successful career as a runner. In 2016, he took his accomplishments to the next level by setting a new course record at the London Marathon, and followed that up with a gold medal at the Olympics in Rio de Janeiro (via Olympics).
A few years later, Kipchoge accomplished a feat that was previously unheard of, as he ran a sub two-hour (or 26.2 miles) marathon at 1:59:40 in 2019, per Olympics. Since he used a pace car, that time was not officially recorded, but it captured the attention of the running world. "I am running to make history, to show that no human is limited," Kipchoge told reporters (via Reuters). "It's not about money, it's about showing a generation of people that there are no limits." 
Even so, how much money has Kipchoge made over his career?
Eliud Kipchoge's controversial shoes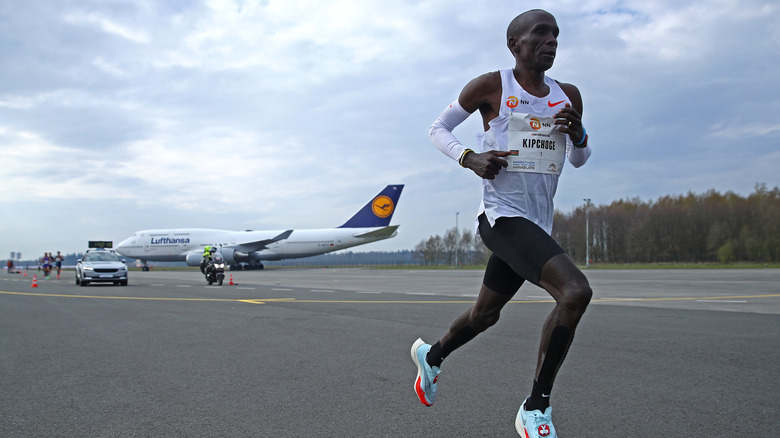 During Eliud Kipchoge's remarkable sub-two hour marathon, he wore his Nike Air Zoom Alphafly NEXT% shoes, as the runner has a sponsorship deal with the famed shoe company. These shoes have been a point of mild controversy for Kipchoge as some have argued that the technology gives runners an unfair advantage with a "4% boost in running economy," per CNN. 
The Olympic gold medalist has been unfazed by the critique and believes the advancement in shoe technology is a natural progression that should be embraced. "We live in the 21st century and we need to accept change," the Kenyan told the press in 2020, per CNN. "Secondly, development goes hand-in-hand with technology. The shoe is good. We are doing a press conference virtually, is that not technology?" Kipchoge argued.
In addition to his partnership with Nike, Kipchoge and his team have a sponsorship with NN Group, a financial services company. The sponsorships sweeten the pot, but the majority of Kipchoge's earnings have come from running, and he's has amassed a net worth of $3 million, per Players Bio. Wealth and fame have not changed the man who grew up collecting milk to make ends meet. "I don't have extra money to actually make my mind go haywire," Kipchoge told BBC in 2020. "I am a human being and I stay as a human being. Money stays away. I'm not working with money; money is in the bank. I want to live a simple life."
Source: Read Full Article