Since Hailey Baldwin married Justin Bieber, her fame has increased by a massive amount. But she's no stranger to being around celebrities. Baldwin-Bieber comes from the hugely popular Baldwin family. Both her dad, Stephen Baldwin, and her uncle Alec Baldwin, have long been part of Hollywood's elite.
In fact, her father's fame is probably the reason she was able to meet Bieber in the first place. 
Baldwin-Bieber owes her father a lot. So, what is their relationship like? Do they still get along? Here's what we know.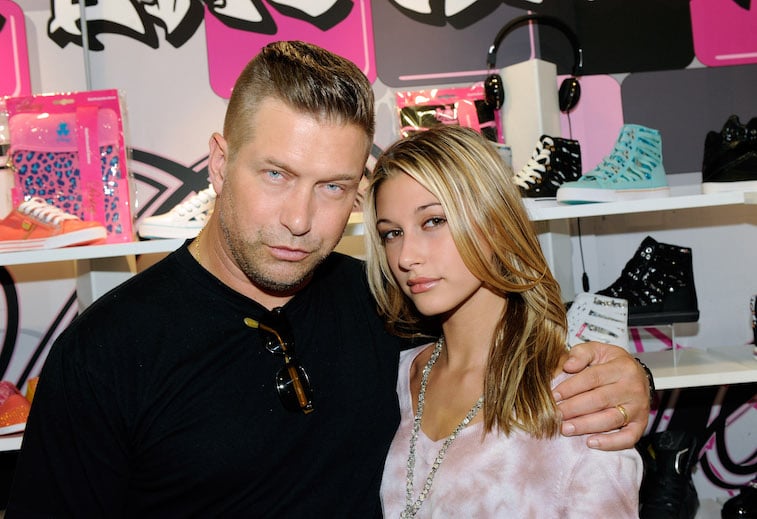 Stephen Baldwin introduced his daughter to Justin Bieber
Baldwin-Bieber has her father to thank for introducing her to her husband. The couple met way back in 2009, when Bieber performed on The Today Show– and the whole thing even was caught on camera.
The two were just young teenagers, but Baldwin made sure to introduce them in the lobby. After giving dad a handshake, Bieber gave her a quick and awkward handshake as well. She looked extremely uncomfortable in the moment, and went back to crossing her arms as soon as the greeting was over.
It's up for debate whether her awkwardness was because she was embarrassed of her dad, unsure how to act around a pop star, or just normal tween behavior. But Bieber didn't look entirely comfortable with the situation either. 
Even with such an awkward start, the couple eventually became great friends, and then finally lovers. They were married at the end of 2018.
Stephen Baldwin appears to support the relationship between his daughter and Justin Bieber
After Bieber and Baldwin-Bieber were married, her father was spotted in the audience at a rodeo. The clown, a crowd favorite named Rasmussen, decided to put Baldwin on the spot. He pointed the actor out to the rest of the crowd and asked, "Did you let your daughter marry Justin Bieber?"
Baldwin smiled and gave the crowd a thumbs-up, indicating his support of the relationship. And that's not the only time that Baldwin has given his blessing on the marriage. Before they got engaged, Bieber actually asked Baldwin's permission to marry his daughter.
A source told People, "Justin asked Stephen for his daughter's hand in marriage, and Stephen gave his blessing. It was very important to Justin to make sure that her family was on board with the marriage, and they are."
Baldwin not only gave his blessing, but he really appreciated the gesture from Bieber. The source continued, "Stephen appreciated the respect that Justin has shown him as Hailey's father. It sounds old-fashioned, but it's a sign of respect. Justin and Hailey are very traditional when it comes to those things, and Stephen of course is, as well."
After Bieber popped the question and the engagement became official, Baldwin even showed his support by posting a sweet message to the couple on Twitter. He wrote, "Sweet smile on my face! Me&wife (Kennya) Always pray 4 gods will!! He is moving in the hearts of JB&HB. Let's all pray for His will to be done. Love you 2 so much!!!"
Hailey Baldwin-Bieber disagrees with dad over politics
It's fairly common in this political climate for there to be disagreements between family members over politics, and celebrities are no exception. Baldwin-Bieber told The Times that her and her father, who is a known Trump supporter, have had arguments over politics, but that they've been able to work them out.
"We didn't see eye to eye," Baldwin-Bieber said. "It was a very big issue for me, but my dad's still my dad. I would never let politics get in the way of family. It's over now, and his opinions have changed with how everything's now unfolding. Every day, the news freaks me out. It's terrifying."
It's nice to hear that Baldwin-Bieber didn't let politics come between family. Honestly, this is a stance more people should be willing to take. It's such a shame when these kinds of arguments come between important relationships.
The strength of the bond between Baldwin and his daughter can be seen in the way they're able to let each other have their own opinions without taking it personally. 
Source: Read Full Article