Greg Abbott, the governor of Texas who has defied President Joe Biden and Dr. Anthony Fauci's regulations on countless occasions amid the worldwide coronavirus pandemic (via USA Today), joined the growing list of politicians who tested positive for COVID-19. Abbott's diagnosis was announced by Office of the Governor Communications Director Mark Miner, who issued a statement on the governor's official website. The office clarified Abbott "is fully vaccinated."
"Governor Greg Abbott today tested positive for the COVID-19 virus. The Governor has been testing daily, and today was the first positive test result," the statement read. "Governor Abbott is in constant communication with his staff, agency heads, and government officials to ensure that state government continues to operate smoothly and efficiently."
The news of Abbott's COVID-19 diagnosis comes one day after he made his latest appearance at an indoor "Republican Club" event on the evening of August 16, according to photos posted on his Twitter account. In order to control the possible transmission, "everyone that the Governor has been in close contact with has been notified," the director said in the statement, adding, "Texas First Lady Cecilia Abbott tested negative" but is following protocol. For more details on Abbott's COVID-19 diagnosis, including how he's holding up amid his infection, keep scrolling. 
Texas Governor Greg Abbott is in 'good health' amid COVID-19 diagnosis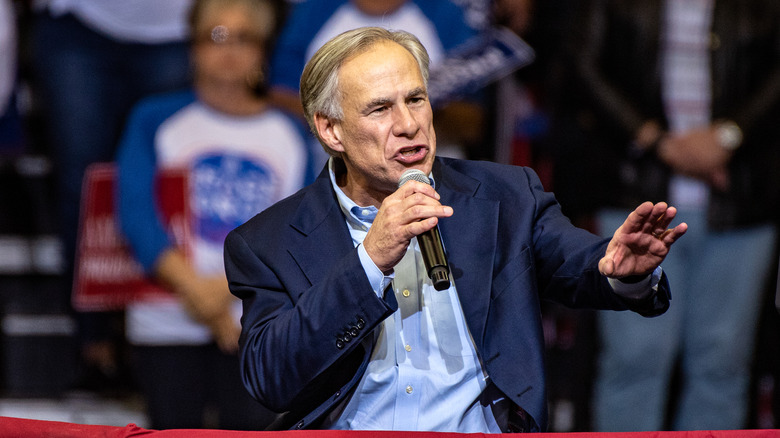 Texas Governor Greg Abbott tested positive for COVID-19 but is in "good health" and "experiencing no symptoms," communications director Mark Miner said on the governor's official website on August 17. According to a statement, he will "isolate in the Governor's Mansion and continue to test daily." While there, Abbott has been "receiving Regeneron's monoclonal antibody treatment.
Hours after the news made headlines, Abbott took to Twitter to give an update on his prognosis. "As you may have heard, I have Covid. Right now I have no symptoms such as fever or aches and pains," he wrote, attaching a video. Though Abbott credited the vaccine for being "one reason" he's holding up, social media users were quick to call out his hypocrisy. "You take Regeneron 'just in case,' but you forbid mask mandates?" one replied. Pointing out Abbott's controversial Pro-Life and Anti-Abortion laws (via NPR), another tweeted, "Regeneron was developed from fetus tissue. Shame on Greg Abbott."
Abbott's diagnosis is quite ironic as he's condemned mask mandates and other regulations amid the pandemic. At the time he allowed businesses to open at 100% capacity in March 2021, he didn't seem worried about warnings from public health officials. "Too many Texans have been sidelined from employment opportunities. Too many small business owners have struggled to pay their bills. This must end. It is now time to open Texas 100%," Abbott said, per CNN.
Source: Read Full Article