There has been some definite tension between Jordyn Woods and the entire Kardashian family since news broke that Khloé's ex, Tristan Thompson, had cheated on her with Jordyn Woods.
Back then, Woods was living with her best friend, Kylie Jenner, but quickly moved out of the house when the news had broke about Woods and Thompson.
Since then, Woods' relationship with Kylie and other members of the Kardashian family has been strained. While everyone knows that Khloé does not like Woods, it looked like she was trying to not bash on her too badly in front of the cameras.
At least, that was the case until the season finale of Keeping Up with the Kardashians aired and fans got to see some behind-the-scenes moments that had unfolded after Khloé found out about Thompson and Woods.
So, what exactly did Khloe say about Woods and how did she respond to it? Here is what we know about Khloé Kardashian and Woods' dramatic fall-out.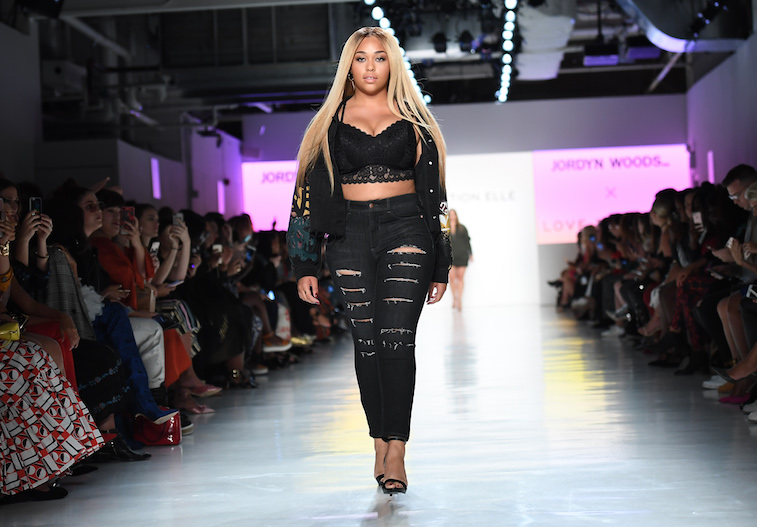 What did Khloé Kardashian say about Jordyn Woods?
The season finale of KUWTK showcased how Khloé was trying to process the fact that Woods and Thompson had "made out" while Khloé was still dating him.
The drama went down went Khloé was sitting down to dinner with a few of her friends and family members. Khloé had been drinking a little too much when her best friend started to FaceTime one of Thompson's friends.
Once Khlé realized that Thompson's friend was actually at his house with him, the heavily intoxicated Khloé started screaming at the phone in hopes that Thompson would hear her.
When his friend said Thompson did not remember kissing Woods, Khloé completely lost it. "Tristan, f— you if you can hear me," she screamed at the phone. "They both admitted it to me. Both of them. Fat f—ing a—holes!"
What did Woods think about Khloé's words?
Right after the episode aired, fans took to Twitter to express their outrage on the fact that it seemed very hypocritical of Khloé to fat-shame Woods and Thompson when she herself has struggled with her weight in the past and she is also the host of a weight-loss show.
Although fans may have been mad about what Khloé had said During a drunken rage, Woods didn't lash out in anger after she heard what was said. Instead, she decided to take the high road and let her fans know that Khloé's words were not worth fighting over.
Shortly after the episode had aired, Woods posted a picture on Instagram with the caption: "Smile! Life's too short."
Will Khloé and Woods start acting more civil towards each other now?
Right after the Woods and Thompson scandal broke, Kim Kardashian and Khloé's BFF, Malika Haqq, posted a video online of the two of them singing songs about women that cheat with men that are already in a relationship. Kim did not explicitly say that the video was a jab at Woods, but it wasn't hard for everyone to figure out who the video was intended for.
On the season finale of KUWTK, we got to see that right after the video was posted, Kylie called her big sister on the phone and told her that she felt that Kim had crossed the line by posting that video.
She then started to cry when she admitted she had seen Woods the night before and said that from "The look in [Jordyn's] eye, she is obviously really going through it."
After talking to Kylie, Kim had taken the video down, but the damage had already been done as it had already been viewed by millions of people. After Khloé had a chance to calm down, she did admit to Kim that it wasn't right that she was putting all of the blame of her failed relationship with Thompson solely on Woods' shoulders.
Now that the entire Kardashian family is able to see just how much this scandal has also hurt Kylie, we are hoping that Khloé and Woods can start to become somewhat civil to each other for now on.
Source: Read Full Article