Today in Kimye news, Kanye West is moving on—at least enough to go on a date with someone, anyway. Kanye was spotted (and photographed—TMZ has the pics if you want to put your eyes on them personally) out on a date in Miami Saturday night with actress Julia Fox.
Ye and Julia (who is 31, according to E! News, but "31 0r 32," according to her Wikipedia bio) hung out at Carbone restaurant and, according to TMZ, "he was clearly having a good time" on the date. Here's what Julia (who is best known for her role in Uncut Gems) looks like, in case you need a visual: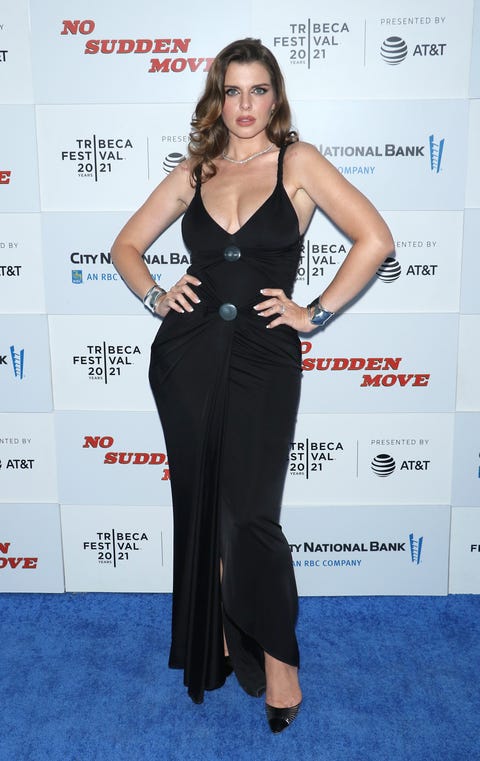 "Our Ye sources tell us it's nothing serious, but that he's embracing single life….this after Kim Kardashian made it clear she's going through with the divorce," TMZ wrote, later adding that those sources, "say he seems happier now than he has in a long, long time."
Of course, this isn't the first time Kayne has been linked to someone since he and Kim separated. Earlier this year, he and model Irina Shayk reportedly dated for a minute (roughly April through August 2021, but their history goes way deeper—here's a complete Kanye and Irina timeline to dive into for more intel).
In August, after the romance fizzled, a source close to the pair told Us Weekly that "they never really started" *officially* dating while another told People, "Kanye has been busy working and spending time with his kids. This is his focus. He doesn't have time to date right now. He finds Irina amazing though. They remain friendly."
In November, Ye was linked to another model, Vinetria, but in December, a source told E! News that they weren't "exclusively dating" and that Ye was seeing the model "despite also trying to win Kim back."
So, you know, only time will tell how serious things turn out to be between Kanye and Julia. We'll def be keeping an eye out, though.
Source: Read Full Article