Kelly Brook might be famed for her shapely hourglass figure but her body has actually changed a lot over the years.
From the early days of her modelling career in the late 1990s to her move to America as an actress in the 2010s, 39-year-old Kelly has endured a lot in the public eye and her shape has also been through many ups and downs.
Our gallery takes a look at how Kelly's famous body has transformed through time.
As our first picture shows, Kelly Brook begins her career as a young model. In June 1997 she bravely strips down to her Playtex undies for a promotional event at London's busy Waterloo station. She looks very slim in her white bra and knickers but she's also got some stunning curves going on.
Kelly becomes more well-known in the years that follow and memorably grabs the headlines in 2000 for flashing her bum in a revealing dress at the London premiere of the film Snatch. It's clear that the young star is already comfortable with her figure.
As time goes by Kelly starts to become even curvier. She appears particularly shapely in 2004 but then showcases an enviably small waist the following year.
Her figure fluctuates over the years but thankfully she never loses her famous curves. In the 2010s Kelly looks more voluptuous than ever and later reveals that she'd actually gained weight in the hope of becoming a mum.
'I wanted to be healthier,' she says. 'I wanted to be a bit chubbier because I want to have a baby at some point.'
Recently, Kelly revealed she had piled on two stone after gorging on pies, chips and Guinness. 
However, she now slimmed down to a size 12 after cutting her portion sizes. Kelly confessed: 'I was the last to realise I'd put on weight. I wasn't in denial because I felt all right. But I'd got up to a 14/16 dress size, my boobs were too big and my back was hurting.'
She added: 'Since I've been doing SlimFast, I just have smaller portions and lots of veg. I don't deprive myself of anything.'
Read on to find out more about Kelly Brook's changing body…
Kelly Brook
Kelly Brook
Kelly Brook cuts a slender figure in April 1999 whilst out shopping in Gillingham.
Kelly Brook
At the August 2000 film premiere of Snatch in London, Kelly Brook hits the headlines for showing a lot of skin in this revealing dress.
Kelly Brook
Check out Kelly Brook's enviably flat tum!
The model doesn't shy away from showing it off in November 2002 whilst out and about in Los Angeles.
Kelly Brook
Kelly Brook's famous curves are apparent when she wears a striped frock to a London charity fashion show in July 2003.
Kelly Brook
In August 2004 Kelly Brook is at her shapeliest during a Los Angeles shopping trip.
Kelly Brook
Wearing a stunning black gown, Kelly Brook showcases a petite waist in April 2005 at FHM's 100 Sexiest Women Awards in the capital.
Kelly Brook
Kelly Brook looks very slim in November 2006.
The brunette star wows at the British Fashion Awards in London by covering her figure in an elegant yellow dress.
Kelly Brook
In October 2007 Kelly Brook launches her own perfume in London and exposes her ample cleavage.
Kelly Brook
Wow! During a holiday to St Barts in January 2008, Kelly Brook reveals her hourglass shape when she hits the beach in a cute bikini.
Kelly Brook
Kelly Brook's legs appear thinner than usual as she heads out in London for theatre rehearsals in October 2008.
Kelly Brook
In September 2009 Kelly Brook rocks her curves at London's GQ Men Of The Year Awards.
Kelly Brook
We barely recognise Kelly Brook here!
The model shows off some impressive abs in August 2010 whilst unveiling a large billboard of herself in the capital.
Kelly Brook
Kelly Brook is back to being curvy in a gorgeous mini dress at a London gala in November 2010.
Kelly Brook
During a vacation in Italy in July 2011, Kelly Brook wears a revealing kaftan which leaves little to the imagination.
Kelly Brook
We bet Kelly Brook was hoping not to get spotted running about in her dressing gown in Brighton!
The shapely babe munches on sweets in April 2012 whilst filming a New Look campaign.
Kelly Brook
Blimey! Kelly Brook's show-stopping curves blow us away when she steps out at the Cannes Film Festival in May 2012.
Kelly Brook
At London Fashion Week in September 2012, Kelly Brook appears slimmer than before in a very colourful ensemble.
Kelly Brook
Kelly Brook works her shape in a retro dress at London's Riverside Studios in April 2013.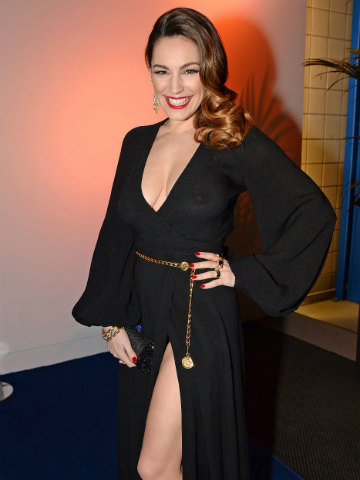 Kelly Brook
We're assuming that Kelly Brook is feeling very body confident in January 2014 when she wears a practically see-through frock to the National Television Awards in London.
Kelly Brook
Now spending most of her time in Los Angeles, Kelly Brook appears curvier than ever.
In July 2014 she proudly displays her voluptuous bod in a sweet playsuit.
Kelly Brook
Kelly Brook dons an all-black outfit in September 2014 but flashes a glimmer of her tum when she goes out for lunch in Hollywood.
Kelly Brook
In January 2015 Kelly Brook reveals that she's working hard on her fitness and posts a photo on Instagram of an impressive Pilates move.
The regime already seems to be paying off as Kelly is looking amazing!
Kelly Brook
We're stunned by Kelly Brook's body transformation in March 2015.
The model – who has been following the New Atkins Nutritional Approach as well as working out – takes a selfie to highlight her incredible abs.
Kelly Brook
The TV star attends the 2016 Ischia Global Film and Music Festival on July 13, 2016, in Italy.
Credit: Getty Images
Kelly Brook
Kelly looks pretty in pink as she pays a visit to Hampton Court Palace Flower Show on July 3, 2017.
Credit: UK Press via Getty Images
Kelly Brook
Kelly looks gorgeous in this monochrome number at the British Takeaway Awards in November 2017.
Credit: Mike Marsland/WireImage
Kelly Brook
The former model looks cool and casual in skinny jeans as she arrives at Heart Radio in May of this year.
Credit: GC Images
Source: Read Full Article