Aside from the Poosh founder, the former 'Keeping Up with the Kardashians' star's mom Kris Jenner gifts the birthday girl a brand new pair of beige Bottega Veneta shoes.
AceShowbiz –Kourtney Kardashian is giving a special treat to Travis Barker's daughter Alabama Barker. To celebrate her fiance's daughter's 16th birthday, the former "Keeping Up with the Kardashians" star gifted the teenager with a diamond anklet.
On Friday, December 24, Alabama shared a boomerang on her Instagram Story to show off the luxury gift from the Poosh founder. Over the clip, the birthday girl also thanked her soon-to-be stepmom as saying, "Thank you @kourtneykardash," adding a pleading face and a pink heart emoji.
Not stopping there, Kourtney seemed to hold a simple birthday celebration for Alabama. Taking to her own Instagram account, the 42-year-old reality star shared videos of the decorations in Travis' home. The main room of the house was filled with silver balloons, including balloons that spelled out Alabama's name and the number 16. The trio also appeared to enjoy the snow with blow-up snow mobiles.
Aside from Kourtney, Kris Jenner knew how to make Alabama's birthday extra special. The momager, who recently released her new Christmas song "Jingle Bells" featuring Travis and Kourtney, presented Alabama with a brand new pair of beige Bottega Veneta shoes.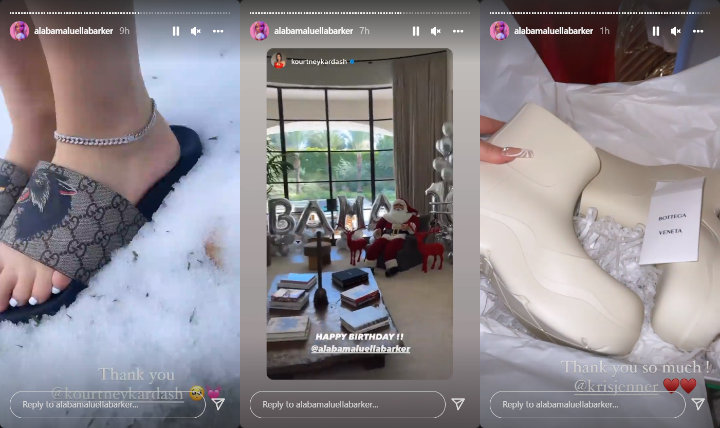 Kourtney Kardashian and mom Kris Jenner celebrated Alabama Barker's 16th birthday.
While Kourtney and her family gave special birthday gifts to Alabama on her birthday, Alabama's mom Shanna Moakler marked the teenager's big day with a tribute on social media. Alongside a selfie of Alabama and other throwback photos, the former Miss USA wrote, "Happy 16th Birthday to my beautiful daughter @alabamaluellabarker."
Shanna went on to praise her daughter, "You are kind, strong, compassionate, loving and confident! Never change who you are beautiful soul!" She then wished her daughter to "have the best day ever" before proclaiming her love, saying, "I love you so much!" In response, Alabama left a slew of heart emojis in the comment section.
Prior to Shanna's birthday tribute to Alabama, it's reported that the 46-year-old model got jealous as her kids, Landon and Alabama, developed a close bond with Kourtney. "Shanna is devastated that her kids are spending so much time with the Kardashians, but she knows there's not much she can do," a source spilled to HollywoodLife.com earlier this month.
The source added, "She feels she's done so much for her kids as a mother [and] feels they've turned on her." The informant further noted that "these are Hollywood kids enamored by the Kardashian family and she feels they're being teenagers."
A separate source told the outlet that Shanna's children have "developed a bond" with their future stepmom and the "KUWTK" alum is "starting to treat them like her own" as they get closer every day. "Travis' son Landon has become a role model to Kourtney's boys Mason and Reign and Alabama has already become a big sister figure to Penelope," the insider unveiled.
"All of Kourtney's children and both of Travis's are going to be included in their wedding party, as this is what they both want," the so-called inside source continued. "Travis' kids are obviously loving the added attention and fame that their stepmom being a Kardashian has brought."
Source: Read Full Article