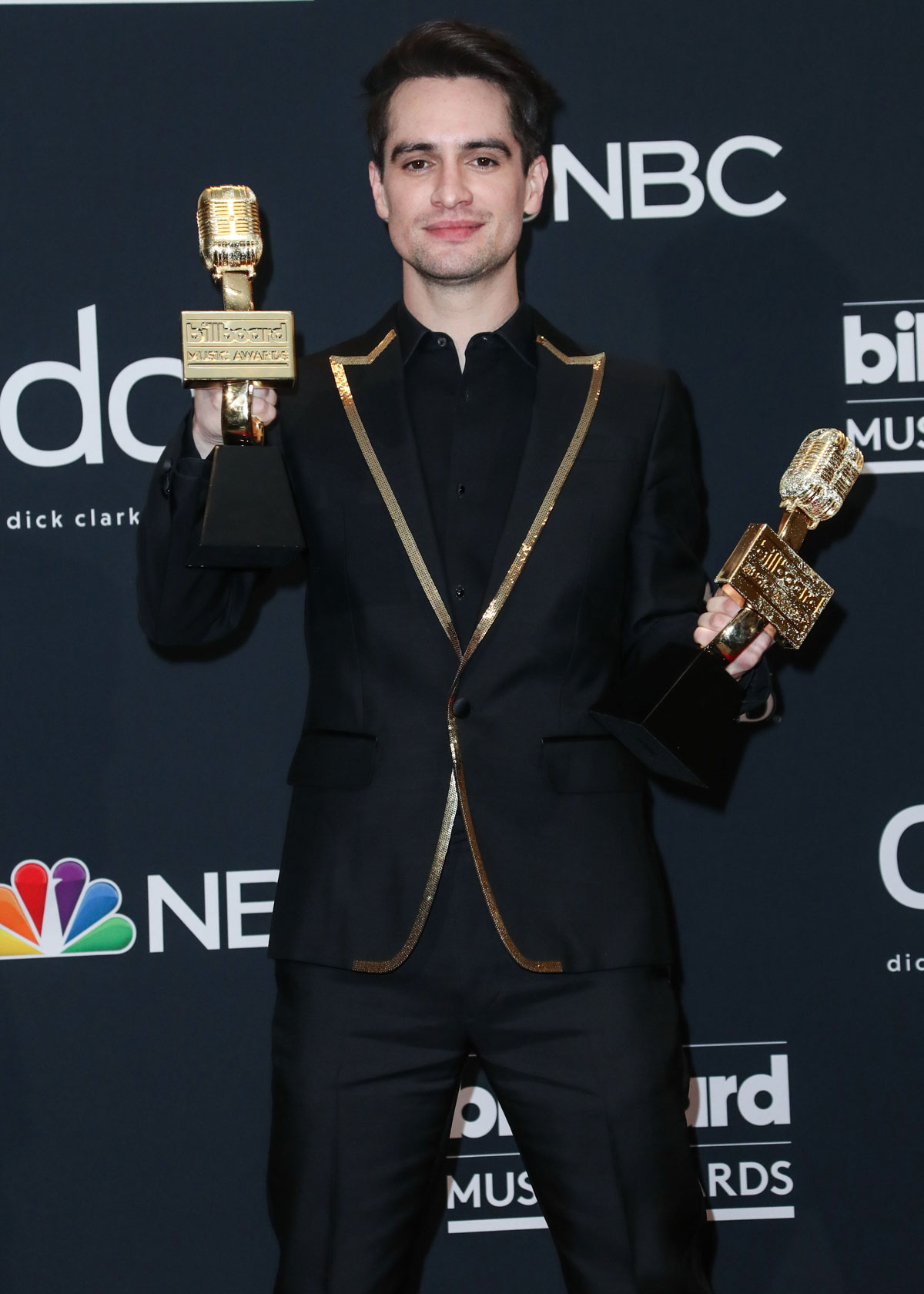 All this news about Decaydance/Fueled by Ramen bands is taking me back to high school. It's like 2007 all over again with very different concerns. Panic! at the Disco founding member/lead singer Brendon Urie just announced that they're breaking up the band after 19 years. And I use the term "band" loosely because it's basically just Brendon and a touring band and has been for years. P!atD released its last studio album over the summer and the upcoming European leg of tour will be its last. In Brendon's announcement, he cited the reason for the end being his wife's pregnancy. He's going to focus on his growing family.
Panic! at the Disco will disband after their upcoming European tour, founding member Brendon Urie announced January 24. The upcoming breakup, after a 19-year run, will be between Urie and, well, Urie — by 2016, the front man was the only official member of the band left standing. "Growing up in Vegas I could've never imagined where this life would take me," Urie said in a statement posted to Instagram. "Sometimes a journey must end for a new one to begin." The new journey is fatherhood, according to the bandmate. "We've been trying to keep it to ourselves, though some of you may have heard.. Sarah and I are expecting a baby very soon!" he wrote. "The prospect of being a father and getting to watch my wife become a mother is both humbling and exciting. I look forward to this next adventure."

Panic formed in 2004 when the first crop of members were still in high school. Urie, together with drummer Spencer Smith and guitarist and songwriter Ryan Ross, released their debut album, Fever You Can't Sweat Out, in 2005, which spawned the instant classic "I Write Sins Not Tragedies" and other songs with sentence-long titles (e.g., this banger: "Lying Is the Most Fun a Girl Can Have Without Taking Her Clothes Off"). A year after their second record, Pretty. Odd., dropped in 2008, Ross and bassist Jon Walker departed the band, leaving Urie, Smith, and Dallon Weekes to helm the band's next projects, Vices and Virtues (2011) and Too Weird to Live, Too Rare to Die! (2013). Urie ended up releasing Death of a Bachelor on his own in 2016, marking his first solo project for the band, while his next album, Pray for the Wicked (2018), spawned unsuccessful presidential candidate Pete Buttigieg's campaign song "High Hopes." Last year's Viva Las Vengeance is Panic's last studio album.
[From Vulture]
It's pretty funny that everyone keeps referring to this as a band breakup when at this point it is literally just Brendon and has been for seven years. There's been so much drama with the composition of this band, with the original quartet splitting into two and Brandon keeping the name instead of OG founder Ryan Ross. And then the remaining duo winnowed down to just Brendon and touring bandmates, including a guitarist who perved on young fans and a gross security manager. Cynically, when I saw the breakup headline my first thought was that Brandon was trying to get ahead of something and bury it under the Fall Out Boy news since they're more popular and better and Pete Wentz wrote a lot of Panic's past stuff anyway. But sure, Brendon going to focus on his family. It does beg the question, what is he going to do now? Produce? What do all these defunct Decaydance/Fueled by Ramen bands do after they break up? Like what does Gabe Saporta of Cobra Starship do now? Vicky-T was Britney Spears' assistant for a bit. Hey, maybe Brendon can fill in for Joe on Fall Out Boy's tour! The Cab's guitarist did it for Panic!, now Brendon can do it for FOB.
https://www.instagram.com/p/CnzNF9ouOUp/
https://www.instagram.com/p/CkGhIULggXl/
Embed from Getty Images
Embed from Getty Images
photos credit: Xavier Collin/Image Press Agency/Image Press Agency/Avalon, Getty and via Instagram
Source: Read Full Article