He was responsible for some of the most gruesome murders of the 20th century, and is partially responsible for the death of the so-called "Flower Power" era. But cult leader Charles Manson also had wives and children — two ex-wives and at least three sons (all of whom allegedly changed their names when they were old enough to do so in order to distance themselves from their father's infamy). 
But shortly before he died in 2017, Manson got engaged. Even though he was confined to the walls of Corcoran State Prison for the rest of his natural life, Manson managed to get engaged to Afton "Star "Burton, a self-proclaimed "superfan" of the madman. According to the Daily Mail, the couple even went so far as to get a marriage license in 2014, but it expired a year later. 
So where is Afton Star Burton today? We decided to find out.
There's more to the Afton Burton story than you may think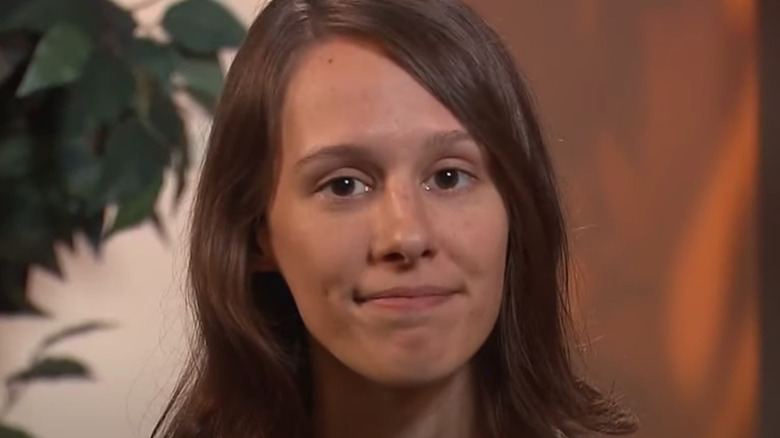 A new book called "The Last Charles Manson Tapes: Evil Lives Beyond the Grave" by journalists Dylan Howard and Andy Tillett revealed that there was more to the Afton "Star" Burton situation than originally thought. Excerpts of the book published by Radar Online reveal, perhaps, the true nature of Burton and Manson's relationship.
"In interviews she spoke like the brainwashed girls from the Manson Family of the '60s and refused to explain the root of her attraction to Charles," the authors penned in their book, per Radar. They went on to say that Burton dropped out of school and moved close to Corcoran State Prison to be near her idol. They applied for a marriage license in 2014, when Manson was in his 80s and Burton was 25, though that marriage never came to fruition. 
In fact, Burton was really dating someone else in 2015, according to the authors: fellow Manson devotee Craig Carlisle Hammond. And as it later turned out, Howard and Tillett claim, both Manson and Burton were using each other — Manson, for the headlines being with Burton generated, and Burton, for access to Manson's corpse for profit when he died. Though Burton's whereabouts are currently unknown as of 2021, Radar noted that she attended Manson's funeral in 2017.
Source: Read Full Article