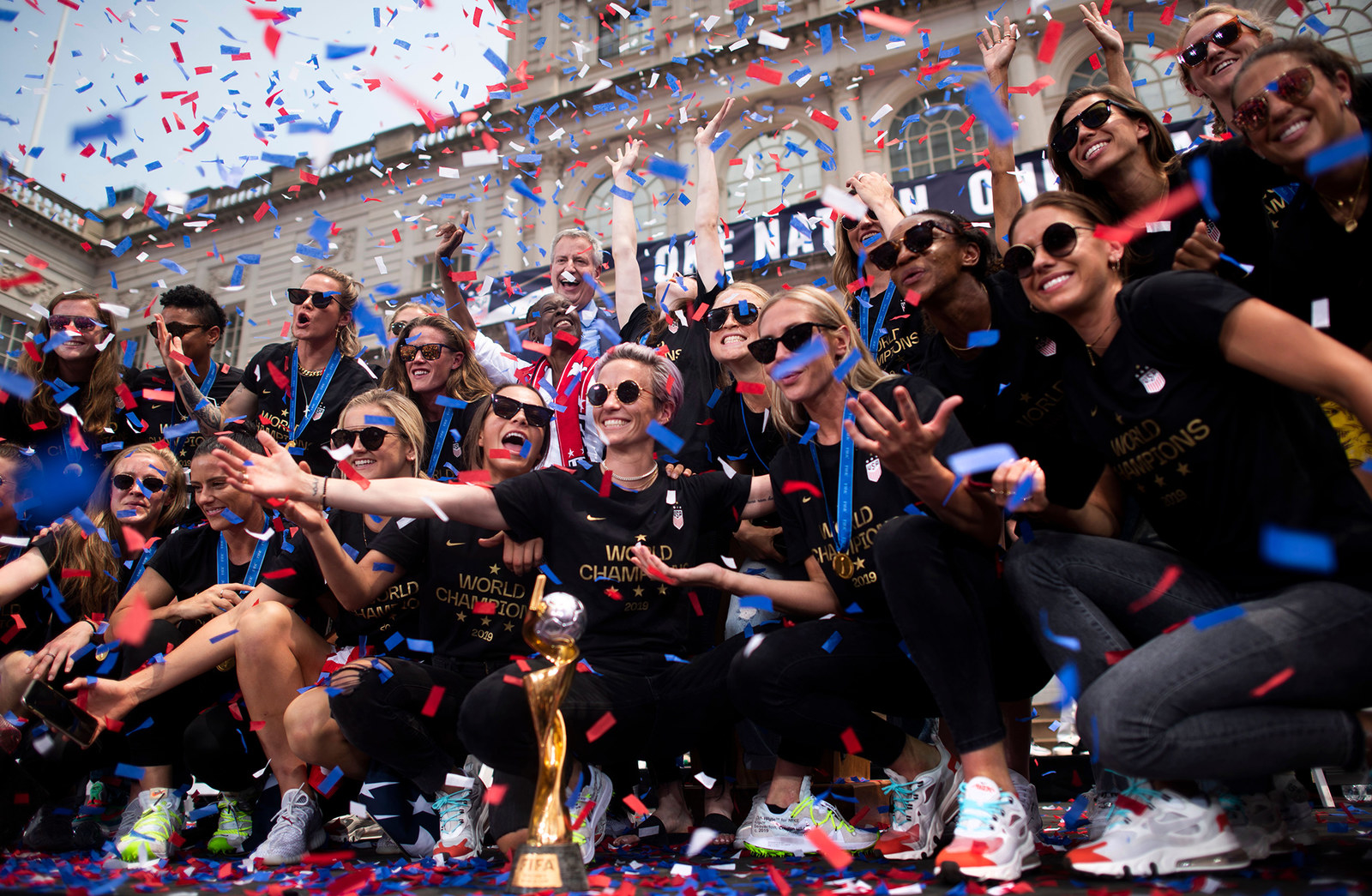 Members of the World Cup-winning US women's team take part in a ticker tape parade in New York City, July 10.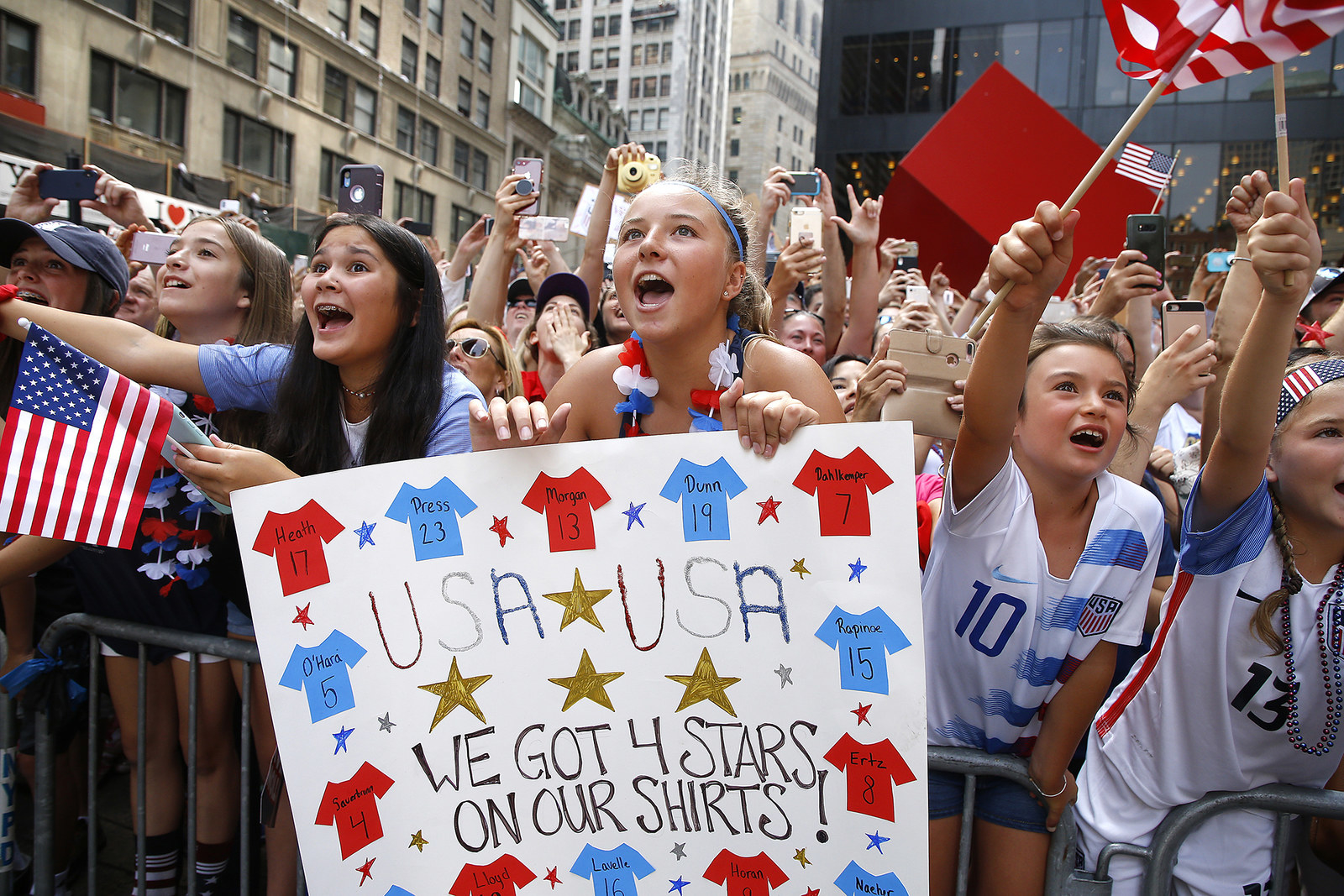 Spectators celebrate the US women's soccer team victory during a ticker tape parade in New York City, July 10.
President Donald Trump speaks during the "Salute to America" Fourth of July event at the Lincoln Memorial in Washington, DC.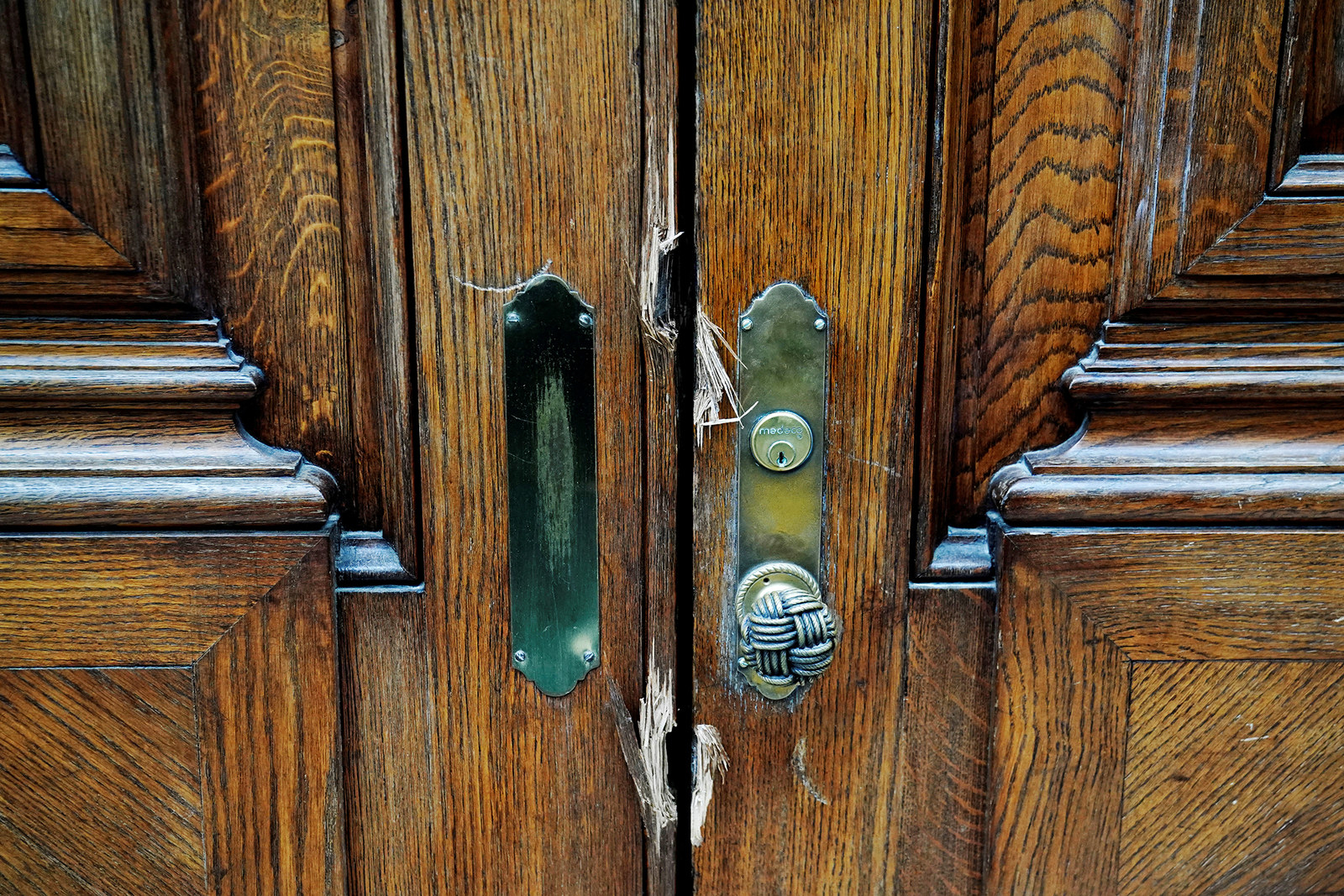 Damage is seen in the front door of the Upper East Side home of billionaire financier Jeffrey Epstein after the Southern District of New York announced charges of sex trafficking of minors and conspiracy to commit sex trafficking of minors, July 8.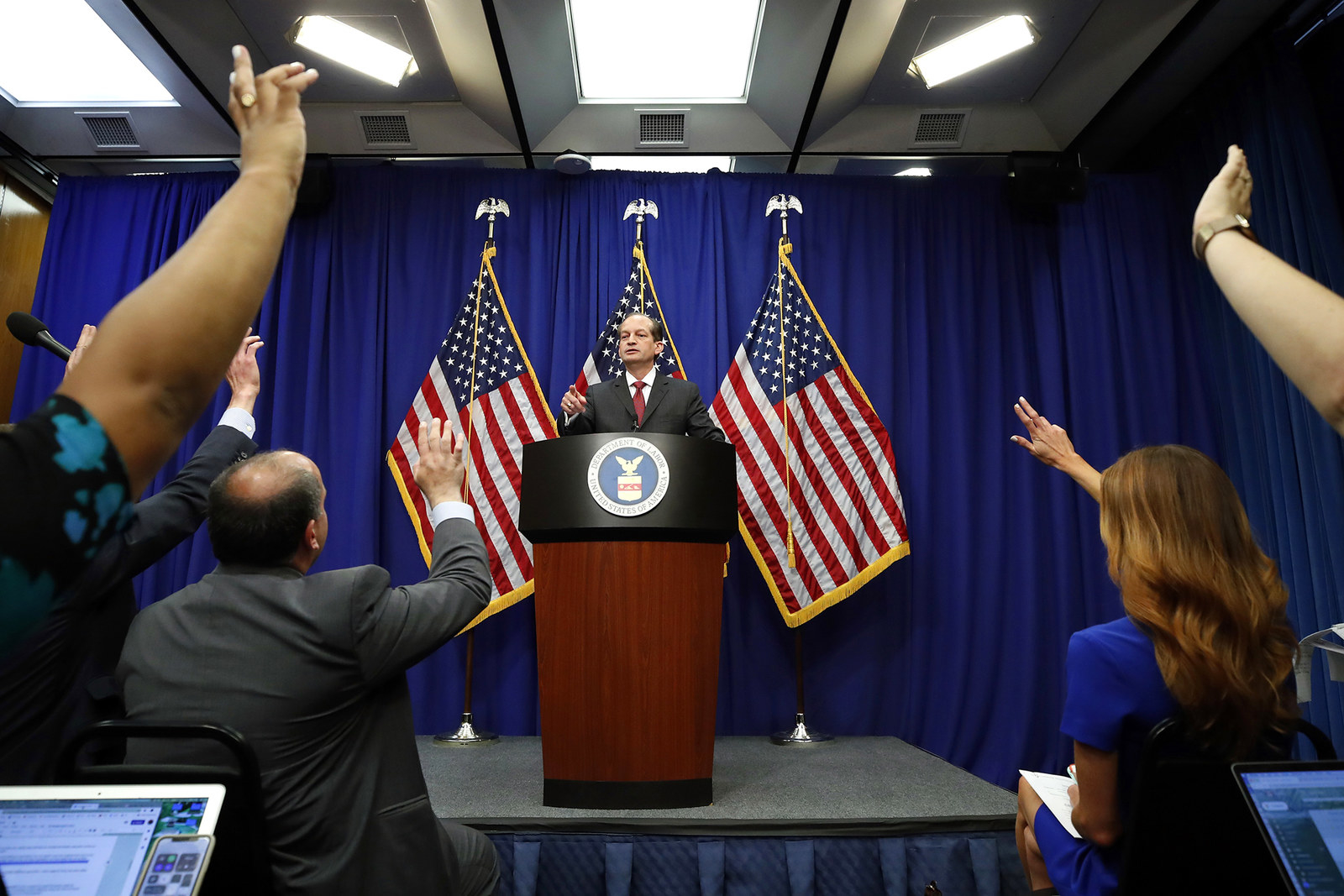 Labor Secretary Alex Acosta calls on a reporter to ask a question during a news conference at the Department of Labor in Washington, July 10. On Friday, Acosta resigned over controversy surrounding sex offender Jeffrey Epstein's plea deal when Acosta was US attorney for southern Florida.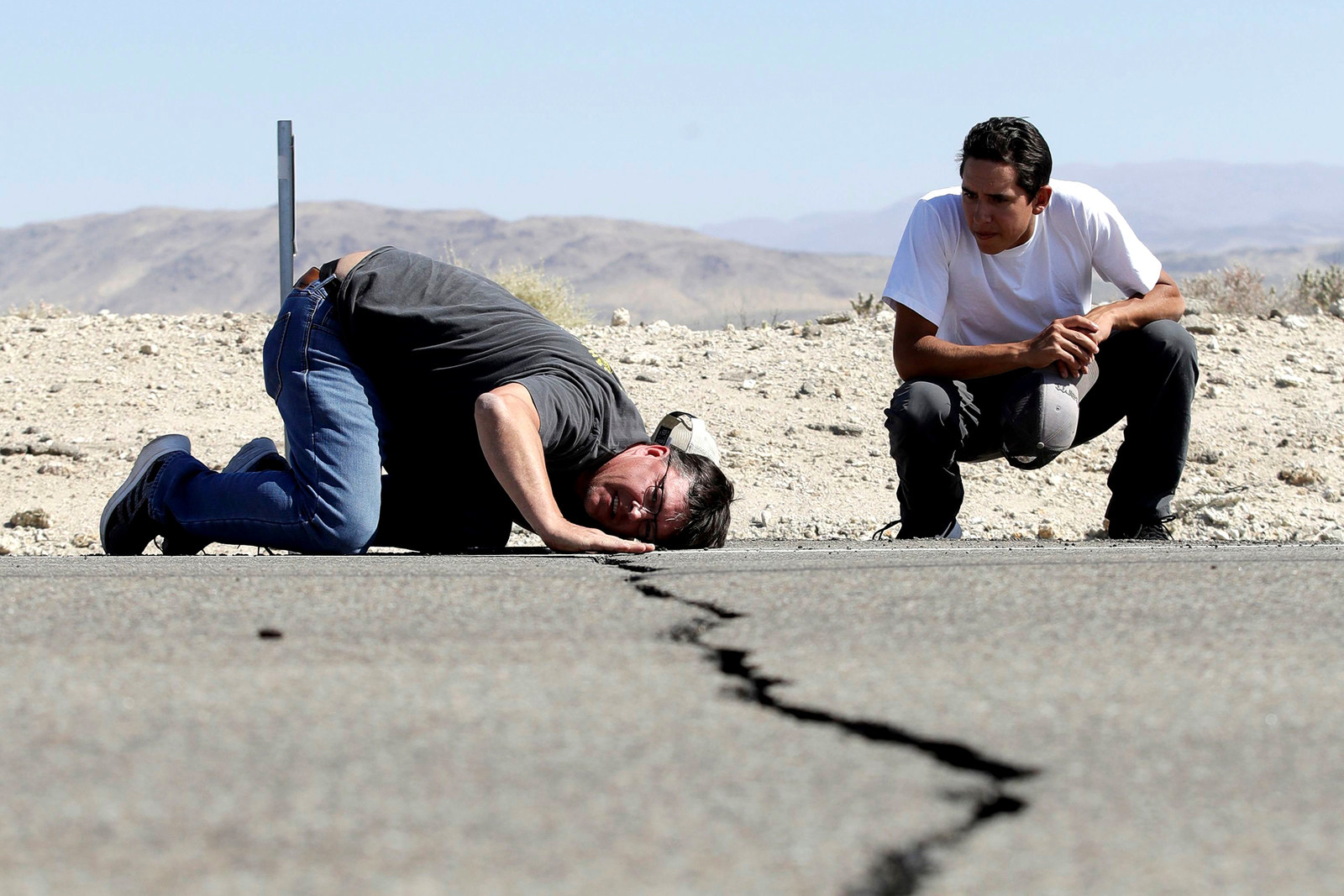 Ron Mikulaco, left, and his nephew Brad Fernandez inspect a crack caused by an earthquake on Highway 178, outside of Ridgecrest, California, July 6.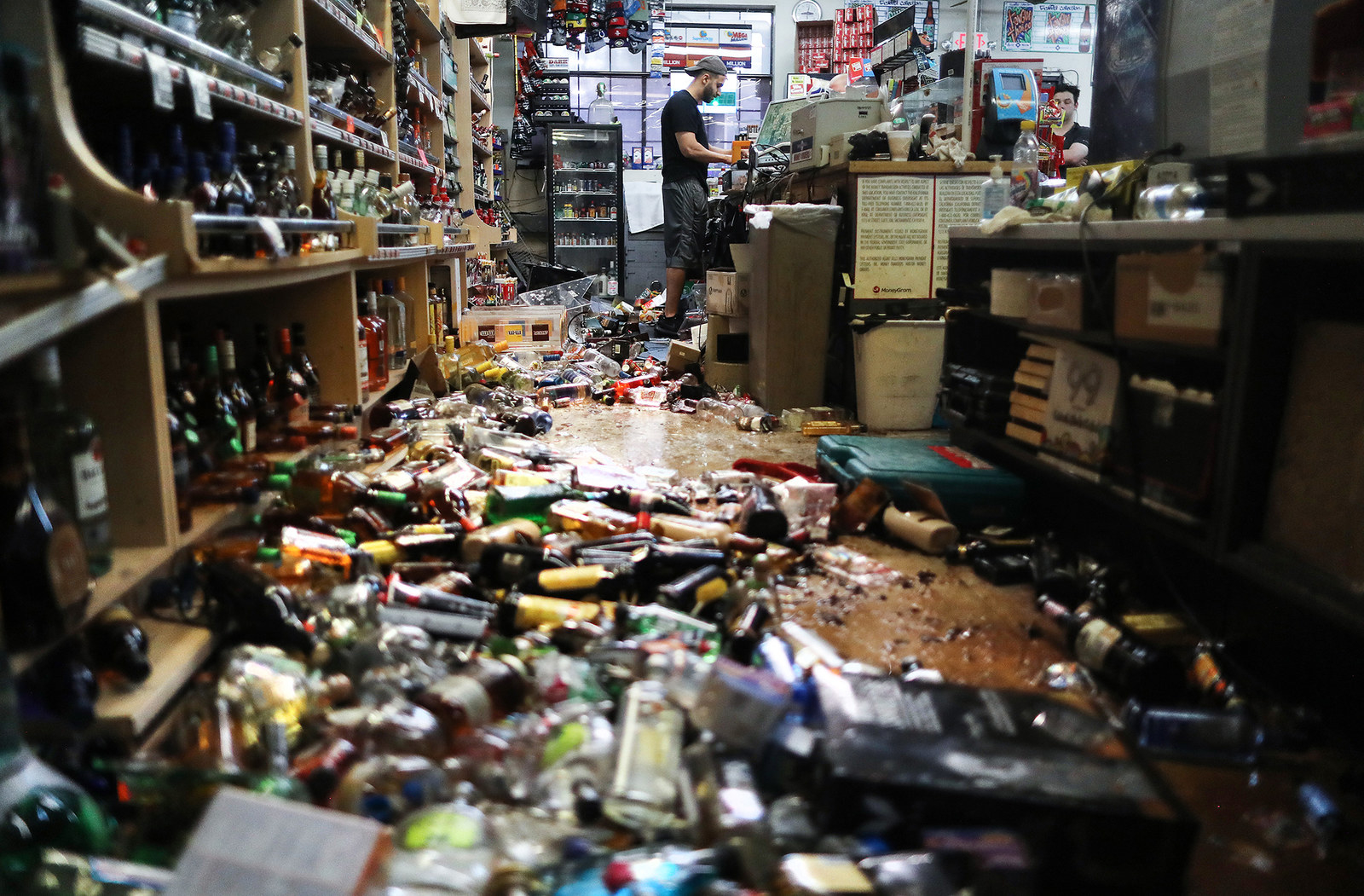 An employee works the cash register at a liqueur store in Ridgecrest, California, following a 7.1 magnitude earthquake which struck in the area, July 6.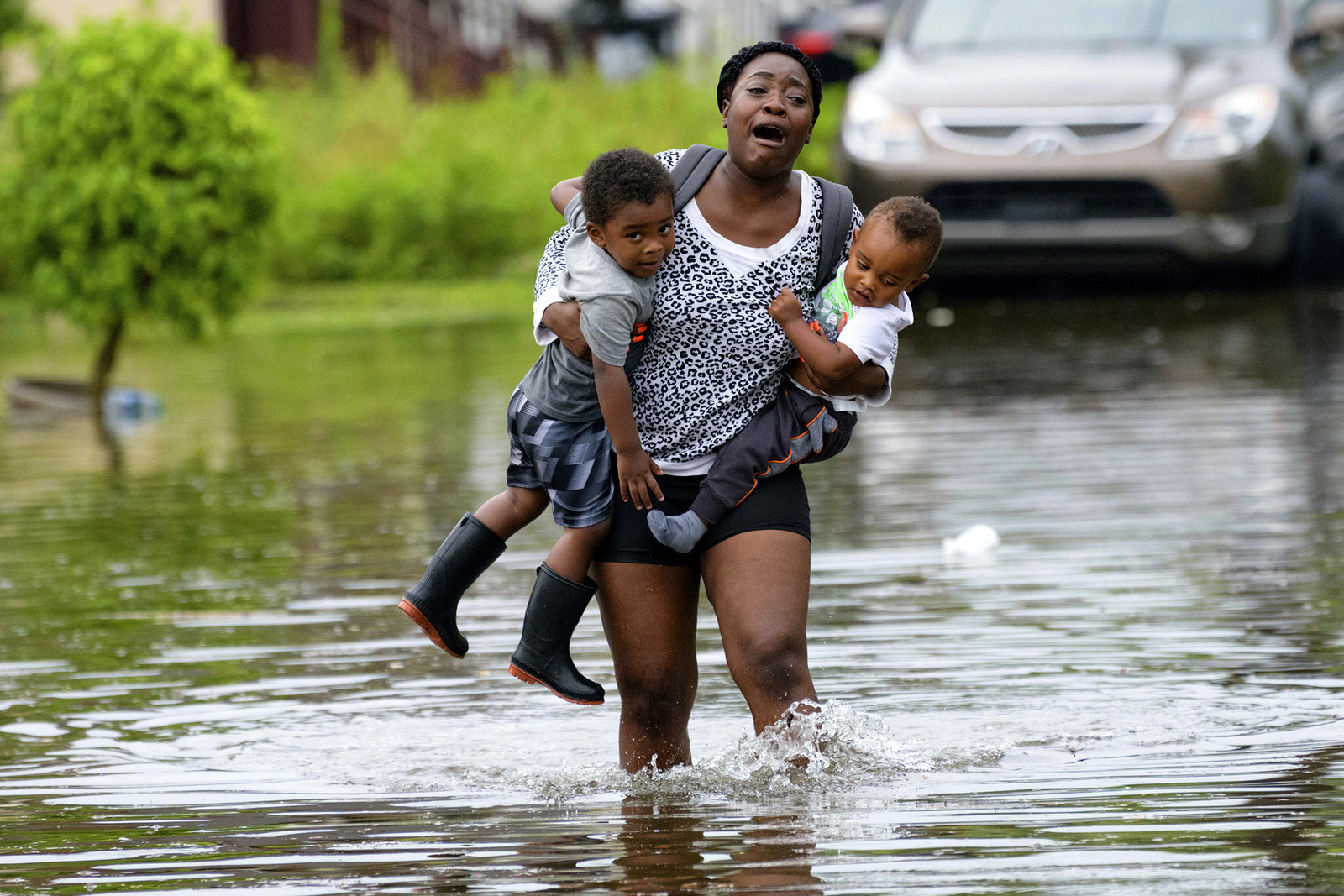 Terrian Jones reacts as she feels something moving in the water at her feet, in New Orleans during flooding from a storm in the Gulf Mexico, July 10.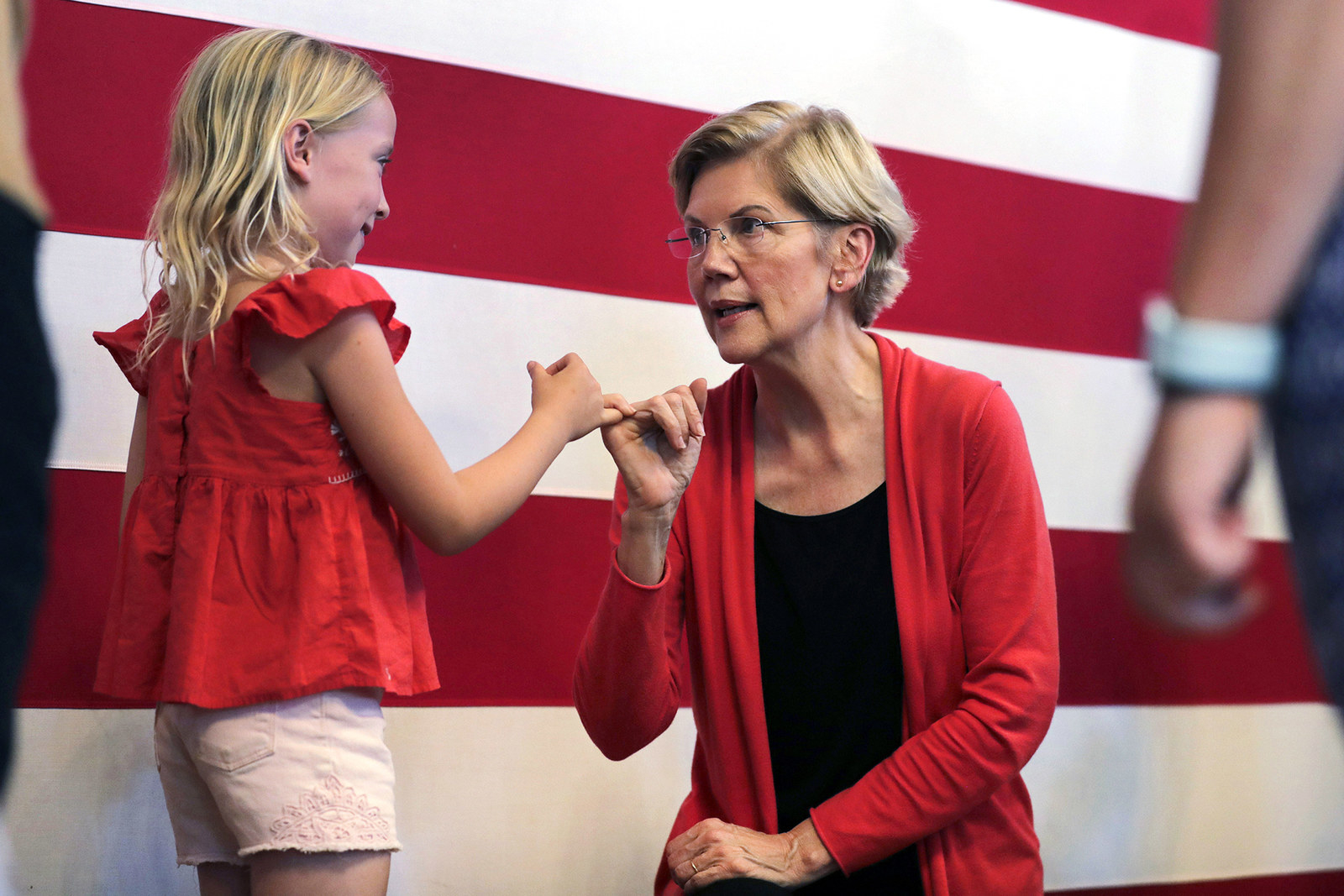 Democratic presidential candidate Senator Elizabeth Warren makes a pinky promise as she chats with Sydney Hansen, 8, during a campaign stop in Peterborough, New Hampshire, July 8.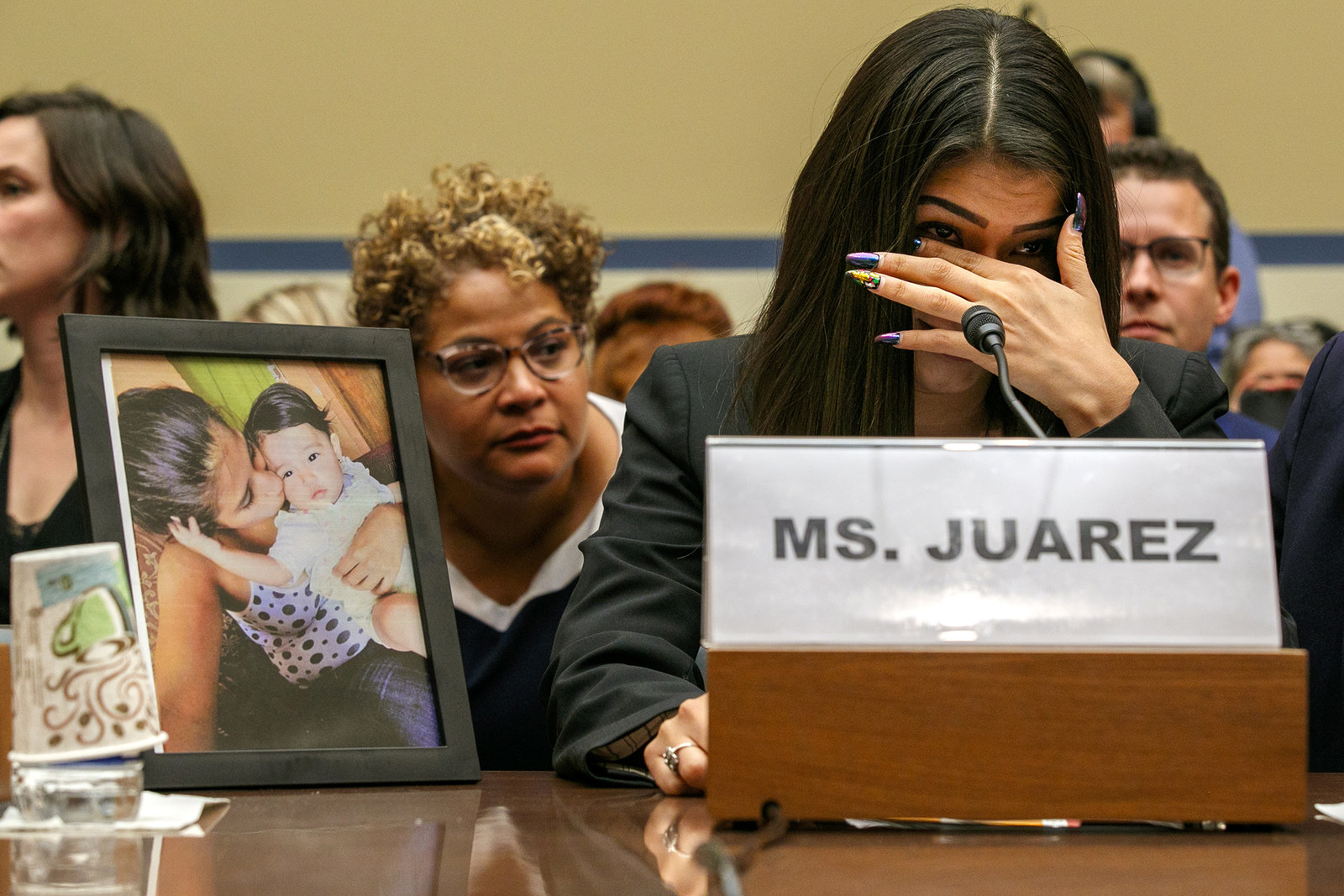 Yazmin Juárez cries as a photo of her daughter, Mariee, 1, who died after being released from detention by US Immigration and Customs Enforcement, is displayed at a House Oversight subcommittee hearing in Washington, DC, July 10.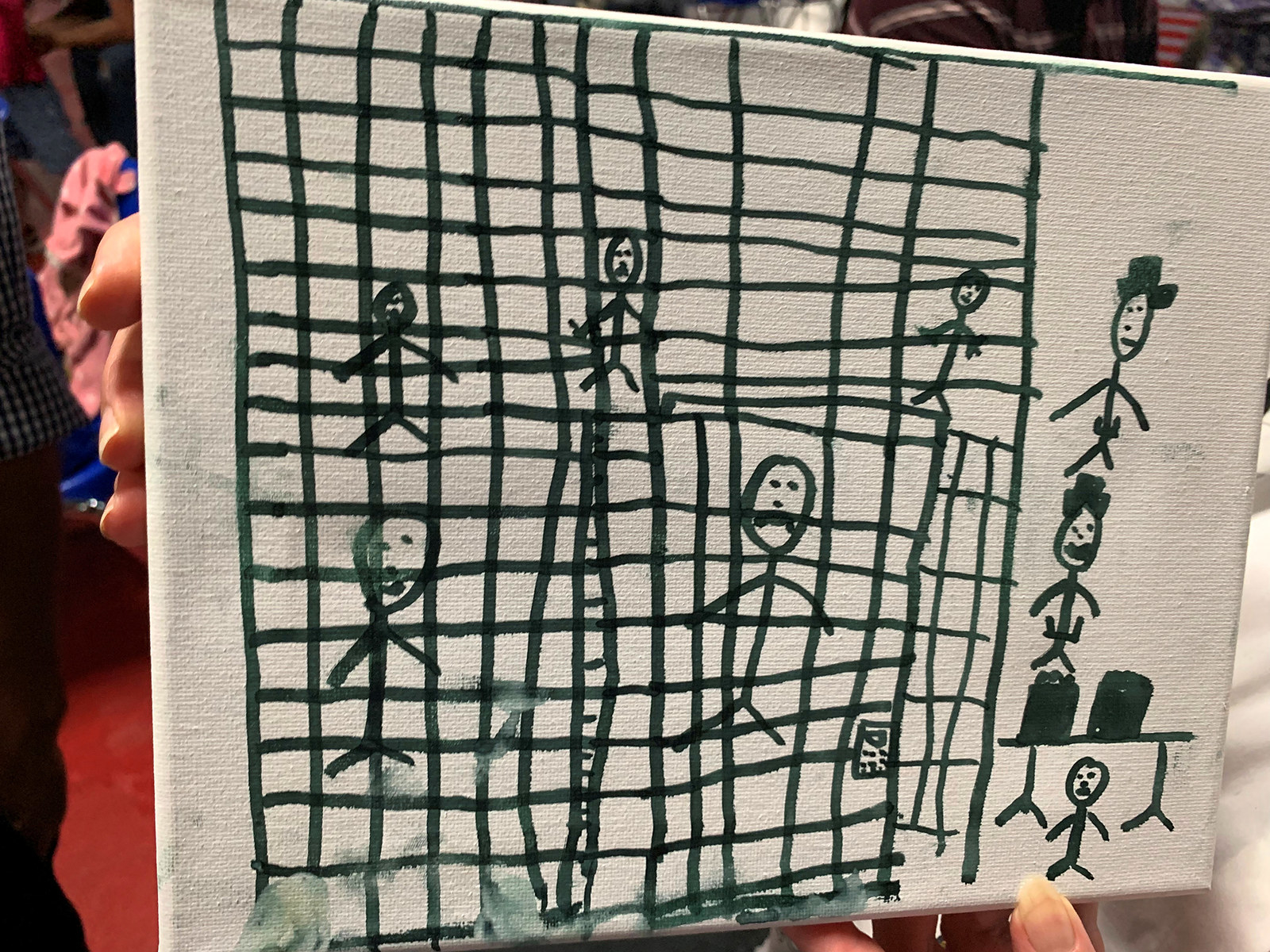 A drawing by migrant children recently released from CBP depicting their time spent in US Customs and Border Protection custody is show by the American Academy of Pediatrics in Itasca, Illinois, July 3.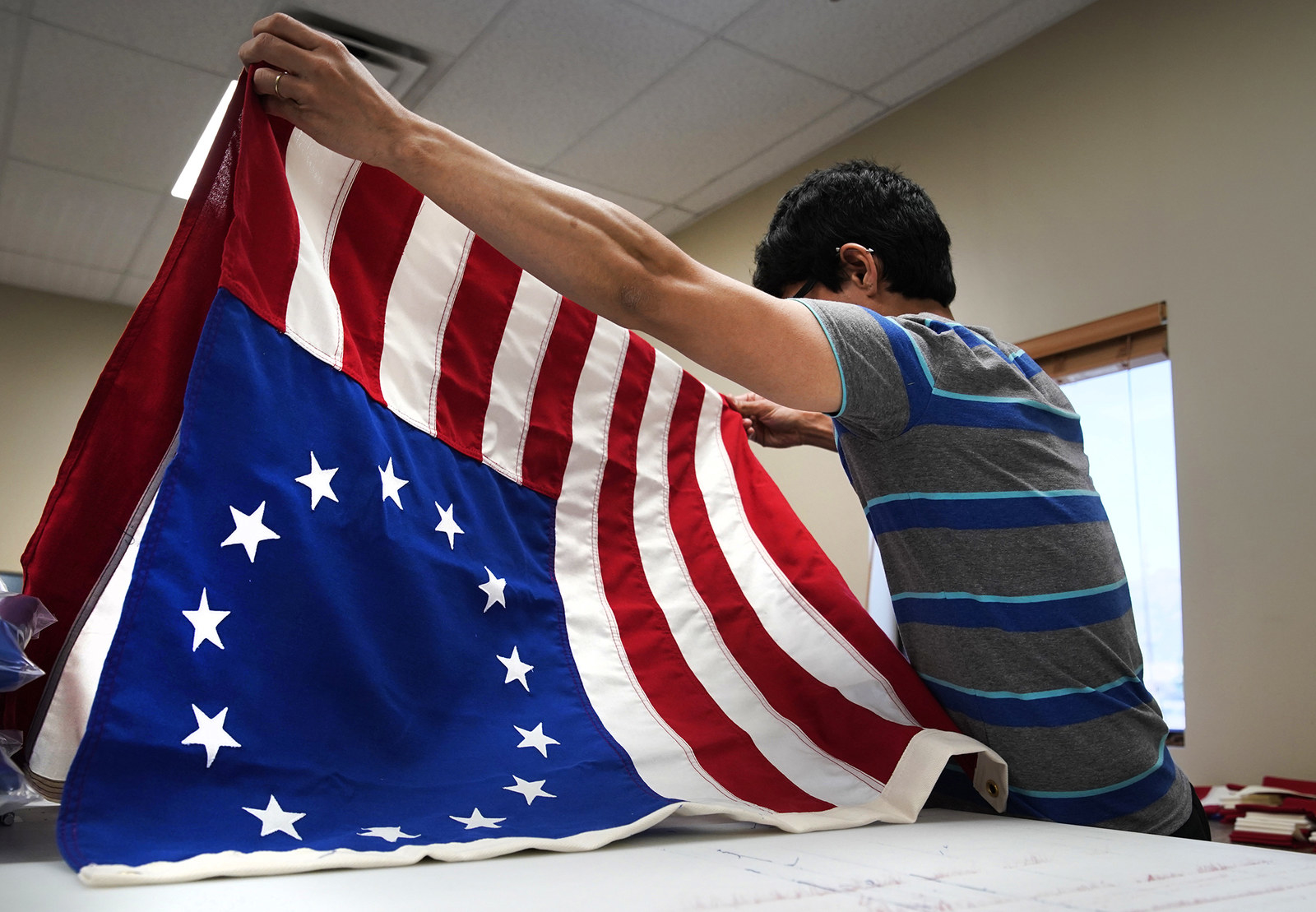 A worker folds a newly made Betsy Ross flag at Colonial Flag in Salt Lake City, July 5.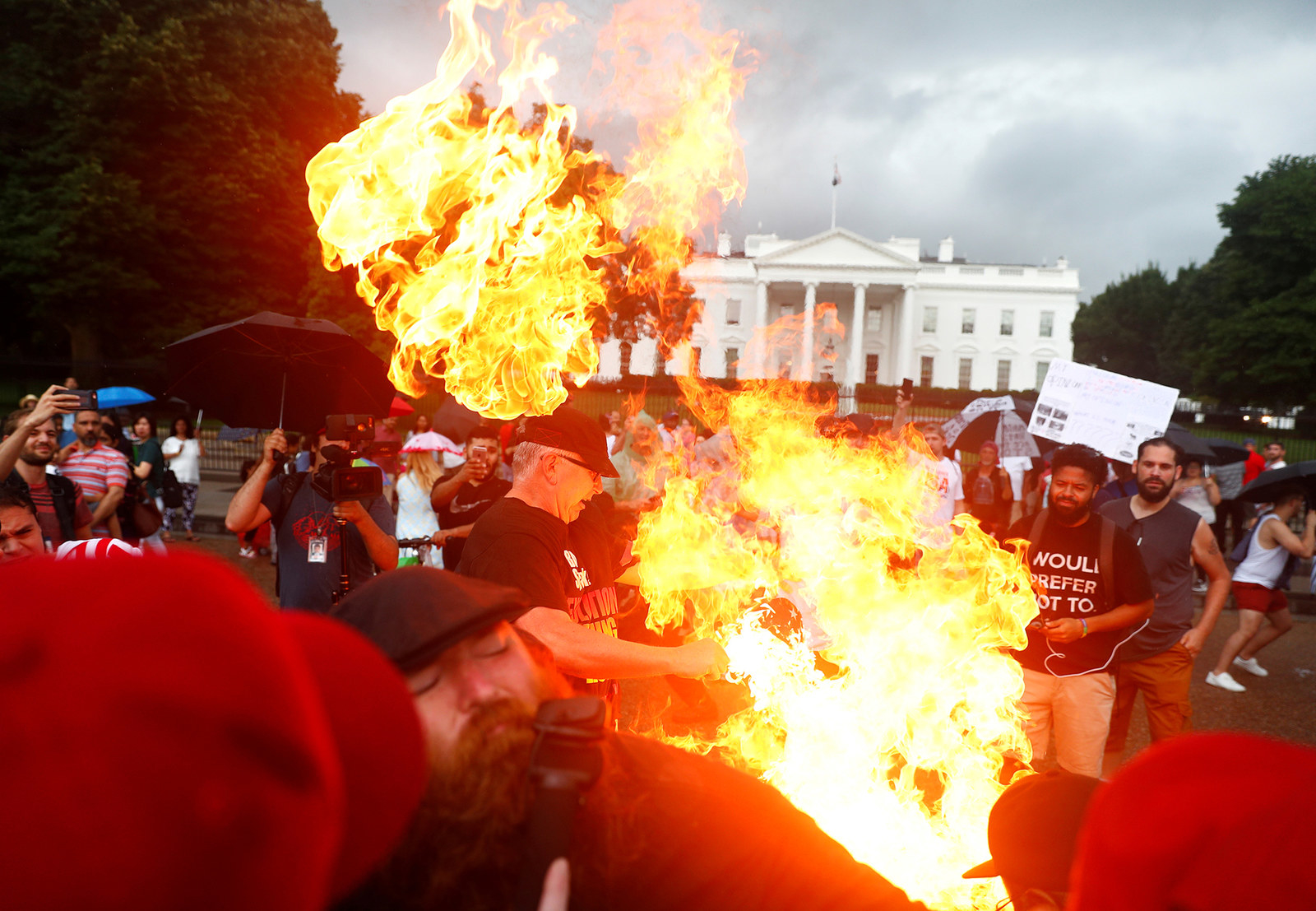 Demonstrators burn a US flag in front of the White House during a Fourth of July protest in Washington, DC.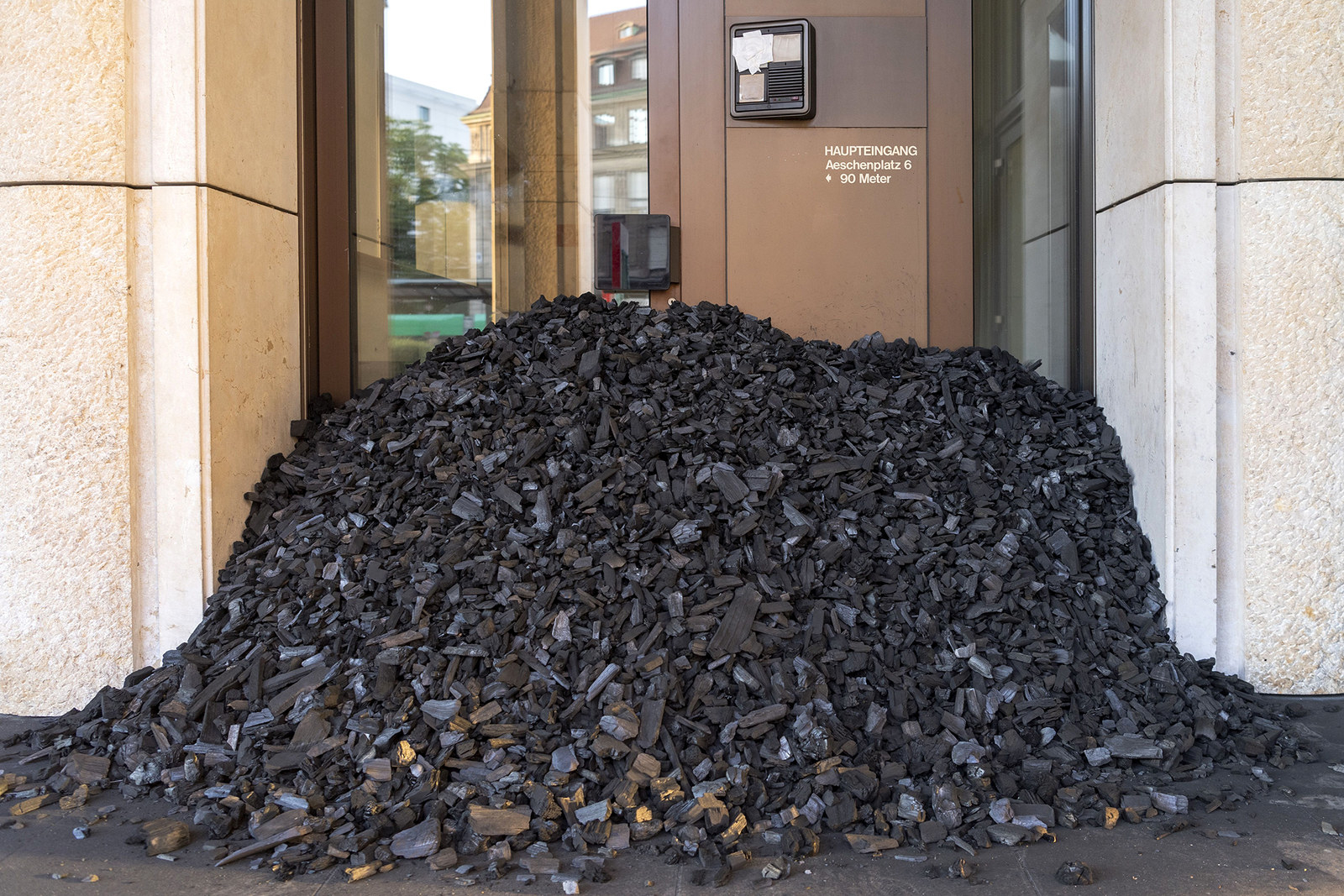 A group of climate activists from the Collective Climate Justice organization blocks the entrance to the Swiss bank Credit Suisse with coal, in Basel, Switzerland, July 8.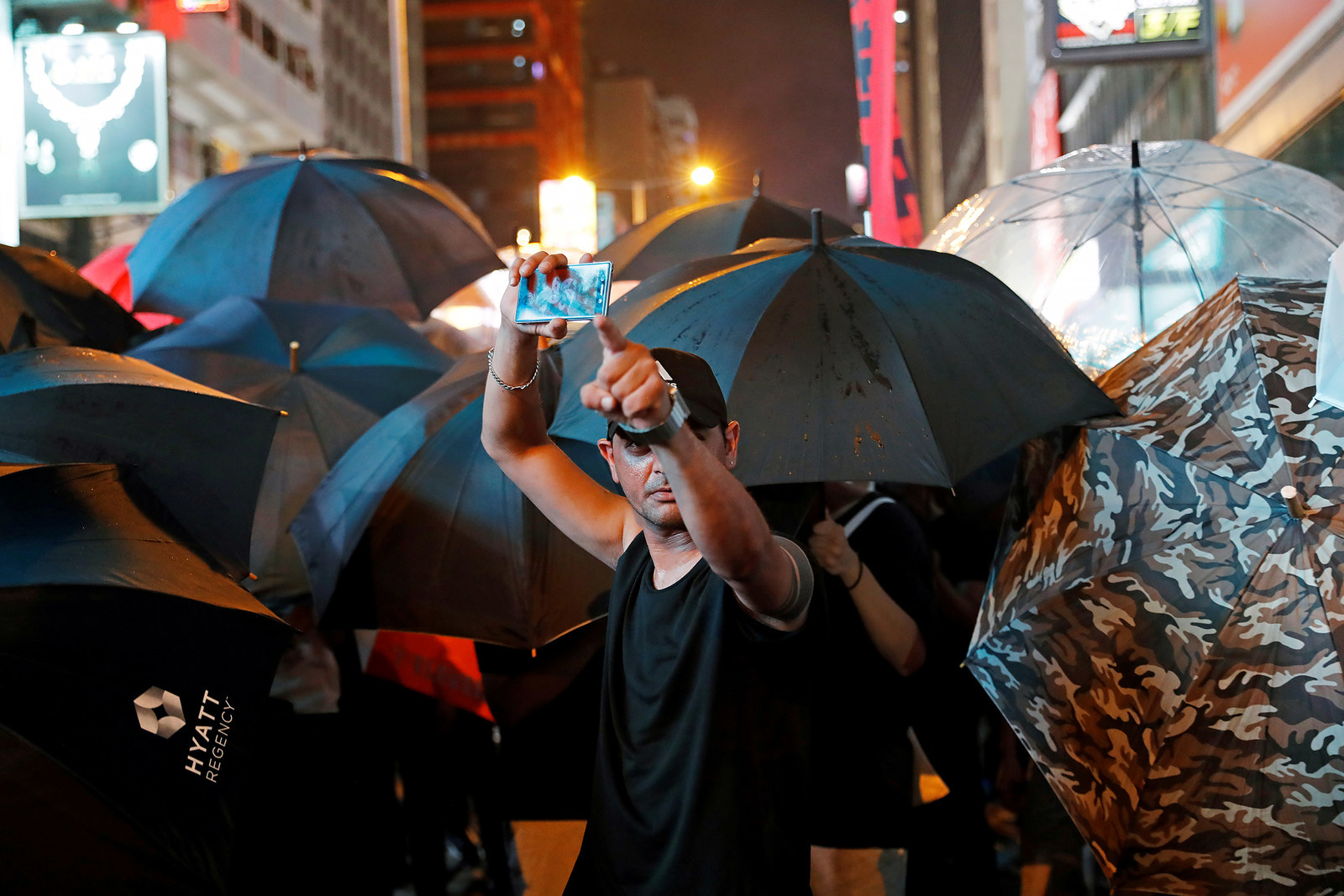 An anti-extradition bill protester shouts to riot police after a march at Hong Kong's tourism district, July 7.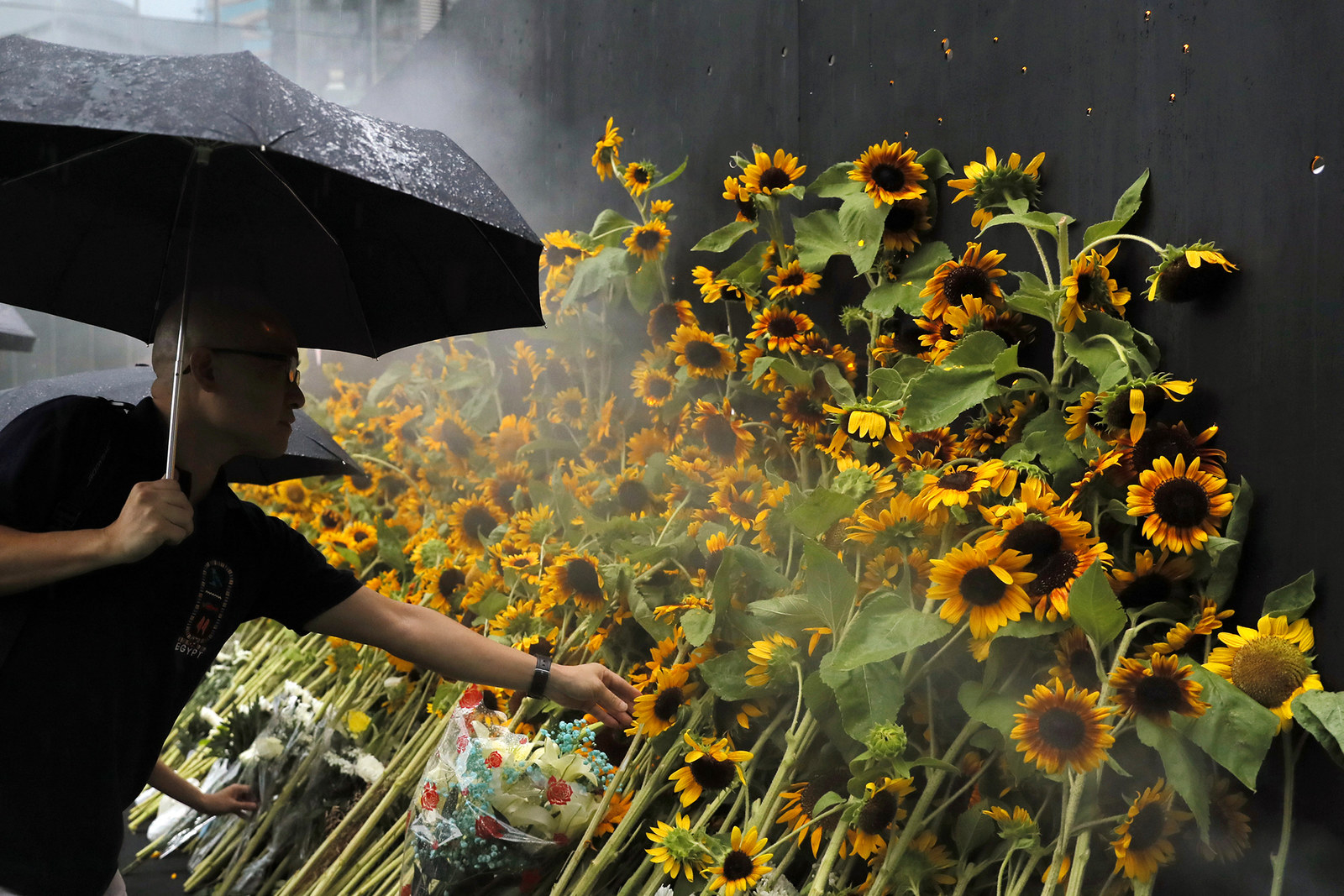 Attendees take part in a public memorial in Hong Kong on July 11, for Marco Leung, the 35 year old man who fell to his death weeks ago while hanging a protest banner against an extradition bill.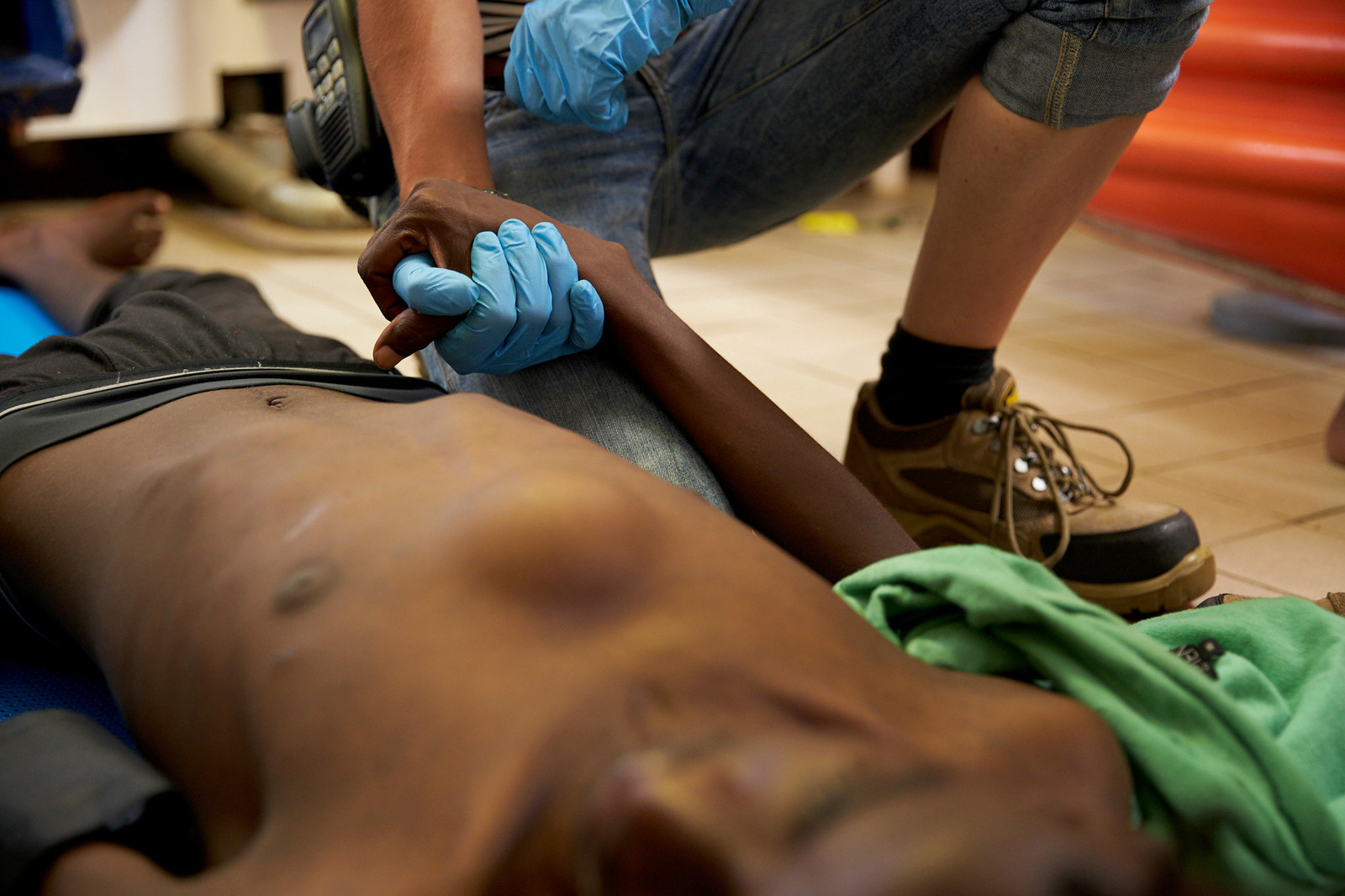 Doctors and volunteers in the Mediterranean assist migrants onboard an NGO vessel, July 7.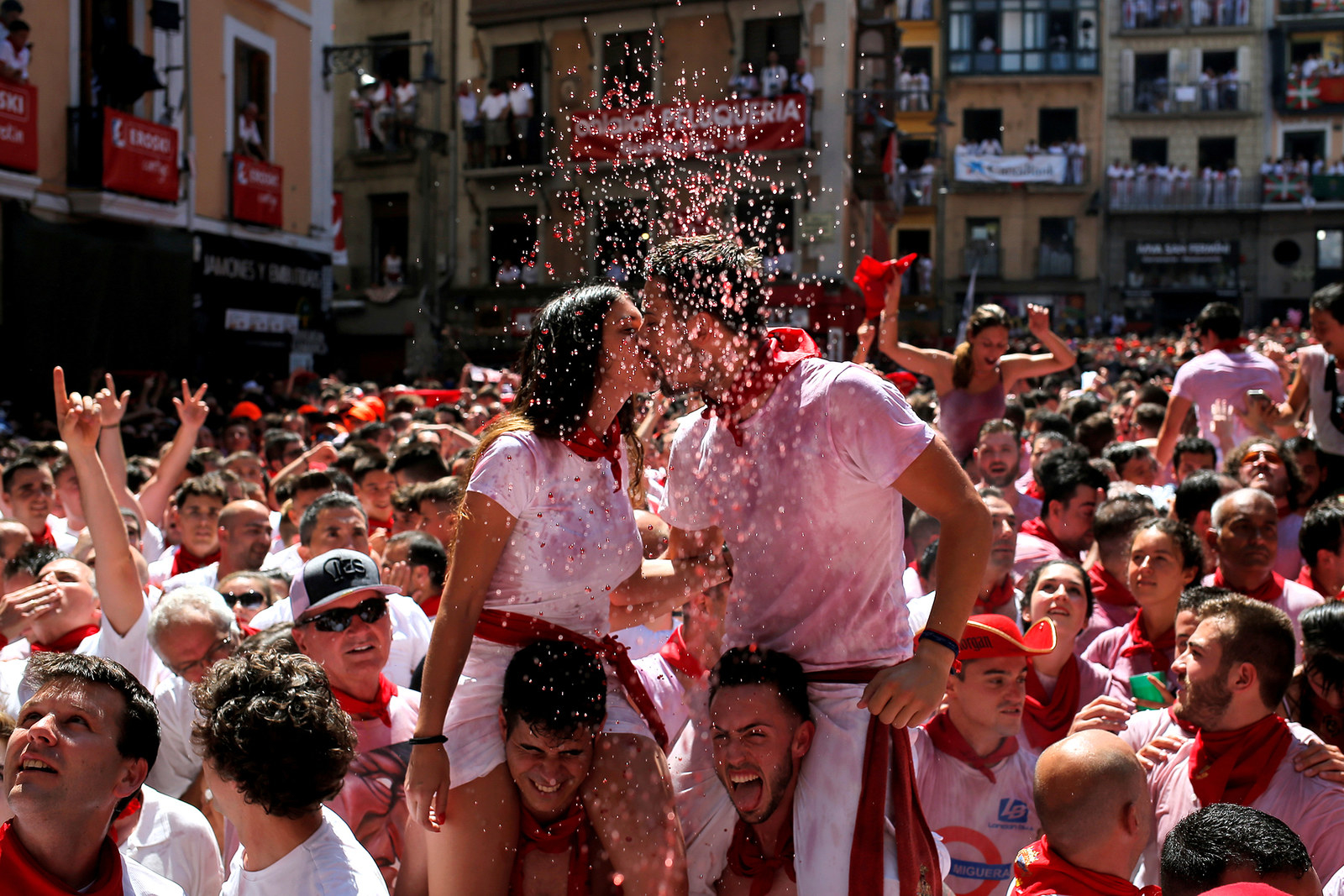 Paula Lopez, 24, and Diego Roldan, 24, kiss during the opening of the San Fermin festival in Pamplona, Spain, July 6.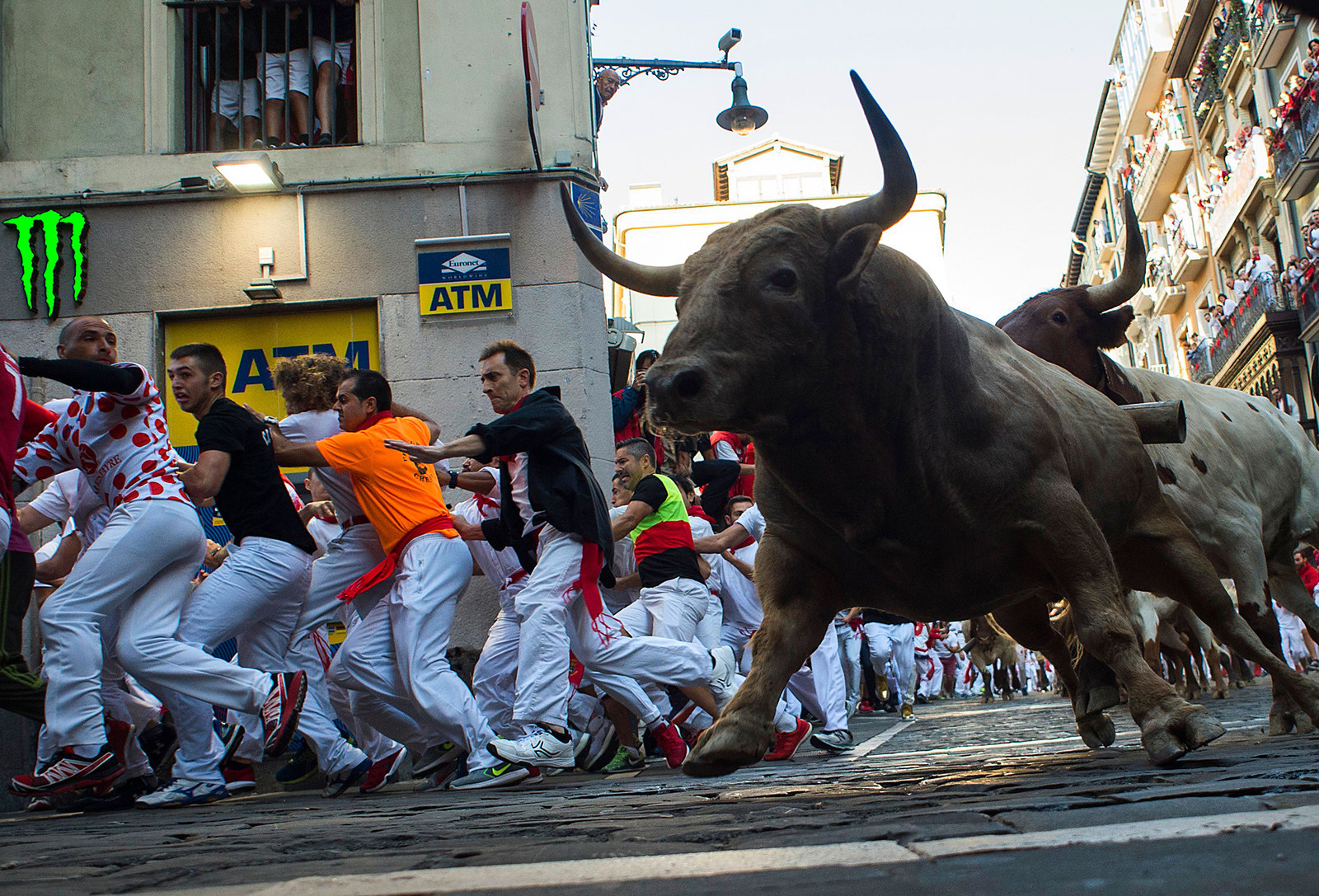 Participants run from fighting bulls and steers on the sixth bullrun of the San Fermin festival in Pamplona, Spain, July 12.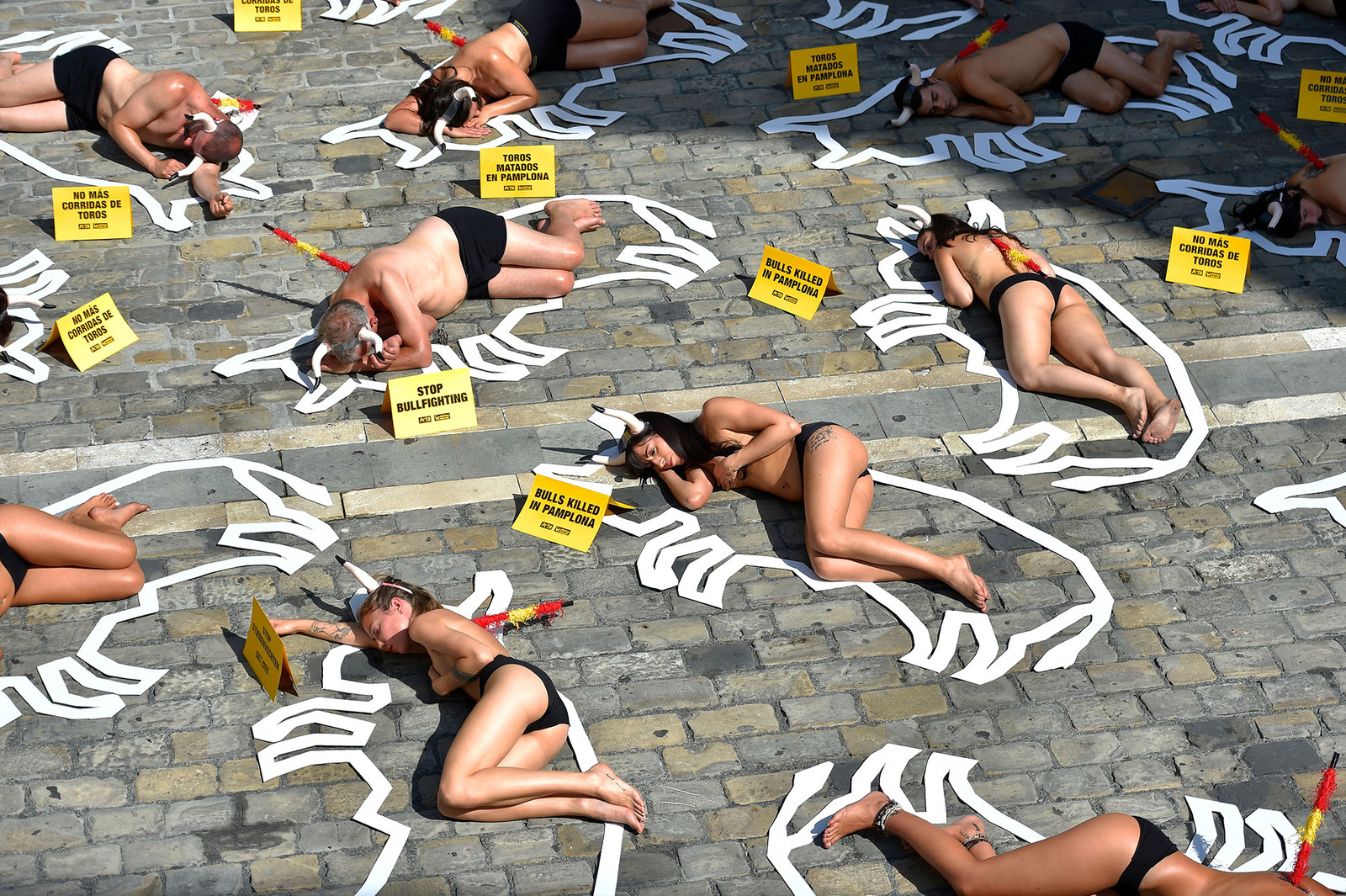 Pro-animal rights activists lie on the ground during a protest against bullfighting and bull-running on the eve of the San Fermin festivities in Pamplona, Spain, July 5.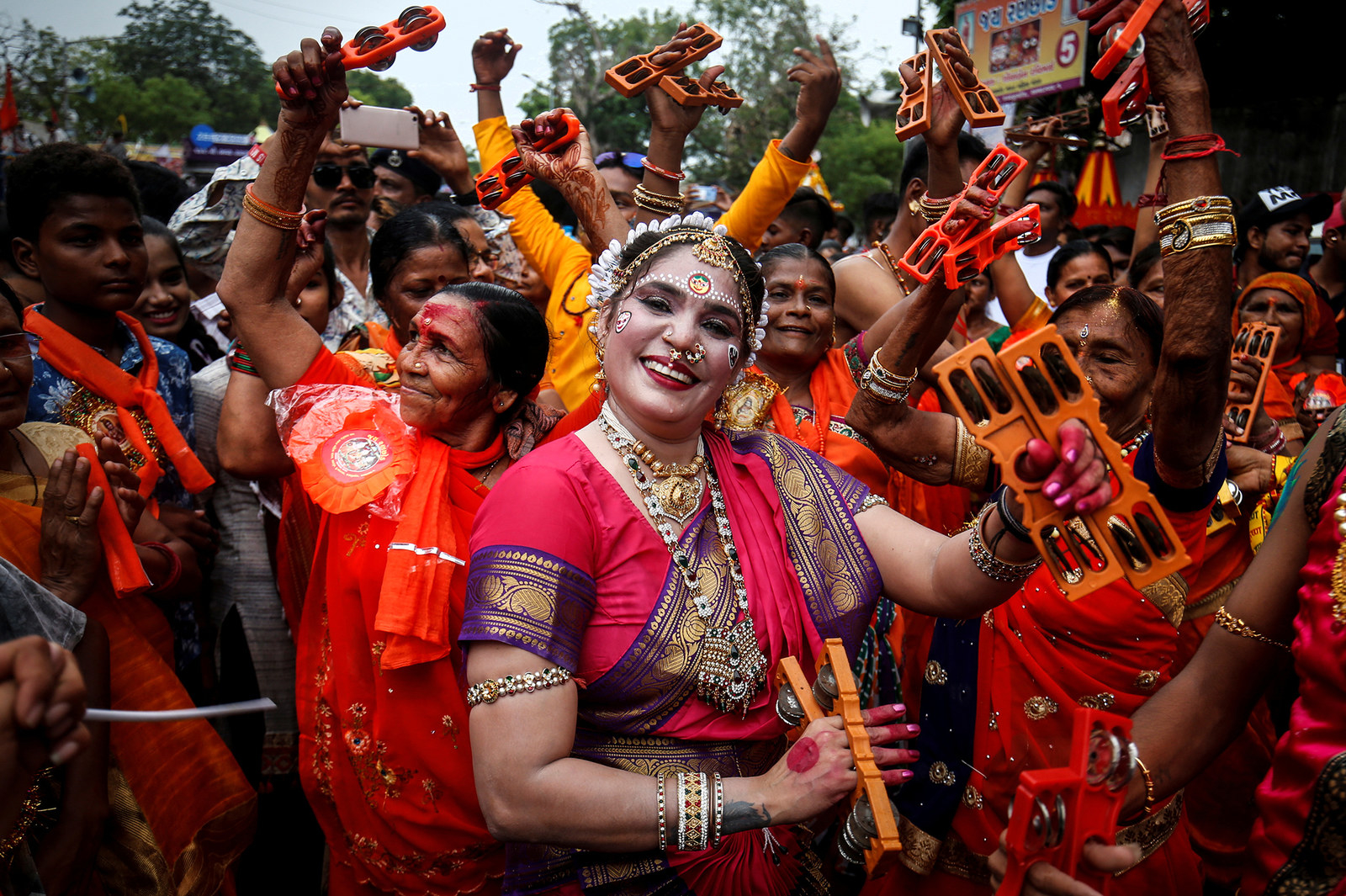 Hindu devotees take part in the annual Rath Yatra, or chariot procession, in Ahmedabad, India, July 4.
A life-size wooden sculpture of First Lady Melania Trump is officially unveiled in Rozno, near her hometown of Sevnica, Slovenia, July 5.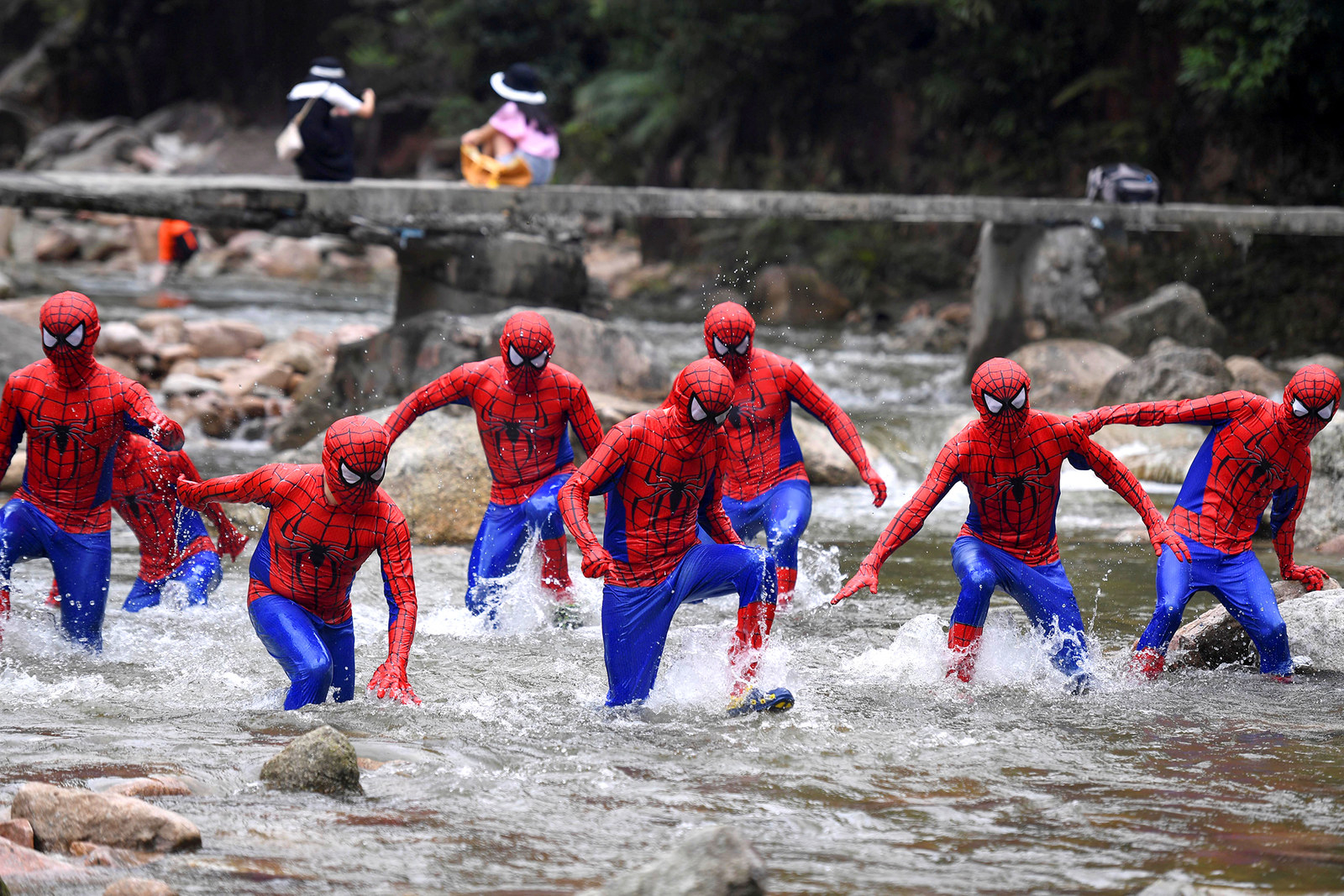 Participants dressed in Spiderman costumes run in a creek during an event at the Jiulongjiang National Forest Park in Chenzhou, China, July 4.
Gabriel H. Sanchez is the photo essay editor for BuzzFeed News and is based in New York City.

Contact Gabriel H. Sanchez at [email protected].

Got a confidential tip? Submit it here.
Source: Read Full Article