For James Whitner, passion and purpose are one and the same. The founder and owner of The Whitaker Group — a retail conglomerate that consists of Social Status, A Ma Maniére, APB and Prosper — Whitaker uses his platform, and his stores, to empower his community and shine a light on the underserved. This is no easy task: oftentimes in the world of street culture thorny topics are brushed over, charity T-shirts and "pledges" are made and the next trend is chased.
However, this is not the case in Whitner's world. Drawing from his background growing up in Pittsburgh's hardscrabble Whitaker Projects, Whitner creates products with
Social Status
HYPEBEAST: What got you into sneakers?
James Whitner: Youth culture these days goes from the sneakers up, but the generation I come from was about getting fly from head to toe. Sneakers accessorize dope clothes really well, and I think they're the perfect way to complete any outfit.
So as a kid you'd get fresh first and then complete your outfit with your sneakers?
You got it. I never did head-to-toe matching outfits, but I'd always try to create a vibe of some sort with how I dressed and cap it off with my sneakers.
We've been doing Sole Mates every week for a whole year. Over the course of that year, a lot of guests we've spoken to recall a pivotal childhood moment with shoes, either having the right shoe and feeling like the sh*t, or not having the right shoe and thinking "damn, I'm never going to feel this feeling again." Why do you think those moments become so seared in someone's memory, and why do they continue to influence that person's life into adulthood?
It's always about social currency. When you mature, you start to realize that the items you wear provide social currency for you. That search for social currency sticks with you throughout your life. Humans all want to be viewed in a positive way, and even if we're counter-cultural, we still want to be accepted — if only by a very specific group of people. That's why there's always a story to be told when it comes to sneakers.
"We wanted the Dunk to represent the story more than the story represented the Dunk."
When did the idea of the "Free Lunch" Dunk come into play for you?
The middle of 2019. We actually hadn't decided on the Dunk initially, we were more unpacking our collaborative journey and trying to find new ways to work with Nike. Nike really wanted to support our voice and have us focus on telling more of our stories. We wanted the Dunk to represent the story more than the story represented the Dunk, know what I mean?
Got you. Were you planning on having a unique silhouette all along, or was it originally like "we'll do something that already exists, like a Dunk Low?"
Yeah, originally we were thinking Dunk Low or Dunk High. As we continued to unravel the story though, we saw how strong it was and decided we wanted something unique that would live with it. There are always going to be tons of different Dunk colorways, so we aimed to have something uniquely ours, something that spoke to our stories and experiences.
The "Free Lunch" story is so deeply ingrained in our communities. When you think about "Free Lunch," you don't just see a colorful Dunk — you see something completely different. We want to give something to today's kid, something that's theirs to own. You can't keep giving people the same thing over and over. You have to evolve. Striking the balance between doing classics and exploring is a neverending process.1 of 3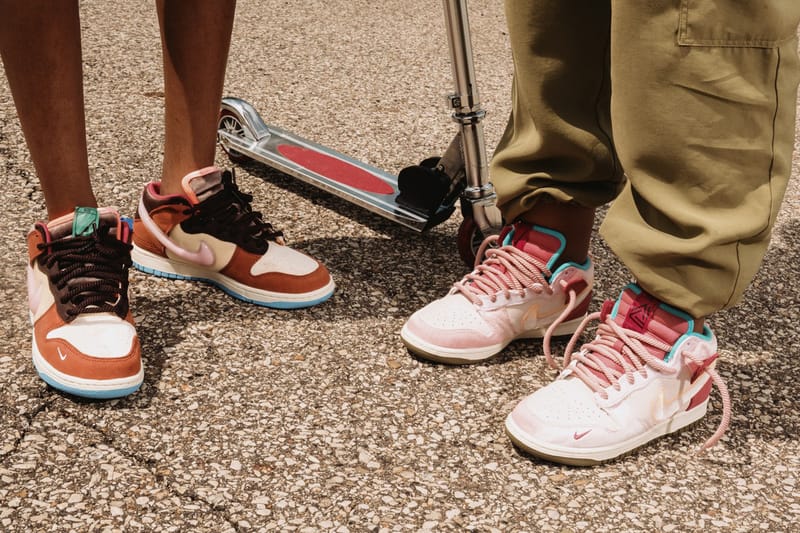 Social Status2 of 3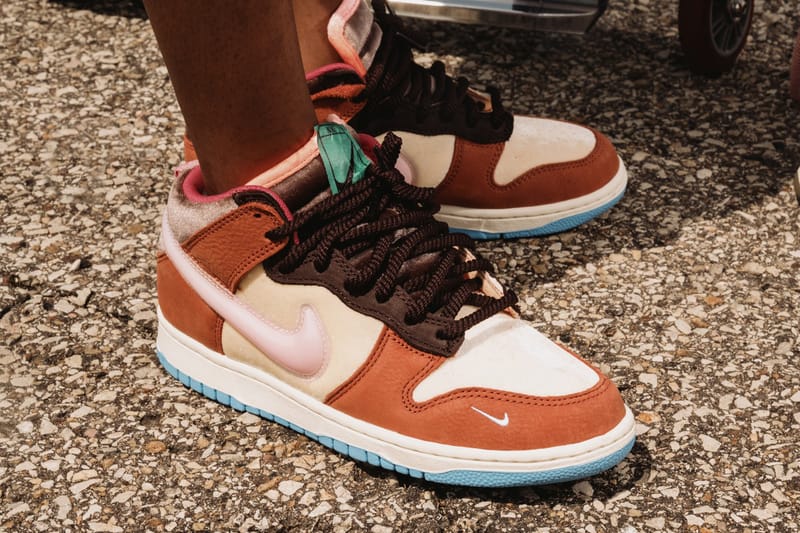 Social Status3 of 3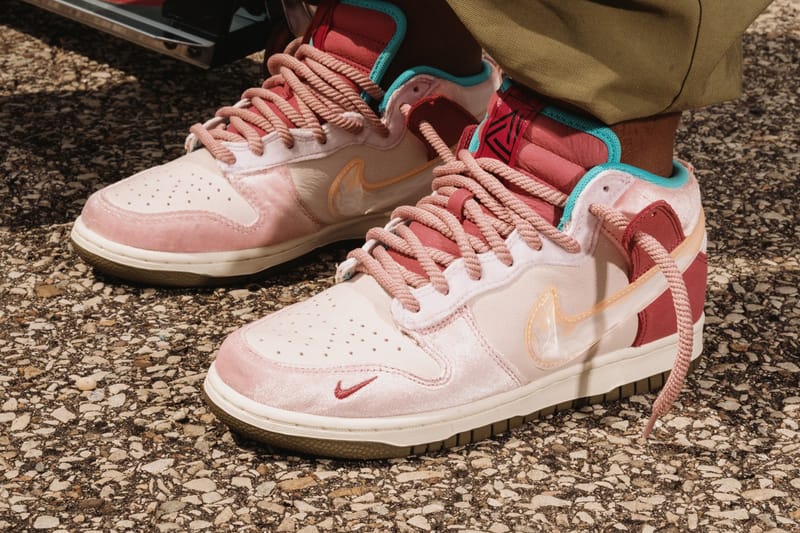 Social Status
These Dunks are so rich with detail. Is there a specific embellishment that really sticks out to you?
Probably that milk bubble swoosh, man. It's really cool. Working that milky texture in on this one was a challenge [reaches behind and grabs the "Chocolate Milk" Dunk], but we definitely worked it in here [picks up the "Strawberry Milk" Dunk]. We tried to do a lot of things differently from the norm, and I'm proud to say that I think we did just that.
What about strawberry milk and chocolate milk caught your attention when you were building this collaboration?
When we started toying with the concept of "Free Lunch," we were thinking about what was important to a lunch. What was static, what was always there. We realized that the "free lunch" food menu is different day to day, but the drinks are always the same. We keyed in on that, and it gave us a canvas to start working on.
Did working on this Dunk bring back memories from your childhood?
Everything we do has personal experience ingrained in it — that's three-fourths of a collaboration, right? It's a story that connects to many, many Black Americans, because what, 50, 60 percent of Black Americans live in poverty? It was impossible for it to not be nostalgic for me because sh*t, I lived it.
"We're not creating product for product's sake. It's our responsibility to tell stories."
This Dunk seems like a clever way to open a difficult discussion that some people would rather just brush off.
Hell yeah, it is! We're not creating product for product's sake. It's our responsibility to tell stories. The product is additive. It's all about doing the work, telling the stories and taking people on a journey to help make humanity better. The product helps people get comfortable listening.
Why is product such an important vessel for storytelling?
It's a way to get people to engage. In the case of the Dunk, it's a very democratic, classic model that represents a lot of different communities. People have dubbed our collaboration the Dunk Mid because of Air Jordan 1s, Air Force 1s, and SB Dunks, shoes that come in low, mid and high makeups, but this silhouette was created specifically for us to tell the "Free Lunch" story. It's a Social Status Dunk.1 of 4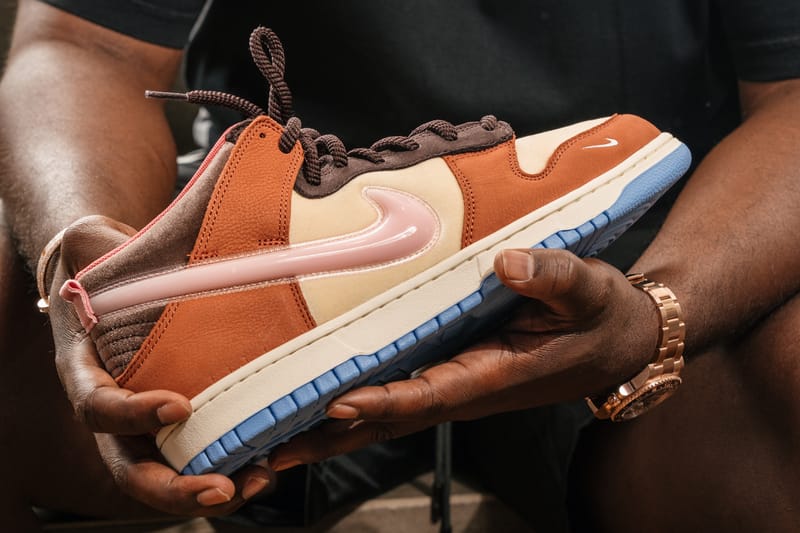 Social Status2 of 4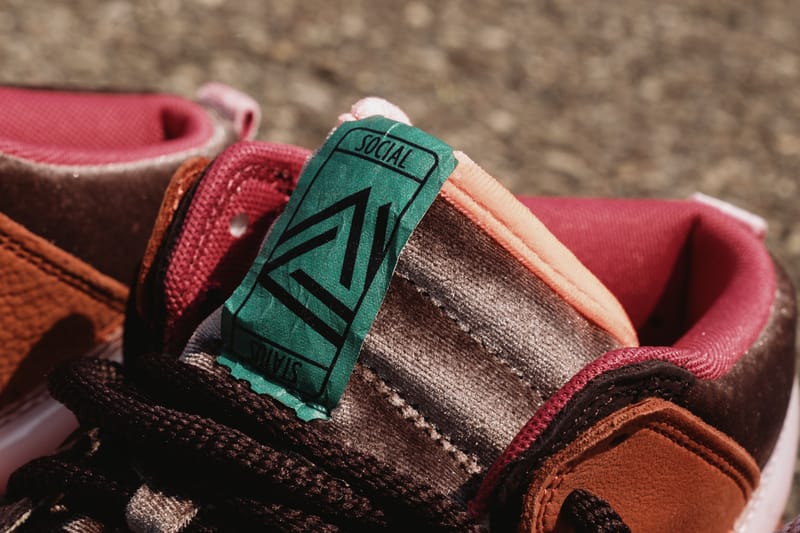 Social Status3 of 4
Social Status4 of 4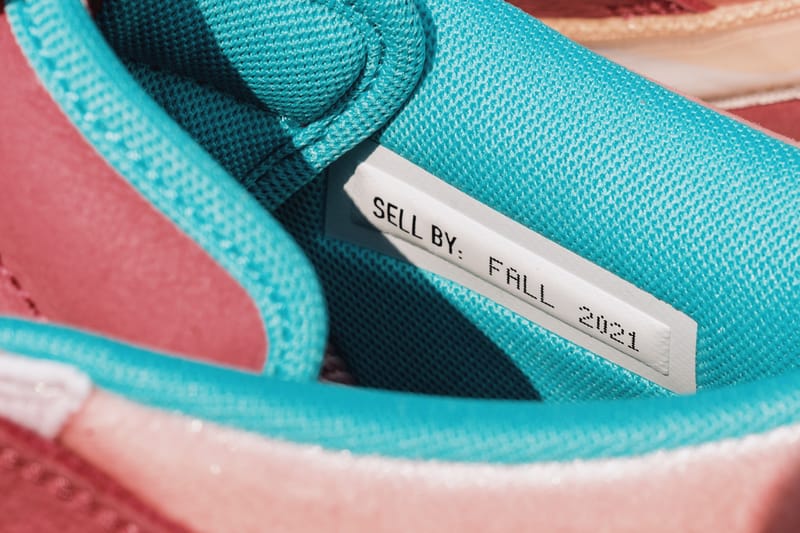 Social Status
What did you think when the shoes leaked and some people labeled their inspiration as donuts with no proof or context? I'm sure the irony wasn't lost on you.
[laughs] How irresponsible was that? It says that so much product is being put into the market that the media can make up stories as they go. There needs to be an expectation for a product's story to be richer and deeper. Not everyone has to go as deep as we go, I get it. However, you do have to build value into your product, collaborative or otherwise, and bring the community at large forward with you.
"The first thing is understanding [your] brand voice, then the second thing is understanding who the consumer is. Then you have to ask yourself "what do I want the product to mean to the consumer and why?"
How do you find the fine line between design and storytelling?
We're unique in that we have four different brand voices across our platform [Social Status, A Ma Maniére, APB and Prosper] so we can speak from a lot of different perspectives. The first thing is understanding the brand voice, then the second thing is understanding who the consumer is. Then you have to ask yourself "what do I want the product to mean to the consumer and why?"
For us it's never about commerce. It's always about creating product that connects. We can interact with a customer from a different vantage point with Social Status than we do with A Ma Maniére because the sneakerhead kid connects with his shoes differently than a luxury fashion person does with his clothes. With Social Status and APB, we can be a little more over the top and "in your face" than we can with A Ma Maniére.
What's the key takeaway you hope people get from these Dunks?
I want people to understand what's happening every day in these underprivileged communities, and what the journey looks like. I also want people to understand their privilege, the parts of life they take for granted.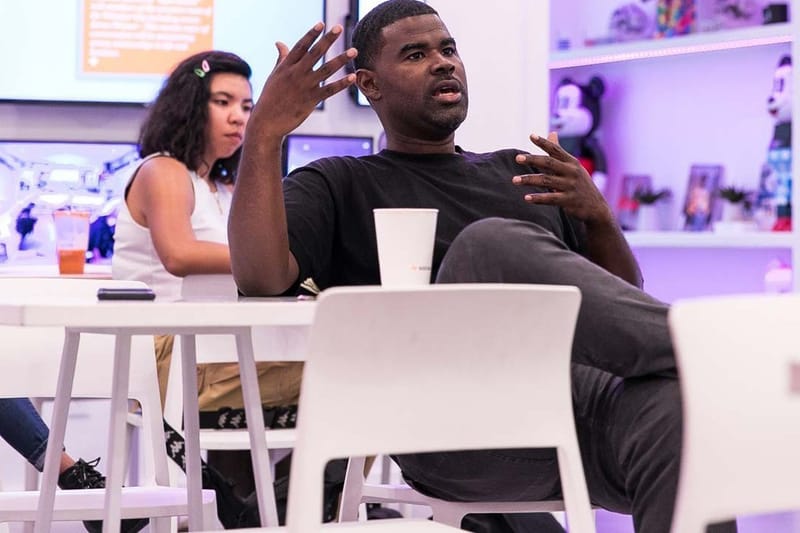 Social Status
Why are sneakers important to you?
Through sneakers, we can change the world.
I like it.
Let me say it differently: through sneakers we WILL change the world.
I like it even more.
Source: Read Full Article