The Air Jordan 1 is quintessential to Jordan Brand, in the same way the box logo tee is to Supreme, the shell chair to Modernica, and the companion figure to KAWS. It's a shoe of firsts: Michael Jordan's first signature silhouette, the first sneaker to clear $500K USD at auction, the "first" shoe to be "banned" by the NBA (at least, that's what Jordan Brand would like you to believe, most aficionados know the silhouette that was "banned" was in fact the Air Ship). In short, the Peter Moore-designed silhouette is a legacy style, an icon of athletic footwear design on par with other greats like Converse's Chuck Taylor and the adidas Superstar.
The Air Jordan 1 may be entering its fifth decade on the market, but it's hotter than ever thanks to collaborations, the popularity of ESPN and Netflix's The Last Dance and, of course, skyrocketing resale prices. Even its lesser "siblings" have become desirable in their own right: the Air Jordan 1 Mid and non-OG Air Jordan 1 Low, shoes that were once provincial styles of mall chain stores, now sell out quickly upon release and fetch impressive aftermarket sums of their own.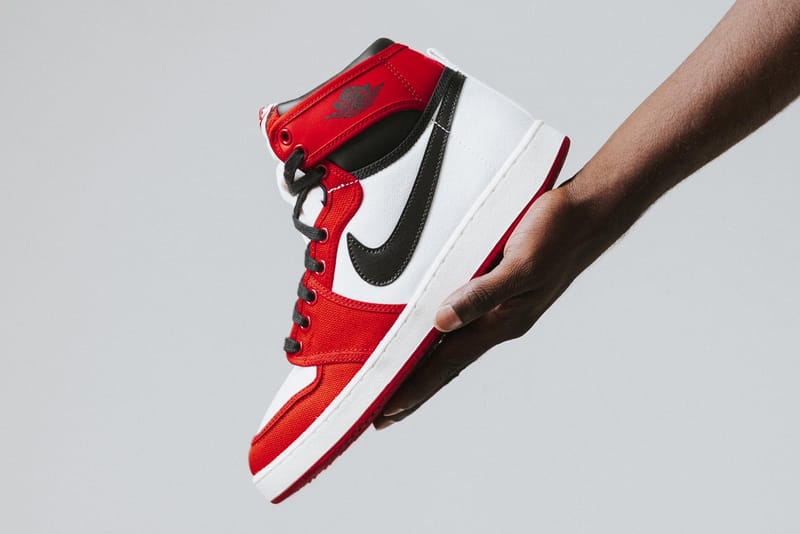 Sneaker Politics
Now, a new ingredient is set to be added into this simmering stew of hype, history, and homage: the Air Jordan 1 KO, which is releasing in a classic "Chicago" colorway and will arrive in other makeups this summer. Like the original Air Jordan 1, it's a true heritage style that made its debut in the '80s — the summer of 1985, to be precise. Quite unlike the Air Jordan 1, though, its upper is made entirely of canvas for a decidedly relaxed look. Even more unlike the Air Jordan 1, a shoe that has been dissected ad nauseam, the KO has long been shrouded in mystery.
It's never been fully explained what led Nike to produce the Air Jordan 1 KO and whom it was made for. Let alone why it wasn't revived for so long after its 1985 debut, and why some of its retro iterations have swapped out the original Nike Vandal-like midsole for an original Air Jordan 1 iteration. There's not even official confirmation on what "KO" stands for: some say it's "knockout," some say it's the much less flattering "knockoff."
Recently, the "knockoff" translation has gained some traction due to an informative Instagram post from Nice Kicks Vault, which claims that the KO was created so Jordan Brand could get the drop on budget brands like Target's Honors Sport and footwear company Pro Joggs. The post in question goes on to explain that brands of this nature were known to make replicas of popular models from the season beforehand — much like Sketchers does today — but thanks to the AJ1 KO, Jordan Brand was able to beat them to the punch, "knocking off" its own shoe before imitators could. Of course, it's somewhat hard to fathom Jordan Brand labeling one of their own shoes a "knockoff," internally or otherwise.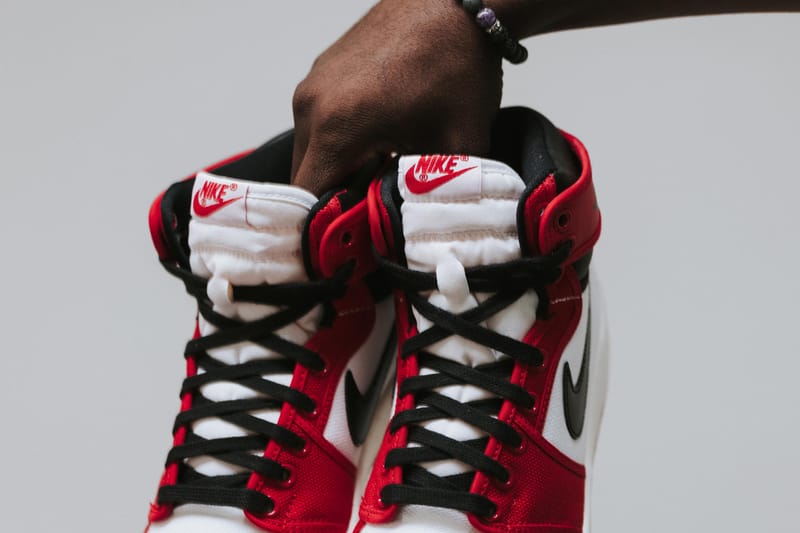 Sneaker Politics
Even the legendary sneaker writer and researcher Russ Bengtson acknowledged that the KO has been surrounded by a Twilight Zone-esque fog since its inception in a blog post for Finish Line. "One would think — given the original Air Jordan's popularity— the AJ1 KO would have been everywhere too," he said. "This wasn't the case. I was 14 in 1985, and I don't recall seeing a single pair, not on feet, not on a sporting goods store shelf. This was in suburban Long Island, which wasn't exactly a sneaker wasteland either."
However, the entire point of these factoids, different expliations and convoluted-yet-compelling backstory is this: nobody really and truly knows what the KO's official deal is, and, true to form, Jordan Brand has been rather tight-lipped.
"A shoe's always cooler when there's some sort of unknown story — sneakerheads love that."
"A shoe's always cooler when there's some sort of unknown story — sneakerheads love that," says Marco Henry Negrete, former Editorial Director for Jordan Brand and current VP of content and communications at sneaker startup SoleSavy."The Air Jordan 1 KO is more than a little mysterious, and kind of occupies a space of its own."
Because of its mystery, the Air Jordan 1 KO is a shoe that has a chance to tell its story anew in 2021. Its last set of retro releases occurred between 2014 and 2016 — a time before many Gen Z sneakerheads knew the ins and outs of the game — and with the white-hot popularity that both the Air Jordan 1 and its more widely available counterparts have enjoyed over the last few years, it's not a reach to think that the KO can slide seamlessly into that lineup.
Of course, purists will not be disappointed either: a trusted source with direct ties to Nike told HYPEBEAST that this reissue was based directly on an original 1985 pair, which was used for multiple rounds of sampling. This is most obvious on its toebox, which is sleek and slanted where past retro releases offered a flatter, wider, skate-like look on the forefoot. "When the last AJ1 KO released it was oversaturated with too many colorways, and the hype around the AJ1 wasn't as high as it is now," said the source. "I think the brand is being a little more calculating this time around."
"Historically the KO has been a cult favorite, but now with the OG Air Jordan 1's popularity higher than ever, a more mainstream audience is like 'wow, that shoe's kind of cool'."
Negrate echoes parts of this sentiment, stating "There's a whole generation of consumers who are seeing the Air Jordan 1 KO for the first time now. Historically the KO has been a cult favorite, but now with the OG Air Jordan 1's popularity higher than ever, a more mainstream audience is like 'wow, that shoe's kind of cool'."
Of course, with the original Air Jordan 1 "Chicago" now fetching over $2,000 USD on the secondary market, the fact that the KO's return is in a "Chicago" colorway doesn't hurt either. "A lot of folks in the SoleSavvy community are saying 'Hey, this is as close as I'm going to get to a pair of Chicagos'," chuckles Henry. "Besides the accessibility, it's just a good-looking shoe."
And in 2021, 35 years after it first debuted, that "good-looking" shoe may finally be stepping out from behind the curtains for its well-deserved moment in the spotlight.
Source: Read Full Article