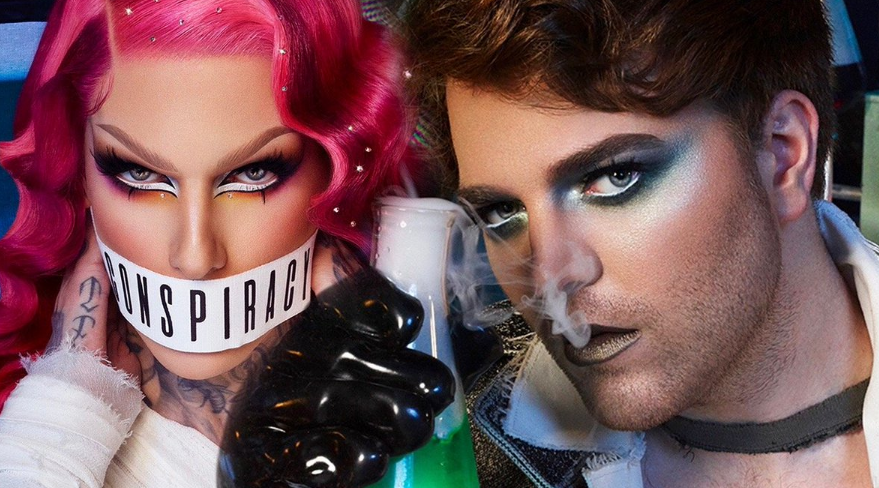 The much-anticipated makeup and merchandise collaboration between YouTubers Shane Dawson and Jeffree Star has finally launched, and the reaction is pretty bananas.
The two vloggers released two eyeshadow palettes (one called Conspiracy, another called the Mini Conspiracy) and a collection of lipstick shades, as well as a line of Dawson-branded merchandise through Star's company, Killer Merch.
The buildup to the launch was, in true influencer fashion, a drawn-out affair. For the past month, Dawson has been releasing installments of a series titled The Beautiful World of Jeffree Star. Each of its five episodes has clocked in around an hour, and collectively they have more than 90 million views.
While ostensibly hyped as a sort of documentary series about Star, the videos have also served as a very long promo for Dawson's collection, following its creation from start to finish.
It all launched on Friday and was so popular that the website stopped working — and it appears that Shopify is down, leaving shoppers, Dawson, and Star very upset.
It's getting spicy out there.
For those missing out, the jealousy is real.
Others had better luck by going to buy it in person.
But other people have tweeted that the palettes are quickly selling out from stores, too.
Releasing makeup was an unexpected choice for Dawson, who has never been a beauty vlogger.
Of course, it's also not lost on anyone that fellow YouTube stars James Charles and Tati Westbrook have also recently released new palettes.
And remember, even if you don't get your hands on this new palette, your imagination is a powerful tool.
Lauren Strapagiel is a reporter for BuzzFeed News and is based in Toronto, Canada.

Contact Lauren Strapagiel at [email protected].

Got a confidential tip? Submit it here.
Source: Read Full Article