The first reaction to getting a wedding invitation in the mail is usually excitement. Weddings are basically a designated time to party, eat, drink, and celebrate love with friends and/or family. But, once that initial flutter of euphoria and excitement fades, the next thought is likely, "Do I have anything to wear?"
Choosing a dress to wear to a fall wedding can be a bit tricky. If it's at an outdoor venue, the weather can be totally unpredictable. One weekend, you're pressing a cool glass of rosé against your cheek because it's so hot out, and the next you're grabbing a denim jacket to throw over your sundress.
When it comes to weddings, it could be a nightmare to don a floor-length velvet gown only to start dripping sweat while electric sliding on the dance floor. Regardless, the good news is that there are a ton of options for you to say yes to the (guest) dress—no matter the forecast or venue location. The best part is that the dresses below are versatile enough to be worn at any party in pretty much any season.
The right fall wedding guest dress features a heavier, textured material like lace, velvet, or satin. Autumnal colors like marigold, maroon, or caramels are always a safe bet, as are rich jewel tones like emerald, cobalt, or amethyst. Feel free to play with patterns too, like a romantic floral or bold print. Then, consider what design you'll feel best in. Are you comfortable in a sleeveless maxi dress or frock, or do you prefer a shorter hemline offset by romantic, billowy sleeves?
Comfort is key (especially when it comes to those all-day celebrations), but so is style. Whether you have your eye on someone from the bridal party or are looking for some cute outfits for your Insta grid, these 60 fall wedding guest dresses work for any wedding vibe, from a black tie affair to a New England backyard, beach, farmhouse, or anything in between.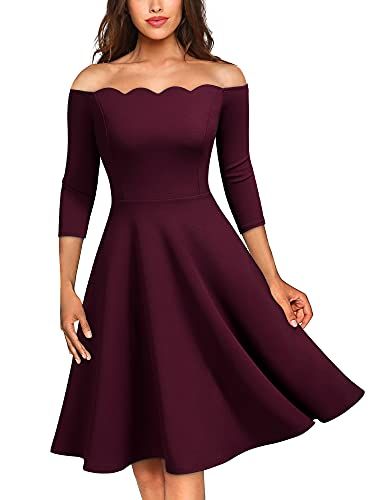 Watch out, dance floor. Burgundy is a stunning color for fall, and this retro skirt was basically made for twirling to the music.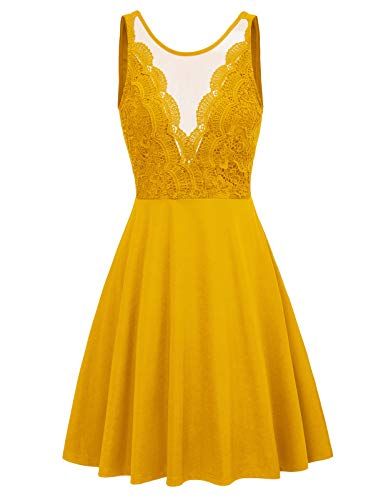 Under $40 and the color of marigolds, this A-line dress checks all of the boxes.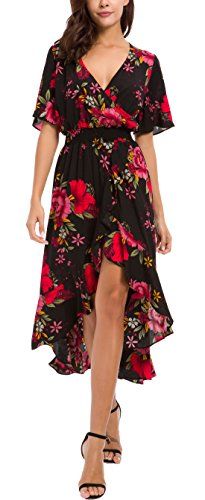 Best for the cutest little backyard wedding since I don't know when (hi, 13 Going on 30), this high-low dress is equal parts flouncy and flirty.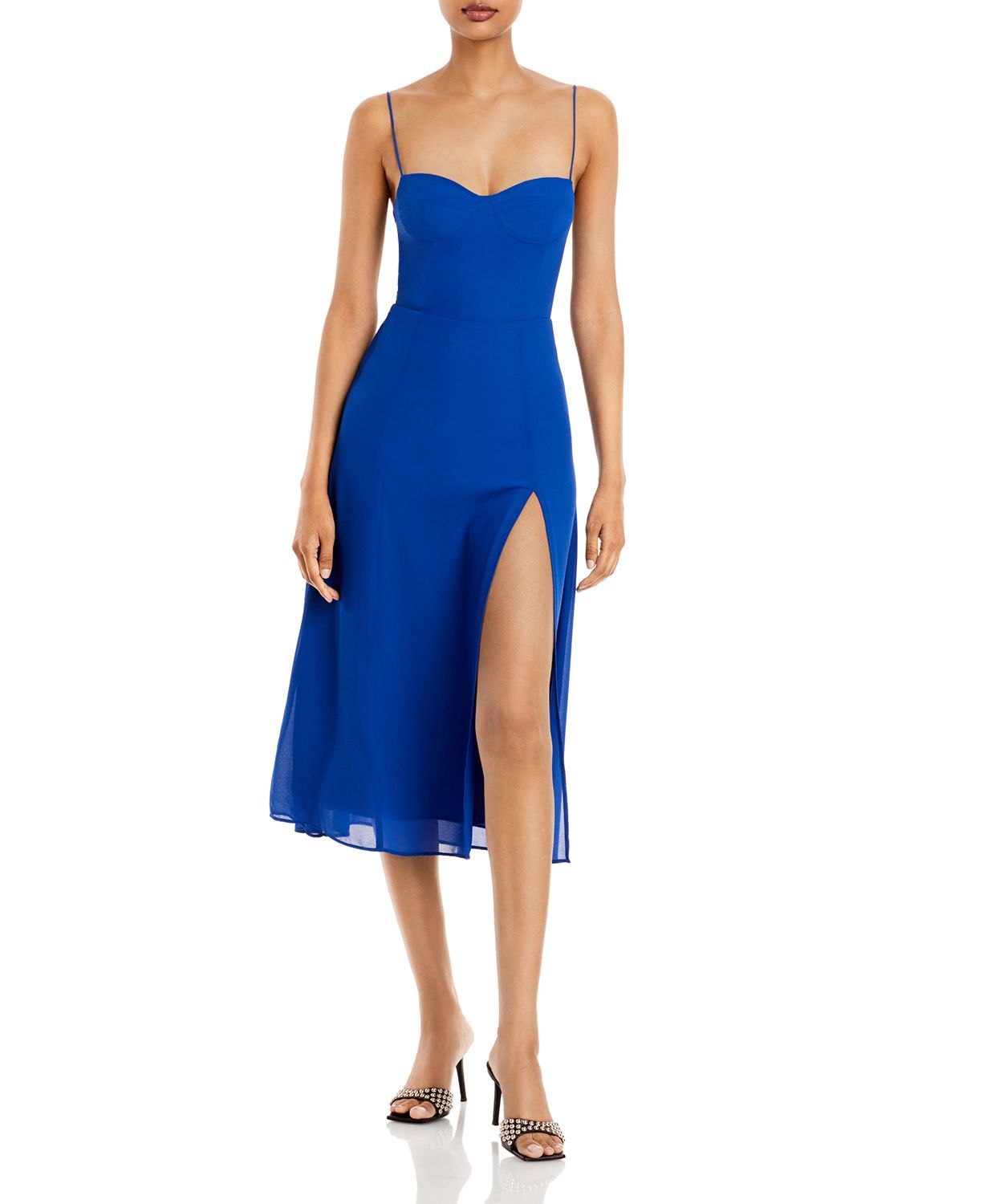 Fall is the season of jewel tones, and this sapphire beauty (something blue, one might say…) will take you from daytime ceremony to nighttime reception with style.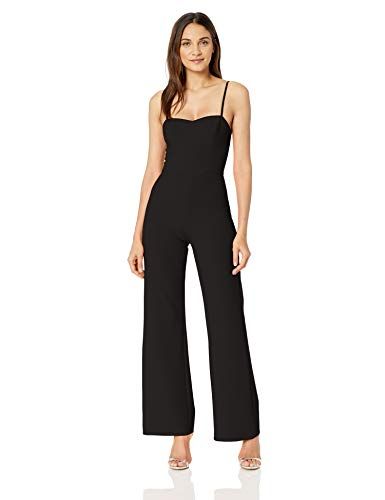 A classy AF black jumpsuit can feel just as formal as any gown. This option keeps things super simple, so you can dress it up with accessories and wear it again many times over.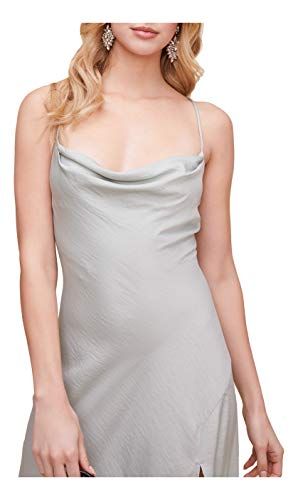 Hungover after the rehearsal dinner? No one will know if you roll out of bed in this sweet slip just in time for your friend's vows.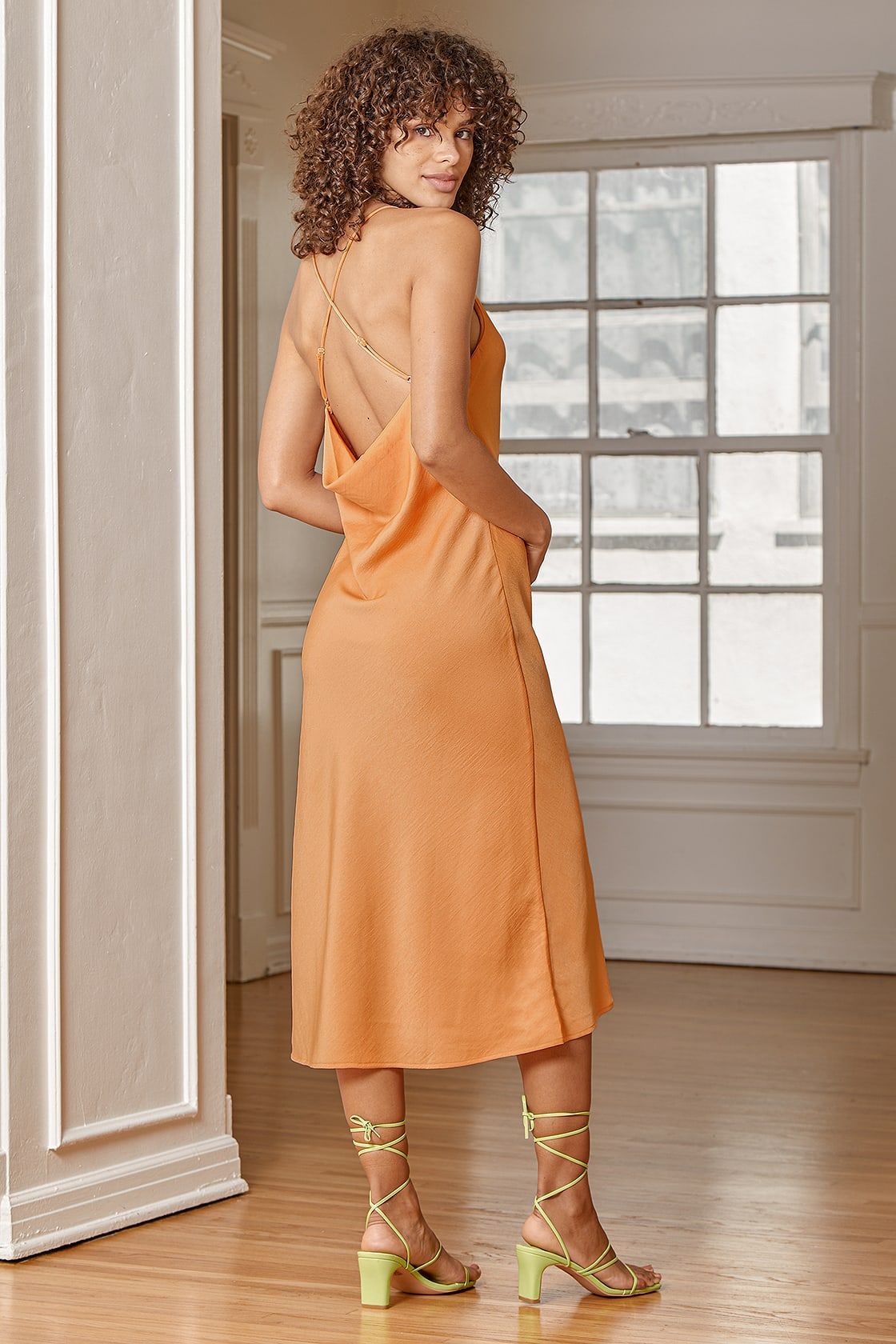 Reminiscent of orange fallen leaves, this simple satin dress is très chic. All that's missing? A glass of champagne in time for the toast.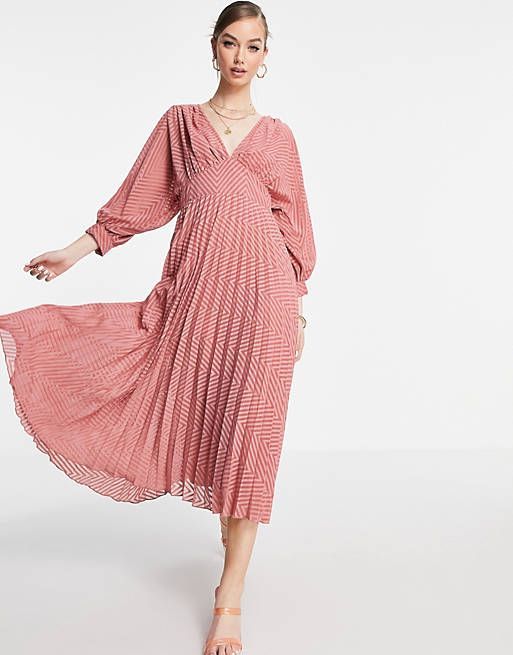 From the fall-ready jacquard chevron pattern to flowing pleats, this blush midi is a dream, like floating on cloud nine all reception long.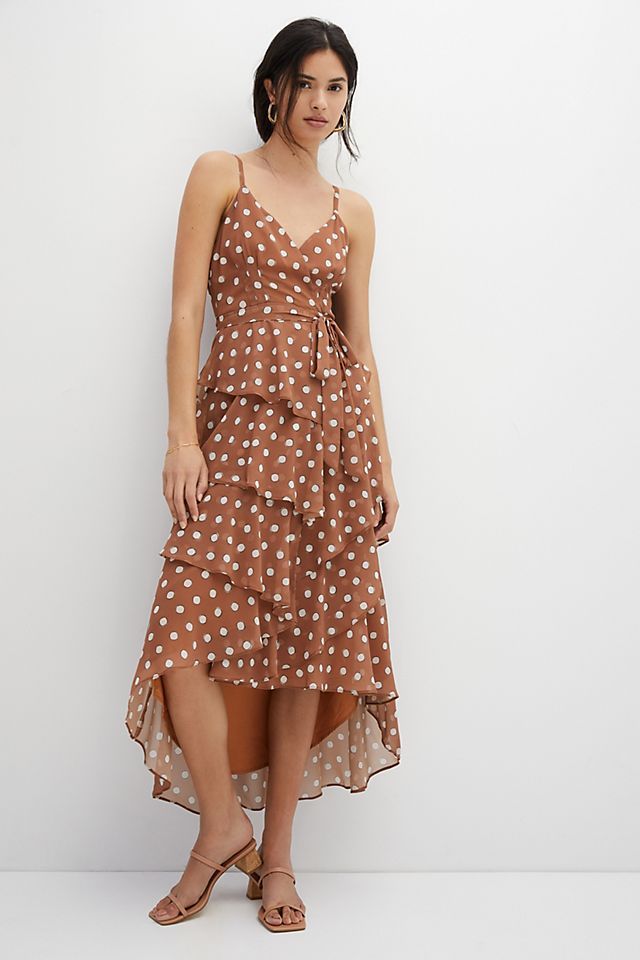 Comfy enough to dance the night away yet luxe enough for allll the Instagram photos, this polka dot dress features a flattering high-low hem and wrapped silhouette in a warm brown.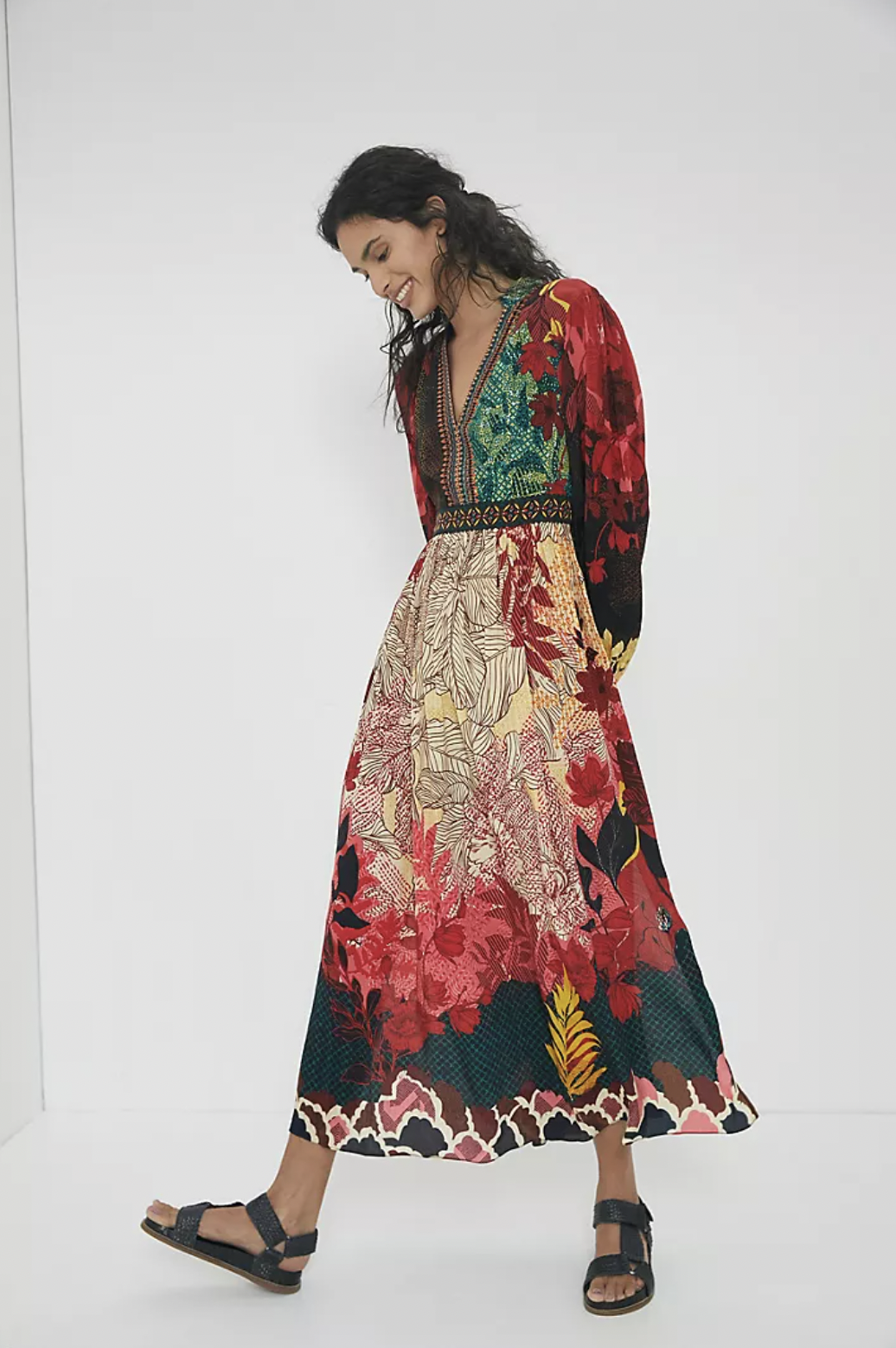 This boho-inspired maxi is fall #goals—it's like wearing a forest of trees changing colors. Throw on dainty gold jewelry and you're reception ready.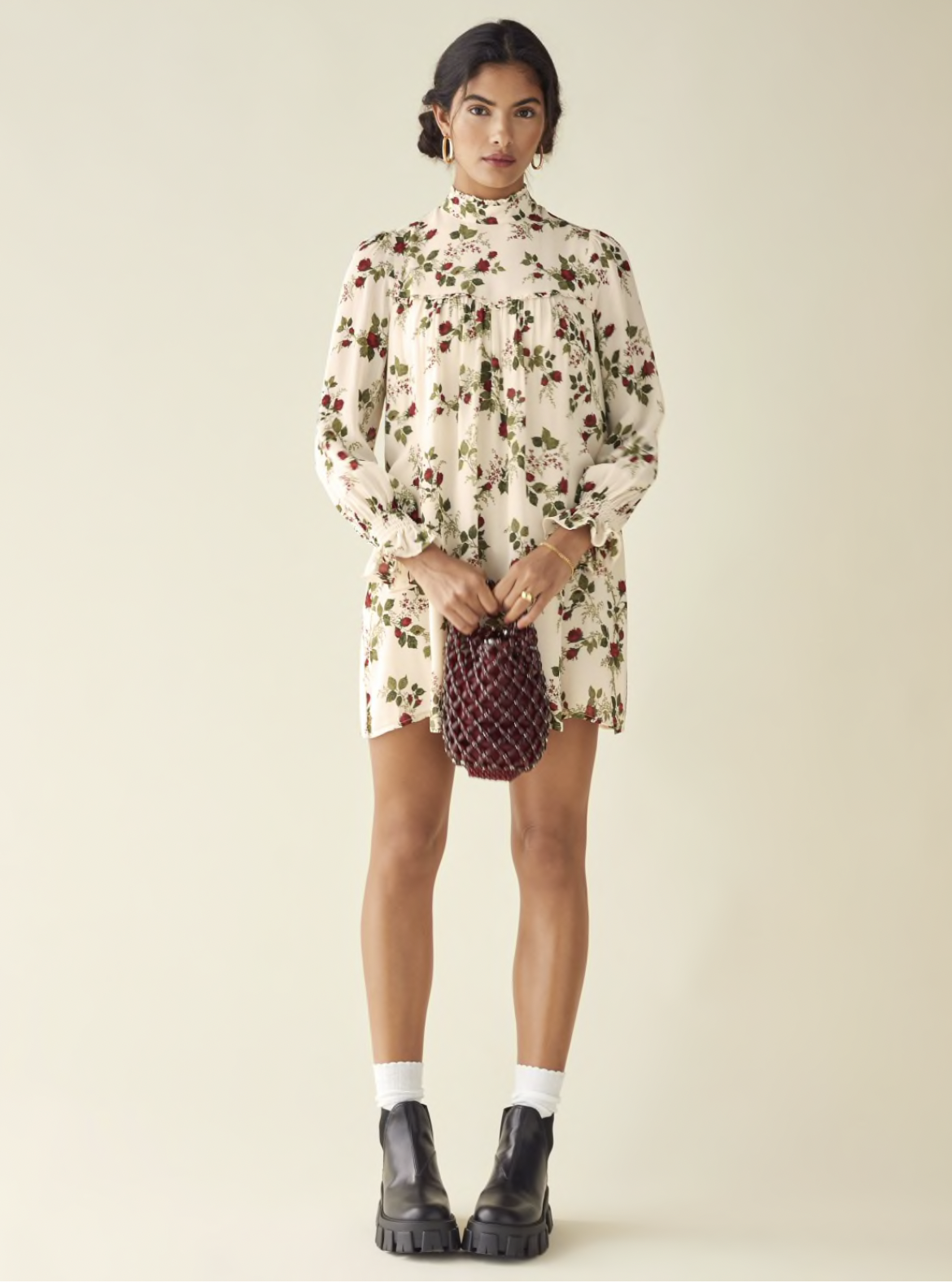 Just because it's not summer anymore doesn't mean you can't wear florals. This pattern, paired with a high neckline and long sleeves, is def season appropriate.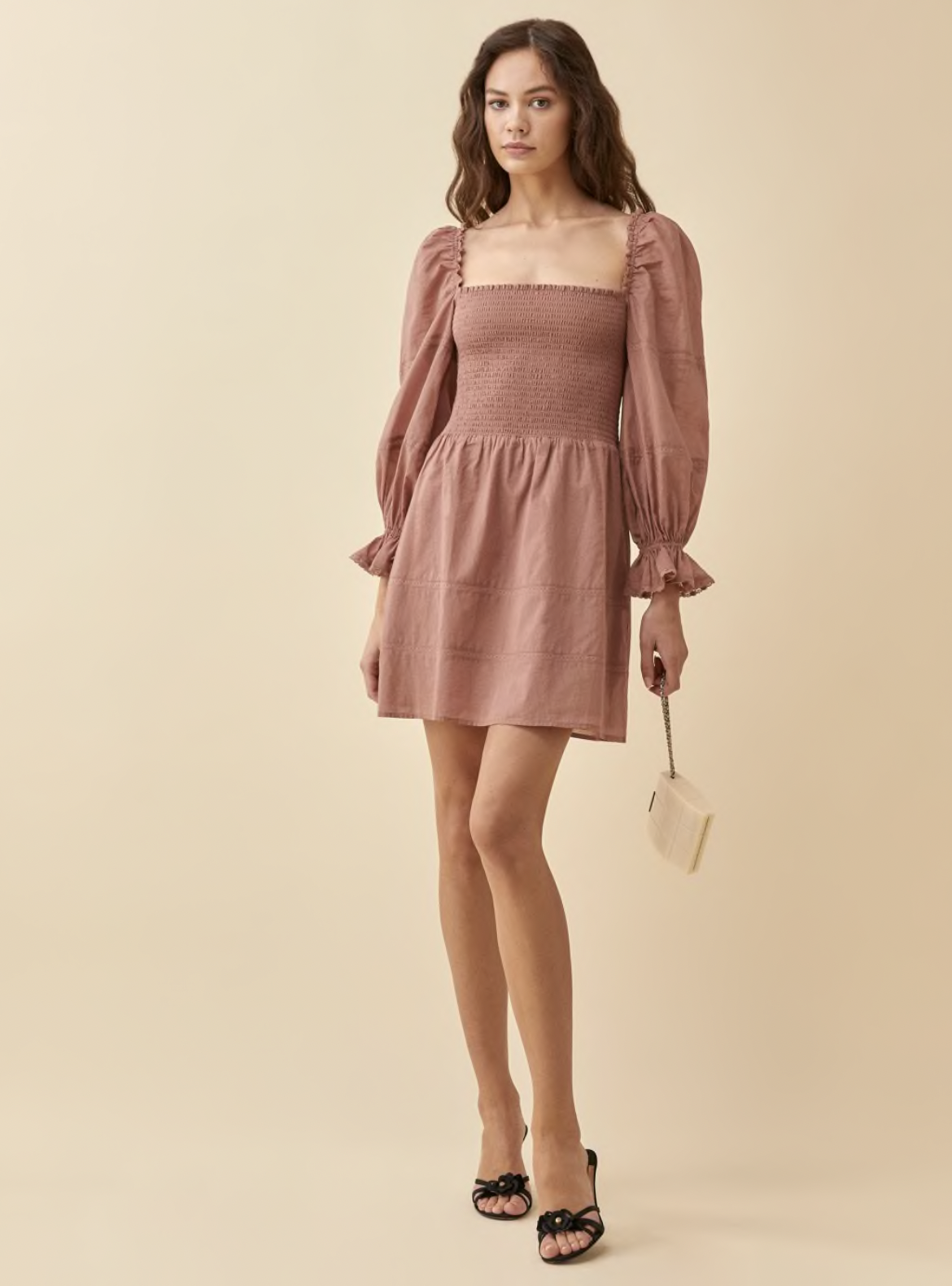 This dress in a toasty praline bridges the gap between a structured and relaxed look. We'll take both, thank you.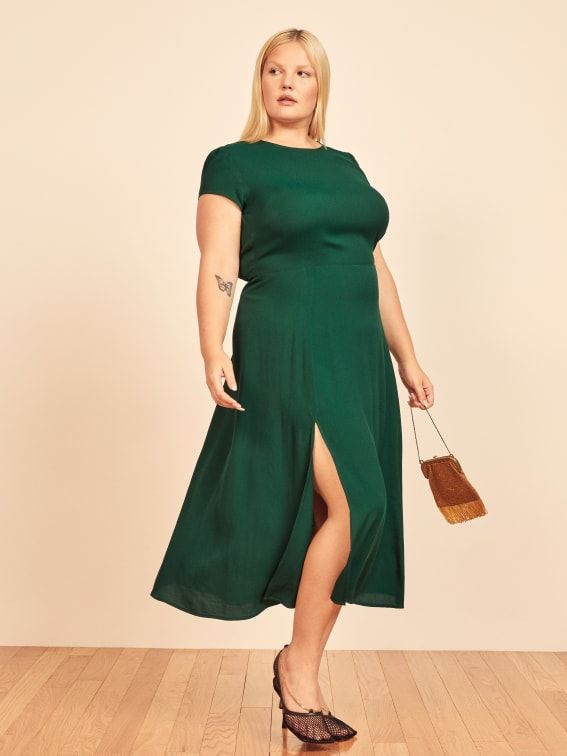 Someone has to say it—this is a perfect dress, especially if you're headed to a wedding. It's got a flirty high slit, back cut out, and a fitted bodice for more shape, and is available in sizes 0-24.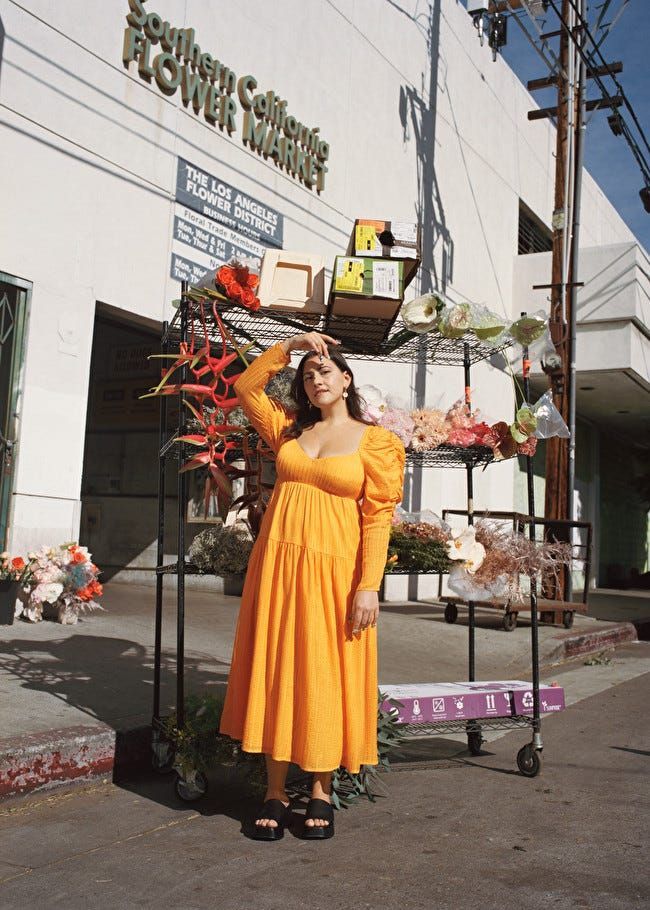 There's so much love in the air—this frock included. Ruched puff sleeves, tiered Mulberry silk, and a beautiful scoop neckline will garner you endless compliments.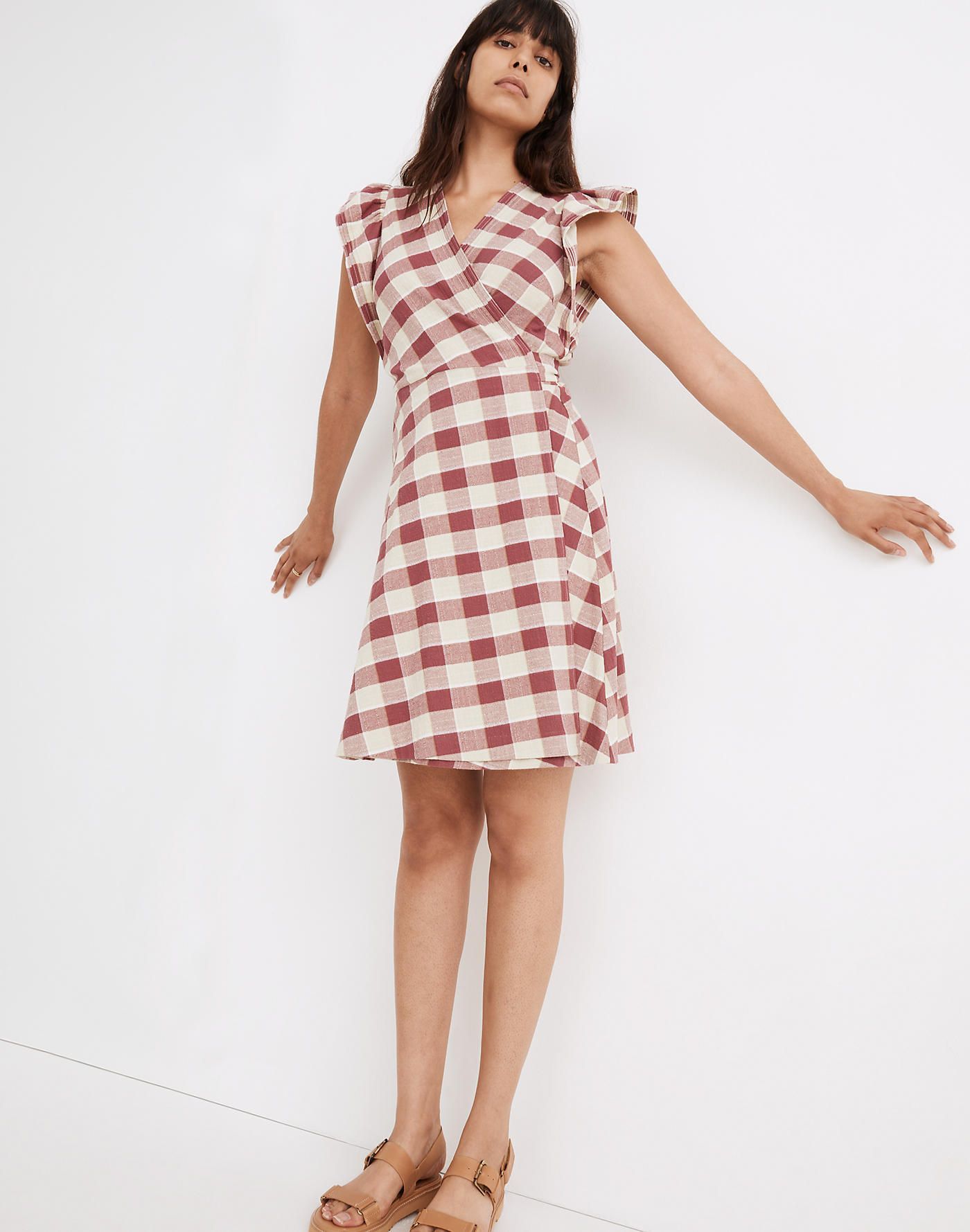 Ideal for a daytime wedding, this picnic-inspired mini will make you feel like a whole snack.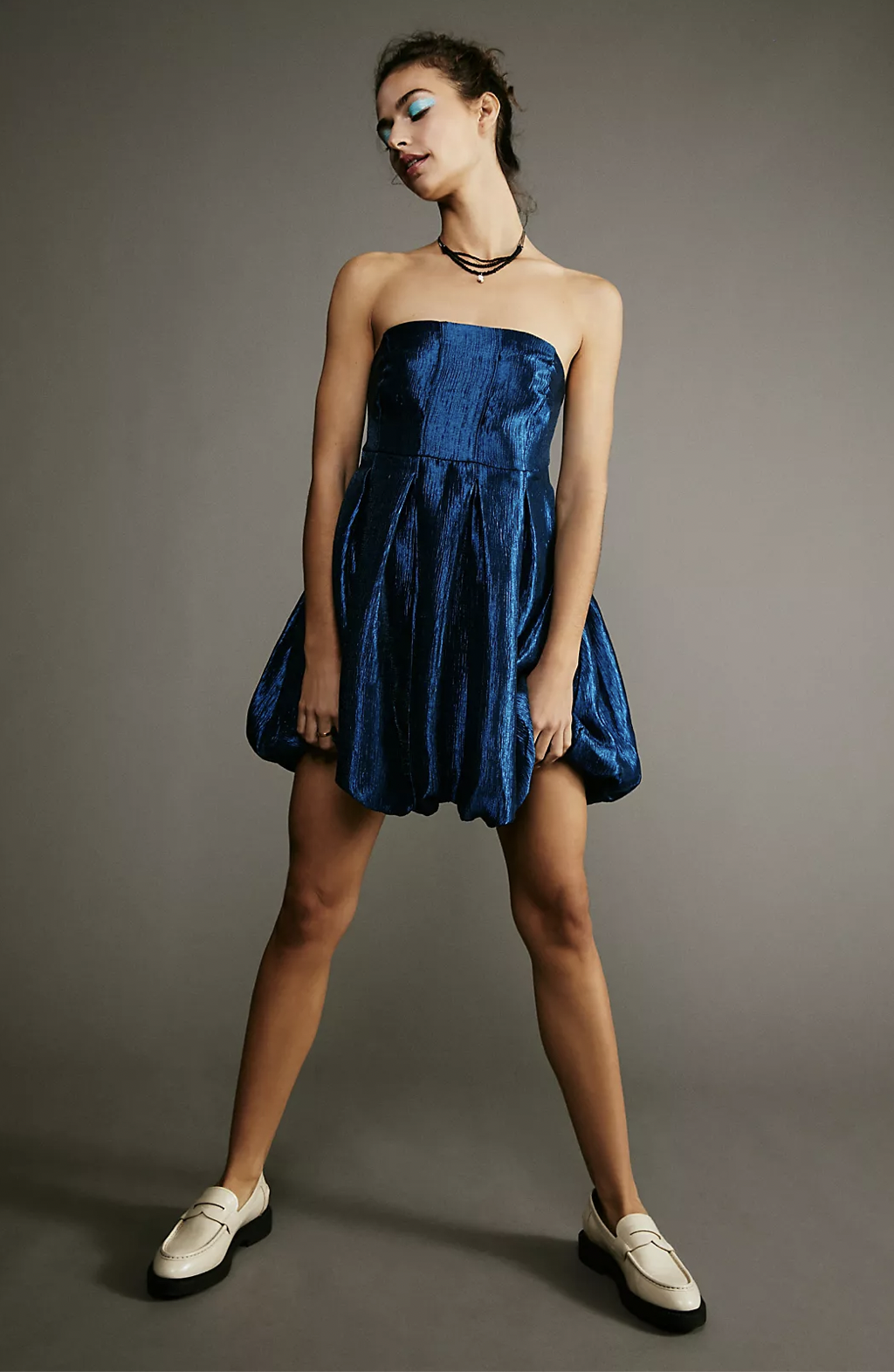 Talk about a gem of a dress. This luminescent sapphire strapless frock stands on its own, or can be paired with tights on a breezy fall night.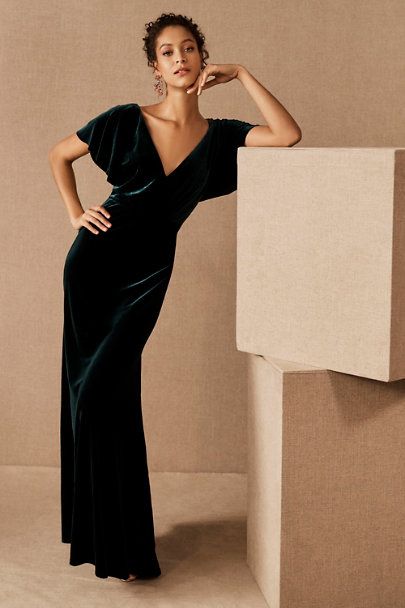 The quintessential cold-weather dress, this velvet gown works perfectly for a black tie wedding. Its v-neckline and open back adds some drama to the otherwise elegant silhouette.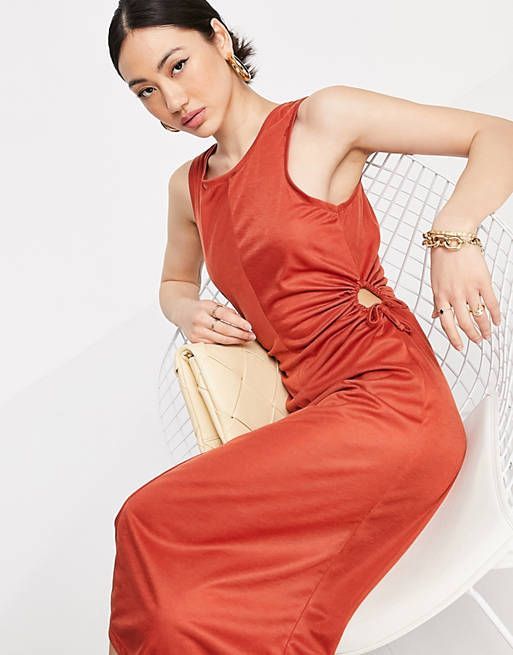 Walking into cocktail hour donning this spicy pumpkin color is sure to turn heads. The relaxed fit and soft jersey material will feel beyond comf.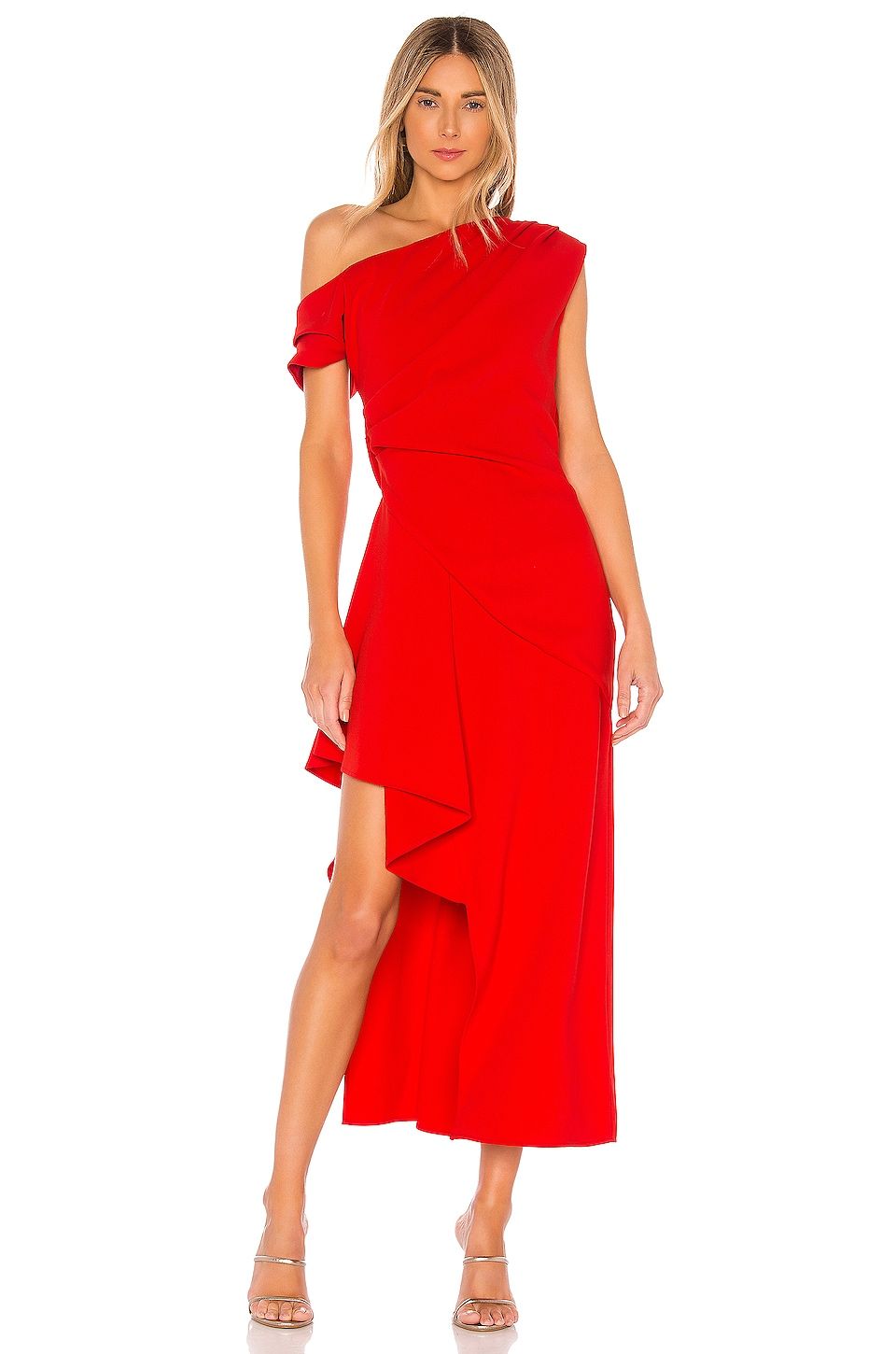 Sometimes you just gotta step out in the red dress. Who wouldn't want to put a ring on it?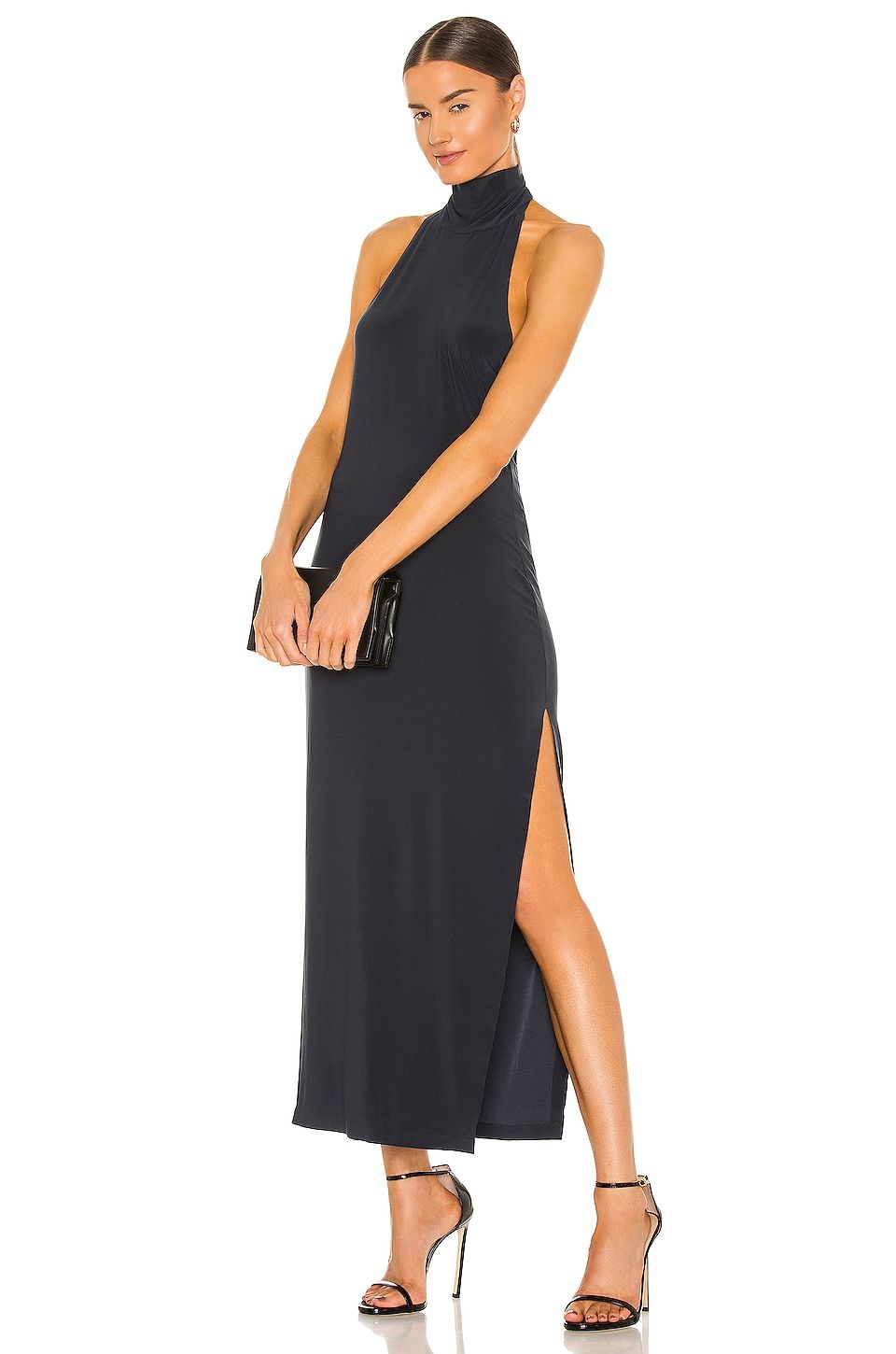 Business in the front, party in the back. Opt for a slick bun and your fave pair of earrings to complete the chic look.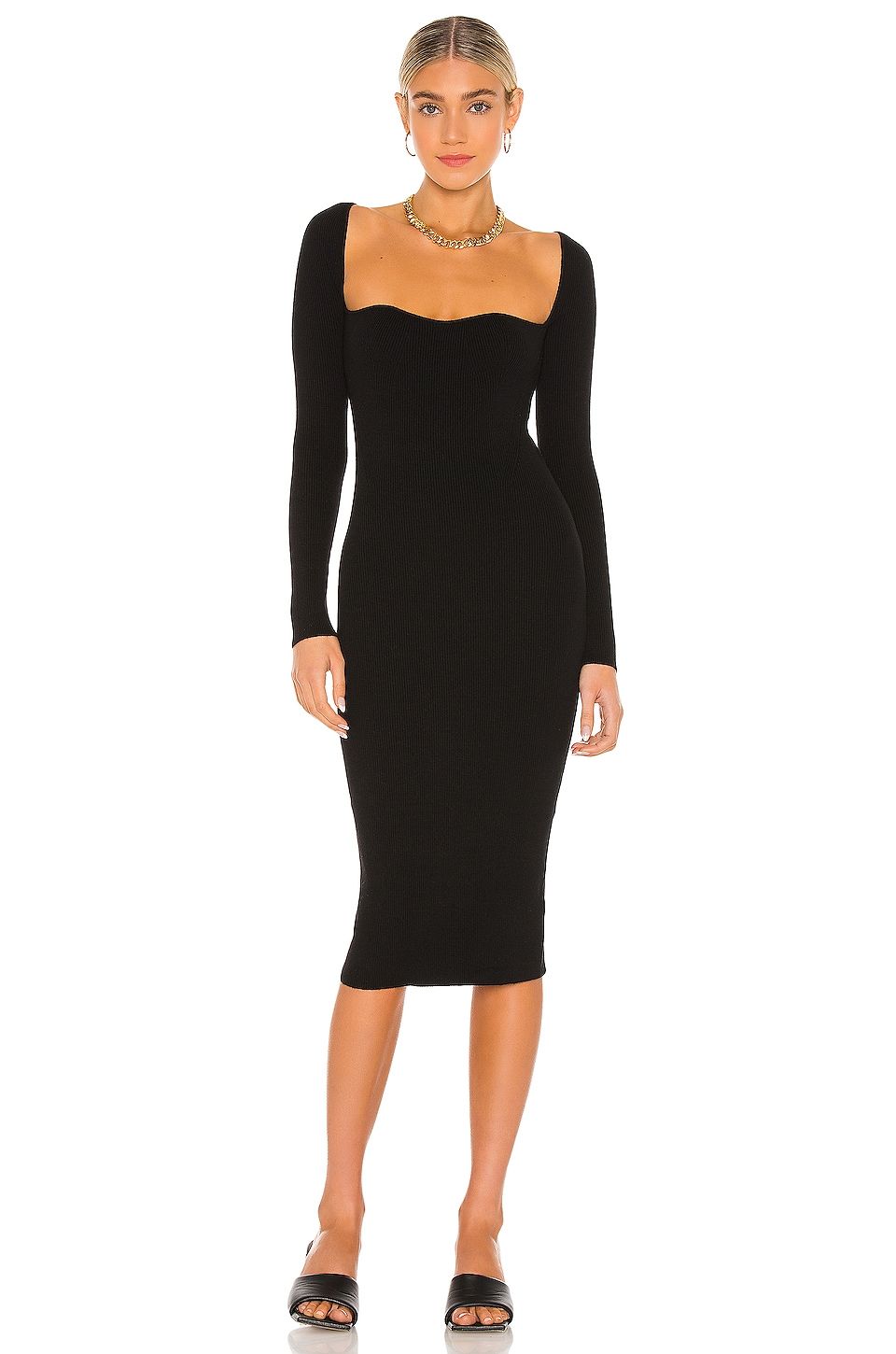 Yep, you can wear black to a wedding—and gazing at this dress and its sweetheart neckline, we understand why. It's also simple enough to experiment with accessories and makeup for a totally unique look every time.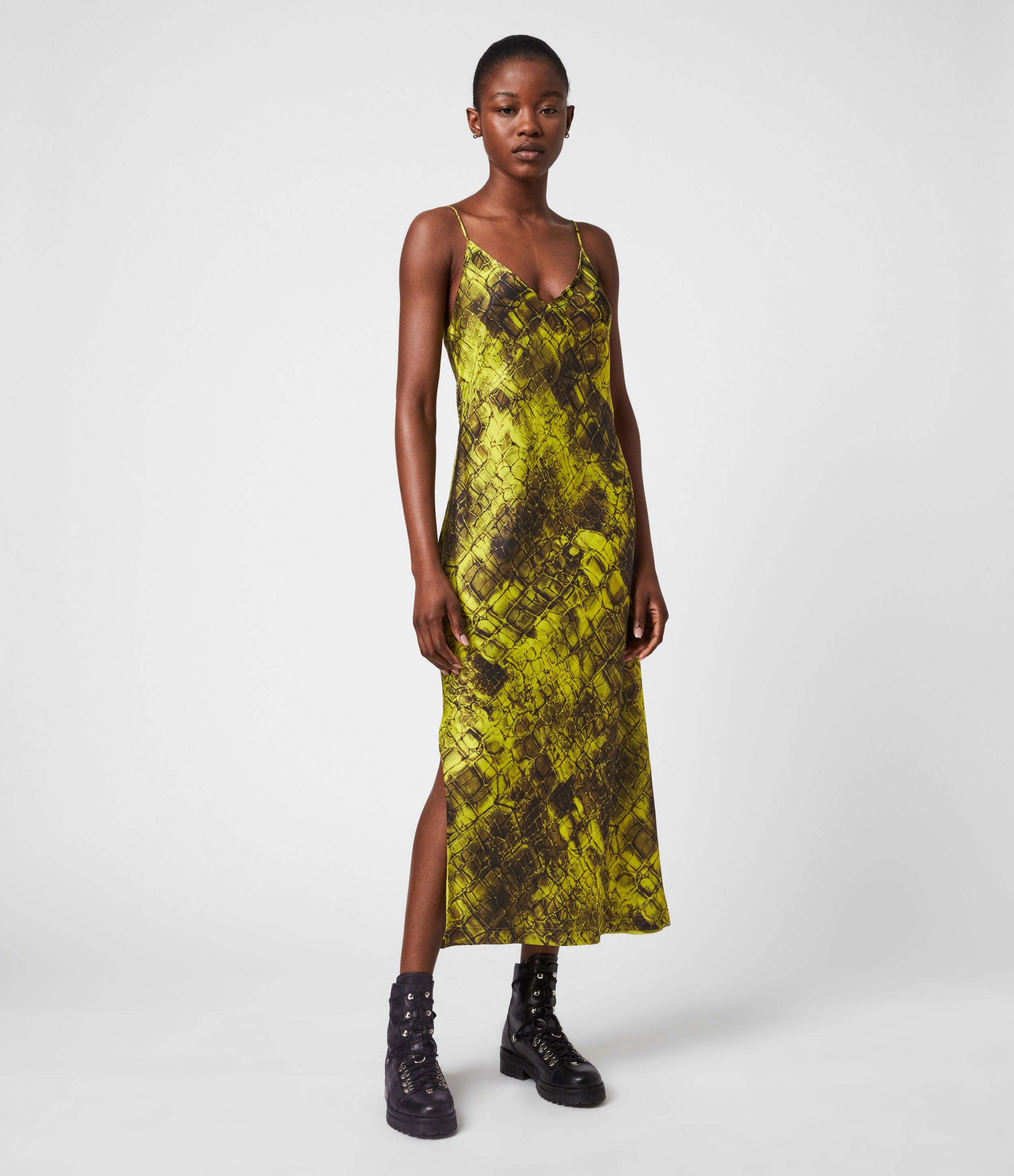 If there's one thing you're good at, it's making a statement—and that's just what this snakeskin print midi delivers.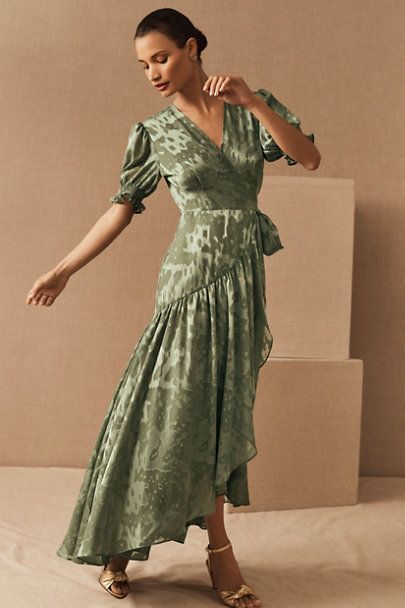 Gentle ruffles and voluminous sleeves make this wrap dress ooze romance and femininity. Shall we have this dance?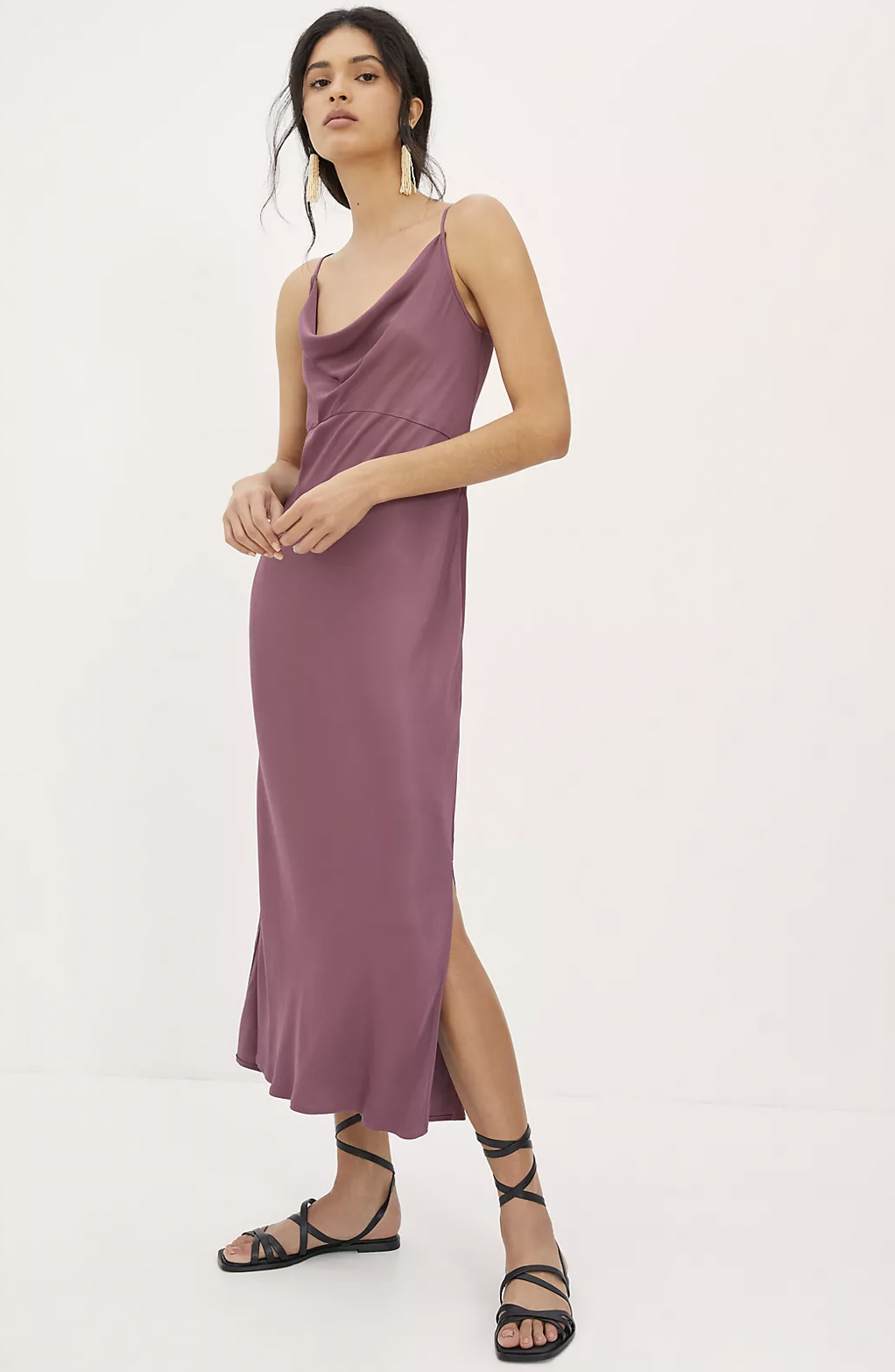 A classic slip dress is a perfect clean slate: dress it up for a more formal fete, throw on a coverup if it's chilly, or wear it on its own to a casual gig outside. This plum number is also available in petite and plus sizes.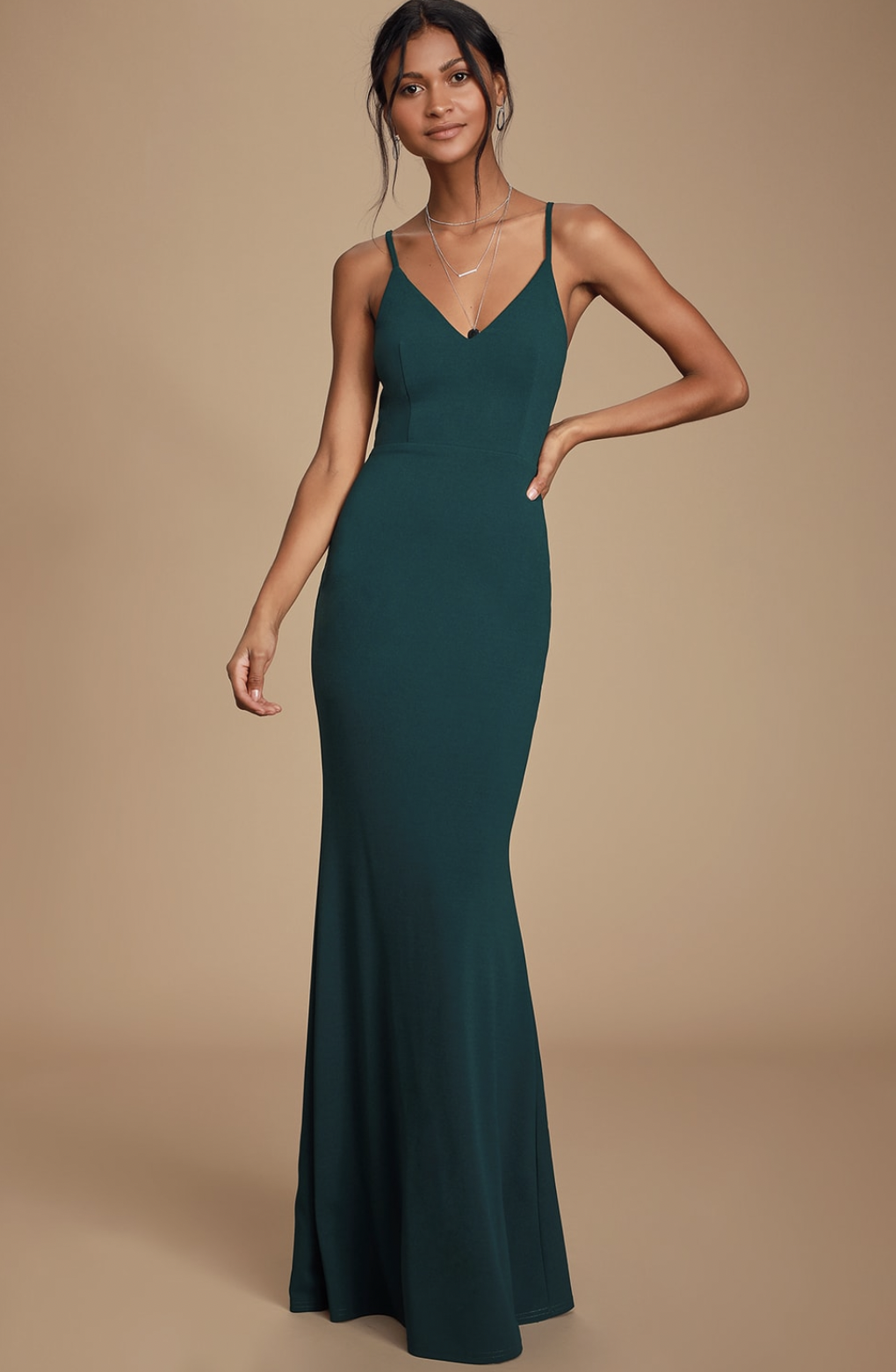 A classic silhouette, this gown is guaranteed to turn heads at a fall evening affair. It's also available in black.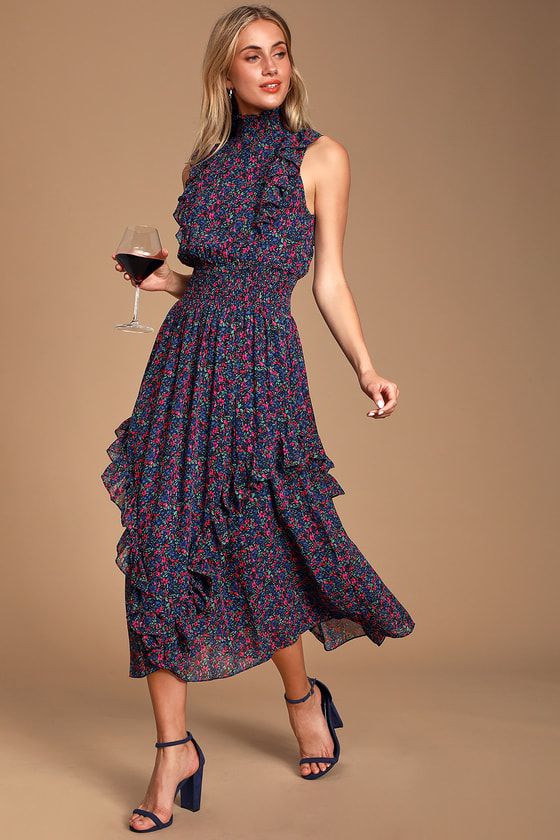 Hello, pretty lady coming through! A subtle dark floral print, cinched waist, and ruffles on the skirt and mock neck feels sophisticated and romantic. It will even match the bride's bouquet you're bound to catch.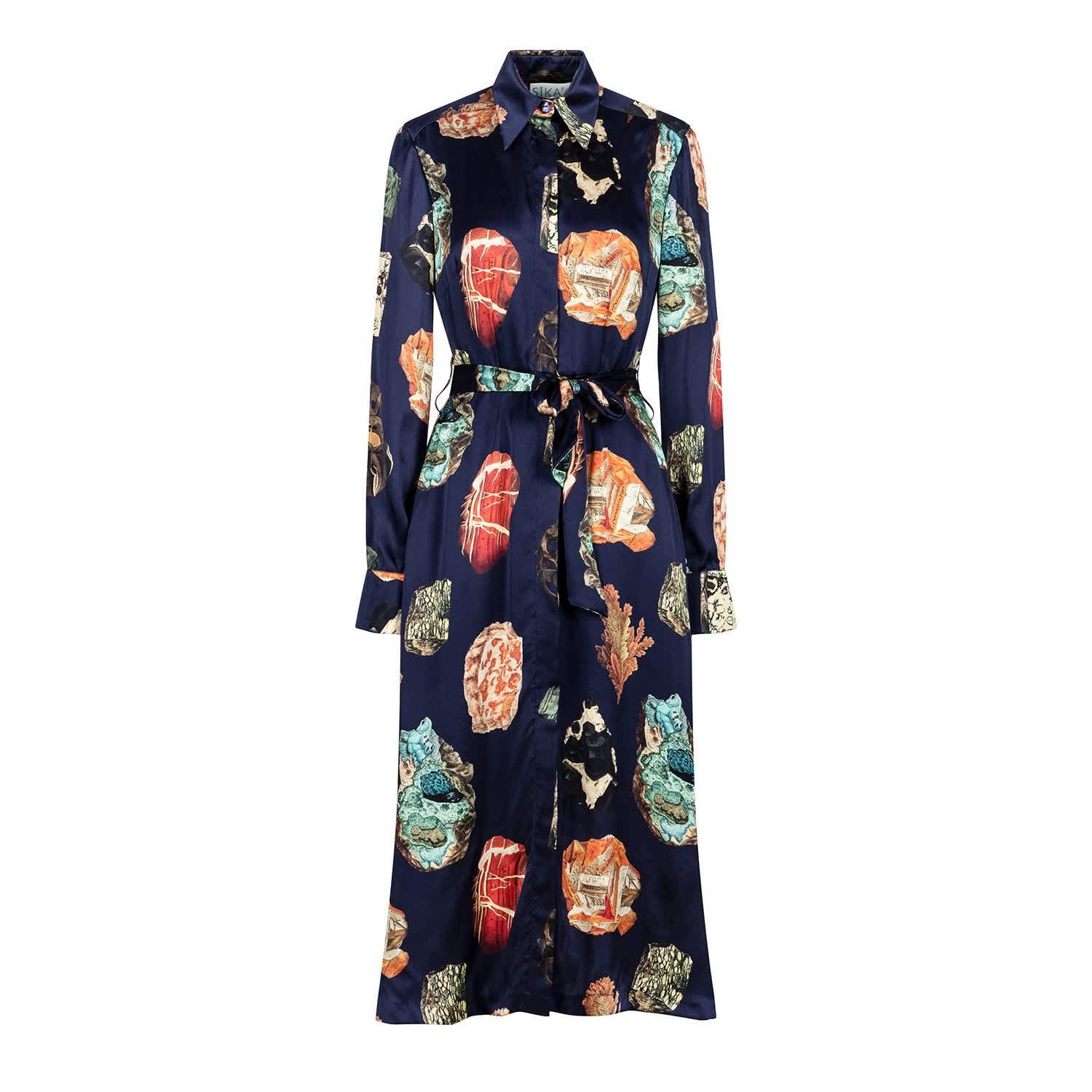 If you're over fall florals, opt for a unique print like this one depicting fossil stones in autumnal hues like dark blue, deep orange, and red.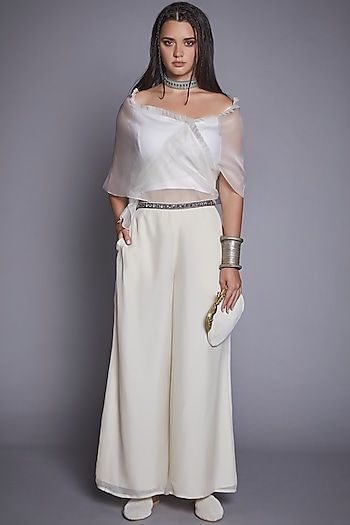 Planning on going to an Indian wedding? The good news is that the "no white" rule doesn't apply, since most Indian brides traditionally wear red.
If "class" and "elegance" were an item, it would be this Jade Couture by Monica and Karishma pant set. Between the crepe silk palazzo pants and chic organza top, the evergreen outfit will be a standby in your luxe wardrobe for decades to come. (Bonus: it has pockets!)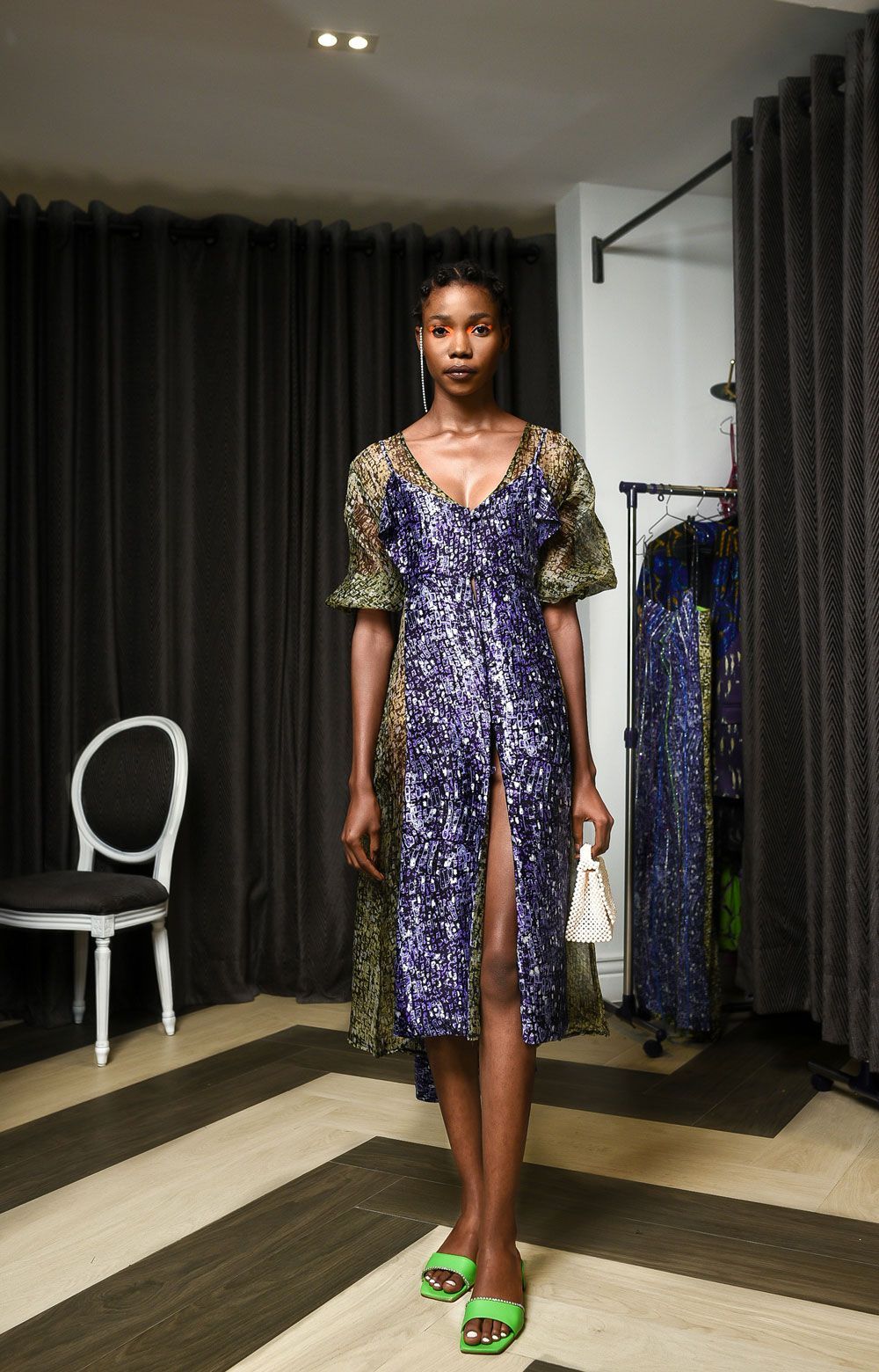 If the invite says anything about glitz and glam, run straight towards this dress made of baroque yellow and blue printed silk that almost seems to glow.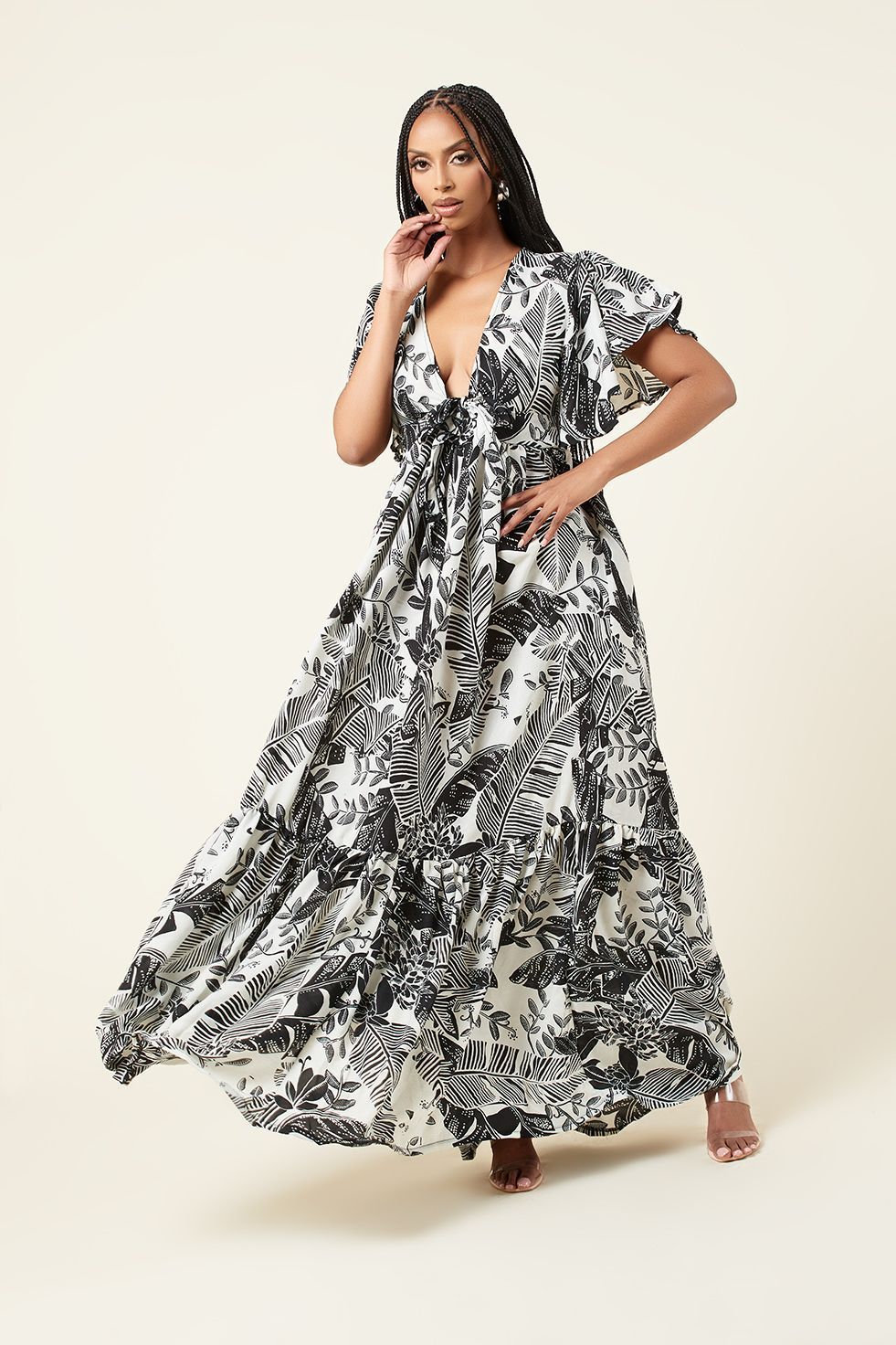 Transitioning from summer to fall calls for a nature-inspired maxi dress with a ton of movement. The inky print is perfect for a daytime wedding somewhere under the sun.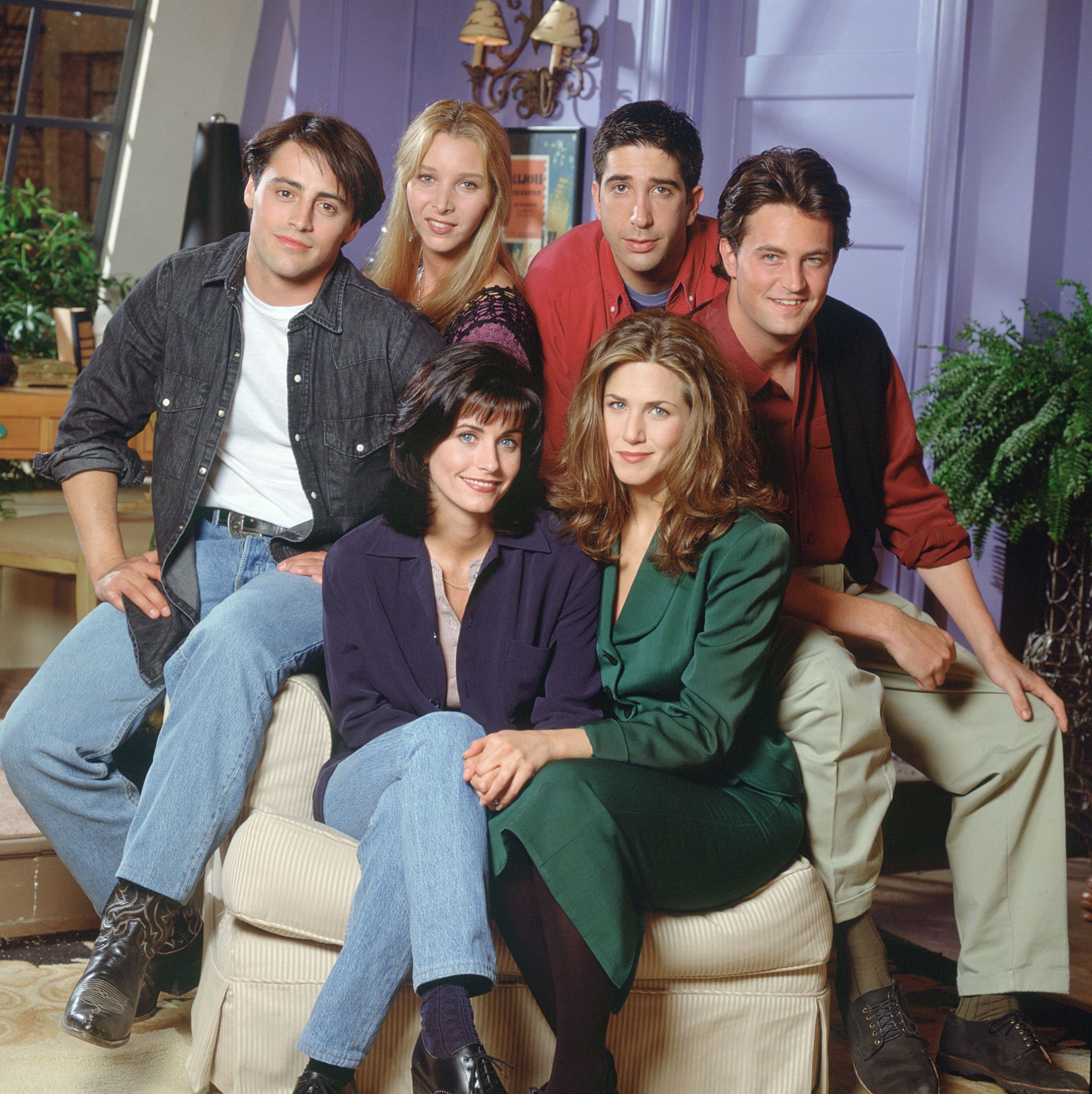 Source: Read Full Article