Marvel fans are elated to have Daredevil, played by Charlie Cox, back in the Marvel Cinematic Universe. Unfortunately, aside from rumors and speculation, we don't know what Marvel will do next with the character. But Cox has a few ideas about what he wants from Daredevil's next journey in the MCU.
Daredevil rejoined the MCU in 'Spider-Man: No Way Home'
Fans were devastated when Netflix canceled Daredevil in November 2018 after three seasons. But they held on to hope that Disney, which was at the time developing its own streaming service, would someday revive the show. While that dream has yet to fruition, Daredevil has returned to the MCU.
Rumors ran rampant on the internet in the months leading up to Spider-Man: No Way Home that Charlie Cox would reprise his role as Matt Murdock. And when fans traveled to the theaters to see the movie in December 2021, they discovered that the rumors were true.
Charlie Cox appeared as Matt in one scene in the film. Peter Parker had hired him as his lawyer, which was smart. Matt got all of Peter's charges dropped, but he still warned him to lay low. Plus, as a nod to the diehard fans, Matt expertly caught a brick that flew through the window. When Peter questioned how he did it, Matt answered, "I'm a really good lawyer."
After the movie's premiere, Cox confirmed that Daredevil was back in the MCU, and Marvel had more plans for his character.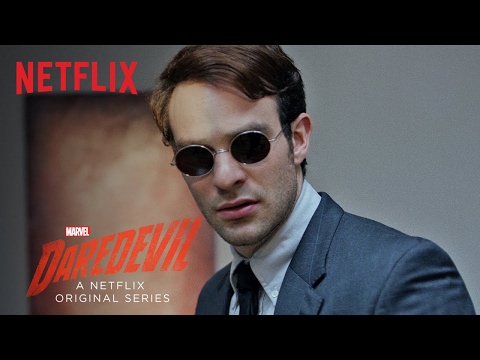 Charlie Cox wants to see Daredevil fight alongside Black Widow in the MCU
During an interview with ComicBook.com, Charlie Cox spoke about Daredevil's future in the MCU and which character he wants to team up with.
"I really like the Black Widow, the Daredevil/Black Widow stuff [in the comics]," the actor shared. "That relationship is really funny to me, I don't know why. I find it really funny and sexy at the same time. Other than that, it's difficult."
Cox added, "The obvious one is Spider-Man, isn't it? That is the one. I would have to get more time with Bullseye. We just touched on that story, and we were just gearing up for it before we weren't allowed to continue. I really enjoyed working with Wilson Bethel in that character. There's so many, but I think the obvious one is, it would be really cool to get some Daredevil/Spider-Man stuff, more stuff."
Seeing as Scarlett Johansson as Black Widow is dead in the MCU, if there were to be a Daredevil/Black Widow team-up, it would have to be with Florence Pugh's character. Marvel is leading to Yelena carrying on her sister's legacy, anyway. And now that we're picturing Cox and Pugh together, this is a team-up that we need.
And, as Cox mentioned, we're sure that fans would love to see Daredevil and Spider-Man fighting side-by-side in the MCU.
Charlie Cox would rather do a TV show over a film franchise
While speaking with ComicBook.com, Charlie Cox revealed that he prefers a television show over a movie regarding Daredevil's future in the MCU.
"I think all of these characters lend themselves perfectly to the television format," the actor said. "Because they are episodic in their original format. The deep fan base has learned to consume them in an episodic format in the comics."
Cox continued, "The thing I always said about season one of our show was that if you made the movie version, you kind of have to have him in the suit after 20 minutes, and you've got a lot of story to tell. And this is one of the mistakes I think the film made, which was that they tried to tell all the stories, they had Foggy, Electra, Kingpin, Bullseye, they had all of those characters in two hours."
He concluded, "We had 13 hours times three before we even bought in Bullseye … So it would be really cool to do a Daredevil movie and to do this kind of one-off moment in time. But I think in terms of telling the story, it's more fun to have more time to do it. The only caveat is that it would be super cool to see DD on the big screen. That's the only thing that miss out on. But even now with movies, most of the movies, you watch them streaming anyway."
Daredevil will be available to stream on Disney+ on March 16.
Source: Read Full Article