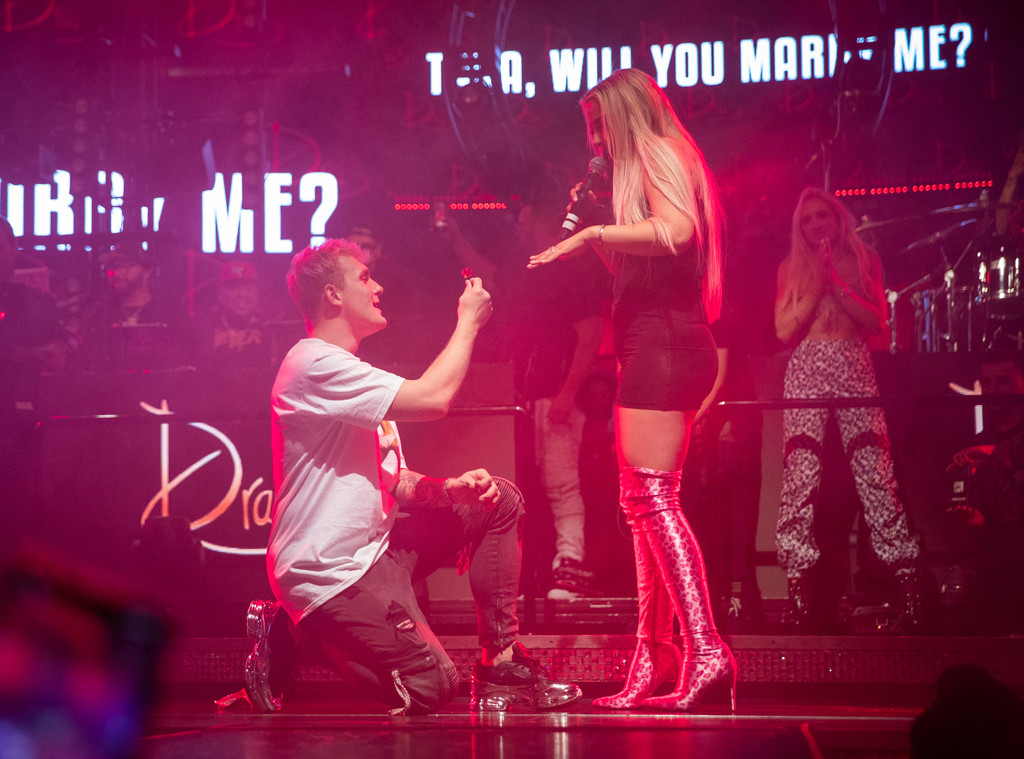 Drai's Nightclub Las Vegas
Sure, why not?
Controversy-courting YouTube stars Jake Paul and Tana Mongeau claim to have emerged from a weekend in Las Vegas engaged, though they could just as easily not be.
Drai's Nightclub relayed the proposal details in a press release, showing that Jake brought Tana onstage and the video screens flashed, "Tana, will you marry me?" as he first presented her with a Ring Pop. She said yes, they kissed, the question was replaced by photos of the two of them and staffers brought up a three-tier cake with a topper in the shape of a big ring. By the time the couple returned to their table, according to Drai's, she was sporting a real ring.
But though Tana, who was celebrating her 21st birthday in Sin City, flashed her big sparkly bauble on Instagram Story with the caption "i'm engaged @jakepaul," both online skeptics and a few jewelers are holding back on congratulating the couple on their betrothal.
"Nothing is a sure thing without seeing the ring(s) up close, but everything about this little clip says 'fake,'" says Ira Weissman, founder of The Diamond Pro. "You can see the exaggerated sparkling light reflecting off of something in the bottom right of the frame in the beginning of the clip. This is exactly what you would want to use to try to enhance the sparkle of a simulated diamond to make it look like the real thing.
"Plus, the glassy look of the very large center stone as it's brought closer to the camera also points heavily towards it being a cubic zirconia."
Well, when is the sparkle not enhanced on social media?
A source also tells E! News that they're hearing the whole to-do is "100 percent fake."
Neither Tana nor Jake's rep has yet replied to requests for comment.
Jake tweeted moments ago, "I proposed."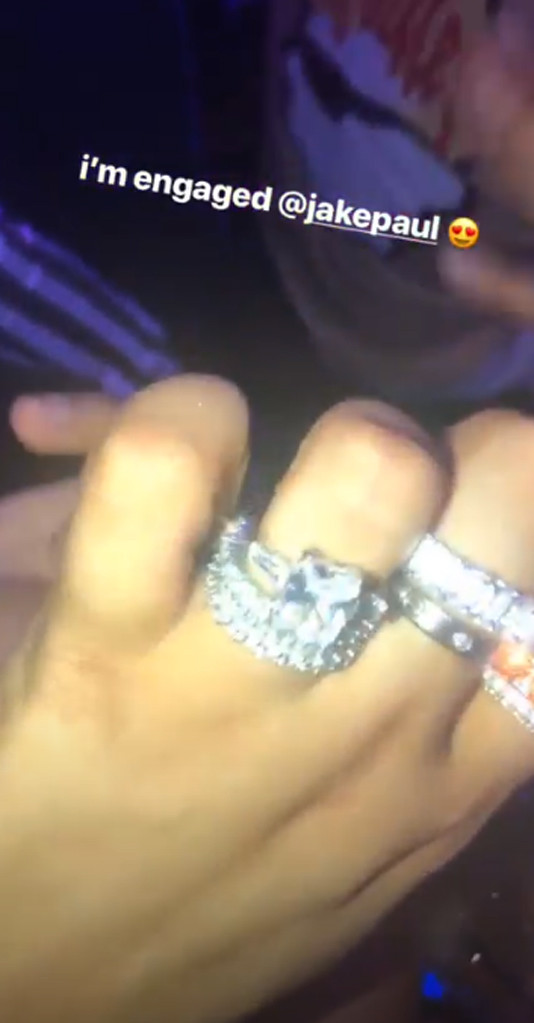 Instagram
It makes more sense if they aren't engaged after barely two months of dating, especially considering Mongeau's milestone birthday was being documented for MTV's No Filter: Tana Turns 21, but more shocking things have happened, on YouTube and off.
Tana started making a name for herself years ago with her "storytime" videos but has really burst into the on-and-offline consciousness in recent months thanks to a high-profile relationship with Bella Thorne.
She and Thorne broke up in February after over a year of dating, the Insta personality and the actress having first indicated their more-than-friends status in the fall of 2017, when Mongeau tweeted, "I want to date Bella Thorne next," and two weeks later, after they met at the Life Is Beautiful Music & Art Festival in Vegas, shared a pic of them kissing on Instagram.
Mongeau marked a year together in September 2018, writing on Instagram, "It's so crazy to me how fast a year can fly by when you're surrounded by love you never thought was possible. what started with a viral kissing pic turned to you being the love of my life…it feels like just yesterday I was drunkenly bothering you at life is beautiful. thanks for wanting me to stick around and bother you endlessly."
Thorne had acknowledged in September 2016 that she considers herself bisexual and Mongeau seems to go where the love is as well.
"I just love who I want to love," Mongeau said in a YouTube video in January. "If you want to call that pansexuality, you can call me pansexual…I think people need like a box to put people in to feel OK but I'm just not like that. I don't need a box, I don't give a f–k. I'm just me."
She continued, "I'm going to love who I want to love and I'm going to do what I want to do and I don't give a f–k who doesn't like it. If people can't accept that, then that's on them."
Both ladies also were frank about their unconventional relationship: Thorne was dating rapper Mod Sun (real name Derek Smith) when she got together with Mongeau, and by the beginning of this year Mongeau was also dating Brad Sousa.
"It's still very, very, new," she shared in January. "I'm in this new thing with this awesome person. He's so sweet and he makes me feel those childish butterflies."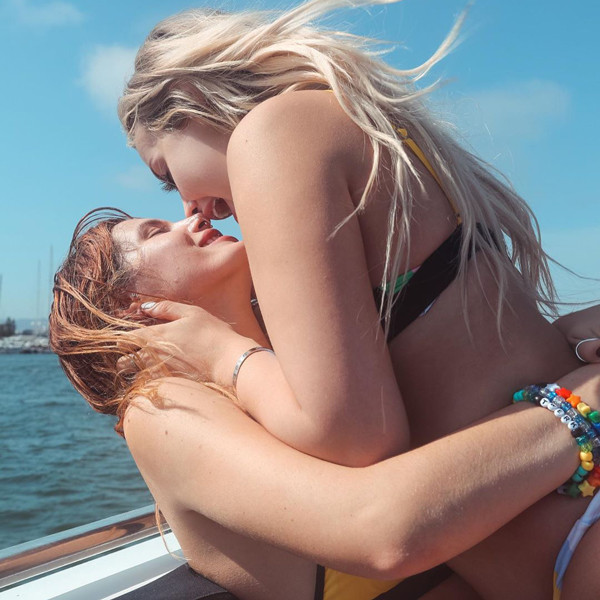 Instagram/Hunter Moreno
Talking to Gay Times for its February 2019 issue, Thorne said (per Just Jared), "I don't think anybody will really understand the bonds that I share with Mod or Tana. Yeah, we joke around about poly, but we aren't in the sense that we don't put a word, a box or label too many things. It is what it is."
Alas, what it was a few weeks later was over.
"Tana and I aren't together anymore, pls stop asking. We love U guys," Thorne tweeted in late February.
Mongeau chimed in, tweeting, "i love her forever don't get that twisted. she changed my life forever. don't rly wanna talk on it.. there's no negativity at all." When a fan tweeted, "love you both as long as you're happy," Tana acknowledged, "i'm not fully. this obviously breaks my heart. i will be though. as long as she is."
Meanwhile, she was still dating Sousa, apparently up until April when she posted a video titled "i got cheated on but that's ok" on YouTube.
"this is how many people want you to NOT get back together with Brad," wrote commenter john paul, emoji-pointing to the (as of now) 6,500 likes his comment ended up receiving.
Sousa took to YouTube to respond to Tana's lament a few days later.
"There was a little bit of over-exaggeration to some of it," he said, "but I mean, what she was going through and what I have done…I don't blame her for speaking just her mind and her truth—and her heart, to be honest with you."
"Coachella weekend was very bad," he admitted. "Both weekends. People have it twisted, saying that I cheated on her during the weekends, that's not true. That did not happen. I never physically touched another girl during our relationship, ever. I did Snapchat a few girls from back home, and they did send me nudes. And I replied…I was drunk, stupid, didn't realize what was going on. Regardless, I'm an idiot."
It's all very agonizing.
View this post on Instagram
cheater's first Coachella (i'm debating deleting this but i just look so iconic and hot all without a facetune so i'd hate for that to go to waste)
A post shared by tanamongeau (@tanamongeau) on
Then, in a video posted just last month, Mongeau retroactively inserted herself into the at-the-time very compelling and very short relationship enjoyed by her ex Lil Xan and Noah Cyrus, who broke up in September.
Tana mused (for about 40 minutes) about seeing the couple at the 2018 MTV Video Music Awards in August.
"I hear from a bunch of other people that [Noah] just, like, hates me," she said. "It hurt. It still hurts."
At the VMAs, "I turn to see Lil Xan beelining toward me. And I see, out of my peripheral, a very, very unhappy Noah Cyrus walking up to us. And I'm standing there…and she looks at me and it's just this awkward-ass silence. … She just looks so f–king unhappy that she even had to, like, walk up to us."
"She looks at me up and down and goes, 'Nice to meet you,' … and just, like, shoulder-checks my ass."
View this post on Instagram
i'm sorry but this is hands down the funniest picture i've ever taken hahaahhahaahaha
A post shared by tanamongeau (@tanamongeau) on
Despite all the crying wolf, Paul and Mongeau seemed to be legit dating—they were at least legit kissing—within days.
A couple weeks later, Sousa popped back into the picture in a video that he swore had nothing to do with Tana and solely to do with some beef he said was started by Paul.
"This guy is just trolling," Brad said. "He's messaging me, trying to make me jealous. Like, bro, I'm not here for no one. I'm glad, you guys be happy. I'm here because you started s–t with me." He said sure, he'd fight Paul, just say when, in the ring or the octagon.
Cut to a snippet of Tana sitting on Jake's lap in a video as Jake seemingly challenged Brad to some sort of rumble.
"I'll beat your ass, bro," Brad promised in his reply. "I really don't care." He claimed he'd been DMing Jake to try to set something up, but Jake only seemed to want to duke it out online.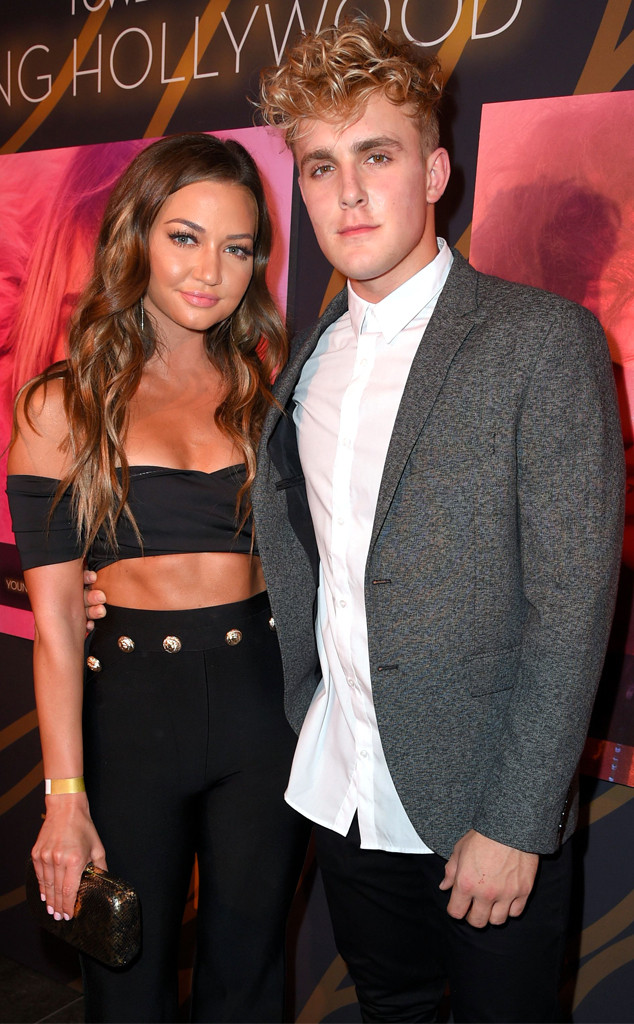 Stewart Cook/Variety/REX/Shutterstock
Paul, whose fame first sprouted on Vine back in 2013 along with his big brother Logan Paul, has had his own share of closely chronicled dating drama, most recently with YouTuber and model Erika Costell, who had a modest hit last year with her single "Jerika," featuring DJ Kade.
Their relationship came after they had a fake YouTube wedding that has been viewed by more than 32 million people, of course. Paul titled the June 2017 video, "WE ACTUALLY GOT MARRIED."
"We're not even actually dating," Paul clarified later that day. "It's like the WWE. People know that's fake, and it's one of the biggest things of entertainment." (None of the above has done much to go toward the legitimacy of Jake and Tana's engagement, we know.)
"I really think in the next six months, we can triple that, if not quadruple that," Jake told the New York Times in September 2017 after Team 10's subscriber base passed 80 million. "It's about coming together and pushing your boundaries every single day." Paul alone has upward of 19 million subscribers.
Source: Read Full Article