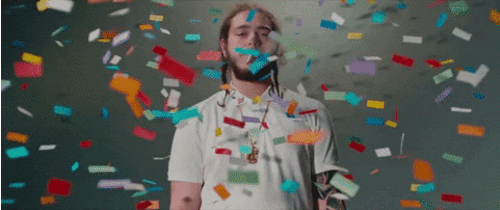 Definate Films
Happy birthday, Posty!
Post Malone is now 24 years old and that means it's time to party…Posty style. So, grab some Bud Light and put on your favorite Crocs as you listen to all of the singer's best songs from the past few years.
OK, you don't have to drink a beer or wear the birthday boy's favorite shoe, but you should take a look back at all of his best tunes today.
Whether you blast "Sunflower" or "Congratulations," you know you'll have a great time celebrating the New York native's birthday if your playlist includes all of his top tracks.
If you want to take it a step further, we suggest rocking out to Post's best songs while watching the corresponding music videos.
Even though the artist doesn't have a massive music video catalog most of his top songs have a cool video to go with it and trust us, they are worth a watch.
As fans wait to see what songs the rapper will release on his upcoming third album, you can find us here, reliving his best tracks from the first two records.
Stoney and Beerbongs & Bentleys were both big records and they gave us songs like "Wow," "Better Now" and "Go Flex," all of which have awesome music videos to go with.
The "Rockstar" singer is truly one of a kind and we can't get enough of him and his killer music videos. Check out all of the best videos from Post below and then vote for the one you like best.
Happy birthday, Posty! Keep doing you!
"Wow"
In March, Posty released this video and if you ever wanted to know what it's like to be the singer then this video will give you a glimpse into his real life. It has scenes from his life on tour everywhere from Los Angeles to Stockholm, getting ready for shows, drinking with friends and then all of a sudden a VIP fan starts dancing and it's awesome.
"Rockstar" feat. 21 Savage
This is one of Post Malone's most graphic videos, which makes it even more memorable. In between the artist sitting on a throne there are scenes of him in white battling a group of men in black. They sword fight and the singer wins the bloody battle. It's intense and bloody and you won't be able to look away.
"White Iverson"
The singer takes on the balance of being rich and poor in this video and it's great. After rolling out to the desert in a Rolls-Royce, the artist plays basketball and wanders through the desert. It makes no sense, but at the same time it totally works.
"Better Now"
The video for "Better Now" might be simple in format, it's a black and white compilation of his actual shows, but it's just as great as his more intricate ones. In addition to seeing the New York native perform you see him be truly himself backstage and in between sets dancing around, which fuels our love for the artist.
"Psycho" feat. Ty Dolla $ign
Tanks, deserted airplanes and Post as a military man? This is exactly what you get with this rogue video. Scenes from a plane crash, followed by Post singing on top of a tank while driving through the desert is just one part of this video. There are also moments of him dressed in fur singing in the snow as well as wielding a blow torch at a wolf. It's a wild, wild video to say the least.
"Go Flex"
In 2016, the Grammy nominated artist dropped the video for "Go Flex" and it is different than a lot of his other videos. From the beginning of the video it really focuses on his voice as he stands in a warehouse rapping and singing. You then get glimpses of a girl sitting on a convertible at sundown in Texas while Post performs next to her. The last scene shows the singer with a gold bat, surrounded by fire as his cigarettes burn in a pile. His world is going up in flames, but in the end he's back to his striped down self just playing guitar.
"Congratulations" feat. Quavo
Post has worked hard for his success and with "Congratulations" it's all about the celebration of his success. Whether it's working in the studio with friends or smoking as confetti drops around him, this video shows that Posty is ready to enjoy his fame and success…champagne popping and all!
"Too Young"
Life hard, die young is exactly what Post is trying to avoid in this video as he shows off his life of late nights, drinking and wandering the streets while partying it up. As he raps about not wanting to die too young, spends time outside a convenience store and sits at an empty basketball court, you notice that there are glimpses of another location…a church. The church is ruined and no longer has a roof, but it's beautiful and it's still standing, which appears to be a tribute to all those who have died before him.
Now that you've seen the best Post Malone videos, vote for the one you can't get enough of below.
Source: Read Full Article