It seems like Kim Kardashian West is not happy about her boyfriend Pete Davidson spending New Year's Eve with Miley Cyrus. The reality star unfollowed the Hannah Montana actor after she and Davidson hosted a New Year's Eve Party together in Miami. Here are all the details we know so far.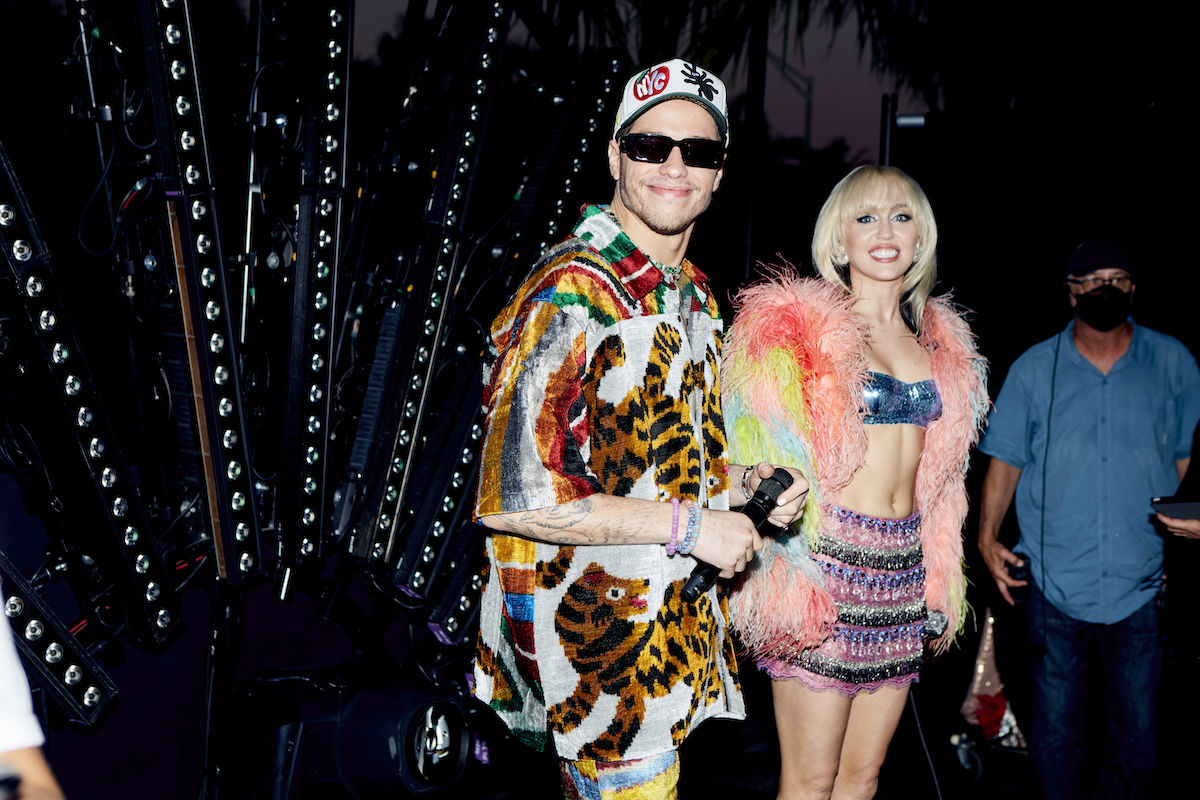 Pete Davidson and Miley Cyrus hosted a New Year's Eve party in Miami
Miley Cyrus and Pete Davidson have been friends for years, and they have performed on Saturday Night Live together. On New Year's Eve 2021, the two stars hosted a TV special for NBC and Peacock.
The show included performances by Brandi Carlile, Jack Harlow, and Saweetie. Miley sang her godmother Dolly Parton's song "Jolene" with Noah Cyrus. She also performed her own hits, "We Can't Stop" and "Party in the U.S.A.," and sang her 2009 song "The Climb" as a duet with Carlile.
Cyrus had a wardrobe malfunction, nearly going topless in front of the crowd. While singing "Party in the U.S.A.," her silver mesh top started falling off. Cyrus handled the mishap like a professional, clutching the fabric to her chest before briefly exiting the stage to return in a red jacket. 
Davidson helped Cyrus laugh off the situation after her performance. "I heard we may have had a boob slip," Davidson said before introducing the next musical guest. "So, in solidarity, here's my boobies." The SNL star then lifted his shirt to expose his chest.
Kim Kardashian West unfollowed Miley Cyrus on social media after her New Year's Eve party with Pete Davidson
It appears that Kim Kardashian West isn't happy about how much time Davidson has been spending with Cyrus. Besides hosting their NYE special, the two celebrities also made some appearances together to promote the upcoming show. Page Six reported that after their joint interview on The Tonight Show, Cyrus was seen heading to Davidson's condo in Staten Island.
The publication also shared that Kardashian West unfollowed Cyrus on Instagram after the New Year's Eve special. As of Dec. 10, the Keeping Up with the Kardashians star was still following the Disney actor. But by Jan. 4, she was no longer following Cyrus.
Perhaps Kardashian West was offended by Cyrus singing "It Should Have Been Me" to Davidson during their Dec. 9 appearance on The Tonight Show. Cyrus performed a cover of Yvonne Fair's song and dedicated it to Davidson.
Cyrus repeated Davidson's name throughout the song, and she sang while staring at him and even throwing one leg across his lap at one point. She added her own lyrics to reference Davidson's date with Kardashian West in his hometown, quipping, "It should've been me … in that Lamborghini leaving that nice a** restaurant! I'm going to see a movie in freaking Staten Island!"
Fans are reacting to the drama online 
Fans are taking to social media to discuss the drama between Cyrus, Kardashian West, and Davidson. Commenting on a post about Kardashian West unfollowing Cyrus, one fan tweeted, "I just looked at Mileys account and it looks like she is obsessed with Pete Davidson. That is probably why."
Another fan tweeted, "No matter what you do – there's always that "one chick" who will surpass you … that hurts!"
One fan commented on Cyrus singing "It Should Have Been Me" to Davidson while promoting the NYE event by tweeting, "It can still be you, Miley."
One fan speculated that all the news surrounding Kardashian West's relationship with Davidson is to distract from the Tristan Thompson paternity scandal. "Kris Jenner trying to distract us from Tristan cheating mhm WE SEE YOU @KrisJenner," they tweeted. 
And another fan joked that Cyrus had moved on to Kardashian West's ex-husband. "Miley out with Kanye right now," they tweeted. 
Source: Read Full Article