"Bahahahahahahhahahahahhahahah – breathe – bahahahahhahahahaha."
Having audiences cracking up at your movie trailer is usually a good sign for the producers… usually.
The teaser trailer for Lifetime's upcoming "Harry & Meghan: Escaping the Palace" was released on Tuesday, and Twitter couldn't tear its eyes away, even though it desperately wanted to.
The film is a follow up to the network's "Harry & Meghan: A Royal Romance" and "Harry & Meghan: Becoming Royal", but deals with the much darker tone of the Sussex's fallout with The Firm… although from the reactions alone, one might mistake it for a comedy.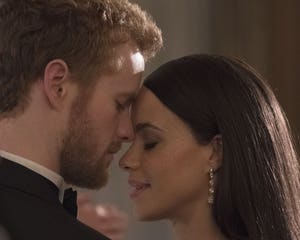 19 Times Lifetime's 'Harry & Meghan: A Royal Romance' Made Us Cringe
The 20-second clip for the "movie event of the year" teases the couple's infamous Oprah Winfrey interview, recreated in painstaking detail.
"I see you literally being hounded to death, and I am helpless to stop it," Harry tells his wife.
"I am the person who is strong, and gets things right," she dramatically assures him.
"Not all fairytales have the perfect ending," the teaser concludes.
What this one does have however, according to the early Twitter reviews, is plenty of cringe-factor:
There were, of course, many in the comments who said they'd be tuning in; and then there was this, probably very accurate tweet:
For the third time in three films, "Harry & Meghan: Escaping the Palace" casts two new stars to play the Duke and Duchess, this time Jordan Dean and Sydney Morton.
The film debuts on Lifetime later this year.
Source: Read Full Article