Halloween might be the time for scary movies and Instagram-worthy fall dates, but if you know what's good for you, it'll also be the season of mind-blowing orgasms. For some people, the key to an explosive holiday climax is sex toys. For others, it's role play. Hell, maybe it's just trying out a new type of sex (looking at you, anal) or throwing on the hottest Halloween costume you can get your claws on. Whatever your trick, it turns out, Lovehoney's got a treat for you in its new "Come Alive At Night" section.
Yup, the sex and wellness retailer is going all out for the holiday, which means it's time to stock up on a few essentials before the most sinful night of the year. From vibrators to butt plugs to BDSM essentials and costumes, Lovehoney has a wide variety of themed goodies you'll want to add to your candy bag.
So conjure up your credit cards and pick your poison, witches, because there's a good chance a least a few of these selections will put a wicked spell on your sex life.
1. Lovehoney Leopard Print Feline Frisky Catsuit Costume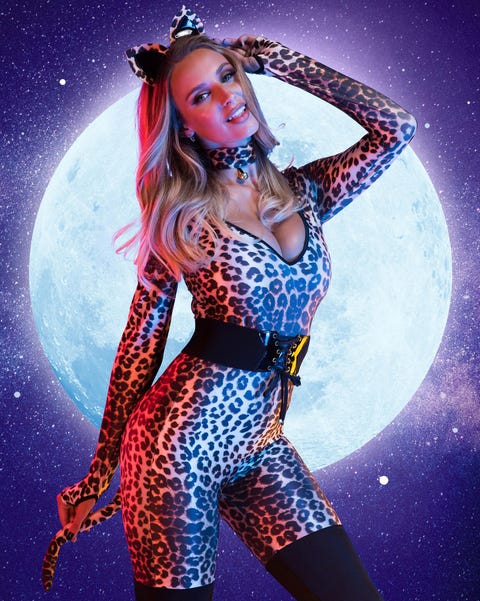 It doesn't get more classically Halloween than a cat costume, and if you don't have one already hanging in your closet, now's definitely the time to buy. This leopard print option comes in sizes 4-20 and the stretchy, spandex material makes it super simple to get on (and off, *wink wink*). The best part is, Lovehoney's Frisky Catsuit comes with a matching tail, ears, and waist-cinching belt for an ultra-flattering look that takes exactly zero effort.
2. Fifty Shades of Grey Greedy Girl G-Spot Rabbit Vibrator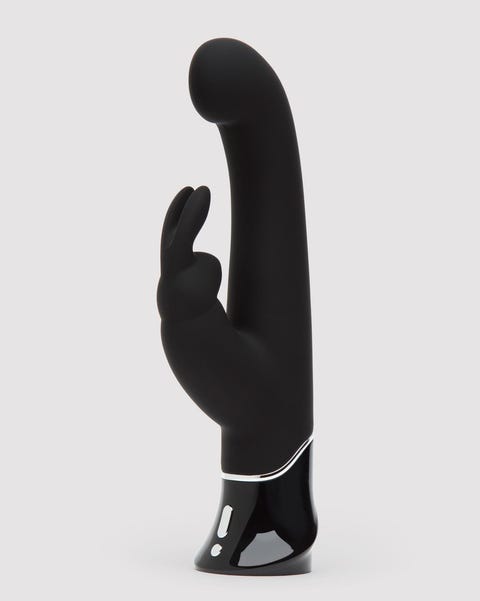 The Greedy Girl Rabbit vibrator is included in basically every single sex toy roundup because year after year, it continues to be a best-seller. Its 12 vibration modes, two independent motors, and three different clitoral stimulation modes paired with its curved shaft and flexible bunny ears make it a great grab any time of the year. But considering it's inspired by Fifty Shades of Grey, buying this toy is also an ideal excuse to do a throwback couples costume as a distant billionaire and a clumsy college grad.
3. Lovehoney Plus Size Fierce Black Leather-Look Skirt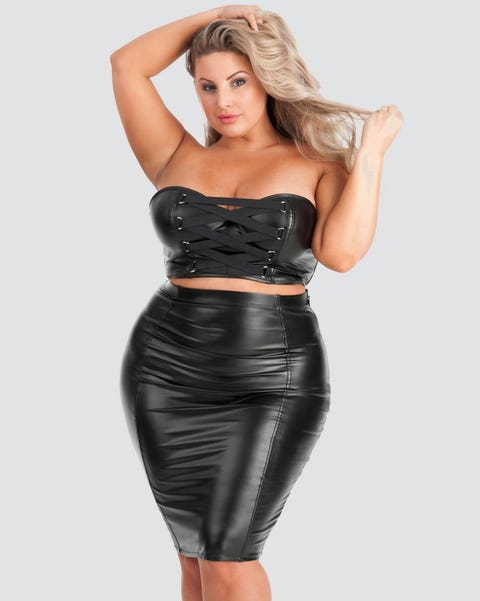 Available in sizes 4-20, Lovehoney's black, leather-looking pencil skirt is perfect for costumes, role play, or even laundry day if you feel like looking extra sexy for a trip to the grocery store. Pair this bb with a button-down and some glasses for a ~studious~ Halloween costume, or grab a whip and some handcuffs and go full dominatrix. The stretchy fabric makes it easy to wear—and not as hot as actual leather—and the criss-cross corset back adds some adjustable assentuation.
4. Bondage Boutique Leopard Print Wrist Cuffs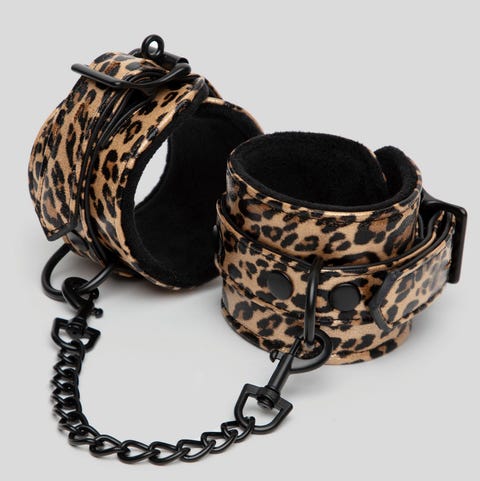 Lovehoney's going all out with the animal print this Halloween, which means yes, you can have an entire closet full of leopard sex toys and 'fits. Even if you already have a pair of handcuffs, these wrist restraints are an upgrade since they're padded for comfort and designed with D-rings, so they can easily be attached to other bondage items. Also hi, have you seen 'em? Meeee-ow.
5. Lovehoney Fantasy Plus Size French Maid Costume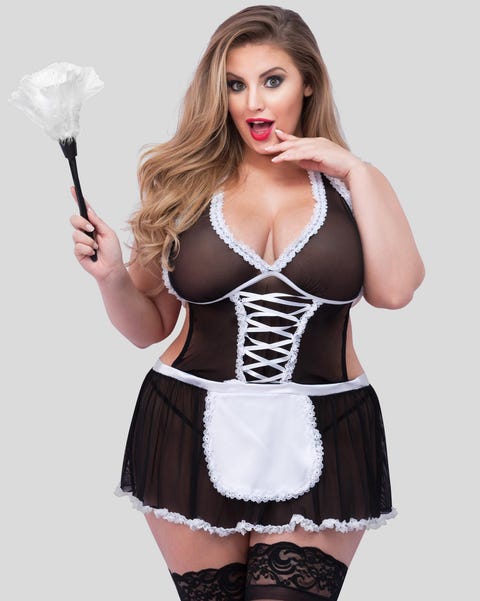 6. Lovehoney Sensual Glass Glow-in-the-Dark Butt Plug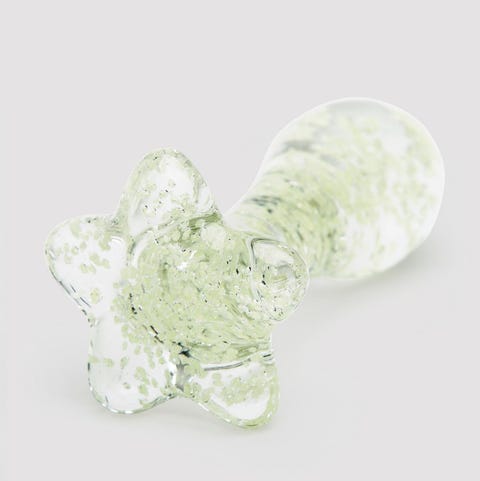 I don't know what it is about glow-in-the-dark stuff that feels spooky, but a sex toy that gives off an eerie green light is spot-on for a Halloween celebration. What makes this best-selling, 3-inch butt plug from Lovehoney such a treat isn't just the glowy aspect, however, but the fact that it's made of strong and hypoallergenic borosilicate glass. In case you've never used a glass toy before, they're not only easy to use and clean, but they're great for experimenting with temperature play.
7. Bondage Boutique Leopard Print Ball Gag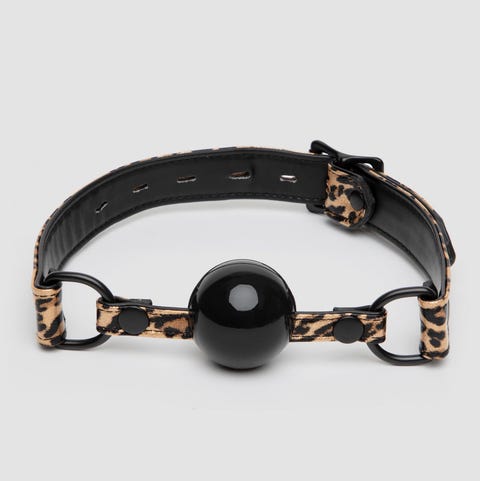 Whether you're new to the world of BDSM or are already a pro, this leopard print ball gag will leave your partner (consensually) speechless. Coming in the same matching animal print as some of the other products on this list, you can easily add it to your stockpile of sexy animal accessories. The 5.5-inch silicone ball itself is hypoallergenic, odorless, and tasteless, and the soft straps are held together with two D-rings that make it easy for you to attach it to additional bondage accessories.
8. Lovehoney Fierce Tough Love Wet Look Studded Zip-Around Catsuit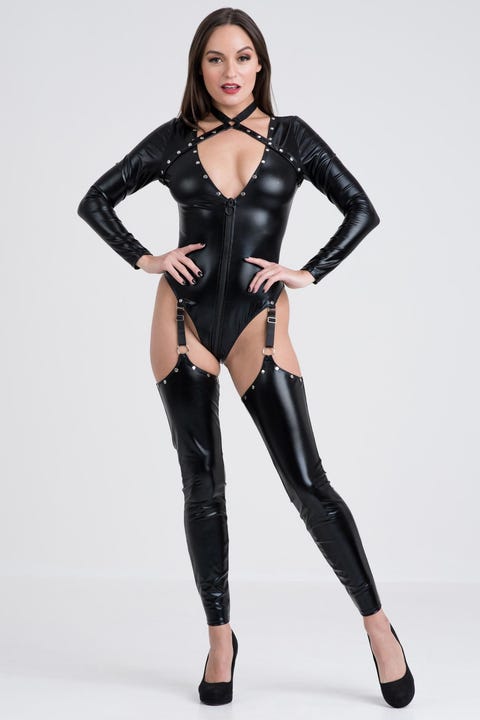 If animal print isn't your style but you're still looking to go full dominatrix this Halloween, it'll be hard to find a sexier look than this sleek, zip-around catsuit. The costume—which comes in sizes 2-26—includes studded straps and detachable stockings that look amaze paired with sky-high stilettos. The best part is, the gleaming wet-style fabric is flexible enough to add a lil security and structure without making you feel stiff.
9. Lovehoney Glow-in-the-Dark Deluxe Mini Massage Wand Vibrator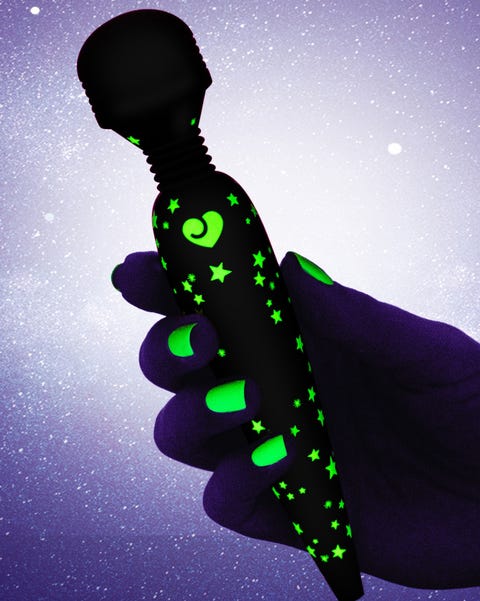 Lovehoney's Deluxe Mini Massage Wand is one of the best travel vibrators around thanks to its petite size, USB charging capabilities, and 70 total intensity/pattern options. So if you're planning to party someplace other than at home alone this Halloween (or even if you are, tbh), a toy you can fit in your bag is definitely ideal. And the fact that it comes in a glow-in-the-dark option that'll add to your spell-casting vibe makes it all the better.
Source: Read Full Article