Teri Maloney also claims her son had to "step in" and defend her from Sandoval's "vitriol attacks" three times, but it didn't make it on air.
Apparently, the nasty spat between Raquel Leviss and Katie Maloney was even more explosive than what viewers saw on the last episode of "Vanderpump Rules," if Kristen Doute and friend of the show Janet Elizabeth are to be believed.
On the latest episode of Doute's Sex, Love and What Else Matters podcast, the two claimed Tom Sandoval really got into it with Katie's mom, Teri Maloney, after Teri began criticizing Raquel's decision to pursue Tom Schwartz following his divorce from her daughter.
"I had a front row seat to Katie and Raquel having at it and it was really intense. And there was a little stuff that I'm surprised they actually they cut out, including Tom Sandoval really spoke horribly to Teri Maloney," said Elizabeth, who was at the event celebrating Katie and Ariana Madix's sandwich shop when the confrontation happened.
"He said, 'Shut the f— up,'" claimed Doute.
"He was like very rude to her. If he was my mom, I would hit him," added Elizabeth. "Tom went so hard that, at the time, I was like, 'Wow, Sandoval really hates Katie. He's only doing this out of hatred for Katie.' Now I realize it was out of support for his girlfriend."
"The way that Sandoval spoke to Teri, was like insane," Doute said, before also criticizing Schwartz for not intervening. "I was so appalled that Schwartz would not — for one time, Tom Schwartz — you step in and you go, 'Dude, you do not speak to my ex-mother-in-law [like that],'" she added.
The two also took issue with Sandoval saying in a confessional he felt it was "tacky" for Teri to get involved in Katie and Raquel's fight, because he believed nobody was really going to push back hard against someone's mom.
"Sorry, this is an event for the girls to celebrate the sandwich shop, so yes, Katie's mom is there in support of her and if Raquel wants to dive in to the situation, pull Katie aside in front of her mother and start telling her what she's doing wrong in her divorce, fully expect the mother to step in," said Elizabeth.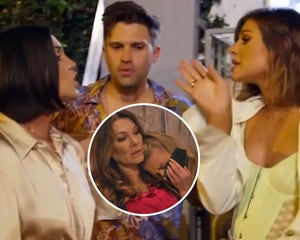 Katie, Schwartz and Raquel Feud Erupts During Explosive Vanderpump Rules Blowout
Doute then said she wondered "how the f—" Raquel was raised, after Leviss also "had the balls to disrespect someone's mother at her own event" by rolling her eyes at Teri when she began to get involved in the spat. "Bitch, step down," said Kristen. Jane, meanwhile, said she actually "pulled" Raquel off camera at one point at the party and told her, "You're going to look horrible" for "all the stuff she was saying" — adding, "you look like you have no empathy right now."
After the episode aired, both Katie's mom and brother Joey took to Twitter to give some additional insight into the interaction. They also suggested there was a lot left on the cutting room floor when it came to how Sandoval spoke to Katie's mother.
"This might be the only time I use the hashtag at the end here but had to speak up about these garbage humans. You act tough and talk to my mom and my sister like that when you are on camera but you would never dare do that when your ego wasn't being boosted," tweeted Joey.
"Thank you so much Joey for all your love and support!" added Teri, reposting his tweet. "It was not shown in tonight's episode, but you step in and defended me upon Sandoval's vitriol attacks … not only one time, but 3 times!"
Joey responded, "I sure wish everyone got to see that!"
"Vanderpump Rules" airs Wednesdays on Bravo — with the season finale dropping next week, before the sure-to-be-explosive 3-part reunion.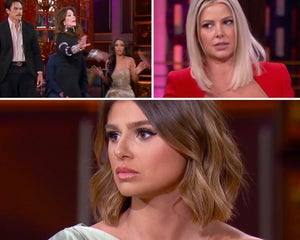 Ariana Eviscerates Tom & Raquel In Vanderpump Rules Reunion, Sandoval & James Nearly Come to Blows
Source: Read Full Article