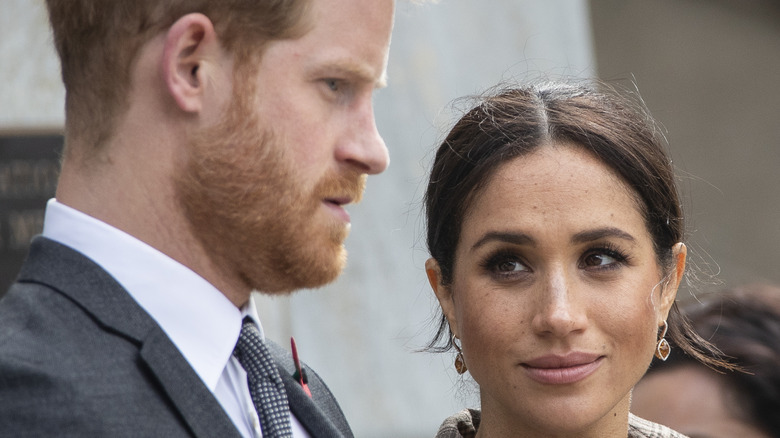 Ever since they spectacularly defected from the royal family at the top of 2020, pundits have been speculating about how Meghan Markle and Prince Harry were going to survive without The Firm's financial assistance. 
Harry spoke out about how tough it was being completely "cut off" after moving to North America, especially considering the couple's high profiles left them vulnerable to potential stalkers and even threats on their lives, as well as that of son Archie (via People). 
Meghan and Harry's lucrative business deals with the likes of Netflix and Spotify are well documented, however the Duke of Sussex clarified that he and his wife only nabbed those after being cut off, because they'd otherwise been living off the money left by his mother, the late Princess Diana. As Harry memorably explained to Oprah Winfrey during the couple's tell-all interview, "All I wanted was enough money to get security and keep my family safe." However, it seems that Megxit may have cost them big in the long run. 
Migration didn't come cheap for the Sussexes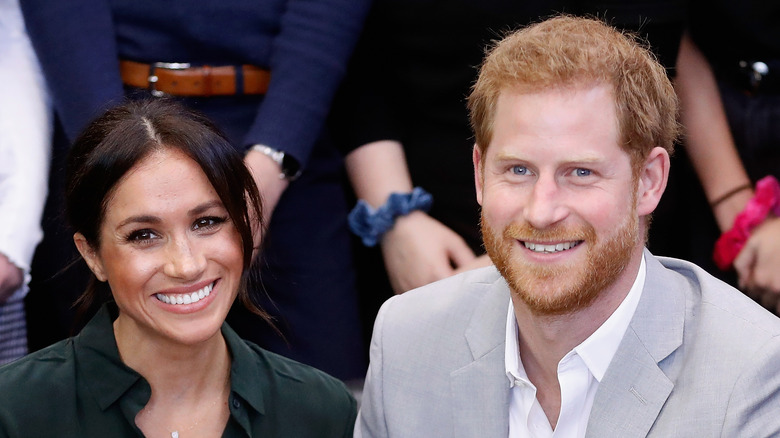 Writing for News.com.au, royal commentator Daniela Elser opined that, although Prince Harry and Meghan Markle might finally have the freedom they so desperately wanted, aside from being estranged from the rest of the royal family, the beloved couple is likely footing a massive bill for the privilege. 
"Flying the coop would appear to have hit Harry and Meghan in the hip pocket — and hard," Elser quipped, listing first and foremost their luxurious Montecito mansion — purchased for a whopping $14,650,000 in August 2020, as per House Beautiful — which marked, for Harry at least, the first time he's ever had to pay his own living expenses following lengthy stints at home in the palace, obviously, and the British Army.
Elser advised, "Saunas (multiple), a Japanese tea house, not to mention household staff, aides, cars, mortgage payments and security cost an actual fortune." In fact, the Sussexes probably forked out millions for the deposit on their property alone. Harry is also believed to have repaid the entire renovation costs ($3.2 million) for their previous home, Frogmore Cottage. Likewise, the Duke no longer receives money from his father, Prince Charles, through the Duchy of Cornwall, resulting in an annual loss of around $5 million. Altogether, the Sussexes are looking at a total bill of $22.3 million. As Elser noted, "That's a whole lot of dough to have to find every year to keep the lights on and the family in hot and cold running bodyguards." 
Source: Read Full Article