The 'Keeping Up with the Kardashians' matriarch released the Christmas single, which features Travis Barker and Kourtney Kardashian, on Thursday, December 23.
AceShowbiz –Kim Kardashian could not be happier of Kris Jenner's latest achievement. Upon learning that her mom's "Jingle Bells" cover landed on Spotify's Top 5 debut chart, the former star of "Keeping Up with the Kardashians" celebrated the momager's success on social media.
Taking to Twitter on Instagram Story on Tuesday, December 28, the 41-year-old SKIMS and KKW Beauty founder shared a screenshot of the chart. In the post, she exclaimed, "Wow @krisjenner being in the top 5 songs in the US was not on my bingo card for 2021!!! BUT I'm living for it and it's soooo [fire emojis]."
Also getting excited about the news was Travis Barker and Kourtney Kardashian, who are featured on the track. Reposting the chart, the Blink-182 drummer exclaimed, "Let's gooooo @kourtneykardash @krisjenner." His fiancee then reposted his snap on her own Instagram Story.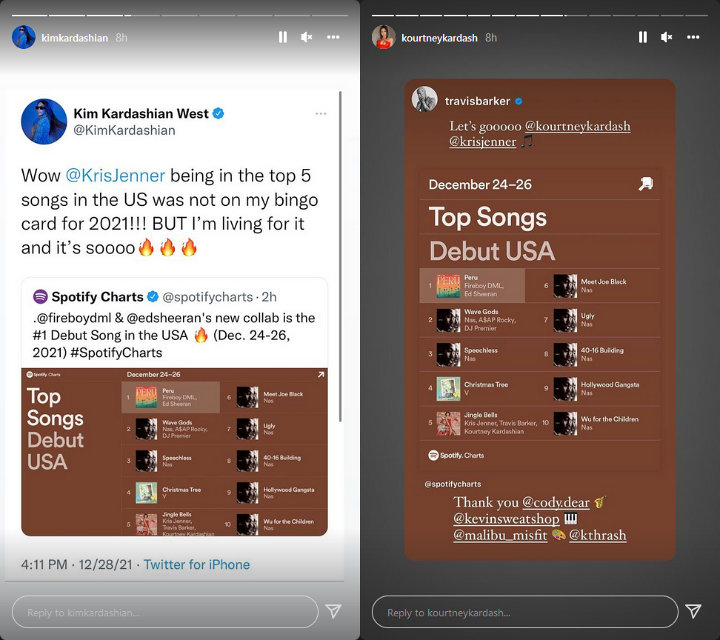 Kim, Kourtney Kardashian and Travis Barker celebrate Kris Jenner's 'Jingle Bells' success.
Kris herself celebrated her accomplishment on Instagram. "Happy Holidays everybody!! Thank you so much for all the love and support for my Jingle Bells! Thank you to @travisbarker and @kourtneykardash for the amazing song!! This was so much fun!! Love you guys," she marveled in the caption.
The mother of six released her Christmas single on Thursday night, December 23. When giving a glimpse at the song, she let out the single cover that featured a throwback Christmas photo of her posing in front of a wall of stockings. She began her caption by writing, "A little Christmas fun in the studio!"
"Christmas is my favorite and happiest time of the year and this honestly put me in the best mood and made me so happy to do!!" the 66-year-old reality star added. "Thank you @travisbarker for the memory and fun, and for adding your magical drums and thank you @kourtneykardash for your mesmerizing jingle bells!! Merry Christmas everyone! #linkinbio for where to stream my version of Jingle Bells."
Source: Read Full Article