The 'One Margarita' crooner defends his decision to team up with the controversial Republican politician to raise money for relief efforts in the wake of Hurricane Ian.
AceShowbiz –Luke Bryan has broken his silence on criticism for bringing out Gov. Ron DeSantis at his recent concert. Taking to his Twitter page, the country music star, who has relatively stayed out of politics, has defended his decision to invite the Florida Governor as a special guest for the weekend show.
"I typically don't respond to stuff when I'm getting run down on a social platform but here's the deal," he penned on Sunday, October 30. "I understand Governor Desantis is a very polarizing figure. But I grew up in a country where if a governor ask you if they can come and raise awareness to help victims of a natural disaster you help."
Luke continued, "I've generally stayed out of politics throughout my career. I knew people would chatter about this but for me the more important piece was if I am going to come back there a few weeks after a large portion of people have been affected by a natural disaster in a state where people have been good to me this felt right."
"Raise awareness, have a little fun between the GA and FL college fans before the game and do what I love on stage," he went on stressing. "This is all I am saying about this. I'll be outdoors with my boys. Enjoy your Sunday."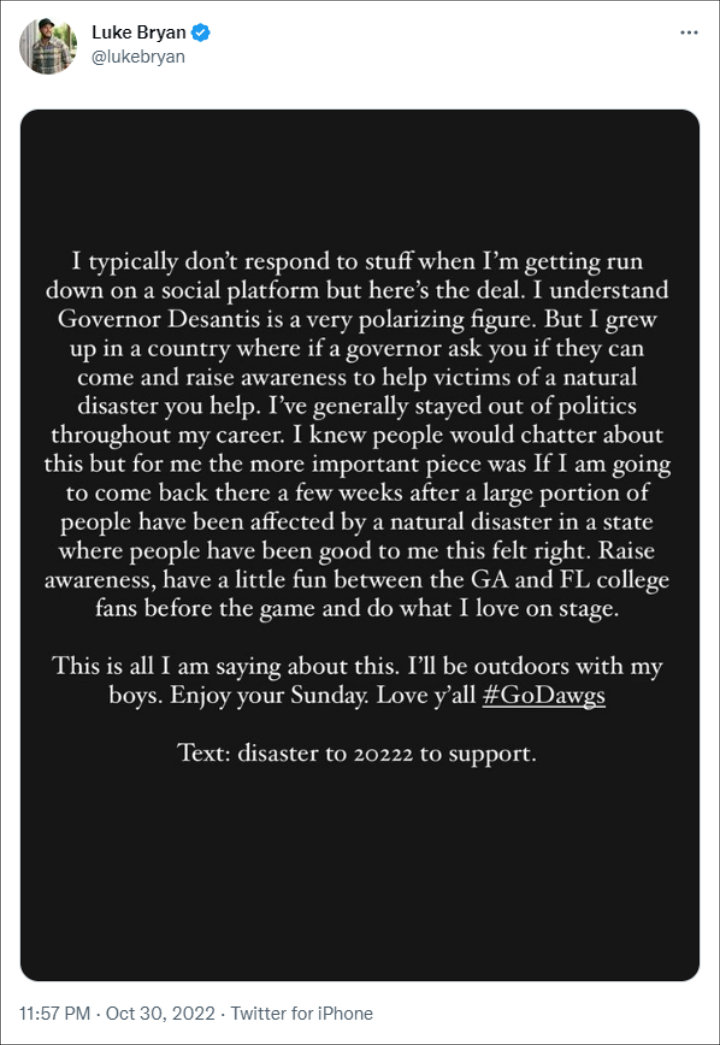 Luke Bryan addressed criticism for bringing out Gov. Ron DeSantis at Florida concert.
Bryan teamed up with Gov. Ron DeSantis to raise money for relief efforts in the wake of Hurricane Ian during his concert in Jacksoville, Florida on Friday, October 28. "We're gonna have some fun and raise some money tonight for the great state of Florida," Bryan told the crowd in a clip taken from his show.
He then introduced the controversial Republican politician, "Ladies and gentlemen welcome to the stage Governor Ron DeSantis," which was met with loud cheers from the audience. The governor tossed hats into the crowd while walking on the stage before he gave a high-five to Bryan.
"Thanks for letting me crash the party last night, @lukebryan!" DeSantis posted on Instagram along with a photo of him with the singer onstage.
Many liberal fans of Bryan quickly expressed their dismay, with one declaring on Twitter, "Another country artist I now cross off my list." Another made a similar move as saying, "And now I will never listen to Luke Bryan again."
A disappointed fan tweeted, "I'm honestly shocked! How could you sing 'I believe you love who you love ain't nothing you should ever be ashamed of' and then bring the don't say gay governor out on stage???"
A fourth person chimed in, "Confirmation my instincts about him were right fr the start! This doesn't suddenly happen. This was IN him. He SAID the 'right things', but they never sounded real to me. I never warmed up to him, nor ever bought, nor listened to his music. Bigot!"
Another said while signing off from Twitter, "Why buddy Why never thought my last tweet ever would be deleting you from All playlist. So disappointing. Count me out Elon. Bye bye Twitter."
DeSantis' spokesperson Christina Pushaw, meanwhile, dismissed any controversy surrounding the governor's appearance at the show. "Reminder to all public figures, corporations, etc… Twitter isn't real life. The haters might be loud and well-organized online, but in reality, they are a small portion of the population, especially here in Florida," she tweeted on Sunday. "Thanks @lukebryan for helping support Hurricane Ian victims."
Source: Read Full Article