On August 29, Kanye West dropped his much-awaited album, "Donda." The project wasn't supposed to arrive until September 3, but West might have decided to move it up so it wouldn't coincide with Drake's "Certified Lover Boy." As fans already know, West postponed the release of "Donda" several times, and even temporarily moved inside Atlanta's Mercedes-Benz Stadium in order to concentrate on the project. He also hosted listening parties in Atlanta and Chicago, where fans got a preview of what "Donda" had in store.
The final version of the album counts features from Lil Baby, The Weeknd, Travis Scott, Baby Keem, Playboi Carti, and Jay-Z. The latter, in particular, took people by surprise as the two had been distant for years, and their previous collaboration dated back to 2011. Titled "Jail," the track sees Hov celebrating his reunion with 'Ye, referencing their 2011 joint album "Watch The Throne." In his verse, Jay raps (via Genius), "This might be the return of The Throne (Throne) / Hova and Yeezus, like Moses and Jesus."
But, for unclear reasons, West decided to replace Jay's feature with another, more controversial rapper: DaBaby. As reported by XXL Mag, West held a "Donda" listening session at Chicago's Soldier Field on August 27, where he was joined by DaBaby (among others). There, the two previewed another version of "Jail," in which Jay-Z's verse had been replaced by DaBaby's. Once "Donda" dropped two days later, however, DaBaby's verse was gone. Scroll on to find out what happened.
DaBaby's manager didn't clear his verse on 'Jail'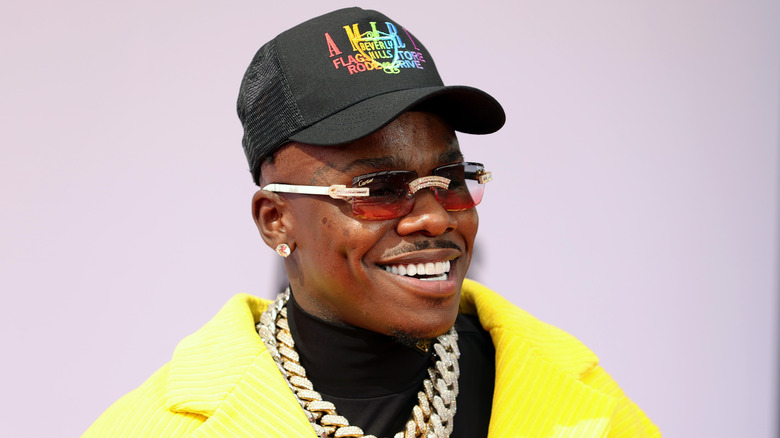 After the release of "Donda" on August 29, Kanye West took to Instagram to share a recent text convo with his manager, Abou "Bu" Thiam. In the screenshot, Bu informed West that they would have to scrap DaBaby's verse on "Jail" in order to release the album at all. "On another note, DaBaby's manager isn't clearing 'Jail," he texted. "So we won't be able to Upload unless we take him off."
When West asked why DaBaby's manager wouldn't clear the verse, Bu said they couldn't even reach them to clarify. "I don't know And neither is answering [their] phone." Still, West wouldn't give up too easily. "I'm not taking my brother off," he replied. "He was the only person who said he would vote for me in public." Then, 'Ye tried reaching out to DaBaby himself, and shared a screenshot of their exchange.
"So the album is not coming out," he texted. "Did you know about this?" Apparently, DaBaby had no idea either. "Hell nah I ain't know . Ima hit em now," he replied. "Yo manager cap," West added, accusing DaBaby's team of working against him. "The people next to you trying to destroy," he wrote. "But God gotta bigger plan." "A plan that can't be stopped!!," DaBaby agreed. Apparently those plans were stopped after all, as the final version of "Jail" now features Jay-Z. On top of that, fans weren't pleased with 'Ye working with DaBaby.
Fans criticized Kanye for working with DaBaby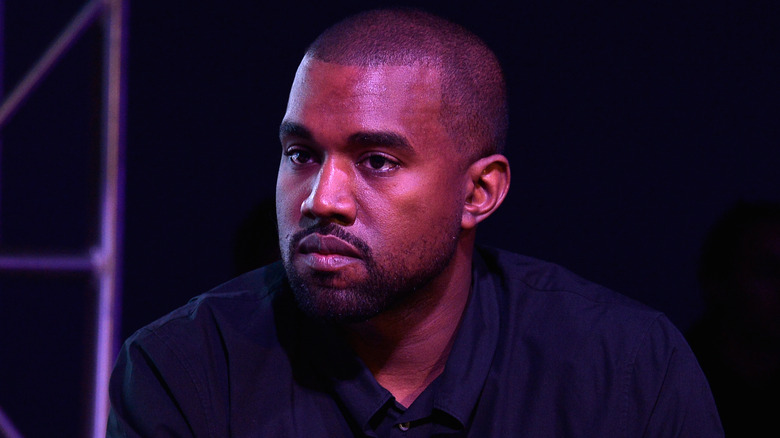 On August 27, Kanye West held a listening session at Chicago's Soldier Field, where he was joined on stage by several collaborators (as well as ex-wife Kim Kardashian, who surprisingly showed up wearing a wedding dress). Apart from Kardashian's shocking outfit choice, West also raised eyebrows by previewing a version of "Jail" with DaBaby, all while Marylin Manson stood on stage. In case you missed it, DaBaby was recently criticized for his on-stage homophobic comments, while Manson has been accused of abusing his ex-girlfriend Evan Rachel Wood, as well as several other women. (Manson denied the claims.)
As expected, the internet was disappointed to see West collaborating with the two. "In some sort of sh***y commentary on 'cancel culture,' Kanye West made the conscious decision of appearing alongside Marilyn Manson (an alleged sexual predator) and DaBaby (a homophobe) at his Donda listening party," publication Consequence tweeted. "i'm actually getting sick of kanye doing s**t for shock culture and publicity deada** it's getting tired," a fan wrote. "there's a million things he could've done to get publicity for donda but he decided to bring out MARYLIN MANSON and DABABY of all people…"
"waiting for the track where it's Kanye, DaBaby and Marilyn Manson yelling Homophobic and sexist slurs over 808s," another fan sarcastically joked. Despite all the DaBaby and Marylin Manson controversy, "Donda" is making numbers. Per Chart Data, West's new album could "break the record for the most #1 albums on the Billboard 200 among artists debuting on the chart this century."
Source: Read Full Article