Some might say that it's hard to imagine hip-hop without Biz Markie, because the legendary rapper died on July 16, 2021, in Baltimore at the age of 57. A cause of death hasn't been revealed, but weeks before Markie's death there were reports that he was hospitalized for a serious medical condition. Then, shortly after news of his death surfaced, celebrities from all over the entertainment world gave their condolences on social media. They included LL Cool J, Questlove of The Roots, Holly Robinson Peete, and Tamron Hall, who tweeted, "This man made me laugh, cry, and feel such joy. You will be missed!! The incomparable #bizmarkie Not just a friend, an inspirational soul."
Markie, who was a pioneer of beatboxing — the art form of making drum sounds with your mouth — became a star after releasing his debut album "Goin' Off" in 1988. He then became even more famous after dropping his single "Just A Friend" in 1989. Plus, Markie was called the "Clown Prince of Hip-Hop" for the way he was able to incorporate humor into his work, but, at the same time, he didn't lose credibility with ardent rap fans who preferred the grittier stuff. Of course, there's been a lot said about Markie's life and accomplishments since his death, but there are some things he's done that we feel deserve a bigger spotlight. So, to fix that, we've listed the most underrated moments of Biz Markie's career. Let's go.
Biz Markie supporting one of the first female rap stars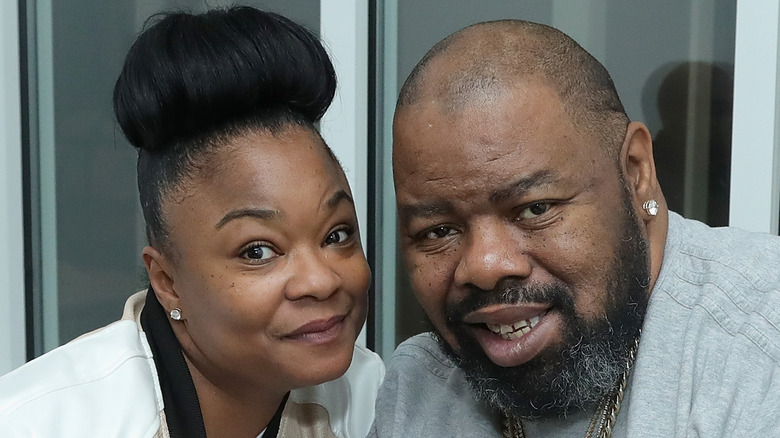 By the time Biz Markie died, he cemented himself as a rap legend, a stellar entertainer, and one who brought the good times wherever he went. But what Markie doesn't get enough credit for is supporting one of the first female rap stars, Roxanne Shante, and, through her, helping inspire future generations of female rappers. In 1986, Pop Art Records released "Def Fresh Crew," a song that featured Shante rapping and Markie beatboxing. The cut was an instant favorite among New York-area DJs. It then made its way around the globe, eventually becoming one of Shante's most memorable songs.
Of course, the industry has always been male-dominated, so one theory is that any man who did his part to help a female rapper's career, either in the '80s or now, should be celebrated. According to Stereogum, Markie began working with Shante after he went looking in her housing project for Marley Marl, a resident and super hot producer at the time. 
Shante shared an Instagram photo of herself and Markie on July 16, 2021, and simply wrote "RIP." She also told her fans to "please give [her] some time" — most likely, to heal and comment on his death. It's definitely sad that fans won't get to see the two rap pioneers on stage together again.
Biz Markie creating a much-used slang term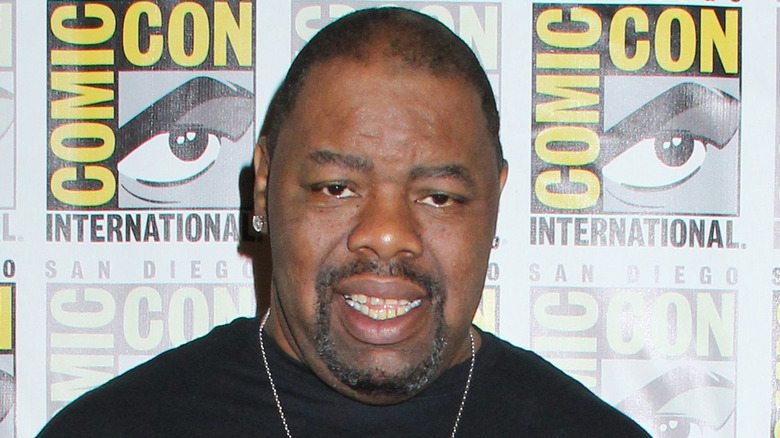 When it comes to slang words, most are used for a short period of time before they vanish and are hardly remembered. The death of a slang word often happens once it's used by the masses and not just by a specific group. Take the word "bling," for example, which is slang for jewelry, made popular by Louisiana rappers B.G. and Lil Wayne on the 1999 song "Bling Bling." The term was first used solely among the hip-hop community, then eventually among young people in general. But once it was uttered by people like newscasters, politicians, and grandmothers, most young people never said it again.
But that didn't happen with the slang word "vapors," which became popular in certain parts of the United States after Biz Markie released his single "Vapors" in 1988. As Urban Dictionary states, vapors happen when someone takes a "newfangled and opportunistic liking to someone only after that person became successful." But to really get a full understanding of the slang term, one should watch the "Vapors" music video, where Markie tells a story of how people instantly warmed up to some of his friends once they received good fortune. So, besides creating a memorable slang word, the rapper also recorded a song that will probably go down in history as one of his best.
Biz Markie appearing in 'Men In Black II'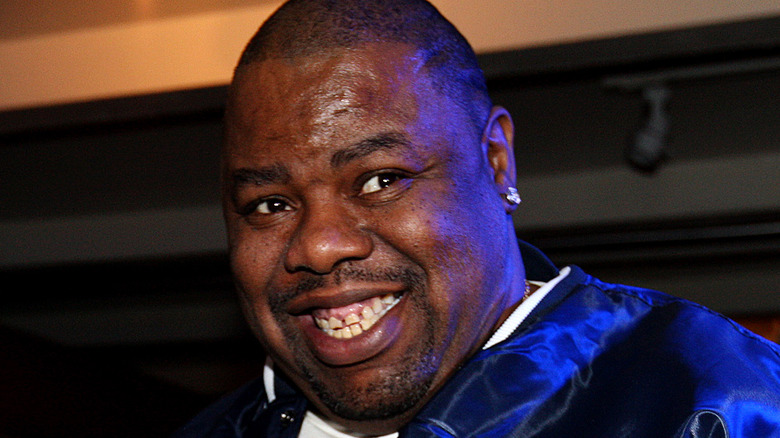 Biz Markie was certainly productive in his more than 30-year career, as he released five studio albums while also being featured in a host of other songs. But the native New Yorker was also an actor, appearing in the TV series "In Living Color" and the film "Sharknado 2: The Second One." But there's another movie the rapper was in that, while it's often talked about, could still be considered an underrated moment: his appearance in "Men in Black II," released in 2002.
In the film, Markie plays a postal worker and rapping alien who engages in an epic beatboxing battle with Will Smith. Both are seen going back and forth while Tommy Lee Jones shows a look of confusion, adding another layer of comedy to the scene. Smith didn't post anything about Markie's appearance in the film on Instagram after his death, but he did share a photo with the mourned rapper. "RIP BIZ," wrote Smith in the caption, while also including a heart emoji.
Biz Markie discovering Big Daddy Kane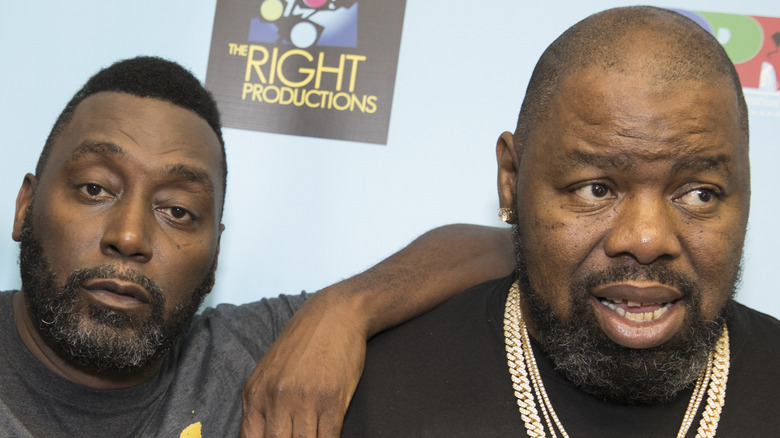 What makes a legendary rapper? If asked, the answer would probably consist of having songs that moved people, having music industry staying power, and being an amazing performer. But one could also point to those that rapper discovered during their career. Jay-Z, for example, gets credit for helping to discover Kanye West, and West will probably be remembered for helping Travis Scott become famous. As for Biz Markie, he discovered legendary New York rapper Big Daddy Kane, who's considered by many to be one of the best rappers of all time.
Kane told the story of meeting Markie in a Brooklyn, New York, mall in an Instagram video that he shared on July 17, 2021, one day after Markie's death. "I'm 15 years old," Kane started his message. "I've tried everything possible to establish a record deal and nothing worked, feeling like I'm out of options." Kane said that after battling another rapper at the mall, Markie approached him and complimented his skills. From there, Markie told Kane that he was performing at New York City parties and invited him to join. Markie also promised the deep-voiced rapper that he'd get him a record deal, and he kept his word. Kane said that Markie eventually took him on tour and got him work as a writer — Kane actually wrote half of Markie's debut album "Goin' Off." [He's] more than a friend," Kane said about Markie in his message. "My lifeline."
Biz Markie striving to achieve racial harmony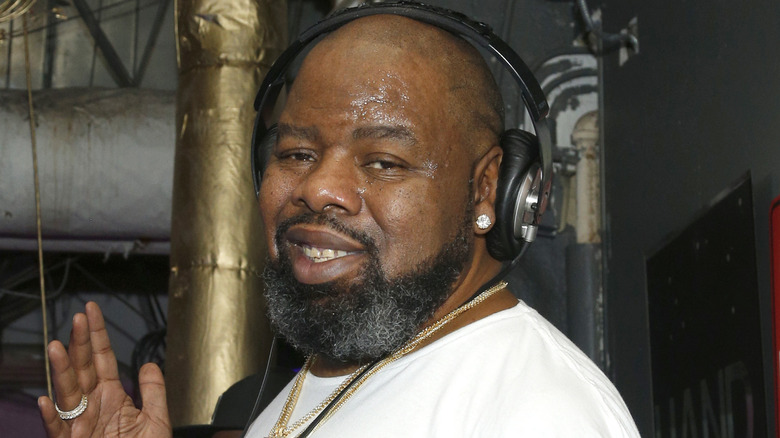 Hip-hop is often credited with bringing people from various races and backgrounds together, seen in rap concerts that often look like a melting pot. When it comes to Biz Markie, his fanbase was made up of all kinds of people, which put him in the perfect position to address the subject of racial harmony on Kool G Rap & DJ Polo's 1990 single "Erase Racism," also featuring Big Daddy Kane.
Markie provides the chorus on the song, which borrows from the cut "Black & White," made popular by rock band Three Dog Night. He also talks at the beginning and end of "Erase Racism" instead of rapping. "We gonna talk about this racism. Stop that, you know what I'm saying?" says Markie in the intro. The song was released shortly after a Black 16-year-old named Yusuf Hawkins was shot and killed in 1989 by 30 white men in a racial attack in Bensonhurst in Brooklyn, New York, which Kane addressed in his verse. Racial tensions were incredibly high in New York City after Hawkins' murder, and it seemed that Markie and the other rappers on the song wanted to calm things.
Biz Markie having his own dance move named after him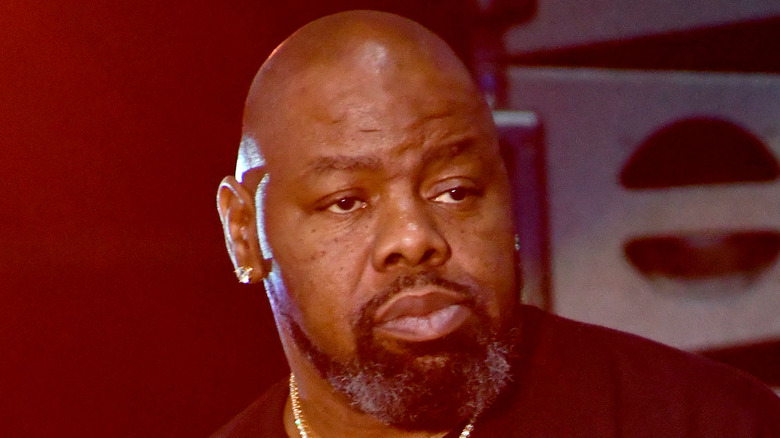 There have been countless hip-hop dances throughout the years, like Soulja Boy's "Crank That" dance or the "Pee-wee Herman," a move that became popular after New York rapper Joeski Love dropped his cut "Pee-wee's Dance" in 1986. Not every rapper has a dance named after himself, as was the case with Biz Markie. However, after his song "Biz Dance (Part One)" hit radio in 1988, the "Biz" or "The Biz Markie," as some people called it, was all the rage.
The dance involves hopping from side to side while swinging your arms to the beat. At first, people only did the move to the "Biz Dance," but eventually it was done to any song that made people groove. But nothing beats seeing Markie do the dance himself, whether it was back in the '80s or in the latter part of his career, like he did in 2016 at The Wellmont Theater in Montclair, New Jersey. During that show, the beloved rapper had the entire crowd doing his dance after leading them. For those in attendance, it must have been a night mixed with beautiful nostalgia and sheer excitement.
Biz Markie explaining the various beatboxing techniques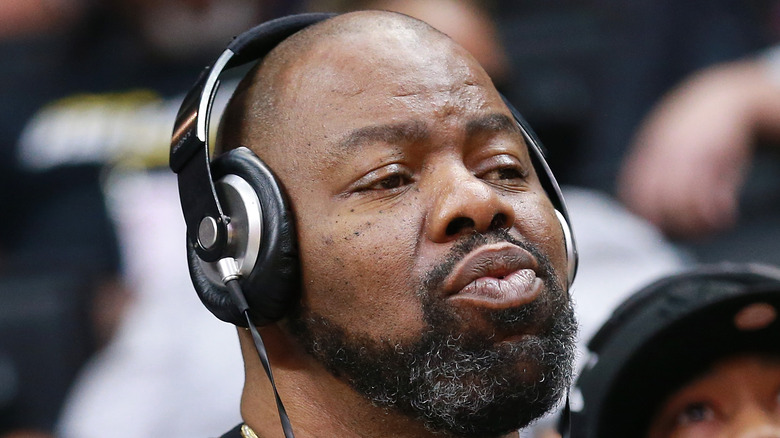 If you're of a certain age and a hip-hop fan, there's a good chance that you drove your parents crazy by using your mouth to make sounds like a drum machine. The art is called beatboxing, and, as The Hollywood Reporter pointed out, its pioneers are The Fat Boys' Darren "Big Buff" Robinson, Doug E. Fresh, and Biz Markie, who showed his skills on songs like "Make the Music with Your Mouth, Biz," and "Biz Is Goin' Off." The comedic rapper spoke about the various beatboxing techniques during an interview with English DJ and radio personality Tim Westwood in 1988, at a time when most people outside of hip-hop were probably unfamiliar with the art form. "Doug, he's more of a precise beatbox, like more of an instrument," Markie explained. "And Fat Boys they're good but I guess they just do what they gon' do."
The legendary artist then proceeded to show Westwood his own style and began using his voice like a ventriloquist — creating a beat with his mouth while making a melody with his throat. Markie then mimicked Fresh's style, and some would probably say he did it perfectly. He also gave an example of Robinson's breathy beatboxing technique, which he also nailed. If you consider when the video was made and how only a few people in the world were able to break down the different beatboxing styles at that time, this interview is definitely one of Markie's underrated moments.
Biz Markie teaching children how to beatbox on 'Yo Gabba Gabba!'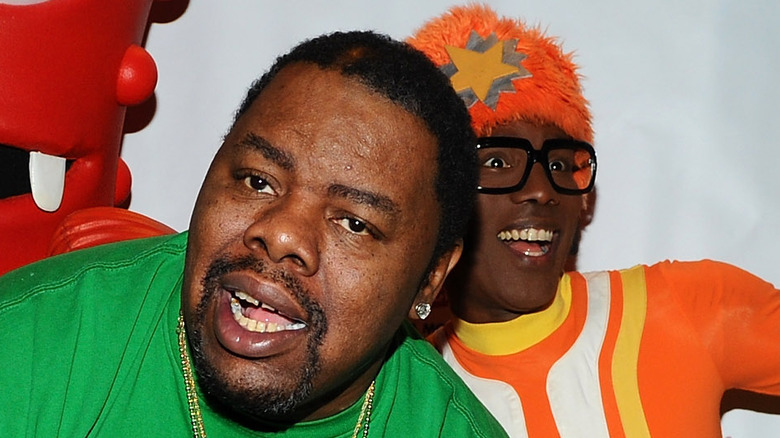 Biz Markie's overall brand seemed to be associated with fun and lightheartedness, and one can definitely say that his childlike energy was palpable. So that made him an ideal person to appear on the children's show "Yo Gabba Gabba!" where he had his own segment called "Biz's Beat of the Day" in which he taught kids how to beatbox. Markie also rapped on the show, like he did when performing the song "Look Around" to teach children how to search for things.
And, according to Rolling Stone, show organizers wanted Markie involved from the very beginning, so "Yo Gabba Gabba!" co-creator Scott Schultz reached out to him on Myspace. Initially, the idea was to have the "Spring Again" creator do a dance segment, but he turned it down due to having back problems and suggested beatboxing instead. Markie also toured with "Yo Gabba Gabba!" and invited children on stage to beatbox with him, according to the show's host Lance "DJ Lance Rock" Robertson. "[Beatboxing] is just another way of expressing yourself and communicating, and everybody wants to do that," Robertson told Rolling Stone. "Kids are very curious, and even when they can't articulate, they still want to try to connect with other people. Just making noises with your mouth is a really good way to do that."
Biz Markie engaging in a DJ battle with Kid Capri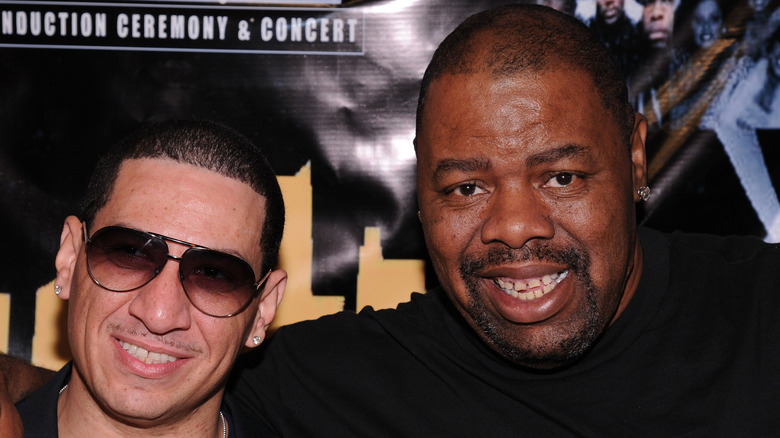 Biz Markie was not only a rapper; he was fully immersed in hip-hop culture. Besides delivering lyrics, being a beatboxer, and creating a dance, he was also a DJ — an art form that's one of the four original elements of hip-hop, according to Britannica. The other three elements are rapping, breakdancing, and graffiti art. Plus, Markie didn't just spin records at parties — although he was a successful party DJ later in his career — he did a lot of tricks behind the turntables, which he showed in a battle with legendary New York DJ Kid Capri.
The showdown took place in 2011 in Teaneck, New Jersey, to celebrate Markie getting his own sneaker with Packer Shoes. During the battle, Markie scratched a record of Herman Kelly's "Dance To The Drummer's Beat." Then Capri got behind the turntables and showed why he's one of the most respected DJs in the world. After that, it was Markie's turn, and he scratched the record with his arm instead of his hand, increasing the difficulty level. From there, he spun his body around while scratching, which amused Capri. For all the accolades that Markie received in his career, one theory could be that he wasn't given enough credit for his DJ skills.
Biz Markie throwing the first pitch at a baseball game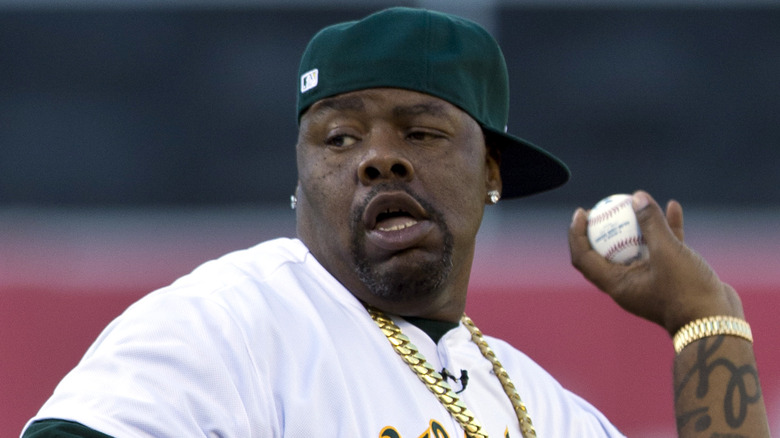 Who says that a New York native can't support a baseball team that's based clear across the country? And who says that a rapper can't entertain a crowd on the pitcher's mound instead of a stage? In 2014, Biz Markie did both since he threw the first pitch at an Oakland A's game in O.co Coliseum when the team took on the Houston Astros. According to MLB.com, the seemingly always upbeat rapper first led the crowd in a singalong of "Take Me Out to the Ball Game" and made root beer floats before getting on the mound.
As for the pitch, Markie first walked onto the field wearing an A's jersey with the number 0 and his name on the back. He then acted like a real major league pitcher facing a fierce batter in a playoff game, as he checked the bases for runners threatening to steal and wound up in dramatic fashion. And let's just say the ball didn't quite make it over home plate. Yet, that didn't stop Markie from raising his arms in victory. It was a moment that A's fans will probably remember forever and were reminded of after Markie's tragic death. 
Biz Markie and Roxanne Shante reuniting on stage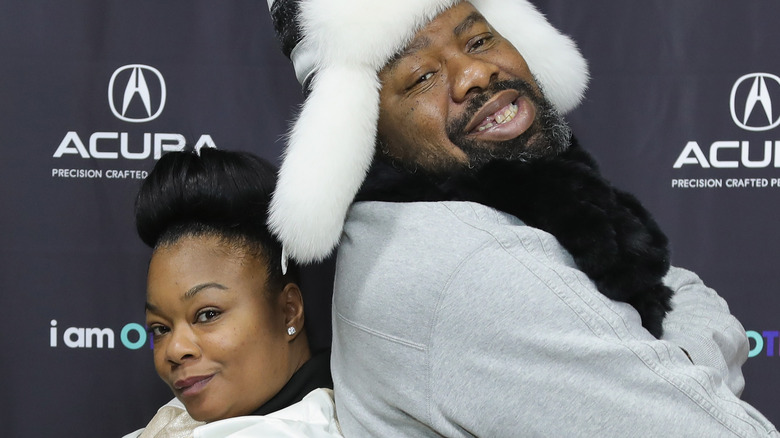 On December 29, 2016, people who made it to the New York City venue B.B. Kings were treated to two reunions in one night: The Juice Crew getting back together, plus, Biz Markie and Roxanne Shante reconnecting and performing their classic cut "Def Fresh Crew." Shante appeared on stage first and began the song right before Markie walked on stage in Gucci attire doing the beatbox.
Audience members who were around when the song was big in the '80s must've had melon-sized goosebumps when the song got underway — not only for the nostalgia factor but also because Shante and Markie didn't seem to lose a step in their chemistry or performance skills. And here's the thing: More times than not, old groups or former collaborators don't reunite because of past disagreements, usually about money. So it was a super big deal that Biz and Shante got back together. It was also major that The Juice Crew reunited after decades. For the record, The Juice Crew is a collective of New York hip-hop artists, whose members include Biz, Shante, Big Daddy Kane, Kool G Rap, MC Shan, Marley Marl, Craig G, Masta Ace, and others.
Biz Markie shedding 140 pounds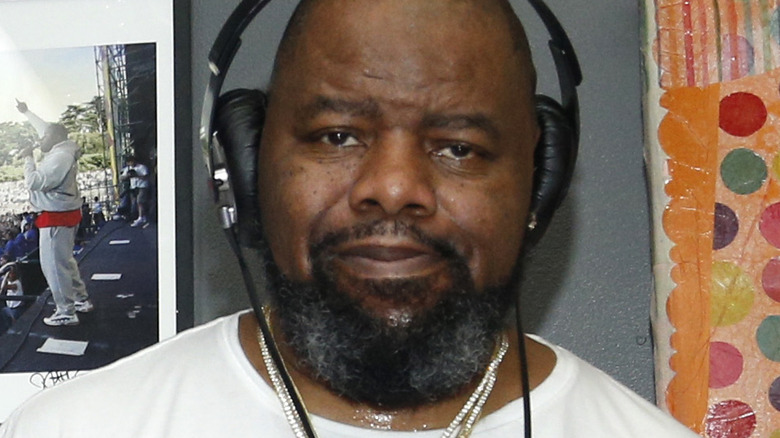 Biz Markie occasionally talked about living with Type 2 Diabetes, which he was diagnosed with in 2011, as ABC News reported. Then, a couple of years after his diagnosis, Markie told the New York Daily News that he lost 140 pounds and later talked about changing his lifestyle. For example, instead of drinking regular sodas, Markie said that he drank Zevia for its "natural" ingredients. "I don't eat as crazy as I used to," he also told People (via ABC News). "I used to eat like a whole Entenmann's cake at one time, with a half-gallon of milk." Plus, Markie advised those living with diabetes to "cleanse" by adding "more water" to their diet and to exercise. "I think the misconception is that they think [diabetes] is just about sugar," Markie explained. "It's more than that, you gotta get your weight down."
Markie also told ABC News that while touring with the children's show "Yo Gabba Gabba!" he was able to maintain his new, healthier diet. "We eat organic," he explained, while also saying that Will Smith has been staying on him to lose weight. Plus, Markie said that after shedding pounds, his stage performance also improved, as he was no longer as tired. "I used to be out of breath, I couldn't walk that far," he admitted. "Now, I got so much energy. I can do a whole show."
Biz Markie performing Elton John's 'Bennie and The Jets'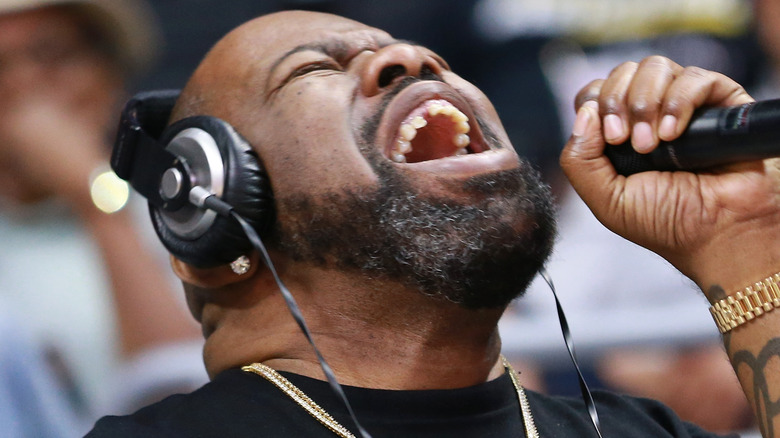 Biz Markie and the Beastie Boys collaborated when the New York trio put the late rapper's cover of Elton John's "Bennie and The Jets" on their "Beastie Boys Anthology: The Sounds of Science" project, released in 1999. Markie performed the cut one year earlier on HBO's "The Chris Rock Show," singing his heart out in a gray hoodie and jeans. Plus, the multitalented artist seemed to completely throw himself into the song, closing his eyes and jerking his body around, which the crowd seemed to love. He then took off his hoodie — revealing a tank-top — and had the entire studio audience clapping as he sang. It was clear to see that Markie was a natural showman, and it looked like he had the most fun in the room.
Then, toward the end of the performance, Markie really let his vocals fly and went into falsetto, which he maintained for the rest of the song. Soon after, he fell to the floor and sang the last few notes on his back in true rock-star fashion. For all of the TV performances Markie did throughout his career, this one can easily go down as one of his best. Or at least one of the most memorable, don't you think?
Biz Markie singing 'Just A Friend' on 'Empire'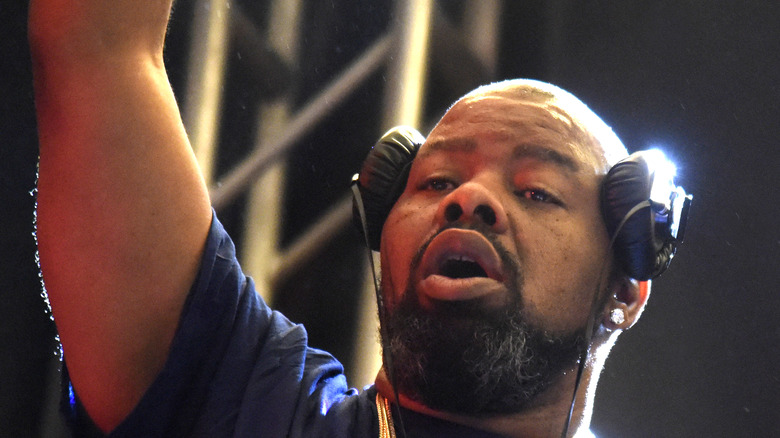 Every legendary musician has a certain song that's associated with them the most, and, for Biz Markie, that song is "Just a Friend," released in 1989. The cut is off the rapper's sophomore release "The Biz Never Sleeps," and it peaked at No. 9 on Billboard's Hot 100 chart. In short, it's about a woman the rapper is seeing, and he believes she's cheating on him with someone she calls a friend. 
It so happens the song held major significance for the "Empire" characters Cookie and Lucious Lyon since they were a young couple. So, to win Cookie's heart back, Lyon, played by Terrence Howard, invites Markie to sing "Just a Friend" for her as a surprise. At first, Cookie, played by Taraji P. Henson, is in bed, thinking someone mistakenly left the radio on. But when she opens the door, she finds Markie, himself, belting out the lyrics. Henson posted a photo of herself and the rapper on July 16, 2021, writing "YOU WILL BE MISSED. YOUR LEGACY WILL LIVE ON FOREVER. #ripbizmarkie YOU WERE MORE THAN JUST A FRIEND to so many." It's hard to imagine that anybody would argue with that point, since it seems he was so well loved.
Source: Read Full Article