Stevie J may be a married man, but the music producer does have quite an extensive dating history with some "Love & Hip Hop: Atlanta" costars. These days, he's married to Grammy award-winning singer Faith Evans, with whom he tied the knot in 2018. The TV personality revealed how they got together on "The Breakfast Club" radio show in 2016 (via People), saying, "I've known her for like 25 years. We was like family and then as years progressed, we just began to hang out more [and] talk more."
But his current relationship did come with some drama from his past. Faith explained (via The Shade Room), that the two briefly broke up in 2017 because Stevie J was still dating his ex, "Love & Hip Hop: Atlanta" costar Joseline Hernandez, with whom he shares daughter Bonnie Bella. Faith said, "when you kind of told me you guys weren't together and then shortly thereafter finding out that you still kinda were, I think that's probably when I stepped away because I'm not a man stealer, a homewrecker, you know."
According to Atlanta Black Star, Stevie J and Joseline had dated on and off for four years and even lied about being married on the VH1 reality show. Stevie J revealed (via IBT) that he "thought it was a forever thing" and pretended to be married to keep Joseline happy. They eventually called it quits after cheating rumors from both sides. Yet, that drama is just the tip of the iceberg.
Stevie J has cheated in the past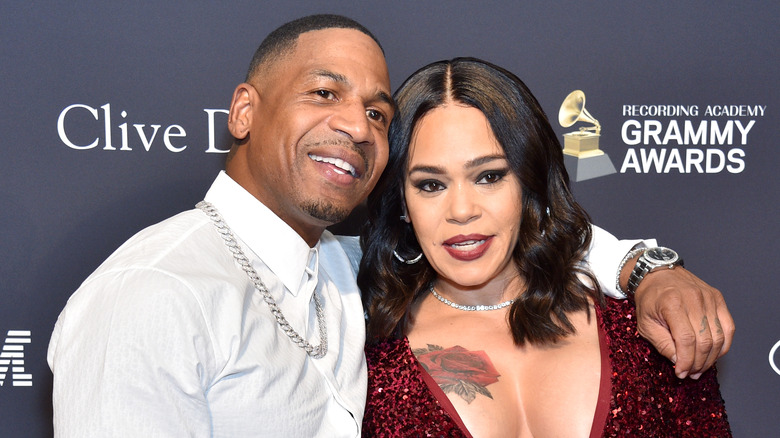 It appears Stevie J has had his fair share of romances and drama. The record producer's wife Faith Evans even said (via Essence), "I think he might be a little bit addicted to the drama." Faith isn't Stevie J's first high-profile relationship. He dated singer and actor Eve from 1997 to 2003. The "Ruff Ryder" later revealed (via Urban Hollywood 411) that their relationship was "very toxic," adding that he's "just so unsupportive." Stevie J reportedly cheated on Eve as well. Sometime around then, Stevie J also dated Whoopi Goldberg's daughter, Alexandra Martin, for six years, according to Atlanta Black Star. They even got engaged in 2007 but split shortly after.
Fans probably know most about Stevie J's romances on "Love & Hip Hop: Atlanta." He secretly dated costar DJ Traci Steele (and the two had different takes on the relationship) but they split when he allegedly impregnated a 20-year-old girl, per BET. And of course, there was Mimi Faust, who Stevie J dated on and off for 13 years and shares daughter, Eva Giselle Jordan, with. During Season 1 of the show, Mimi left Stevie J after he openly cheated on her with costar Joseline Hernandez.
It's clear from his playboy past that Stevie J has had some issues staying faithful. Yet, perhaps Faith will be able to change that since, despite their problems, Stevie J recently told The Shade Room, "That's my wife and I love her! I'm not going anywhere!"
Source: Read Full Article