Keyboard player Paul Brown takes to social media to reveal that he was electrocuted as rain leaked onto the stage, and frontman Mike Scott claims that the stage 'was not safe.'
AceShowbiz -Rockers The Waterboys walked offstage at a festival in Ireland on Sunday night, October 31, because the stage set was "not safe." Frontman Mike Scott and his bandmates were minutes into their set at the Gaoth Dobhair as part of the Fomhair Festival when they stopped playing and stormed offstage without explanation.
It has since emerged keyboard player Paul Brown was reportedly electrocuted as rain leaked onto the stage, causing "electrical risks." He has taken to social media to write, "There were leaks that had developed around the stage causing some serious electrical risks, I actually got the s**t shocked out of me from the Mic (microphone) as soon as I sat down at my keys."
"We waited as long as we could. First onstage then backstage in our DM while the crew worked to try and sort out the voltage, electrical lead issues along with the winds picking back up like crazy [sic]. But finally, because none of these issues could get resolved, the call was made to put this one off to another date."
Scott added on Twitter, "Tonight's show at Fomhair Festival in Gweedore has had to be canceled for health and safety reasons and power supply problems. It was not safe. We apologize to all who came to the show and are disappointed."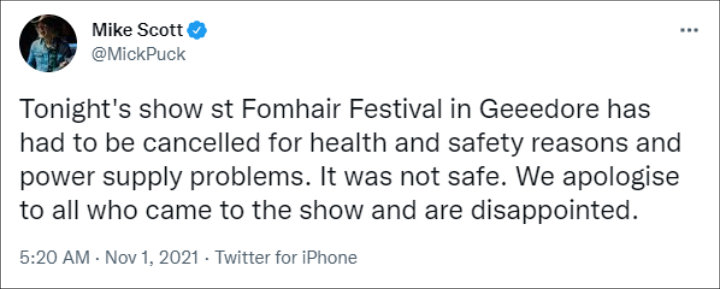 He also attacked the promoter of the gig, claiming he made an "unprofessional and untrue" statement blaming Scott for the cancellation.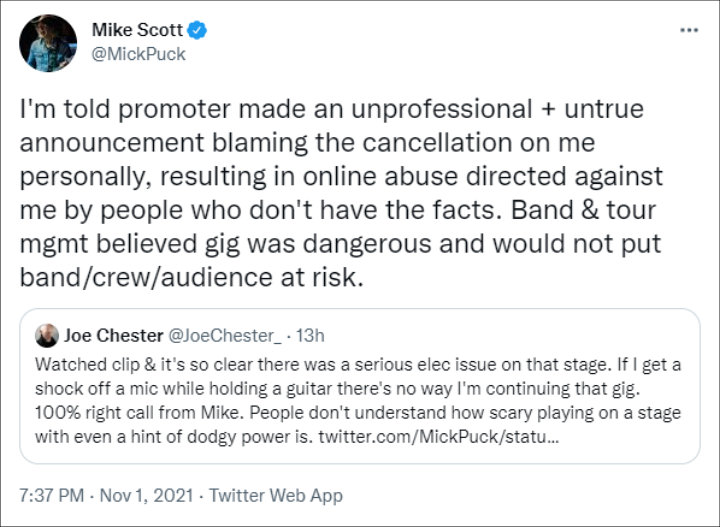 "(We) believed the gig was dangerous and would not put band/crew/audience at risk," he tweeted.
Source: Read Full Article