When he's not hanging out with his dog, Yeontan, or live streaming with fans, V can normally be found writing, performing, and listening to music. Throughout his time with BTS, the idol shared a few of his favorite songs both by the boy band and other artists. 
Here's our look into some of Kim Taehyung's favorite songs and some of his recommendations, shared with fans on Spotify and on social media.
'Winter Bear' by V
Although he creates music with BTS, V has since gone on to release music as a solo artist. Most recently, that includes the single written and performed entirely in English, titled "Winter Bear." The artist shared his single on YouTube, later tweeting about it and earning over a million likes.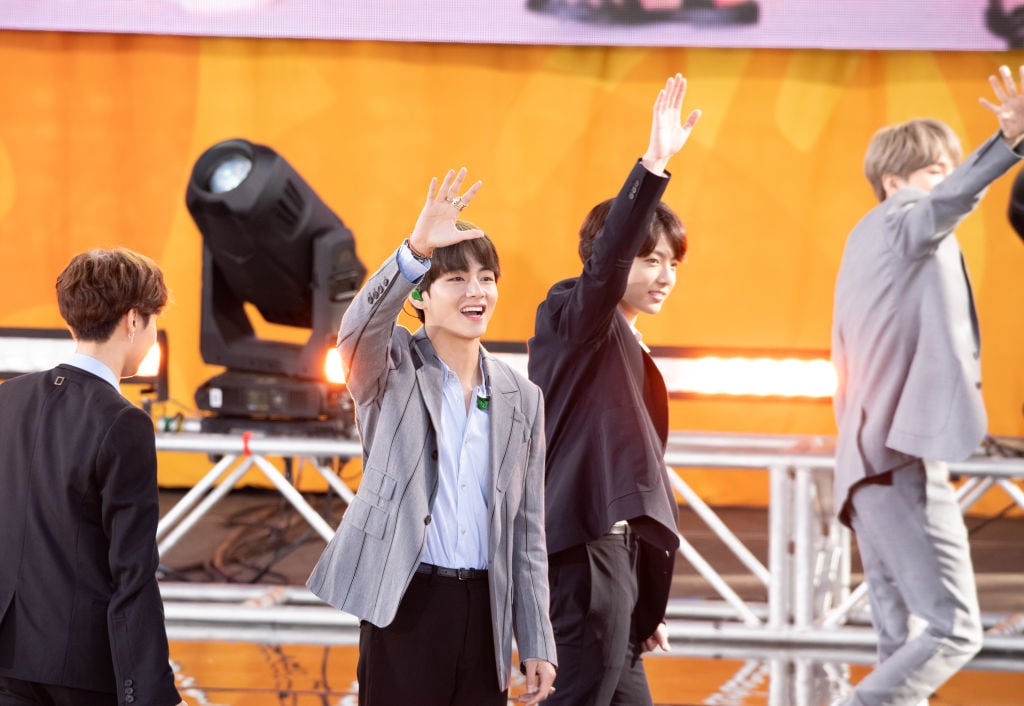 'Don't Let Me Down (Demo Version)' by Joy Crookes
If V is live streaming with fans, oftentimes, he has some music playing in the background. During one video chat, the artist sang along with the demo version of Joy Crookes' "Don't Let Me Down." The artist behind the song even tweeted her excitement on social media, earning over 50,000 likes in the process.
'Comethru' by Jeremy Zucker
Sometimes, V just shares videos of himself listening to music. In 2019, that included the song "Comethru" by Jeremy Zucker. A few years earlier, however, fans learned a little more about the music V was listening to based on a personal Spotify playlist, titled "V's Join Me." That collection featured songs by Ed Sheeran and Kehlani. 
'This View' by Surfaces
Let's just enjoy the view. V might be physically separated from fans due to social distancing and quarantine. However, he was sure to tweet updates for followers. One of which included him playing with a tiger puppet outside and listening to this vibe-y song by Surfaces.
Fans were quick to point out that Surfaces has a few "summer-y" songs available for streaming, in addition to "This View." Primarily, that means the song popularized on Tiktok, "Sunday Best."
V shared a few of his favorite songs off of 'Map of the Soul: 7'
When it comes to Map of the Soul: 7, V has a few favorites listed in his "BTS Tracks" Spotify playlist. One of those was, of course, the song featuring the "vocal line," of this K-pop group, titled, "00:00 (Zero O'Clock.)" This song, according to some of the BTS members, is about the opportunity that comes with a new day. 
Other songs from Map of the Soul: 7 in V's playlist include "On" and "Inner Child." The artist also features songs from other BTS albums in this playlist. That includes "Mikrokosmos" and "Jamais Vu" off of Map of the Soul: Persona. All of these songs are available for streaming on Spotify. 
RELATED: From TikTok to Twitter, Here Are Some of the Social Media Sites Used by the BTS Members (And Some That Aren't)
RELATED: We're Not Sure What's Cuter — BTS' V or the New Videos of His Dog 'Tannie'
Source: Read Full Article