For those who just can't get enough of 90 Day Fiancé's Pedro and Chantel and their families, there is now another way to keep up with all their drama. The new 90 Day Fiancé spin-off, The Family Chantel, has the newlyweds teaming up with their lively in-laws, which let's just say might not be best for their marriage, but is definitely good for ratings.
Picking up where 90 Day Fiancé: Happily Ever After? left off, Chantel and Pedro don't seem any closer to their happily ever after. They're still working our their trust issues and Chantel's family isn't helping the healing with their continued claims that Pedro only married her to get his family out of the Dominican Republic. In the premiere of The Family Chantel, everyone's still fighting, Chantel's mom Karen is still carrying her taser, and now Winter, Chantel's little sis, has a boyfriend they also don't trust. This is a job for the family's private investigator, who might as well be a series regular at this point. Though, no one needed a P.I. to see that big Pedro twist coming – seriously, no one.
But after watching the episode, it's hard not to have a few questions on what the heck is going on here. Don't worry, we've rounded up 14 Q's for the more stupider moments in the premiere that had us saying, "uh, what now?"
1. How is everyone staying so calm right now?
Chantel's here telling them about Pedro dancing with a girl, "her butt all on his crotch," and they are very calm. A little too calm, right? You'd think since they've basically made it their mission to break them up, they'd be a little more boisterous about this disrespect. At the very least, they'd be all I-told-you-so about this in their outside voice. Is the queso that good that they can't get a little more enraged?
2. Should we be listening to Chantel's brother more?
River, Chantel's little brother, makes the case that he's got a lot of good advice that Chantel's not taking. Flashback, to him meeting Pedro for the first time and saying he thought he was "untrustworthy" and "hiding something." He believes, if she just listened to him, it could have saved her and the family from this drama. But she didn't because he's the little brother. Oh, to be the oft-ignored younger sibling. Should we just start making ourselves some W.W.R.D (That's What Would River Do, natch) bracelets now?
#riverisdeep
A post shared by NAVGATORS🔦🔥 (@iamriverknight) on
3. Do Karen and Thomas' coordinating looks make them more powerful?
Honestly, if you're going to take a united front, you might as well take a trip to the mall and get yourself some matching couples outfits. Those black and white looks are a force to be reckoned with. It's no wonder Chantel can't seem to say no to her parents. Seriously, I need Mother Chantel's white sleeveless sherpa duster next time I'm negotiating anything. No one can deny you anything in such a powerful lewk — especially when you accessorize it with a taser.
4. Is Pedro's mom a "body trafficker"?
After Chantel reveals that Pedro's family allegedly sent him to the U.S. to find a bride so they could make money, Karen accuses her of "body trafficking" and Thomas agrees, kind of. Let's assume Chantel's mom meant human trafficking, which is, like, way too serious an offense to just be casually dropping on a 90 Day Fiancé spin-off. Particularly, when there's no real evidence of this being true. Human trafficking is a modern form of slavery, while what Lidia is being accused of is a straight-up scam. And as of now, there's no real proof that Pedro's mom is even running some sort of marriage scam, no matter how hard Karen has been trying to push this theory.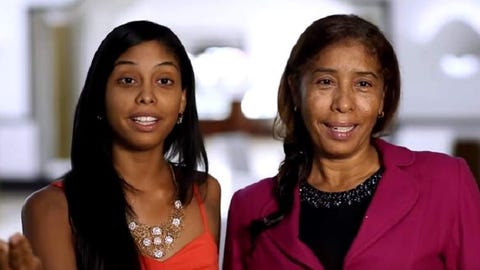 5. How many red lights did Chantel hit?
When Chantel's family goes storming her castle to confront Pedro, they all seem to get in their cars at the same time. Yet, her family ends up arriving at her apartment way before her. In fact, they had enough time to take a Sunday stroll up the many flights of stairs to get to her apartment, while Chantel's running up in her damn heels to try and meet them before they knock on her door. Also, could she not have texted Pedro and given him a heads up?
6. Should Karen have a permit for "Shocky"?
Show of hands, who got freaked out when Chantel's mom's taser went off? Georgia law states someone can buy a taser without a permit, but my question is more a philosophical one, should anyone on any reality show really be carrying a concealed taser around?
I feel like Shocky needs googly eyes and a felt mouth glued on to it so it can be Family Chantel's mascot. #90DayFiance
7. Did Pedro just give us all our new low-key comeback for the rest of 2019?
I, for one, will be telling all the haters to "focus on your life please," and suggest you do the same.
8. Oh, so now a bishop is joining the show?
Anyone else think Bishop Watson, who married Pedro and Chantel, is over here trying to get his own show? I mean, there's a lot of other TLC reality show stars that probably need spiritual counseling, right?
9. Um, how did it take so long for someone to suggest the Family Chantel go to counseling?
It's great that the bishop proposed family counseling, but the fact that everyone seems surprised by his suggestion as if it's some new crazy idea, makes me want to LOL forever. Like they weren't contractually obligated to go to counseling for the show, please.
#90dayfiance #happilyeverafter #familychantel #thefamilychantel @tlc
A post shared by Chantel (@chantel_j_) on
10. Could Chantel's mom be any happier about that church shade she threw at Pedro?
The answer is no, Karen could not have been more pleased with herself after taking that jab at Pedro for not coming to church with them. Seriously, did you see that smirk?
11. Is salsa night the best time to convince someone to go to family counseling?
To this, I would definitely say no. The lasers and the loud music don't feel like the right vibe for trying to get your husband who hates your family to agree to family counseling. But, I would be wrong, since in the flip of a switch, (maybe the one that turned on those neon lights?), he decides to go to counseling with her.
Source: Read Full Article