90 Day Fiancé fans are not very fond of Angela Deem. The series regular used to be more well-liked, but still controversial — her behavior this season seems to have swung the pendulum firmly into "disliked" territory. And while fans have plenty to say about Angela Deem, they're also feeling frustrated that so few of the other cast members called her out during the Tell All episode. In fact, some of the cast members appeared to defend Angela, while others simply kept quiet.
Angela Deem freaks out during '90 Day Fiancé' Tell All episode
The 90 Day Fiancé Tell All episode was jam-packed with drama, of course. It couldn't be any other way. One of the major sources of drama was Angela Deem, who went low enough to flash the camera during a borderline incoherent argument with Michael Ilesanmi's aunt Lydia.
The crux of the argument hinged on Angela Deem spending time alone with Dr. Obeng and having no real interest in having a baby with Michael Ilesanmi, despite her past assurances. When Angela was confronted with her double standards, she went on the offensive.
When aunt Lydia defended Michael, saying that Angela Deem should treat her husband with more respect, tempers flared. Angela kept interrupting Lydia, prompting Michael to ask her to let Lydia speak.
"Shut your f——- mouth! You always do this s—. This is what he does when she is on the f—— phone. Didn't your bother tell you to tell her to stay out of your business?" Angela yelled at Michael.
"That is my f—– husband. And there's nothing you can do about it, and you won't [unintelligible] about it. You mind your own business, you will not f—– tell my husband what to do. Suck on these brand new f—— t——," Angela Deem later yelled as she flashed the camera, shocking everyone.
'90 Day Fiancé' cast defends Angela Deem
After Angela Deem's outburst, 90 Day Fiancé Tell All host Shaun Robinson asked the cast what they thought of it.
"She's just too much, she's all over the place. I understand she's in pain but she's just too much," replied Yara Zaya. "She's extra."
"Yes, yes," replied Lydia. "I don't know why she's yelling and screaming at me now. She's a clown, she's a clown."
Unfortunately, other 90 Day Fiancé cast members were less willing to hold Angela Deem accountable for her bad behavior.
"I mean I think it's just Angela," said Kalani Faagata, using one of the worst excuses for someone's behavior. "She has a big personality, and she's very passionate about a lot of things. So I think she just got p—– off. No one wants to hear another woman telling them what to do with their body or what to do in their marriage, so she's frustrated."
Meanwhile, Andrei Castravet tried to lay the blame on Michael Ilesanmi.
"I think actually what happened over here, Mike actually likes to play with her feelings a little bit," said Andrei, as Shaun Robinson and Lydia looked astounded. "Yeah, he likes to make her, you know likes to make her, you know, like attention and all that stuff."
"And also, Michael isn't standing up for her, and it probably makes Angela feel like she is alone in that," added Elizabeth Potthast.
Fans are frustrated that she's not getting her comeuppance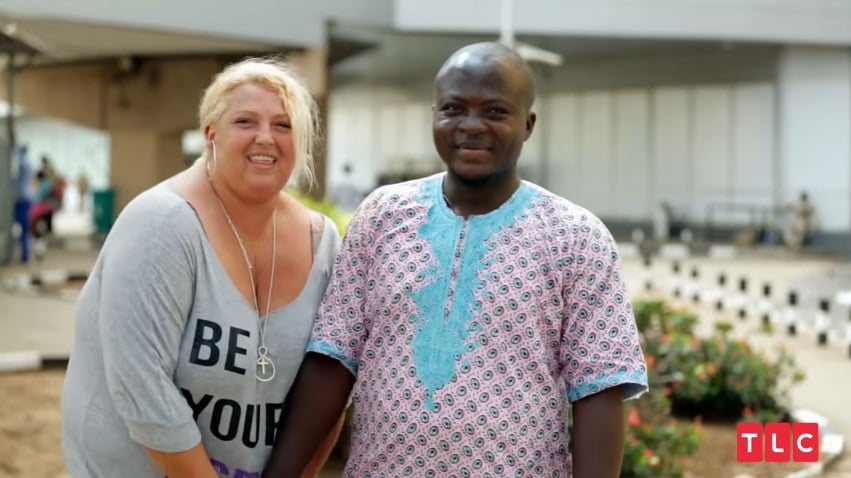 90 Day Fiancé fans felt largely frustrated with cast members who defended Angela Deem's behavior during the Tell All episode. Many felt that Angela didn't get the comeuppance she deserved.
"Each time the cast members sit there and don't call Angela out on her behavior, they are acting as bystanders of abuse," a Redditor titled a post.  
"Angela's behavior is despicable. There's no denying or sugarcoating that. The fact that she gets away with screaming insults at Michael, simply because she's known for being embarrassing and trashy, is absolutely ridiculous," they added.
At the end of their Tell All segment, Michael Ilesanmi pointed out that the other 90 Day Fiancé cast members are probably afraid to speak out against her, something that fans echoed.
"After the way she went at Avery and Rebecca on the last Tell All, the other participants are deathly afraid of her," wrote one user.
"Exactly. She's so nasty they don't want her trouble, or she will turn on them like a vicious dog out of control," added another. 
"It's bad enough to just sit there and not say anything but to actually defend her?!! What the hell? I lost all respect for them," wrote one Redditor of the other cast members.
Source: Read Full Article