Cassidy Hubbarth, Katie Nolan, Dianna Russini and Clinton Yates host live coverage on Twitter from the red carpet before this year's ESPYS awards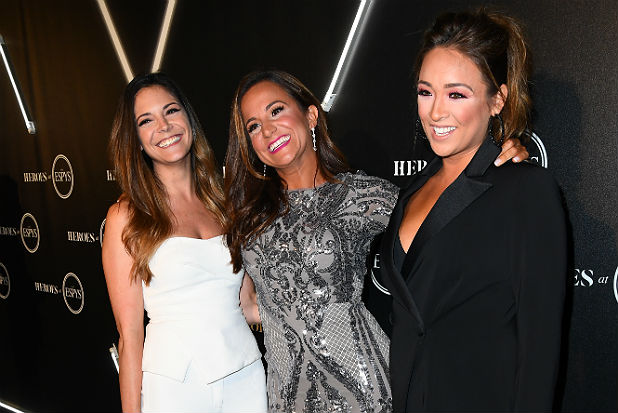 ESPN
Things are really gonna be hot on the ESPYS red carpet this year, and we're not talking about the heatwave that notoriously hits downtown Los Angeles on the biggest night in sports.
ESPN analysts/reporters Cassidy Hubbarth, Katie Nolan, Dianna Russini and Clinton Yates are joining forces on Wednesday for the first time to host the "ESPYS Red Carpet Show Live," delivering unfiltered coverage on Twitter from the red carpet one hour prior to the awards show. Combining their expertise on all aspects of sports news and culture, the team will respond to questions directly from fans and viewers on Twitter from 7-8 p.m. ET.
"We'll have a producer who is keeping track of what people are commentating on and will tell us in our ears. If you want to watch the 'ESPYS,' then watch our show before," NFL reporter Russini (above middle) told TheWrap. "I am a maniac grabbing people to get them on camera … it is going to be the most real show you will see on Wednesday, for sure."
The vibe and pacing is also going to be very different to a traditional red carpet show, NBA reporter and host Hubbarth (above right) explained. "On TV, it is more structured, it's timed, there are commercial breaks. Not having to be restricted by commercials and outside pressures really puts everyone at ease and the hour is going to fly by.
"It will be fun to see what antics we can get into as everyone is just trying to have a good time," she added. "It is a unique fan who will be watching on Twitter and we want to bring them into that experience."
Read the full Q&A with Russini and Hubbarth below:
TheWrap: There was quite a serious tone to the ESPYS last year with the Survivor Sisters taking the stage, do you think it is going to more light-hearted this year?
Dianna Russini: There is definitely a buzz going into the ESPYS this year about the simple idea of celebrating the greatness in sports. Coming off the World Cup victory is firing it in that direction, everyone is so positive and excited. ESPYS stands for Excellence in Sports Performance Yearly Award — which I found out this morning! — and we're really going to see that.
Cassidy Hubbarth: With Tracy Morgan hosting, it will naturally have a lighter tone. I am excited to see what kind of shenanigans he gets into. He is a huge star so that will bring a level of entertainment that we should have for an awards show.
You are both very successful reporters, do you try to break stories when you speak to the athletes on the red carpet or keep it lighthearted?
Russini: I am always looking for stories! The great part of the ESPYS is that for most of the players, it is the offseason — they're training, getting ready for camp, there are lots of question marks going into the season and I actually find that athletes are very open to sharing. I go into it trying to get information, but obviously this is a time to celebrate them and their accomplishments so I try not to hit them over the head with anything but still ask questions that I know fans are going to want to know.
Hubbarth: This NBA free agency that has been absolutely insane and has changed the entire landscape of the league. I am interested to see reactions from players to Kawhi Leonard's decision to join the Clippers, Kevin Durant joining the Nets … their expectations for next season is something NBA fans are interested in. Then of course, there will be questions about fashion because this is an awards show. It is the sports prom and there are very few situations that celebrate all sports so the athletes want to embrace the experience and enjoy the glitz and glamour. We try to capture the light feeling of the event in these interviews but if the opportunity presents itself to break news or if there is a glaring question to ask, that will be a priority.
Do you ever get responses that you store away for mental research to use later?
Russini: I referenced many things this season that I recalled from the red carpet. Like Dak Prescott said that he changed his diet last year — we didn't make a big deal of it that day, but come opening weekend, I mentioned it in one of my reports. It is one of the easiest assignments to have from a reporter's standpoint because the athletes want to be there. It feels like a party rather than a post-game press conference.
Hubbarth: Relationship building is the biggest key to our ability to be good reporters. This environment allows us to interact with these athletes in a different way to when we see them before games or at practices. It helps maybe break down a wall and connect to them in a way we probably couldn't normally.
Is there anyone you're especially excited to see?
Hubbarth: The U.S. Women's National team, I know Alex Morgan is nominated for Best Female Athlete. Coming off that World Cup win, seeing Morgan or Megan Rapinoe and being able to celebrate with them would be incredible.
Russini: They have their parade in New York on Wednesday morning and it would probably be a stretch to get them to L.A. but I feel like ESPN will figure out a way! I think it would be one of the best moments at this award show if they could pull it off and get them there. Someone needs to make that happen! (The U.S. Women's National Soccer team were announced as presenters after this interview took place, so yes, ESPN figured out a way!)
You two are very close friends, is that going to change the dynamic of the red carpet show?
Hubbarth: We've been talking for a long time about working together. We are both silly, but also what is great about our relationship is it's not just about work. Di and I get on so well because we connect on a deeper level with our family values and morals so we really keep each in check on a daily basis. I'm excited but I just hope I don't just giggle constantly because Di is hands-down the funniest person I know. Her energy is infectious when she gets hyped … I can't wait to be on air with her when that happens.
Russini: I am going to be so exposed as to how uncool I am. Cassidy has the best style of anyone I know and the red carpet is all about the fashion. I am excited to see her out there as last year she was pregnant and think her questions are going to be different because the experience she had personally since then.
The ESPYS Red Carpet Show Live: Presented by Bolt 24 airs live on Twitter Wednesday at 7 p.m. ET/4 p.m. PT.
Source: Read Full Article