Outlander is officially in production for season 6, and details about the upcoming season are starting to emerge. Starz has released a season synopsis and announced three new cast members.
The network has also been sharing videos from the set on social media. While star Sam Heughan (Jamie Fraser) has shared the first behind-the-scenes photos.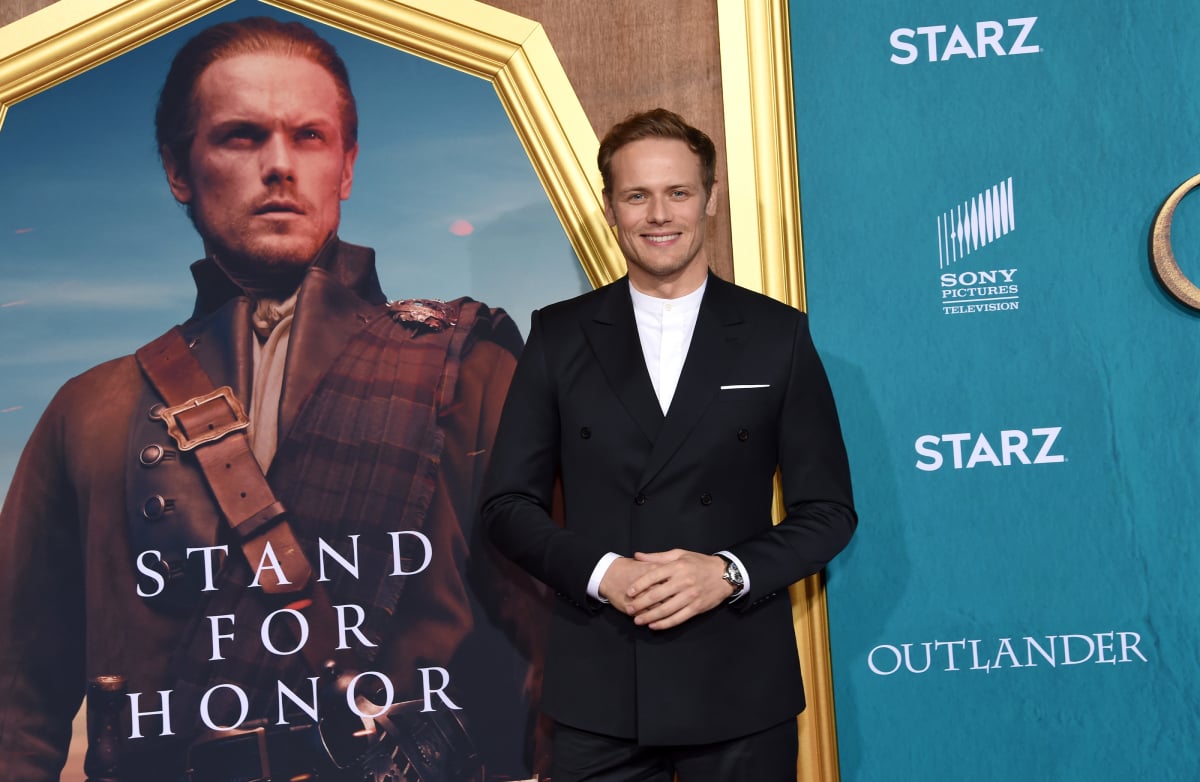 There are 'lots of new things' coming in season 6 of 'Outlander'
During the most recent episode of Heughan's road trip series Men In Kilts, fans got a peek at production on season 6 of Outlander. Starz shared a one-minute video that featured Heughan, Caitriona Balfe (Claire Fraser), Sophie Skelton (Brianna Fraser), and Richard Rankin (Roger Mackenzie) dishing on the upcoming season.
When Heughan asks Balfe what she is excited about, she says "lots of new things." Skelton added that there are "lots of new faces, new families." Specifically, season 6 will see the arrival of the Christies.
Who is the Christie family?
As the series enters Diana Gabaldon's sixth book A Breath of Snow and Ashes, fans will finally get to meet the Christies. They actually appear in book five The Fiery Cross, but the Starz series saved the characters for season 6.
The Christie family features dad Tom (Mark Lewis Jones), son Allan (Alexander Vlahos), and daughter Malva (Jessica Reynolds), who is actually Tom's niece.
They arrive at Fraser's Ridge because of Jamie Fraser's standing offer to help the former prisoners of Ardsmuir. Tom is a loyal scot who joined the Stuarts during the Jacobite Rising of 1745. He met Jamie when they were both imprisoned at Ardsmuir.
Sam Heughan shares photos from the set of 'Outlander'
Now that the cast and crew are nearly two months into production, photos and videos from the set are starting to surface. Heughan recently shared a couple of pics on Instagram to give fans a behind-the-scenes look.
In one pic, Heughan and Balfe are on set in full makeup and costume. In the other, they are being silly for the camera while in the makeup room.
https://www.instagram.com/p/CNArKDXAFYc/
"Season 6 and @caitrionabalfe has decided to take over and apply everyone's makeup. So far, it's going well.@outlander_starz," Heughan wrote in the caption.
There will be more turmoil in season 6
The new season of Outlander will see the lead up to the Revolutionary War as the Frasers continue to settle into their life in North Carolina. According to Express, Balfe says that it will be a "very exciting season."
"Everyone's starting to find their feet, and some are still struggling," Balfe said. "The underlying theme of this season is definitely that there's a lot more turmoil here," Heughan added.
As for the new characters, the Christies will bring some trouble to Fraser's Ridge. But when they first arrive, Reynolds says that Malva is "kind of in awe of Claire."
"I think when she gets to the ridge, she's heard so much about Jamie and she expects him to kind of be the hero of her story," Reynolds said. "And then she sees, then she sees the woman and she's like 'Oh no, I'm more interested in that.' There's an opening for an apprentice going, and I sneak in."
When will 'Outlander' season 6 premiere?
Because of massive production delays, the season 6 premiere of Outlander won't happen until late 2021 at the earliest. Starz has not yet announced a premiere date. They have, however, released an official synopsis.
"Claire and Jamie have built a home together at Fraser's Ridge," the synopsis reads. "They must now defend this home…not only from external forces, but also from the increasing strife and conflict in the community within their care."
Seasons 1 through 5 of Outlander are available on the Starz app and Amazon Prime Video.
Source: Read Full Article