[Spoilers for last night's Love Island ahead. If you haven't watched and don't want spoilers, hop out of this post, but if you want any more proof that you should DEF be watching this show, keep reading.]
The very first episode of the US version of Love Island (the dating show based on the UK series of the same name) premiered last night, and in the midst of this hot mess of a show, one pairing seems to be The Couple people are obsessed with.
In the very first coupling ceremony (learn more about what that means right over here), Yamen picked Alana when she stepped forward for him. All seemed well, but then the show pulled a twist and brought in Kyra after everyone had coupled up. She had 24 hours to pick a guy to couple up with, and her eye was definitely on Yamen.
Despite that, Yamen and Alana got along super well and seemed about as committed to each other as they could be after knowing each other for legit an hour. The episode ended on an absolute cliffhanger, with Kyra about to pick the guy she wanted to couple up with.
Not only is the internet absolutely pissed that she might pick Yamen, but they're already pulling for Alana and Yamen to win the whole thing. The cash prize is $100,000, FYI.
mom? dad? #loveislandusa pic.twitter.com/00E8b2PDEw
Based on first couples and videos, I really like Yamen, Alana, Cashel and Zac!!! #LoveIslandUSA
I wasn't ready for #LoveIslandUSA with the American accent, till I saw this …… #LoveIsland take note. Some of us are here for the black love ❤️❤️❤️ pic.twitter.com/8yN3ly55Ud
Alana was READY for Yamen.. #oh #loveislandusa
Like, people are seriously willing to fight if Kyra breaks the two of them up. Guys! It's been a day!
I'm not done with the episode but if Kiera splits these two up, we might have to fight #LoveIslandUSA pic.twitter.com/t8QIDd78fm
Alana and yamen with the glasses and bonnet 😂 I'm about to fight someone if they break up. Sooooo stinking cute! #LoveIslandUSA pic.twitter.com/6R1RoRsPw8
Who's already the cutest couple on the island? #LoveIslandUSA pic.twitter.com/5gHIqRxHNj
The GIF use! It's impeccable!
me @ kyra when she said she interested in yamen
#LoveIslandUSA pic.twitter.com/kKQxy8Sohk
Me getting ready to fight Kyra if she picks Yamen #LoveIslandUSA pic.twitter.com/FAOMyhzNPV
BLACK LOVE.. EPISODE ONE?? the simulation is bugging, thank you jesus #loveislandusa pic.twitter.com/4997CaZi1Z
If kyra gets between Yamen and Alana, we're going to have a problem #LoveIslandUSA pic.twitter.com/WLCKMXNJ2E
After one episode of #LoveIslandUSA I'm ready to fight for Yamen and Alana with all my heart. This couple must survive at all costs. pic.twitter.com/W5eJEjsvyi
LOL ALANA SAW YEMEN AND SAID #LoveIslandUSA pic.twitter.com/7aOrbdquD9
Want to clarify really quick that Yemen is a country while Yamen is the Love Island contestant.
I'm just watching the first episode and Kyra better not step near Yamen I stg #LoveIslandUSA
SO, will Kyra absolutely destroy the internet's favorite Love Island couple? Or is she going to swerve the potential drama and pick someone else? Tune in tonight to find out!
Love Island airs five nights a week on CBS, so catch TF up right TF now.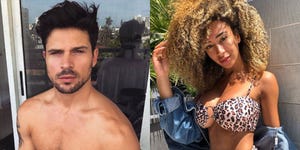 Source: Read Full Article