The Morning Show recap is here. The Oct. 1 episode of the Apple original series is currently streaming and that means there's more happening on the show within the show. In The Morning Show Season 2 Episode 3: "Laura," Alex Levy (Jennifer Aniston) and Bradley Jackson (Reese Witherspoon) are interviewed by one of season 2's new faces, Laura Peterson (Julianna Margulies). Meanwhile, UBA continues to push coronavirus (COVID-19) coverage aside.
[Spoiler alert: This article contains spoilers from The Morning Show Season 2 Episode 3: "Laura"]
'The Morning Show' Season 2 Episode 3: Laura Peterson asks Alex Levy about Mitch Kessler in an interview
According to AppleTV+, The Morning Show's 'Laura' episode is all about the lead-up to Levy's return in the midst of campaign season. But there's more to The Morning Show Season 2 episode than UBA hyping up her comeback. That means plastering a slightly cringe-worthy commercial all over New York City and sitting down for an interview. Levy spends an afternoon getting interviewed by Peterson, a star UBA anchor Aniston's character doesn't trust. 
When it's time for the interview Levy pulls what Chip Black (Mark Duplass) calls "diva" behavior and is 20 minutes late. But once the interview's underway Peterson doesn't hold back. She asks Levy about the nature of her relationship with Mitch Kessler (Steve Carell), her former co-anchor who exited the show following the #MeToo movement events in season 1. Levy visibly tenses up and hesitates before saying he was her best friend.
Later, Levy tells Black how upset she is that Peterson, a fellow anchor from the same network, implied she might've had a romantic relationship with Kessler. Black, her newly reinstated executive producer, assures her it probably won't make it to air. But, as it's later revealed, the question does make the final cut. Black gets creative in editing and removes Levy's slight hesitation before answering.
Sparks are flying between Reese Witherspoon's Bradley Jackson and Julianna Margulies' Laura Peterson in 'The Morning Show' Season 2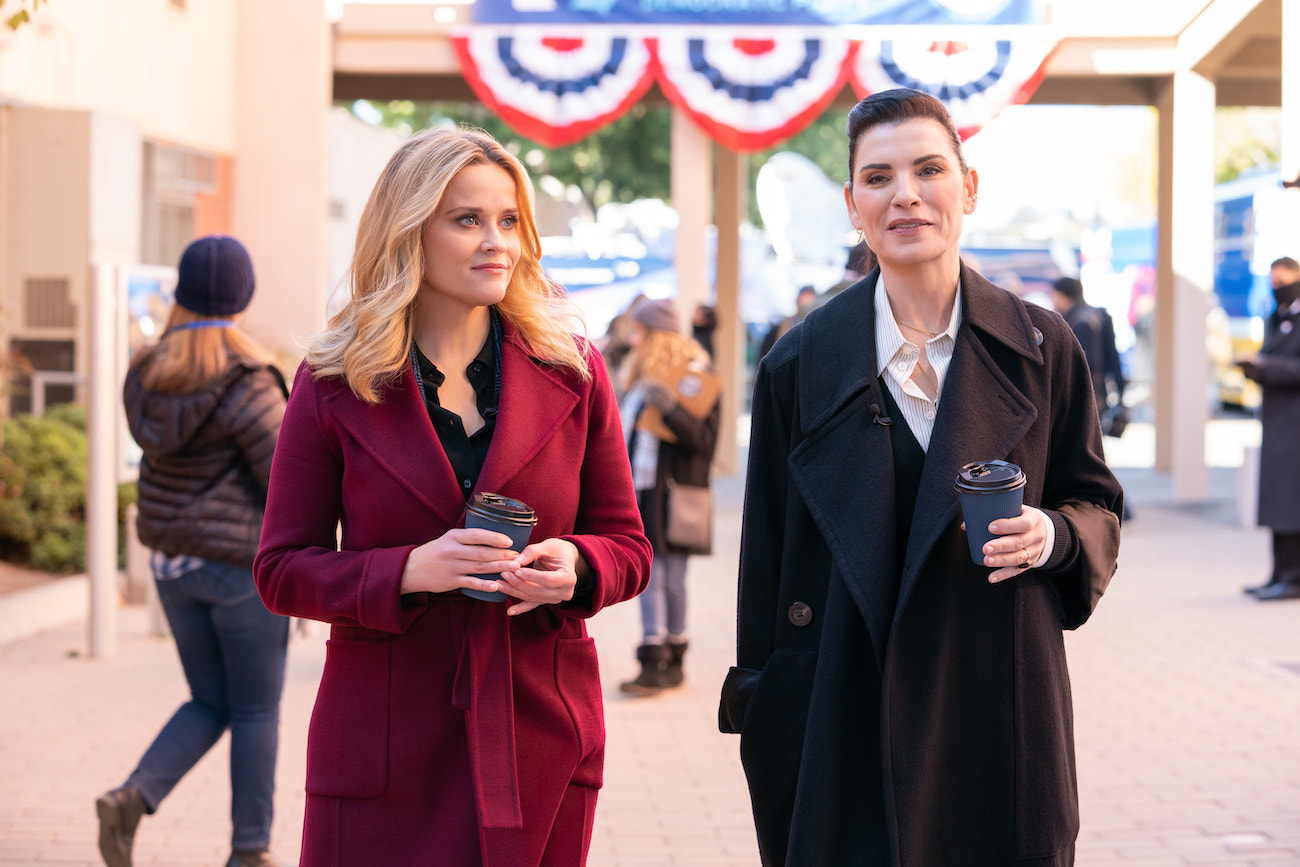 Levy's co-anchor doesn't feel the same about Peterson. Jackson doesn't have a history with the seasoned journalist and TV personality. So she dismisses Levy's warnings as she heads to Iowa with Peterson in tow.
The two women sip coffee during an on-camera interview where Jackson opens up about her career. Later, Peterson reveals UBA executive Cory Ellison (Billy Crudup) asked her to offer any advice she could on being an anchor. But, as she tells Jackson, after seeing her report on the Iowa caucus she's already "fun" and dynamic on camera.
Finally, when they're leaving Iowa and cameras aren't around, Peterson asks Jackson if UBA vetted her for the job. Instead of answering Jackson kisses Peterson.
The network's barely reporting on COVID-19 despite Daniel Henderson's objections
COVID-19 isn't really on UBA's radar at this point in The Morning Show Season 2. Yes, Daniel Henderson's (Desean Terry) reporting from China but the network doesn't devote much time to it.
Meanwhile, Henderson and his fellow UBA employees in China barely make it to a hotel where they have to quarantine for 14 days. On top of that, the mention of "social distancing" results in jokes from Jackson and Eric Nomani (Hasan Minhaj). 
Watch The Morning Show Season 2 on AppleTV+. A new episode drops every Friday at 12 a.m. PT, or 3 a.m. ET, on Apple's streaming service. 
Source: Read Full Article