As we all emotionally and spiritually prepare for the fifth and final season of Stranger Things, showrunners Matt and Ross Duffer announced that the Upside Down might not be done for good just yet. The duo recently spoke with Josh Horowitz on the Happy Sad Confused podcast about how they're "really jazzed" about the idea of a spinoff and mentioned it's "1000 percent different" from the original Stranger Things franchise. Okay, so if you're filled to the brim with questions like: (1) Will the Duffer Brothers be spearheading the series? (2) Does anyone know what this spinoff is going to be about? and/or (3) Will we see the original Hawkins bunch appear in any of the episodes? then wonder no more! Below is absolutely everything you need to know about the Stranger Things spinoff. Enjoy!
Who is in charge of this Stranger Things spinoff?
During this Monday's episode of the Happy Sad Confused podcast, the Duffer Brothers confirmed they're working on a spinoff with Netflix. Netflix also confirmed the news in a tweet on Wednesday.
A live-action Stranger Things spin-off series based on an original idea by The Duffer Brothers.
That said, and it's not necessarily something the Duffer Brothers will showrun exactly like Stranger Things. "Hopefully we find that right person to pass the baton to while we go on to do new stuff," they said.
Matt also added, "Even the idea of Ross and I, say, doing a pilot and leaving it, it just feels silly to me. You really need to be there from the beginning to end. I think we need to find a partner to help us with that." Okay, okay. Noted!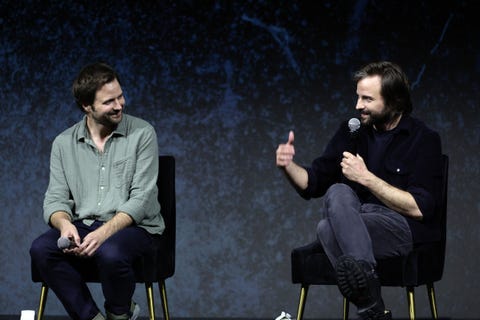 What will the Stranger Things spinoff be about?
Well, we do know that it's going to be "1,000 percent different" from the hit show that spawned it thanks to the deets spilled in that podcast interview.
"I've read these rumors that there's gonna be an Eleven spinoff, that there's gonna be a Steve and Dustin spinoff, or that it's another number. That's not interesting to me because we've done all that. We've spent I don't know how many hours exploring all of that. So it's very different," they said.
But in true Duffer Brothers fashion, they emphasized, "The most important connective tissue…is the storytelling sensibility of it. There is story that connects to the Stranger Things world, but it really is more about how we're telling that story."
So, basically, if you're super into that distinct '80s nostalgia ~vibe~ and the whole group-of-teen-friends-as-investigators trope that's so central to Stranger Things, you're probably gonna love this new show.
Is there anyone who knows about the secret plot?
After Matt and Ross initially teased ideas for expanding the show's universe in a February letter to fans—which also simultaneously announced the end of the Netflix show—people came out of the woodwork with guesses as to what it would focus on. However, it seems that the brothers have kept mum about exactly what they're cooking up, tot he point where the only person who does know what's up simply guessed it! And just who would that be, you might ask? None other than Finn Wolfhard.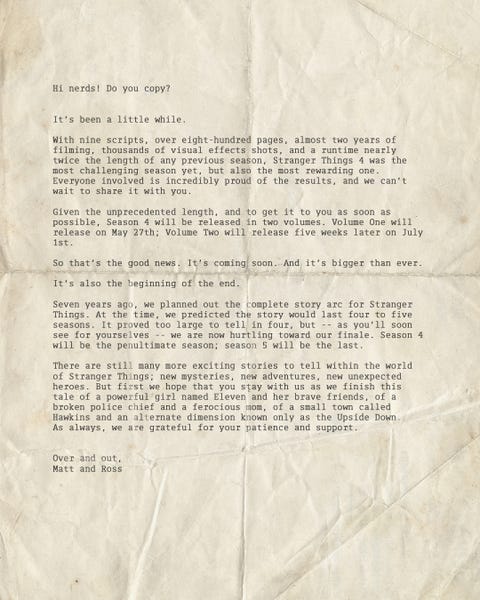 "We do have an idea for a spinoff that we're super excited about…but we haven't told anyone the idea yet, much less written it," the Duffer Brothers wrote in an emailed interview with Variety just last week. "We think everyone—including Netflix—will be surprised when they hear the concept, because it's very, very different. But somehow Finn Wolfhard—who is one crazy smart kid—correctly guessed what it was going to be about. But aside from Finn, no one else knows!"
Okay, so does this mean that by default all Mike Wheeler stans are superior? Because the logic is sound if you ask me!
Will the Stranger Things cast make cameos?
In May 2022, Finn revealed that the thought of appearing in a spinoff wasn't not something he'd be into. "I think if it was in 10 years or something like that, and there was a movie or a limited series, I think that'd be kind of cool," he told Digital Spy in a May 2022 interview. His co-star Charlie Heaton chimed in and noted that, at this point, he actually couldn't really picture joining another storyline in the same universe just yet, saying, "It'd be kind of weird to have a spinoff [now], you know?" *Sign* Can't relate, Charlie! I simply cannot relate.
That's pretty much all we know for now, but rest assured we'll be updating this story with any more deets as soon as they come out!
Source: Read Full Article