The relationship between Robert Redford and Paul Newman — two of the most legendary actors of all time — blossomed on-screen while working on an iconic movie together. Paul Newman was signed on to star in 1968's "Butch Cassidy and the Sundance Kid," and the studio wanted another established name to co-star with him on the buddy film. Both Steve McQueen and Marlon Brando were names executives wanted on the project, but Newman fought to have Redford – who was a newcomer at the time — play his sidekick, as Redford told Esquire in 2017. The two brought the best out of each other, which led to a blossoming friendship. "And then as the film went on, we both pushed aside our movie personas and just became friends," Redford told Esquire.
Besides mutual respect for each other's craft, Redford and Newman bonded over laughter. "We developed this relationship that was full of a lot of kidding and tricks played on each other, just great fun," Redford told Esquire. They maintained the friendship over decades, and Redford believed their bond even transcended Newman's death in 2008. "It turned into a longtime friendship that still exists, even though he's not with us anymore," the star revealed to the outlet.
Not long after the iconic "Butch Cassidy and the Sundance Kid," the two went on to collaborate on another classic film, but their friendship was forged off-screen. Keep reading to see why the two actors were so close.
How they bonded as friends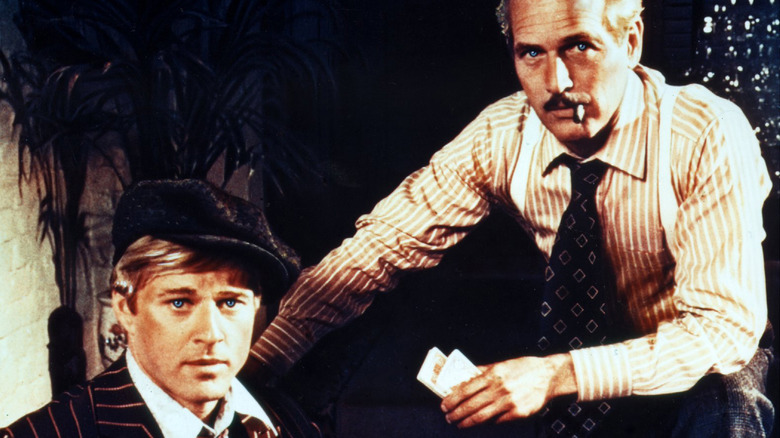 In 1973, Robert Redford and Paul Newman once again teamed up on the big screen for "The Sting" which was beloved by critics and audiences. "After 'Butch Cassidy' we became very close friends. 'The Sting just sort of fell into place naturally," Redford told the Toronto Star in 2015. Joint career success helped, but what truly cemented their friendship was the fact that Redford moved to Connecticut at the time, and lived only a mile away from his friend's home. This period made the actors incredibly close friends as they learned more about each other. "What we — I think what we found out over time was that the things that made us friends were — had a lot to do with values, what we saw as valuable in society," Redford told Esquire.
Although Newman was renowned for portraying measured characters who often possessed stoic qualities, Redford revealed that his friend was, in fact, quite anxious at most times. "He was a chatty, nervous guy who was always biting his fingernails," Redford told the Toronto Star. "He used to chain smoke, before he stopped smoking, and was always drinking beer. He was a very nervous guy." Another personality trait of Newman's that not many people saw — but was a staple in the actors' friendship — was that he was a jokester who relished pranks. Keep reading to see how Redford and Newman engaged in epic prank wars.
The joke gift Robert Redford bought Paul Newman for his birthday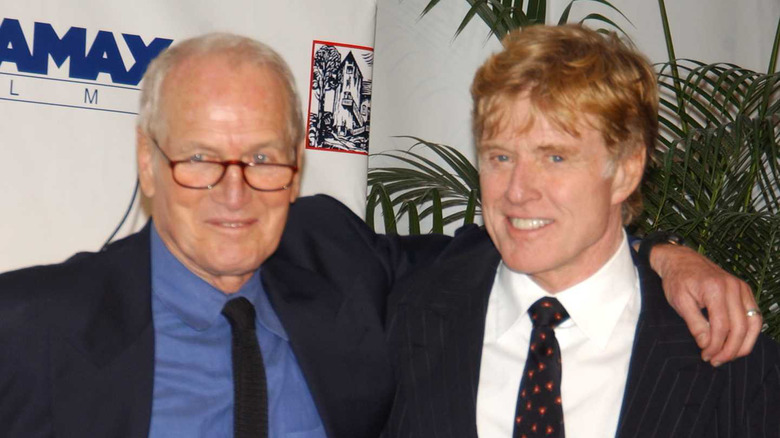 According to Robert Redford, his friend Paul Newman relished telling jokes, even if no one else was laughing. "The thing that moved along is that Paul really likes to have fun and he loves to laugh and he really especially loves to laugh at his own jokes, and some of them are just really awful," Redford said on "World News with Charles Gibson" after the screen legend died, per ABC News. Humor was a staple in their relationship, and they would prank each other.
Redford recalled buying Newman (a reputed car lover) a trashed Porsche when he turned 50-years-old, per ABC. The actor put a bow on the mangled car and left it outside Newman's house. "I had them wrap it up and leave it on his kitchen back step … with a ribbon around it, that said 'Happy 50th.'" Weeks later, Redford then came home to a surprise box in his home, which was filled with that same Porsche that had been compacted.
Redford had to hire workers to move the metal-filled box, which he then had commissioned by a sculptor to create an art piece that was left in Newman's garden. An unspoken rule between the two actors was that neither could mention the pranks they pulled off. "That would diminish it. No. The idea was you just never acknowledged it," Redford said. Besides jokes and hilarious pranks, Redford learned a valuable lesson from Newman.
The lasting impression Paul Newman made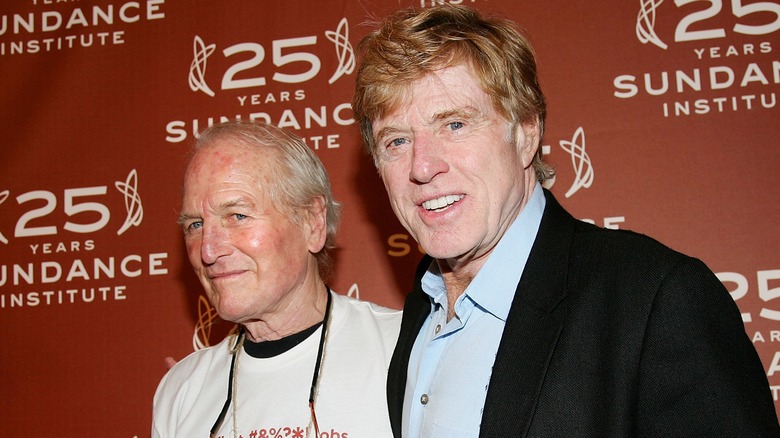 The two friends formed a dynamic on-screen duo, but they did not team up together after "The Sting" in 1973. "All these years went by and nobody came up with any ideas that were anything but corny and kind of low grade, so we just decided probably that wasn't going to happen," Robert Redford told the Los Angeles Times in 2005. The two almost reconnected for the film "A Walk in the Woods" in the late-2000s, but Paul Newman (who was 80 years old at the time) stepped down. "[T]hat made me sad but I had to accept what he said but we still maintained our friendship," Redford said during a TimesTalks Q&A (via Closer Weekly).
After Newman's death, Redford was asked by Esquire if his friend had imparted any valuable life lessons on him. "Well, he was a pretty big deal, and he was always humble," Redford said. "Friendship was very important to him, and being able to be a real person was very important to him," the actor added. Whenever Redford was interviewed about his late friend, the "All the President's Men" star was grateful. After Newman's death, Redford knew that scores of people would have positive stories, but few could understand their lasting connection. "[T]he durability and the length of this friendship has created a pretty deep root," Redford said on "World News with Charles Gibson" in 2008 (via ABC News). What a wonderful duo.
Source: Read Full Article