The Umbrella Academy season 2 features a memorable moment with Vanya (Elliot Page) hiding in a cornfield. But as revealed by the series showrunner, a logistical issue during production almost sent the scene sideways.
'The Umbrella Academy' season 2 takes the Hargreeves back to 1960s Texas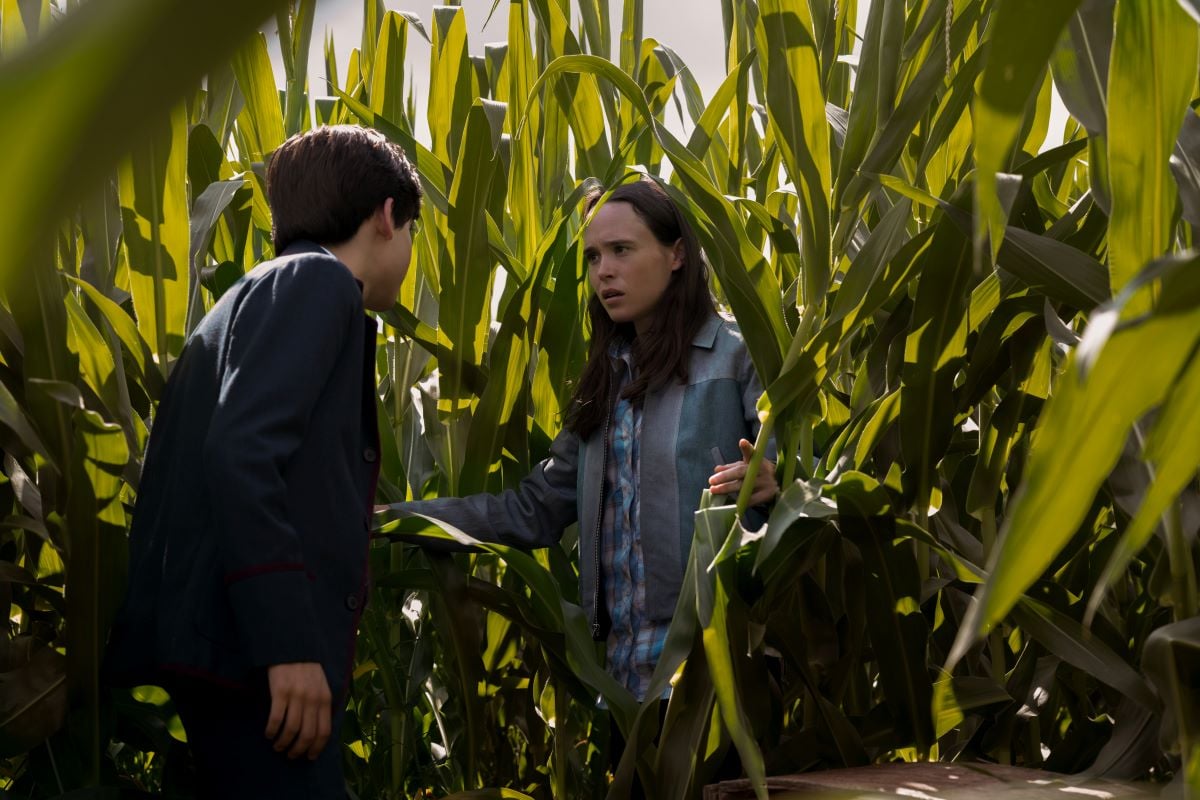 In the second season of The Umbrella Academy, the Hargreeve siblings are transported back in time to the 1960s. After suffering memory loss, a confused Vanya ends up living with Sissy (Marin Ireland) on her Texas ranch.
In episode 3, "The Swedish Job," Vanya goes out for a drive and ends up being chased down by the "Swedes." She pulls the car over and runs into a cornfield to hide. But when the Swedes begin shooting at her, Vanya inadvertently uses her powers to blast them away.
When Five (Aiden Gallagher) finds her there in the morning, he explains the situation. And as they walk out, they see how Vanya's powers flattened part of the cornfield into a crater.
'The Umbrella Academy' director reveals he encountered a scarce cornfield three weeks before filming the scene
According to The Umbrella Academy director Stephen Surjik, the production team had to design a cornfield to accommodate the cameras and equipment needed to film. "I was reading the scenes, and the scenes were a little bit different, where Vanya is being chased to buy the Swedish assassins from the future," he told Nerds and Beyond. "So I was saying we have to get a field that is designed that we can drive through, wide enough rows that we can get our lighting and all that stuff."
Surjik said the team spoke to a farmer and asked him to plant the corn according to their production requirements. But when the crew arrived on location three weeks before filming, the corn on the ground was only a few inches high.
"I looked down at the ground at the corn, and it was, I think, a second or third visit; it was like three inches high," he recalled. "And we were shooting for like three weeks. I mean, every time I tell this story, I don't believe it."
Luckily, the cornstalks grew up to nine feet tall in 17 days
With three weeks left before filming, Surjik spoke to the farmer, who assured him that the corn stalk would grow to size by the time they'd start shooting. But Surjik told Verve Times he wasn't confident that it would pan out. 
"I mean, we went up there, we took pictures, I was sick – I was sick!" The Umbrella Academy director admitted. "Because I didn't think it was going to be ready."
But much to his surprise, when the cast and crew arrived on location to film 17 days later, they found stalks of corn as tall as nine feet. "I was thinking, the corn is going to get up to three and a half, four feet – like very tall grass," Surjik said. "No. We go there, and it was eight and nine feet!"
"It was insane," he continued. "It was so high that it was dark inside when you walked through the rows…We had to deal with that. We had to light it differently. I never really understood the meaning of "genetically manipulated seeds," but I think that might be part of it right there."
Source: Read Full Article