Teens, YA lovers, (and yes, adults, too) might find their newest summer obsession in Amazon Prime's "Panic," a series based on the best-selling book by Lauren Oliver. With recent TV adaptations like "Shadow and Bone" hitting Netflix, it seems the time is ripe for young adult television — and positive reactions to "Panic" are only proving the point. Per Decider, "Panic" combines elements of "The Hunger Games" and "The Society" to tell the thrilling tale of a group of graduating seniors who compete in high-stakes challenges that they believe to be their only escape from a dead-end town. 
While the dangerous competition (aka "Panic") is exciting enough, the show's popularity is also thanks to stellar actors like Olivia Welch, Ray Nicholson, Jessica Sula, Mike Faist. and Camron Jones (via IMDb). Fans quickly fell in love with the budding love story playing out between leads Welch's Heather Nill and Nicholson's Ray Hall. "Not to be DRAMATIC but I would walk through hell for Ray Hall & Heather Nill," one dramatic fan tweeted. But, while the duo's chemistry lights up the screen, it might be the first time many of us have seen either Welch or Nicholson on TV. With that said, let's take a look at the man behind the cutoffs and curly hair. Who is Ray Nicholson IRL?
Ray Nicholson is the son of an acting legend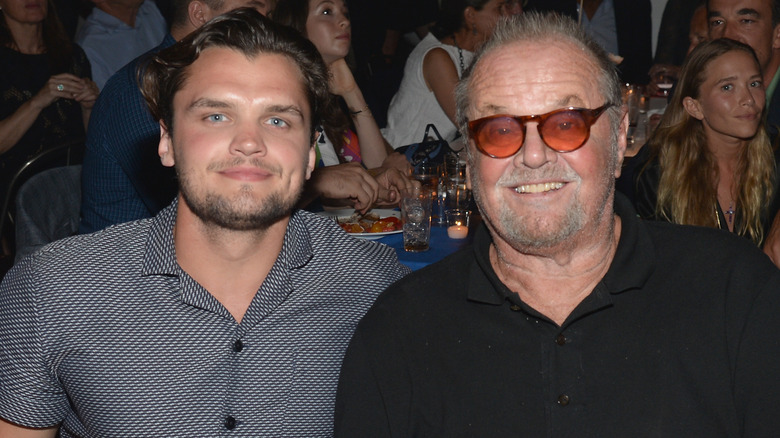 Anyone watching Ray Nicholson in "Panic" might be wondering where they have seen him before. Since "Panic" is his breakout role, you probably haven't — but his facial features and mannerisms are identical to acting legend Jack Nicholson. That's right! In case the last name wasn't giveaway enough, this is confirmation that Ray is Jack's son. And 'Ray' wasn't Jack's first choice for a name, either. According to a 1994 interview with Vanity Fair, Jack had grand plans to name his son "Landslide," but thankfully, his mother, Rebecca Broussard, put her foot down.
Where "Landslide" came from is anyone's guess, but maybe it had something to do with Ray's movie star good looks? "Ray may have a problem with being a little too good-looking," his proud papa told Vanity Fair. "Looks exactly like Rebecca. When he was born, he looked like one of the farmers in 'The Magnificent Seven.' He does move like me. There's a lot of body language on him." Jack added, "Most infants pretty much don't have chins. But Ray always had a jaw. You can't wait to get him into a collar or a shaving commercial." 
Even dressed down as a Texan teen on the set of "Panic," it's clear Ray has that Nicholson charm!
Ray Nicholson has an unconventional family life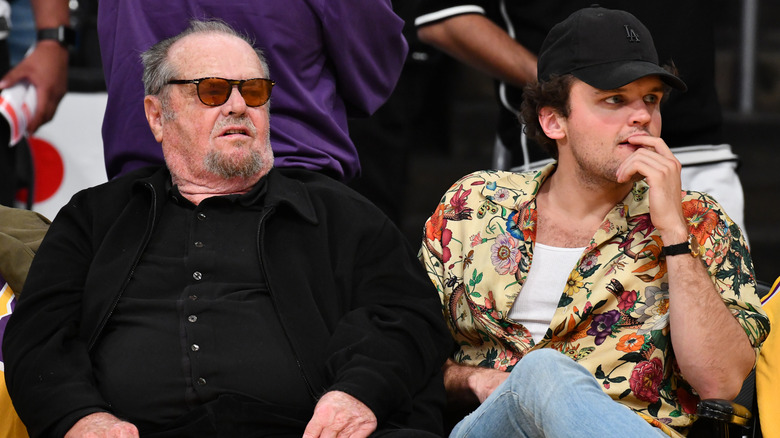 As one of Hollywood's most infamous womanizers, Jack Nicholson is known almost as much for his philandering ways as he is for his iconic movie roles. According to Vanity Fair, Jack impregnated Rebecca Broussard while he was in a long-term relationship with Anjelica Huston. He went on to have two children with Broussard — Lorraine and Ray Nicholson — and this blatant infidelity was too much for Huston. "I was going at him like a prizefighter, raining a vast array of direct punches," the actor revealed in her 2014 memoir "Watch Me" (via Vanity Fair), upon learning of Jack's affair.
Despite this romantic drama, and the fact that, at 84 years old, Jack is old enough to be Ray's grandfather, the two appear to be close. Neither has an active social media account, but they are regularly spotted sitting courtside together at Los Angeles Lakers games. Furthermore, Broussard told Vanity Fair that both Lorraine and Ray are "crazy" about their dad, who seems to be very involved in their lives. "I want to be inspirational, or some kind of good influence on them without overburdening them," Jack told AARP Magazine (via Closer Weekly) of his five children with four different women: Jennifer, Caleb, Honey, Lorraine, and Ray. 
Of Ray in particular, Jack noted fondly that "once he's got his mind set on something, he's gonna stick to it and take care of business, no matter what me or anybody else says" (via Closer Weekly).
Ray Nicholson redefined the role of Ray Hall in 'Panic'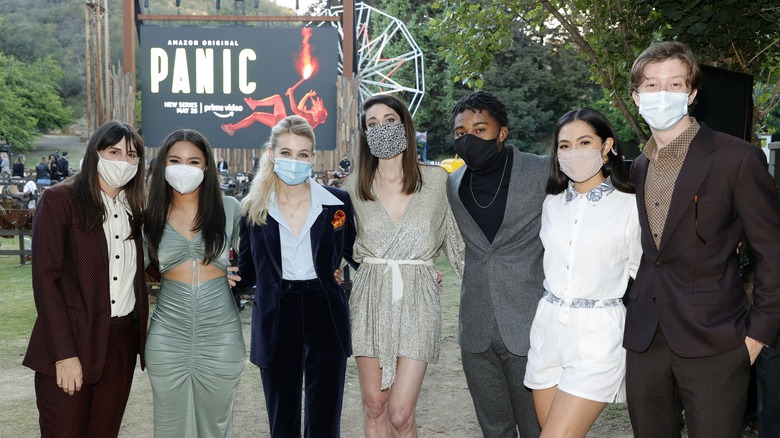 Ray Nicholson might share more than just a love for the Los Angeles Lakers with his dad. Judging by his performance in Amazon Prime Video's "Panic," he has a knack for making villainous characters seem sympathetic and even compelling. For example, in the book version of "Panic," the character of Ray Hall has a much different storyline than the one Nicholson brings to life onscreen, and this is because of the actor's determination to flesh out his story arc. Per Comic Book, Nicholson sat down with author Lauren Oliver to hammer out "where his character was going."
"Lauren made a joke that Ray was originally the character that didn't have an arc, he was just the d**k," Nicholson said in the 2021 interview. "She gave me an opportunity to do something different with that, which was really fun." This something different had to do with the fact that people naturally only reveal certain sides of themselves at any given time. "I latched onto the idea that we see very limited parts of people," Nicholson explained (per Comic Book). "In school, Ray is seen as a d**k, but behind the curtain, he's been abandoned by his parents… So there's a lot of rage and responsibility and love … that maybe he's afraid of showing, and the games give him an opportunity to change." Undoubtedly, it's Nicholson's nuanced and powerful performance as Ray Hall that had fans shipping his character with Heather Nill.
Ray Nicholson might be a method actor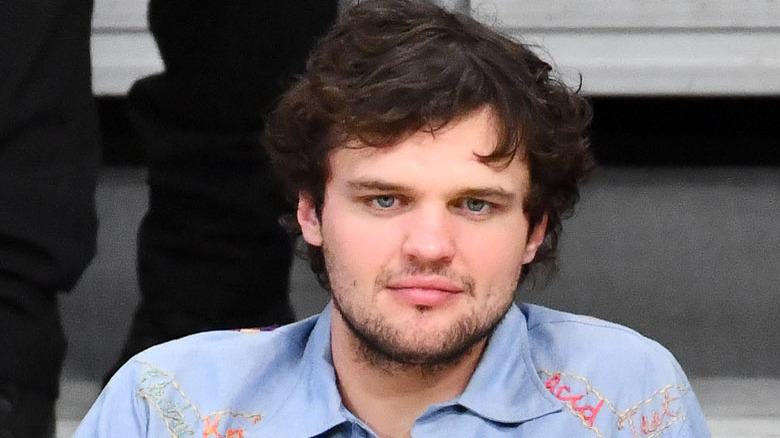 Because he was determined to make the character of Ray Hall come alive, Ray Nicholson went above and beyond to commit to his role. During a 2021 interview with Steve Varley to promote "Panic," he explained how he channeled Ray's unapologetic attitude at an audition — and how it paid off in the end! 
"We had several callbacks, and for the last callback, my manager was like, 'Ray you're real close,'" he revealed. Then, disaster struck when, "I was on the way to the audition and my phone ran out of battery. I had no idea where the audition was, so I was really late trying to charge my phone in this random place across the street. I was freaking out," he added. But he understood his character well enough to know that "Ray wouldn't apologize," so Nicholson never said sorry for turning up so late. It probably wasn't the true reason why he ended up clinching the role, but maybe it showed his knack for getting into Ray's head.
That said, Nicholson comes across much kinder in interviews than his bad boy alter ego. Despite Ray's bravado and bullying behavior, he's hopeful fans can find something to relate to in his character. "Maybe that's the best thing you can take from something, 'Oh, I identify with this,'" he told Comic Book. "I think that if a couple of people identify with my character, I'd be really, really, happy."
Ray Nicholson's star is on the rise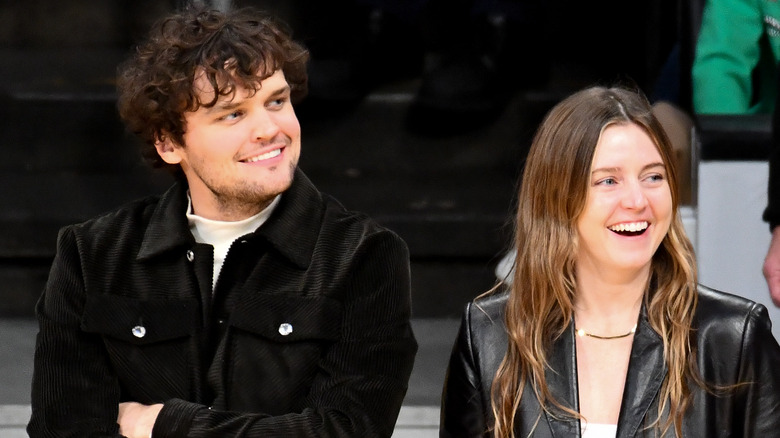 "Panic" is Ray Nicholson's first leading role, but it's not his first foray into acting. Maybe he was bitten by the acting bug early, as dad Jack Nicholson revealed that his son has always been "very comfortable around show business," per Closer Weekly. According to IMDb, Ray had a small part as "Kid Catcher #1" in the 2006 raunchy sports comedy "The Benchwarmers," but it was not until the 2010s that his acting career started taking off. Per IMDb, he landed his stride in 2018 with a recurring role on "Mayans M.C." as Hallorann, following up on that project with a role as Jim in 2020's "Promising Young Woman." The film went on to be nominated for Best Picture at the 2021 Academy Awards. 
Next up, Just Jared reports that Ray has "already filmed an upcoming movie called 'Where Are You,' which also stars Anthony Hopkins, Madeline Brewer, and Angela Sarafyan." Sounds like Ray is blossoming as an actor and starting to step out of his dad's shadow!
Source: Read Full Article