"It can cost you four to six pounds to travel to another city, and that four to six pounds can change your life." This is what Nottingham-based director, Mullz, said when asked about his process of joining the fashion, music, and events collective, LostBoys Channel.
If you're not from the UK, you're likely never to have visited the city of Nottingham at one point in your life. The city's melting pot of cultural value to the rest of the UK often goes under the radar – it's a big student town, with Fresher's Week at Rock City, Coco Tang, and Pryzm regularly rocking, much like the city's smallest, 36-capacity pub, Beerheadz. From the street art plastered on the walls around the Lace Market to the vintage and sneaker stores located around Bridlesmith Gate, Notts is a city built on community, creativity, and togetherness like no other.
Nottingham's association with fashion stems back decades, too. The 0115 is the home of arguably the city's most famous native, Paul Smith, with the Beeston-born designer starting his fashion career in a clothing warehouse in Nottingham in 1970. By 1976, Smith showcased his first menswear collection in Paris under the Paul Smith label and in 1998, presented his first women's collection at London Fashion Week.
However, over recent years, interests have changed around the UK; the youth of today crave content constantly, whether that's music, clothing, or a new party to attend on a Friday night. That's where LostBoys Channel comes in, who since its inception, has stood by its slogan: "Kool Kids Never Die."
Comprising ten members; 5EB, Marts, S5, Luke Akoto, Mullz, Migg, Chef, Fez, Ronin, and Eddz, Hypebeast recently took a trip to Nottingham to link up with the group, connecting in the collective's office, based in the heart of the city. With music blasting – in the form of LostBoys member, Chef's latest mix – and plenty of smoke in the air, this office is where ideas from Notts are untied and let loose into the world.1 of 3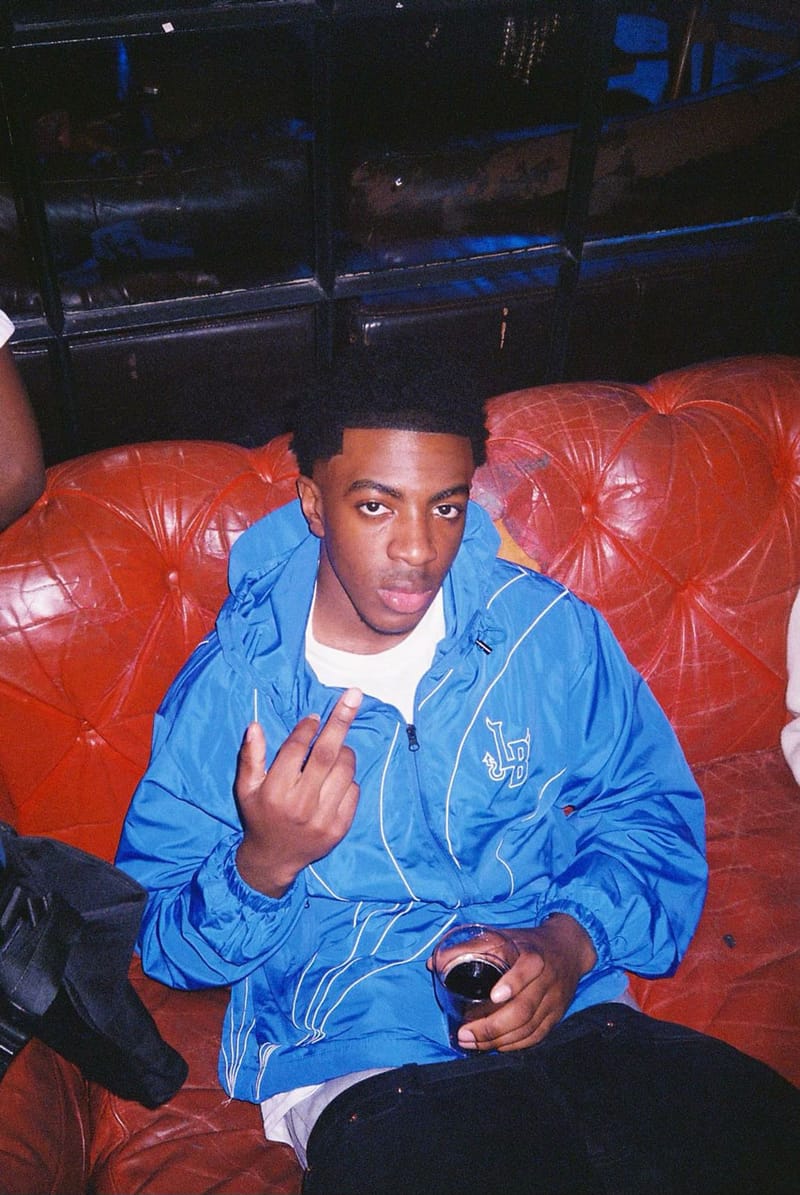 @migg._2 of 3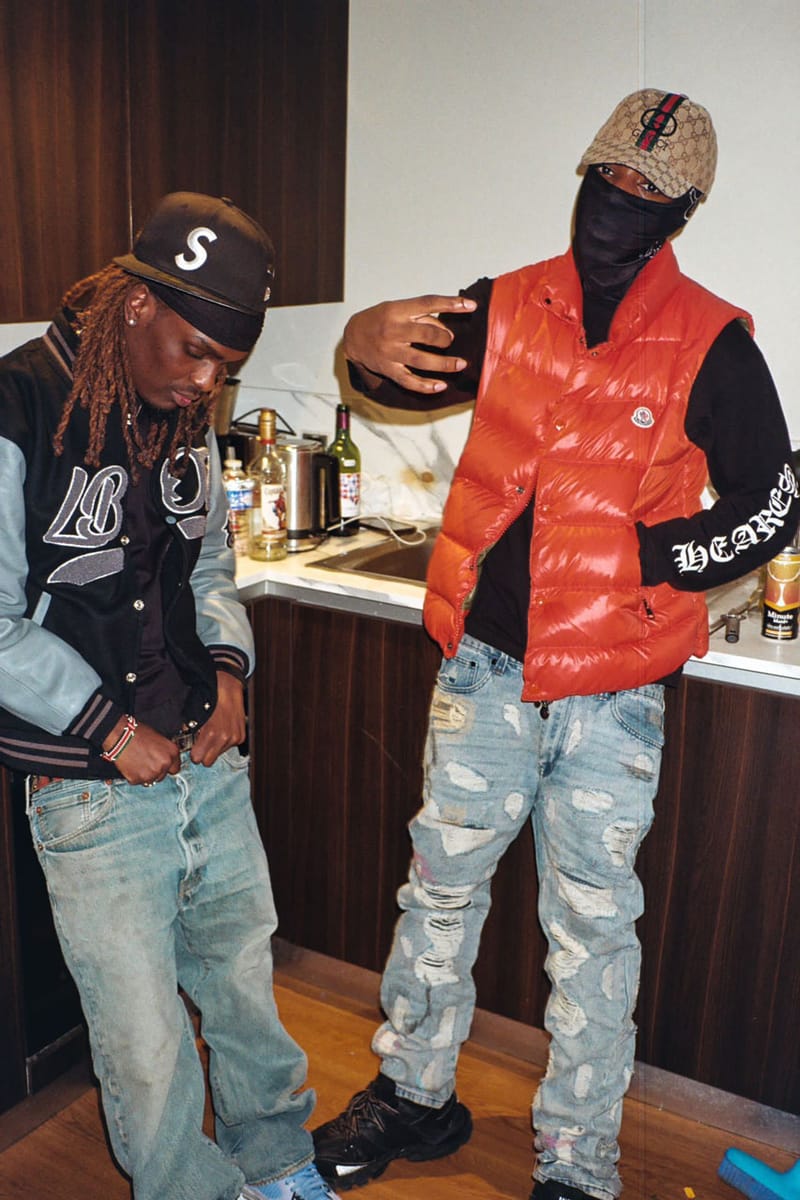 @migg._3 of 3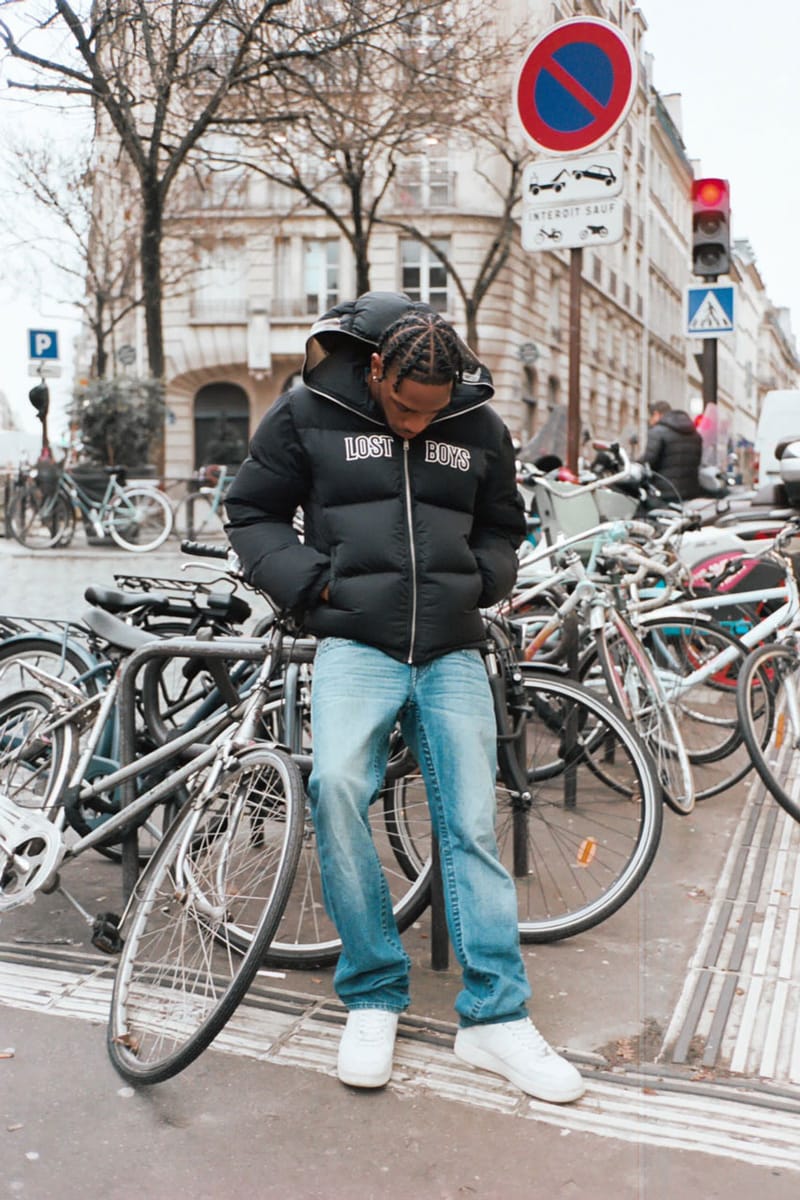 @migg._
"Every serious idea we've ever created has come from this room, this is the place where business means business – sometimes we may disagree, but if we do, we literally push all the furniture to the side and swing it out in the middle of the room [laughs]," LostBoys' Creative Director, Eddz said.
"But when we say fall-outs, we don't actually fall out," fellow Lost Boy and musician S5 added. "If I actually fell out with these man, I don't have a clue where I'd go. This is all I know – I wake up, eat, sleep LostBoys. This is all tatted on us – if I fall out with these guys, I'd have to chop my arm off."
This loyalty and family-like community has been built over almost a decade. Once part of a rap group named 0115, LostBoys members Eddz and Fez formed "one of the biggest rap groups to come from Nottingham," Chef says. "They were putting on shows in 2016, and I knew Eddz from secondary school. Myself and Ronin had our own events company – which was one of the first trap music events in Notts.
"Growing up in the ends, seeing your mum and your family struggle, you take it on. We're all men, it's a natural thing to make sure we change our destiny."
"There wasn't really a scene for that at the time and we did the first event – we booked 0115 to do a set there – speakers weren't working and they didn't even get to perform. Afterwards, Eddz got in touch and got everyone together. We all met in Broadway Cinema and we realized that we all had the same vision and that we should come together to do something.
"S5 came into the group about two years ago and started rolling with us heavy. If I had to describe him… there's no way. Nobody is doing things like him. Mullz then joined the group, he was messaging me and Eddz. He produces, and he made a song with Dig Dat and Headie One, sent it to me, and told us he made it. He sent it to me off a private account with no pictures! So, I tried managing him, he came to one of our parties on his own, and since then, he's been with us.
"Everyone that's been added to the group has been added for a reason. It's all happened by fate. Even with Luke, my brother was watching his TikToks and said I should give him some garms, so he pulled up to the office and since then, he's been rolling. It doesn't even matter if someone got added today, if you're involved in LostBoys then you're my brother, family."1 of 3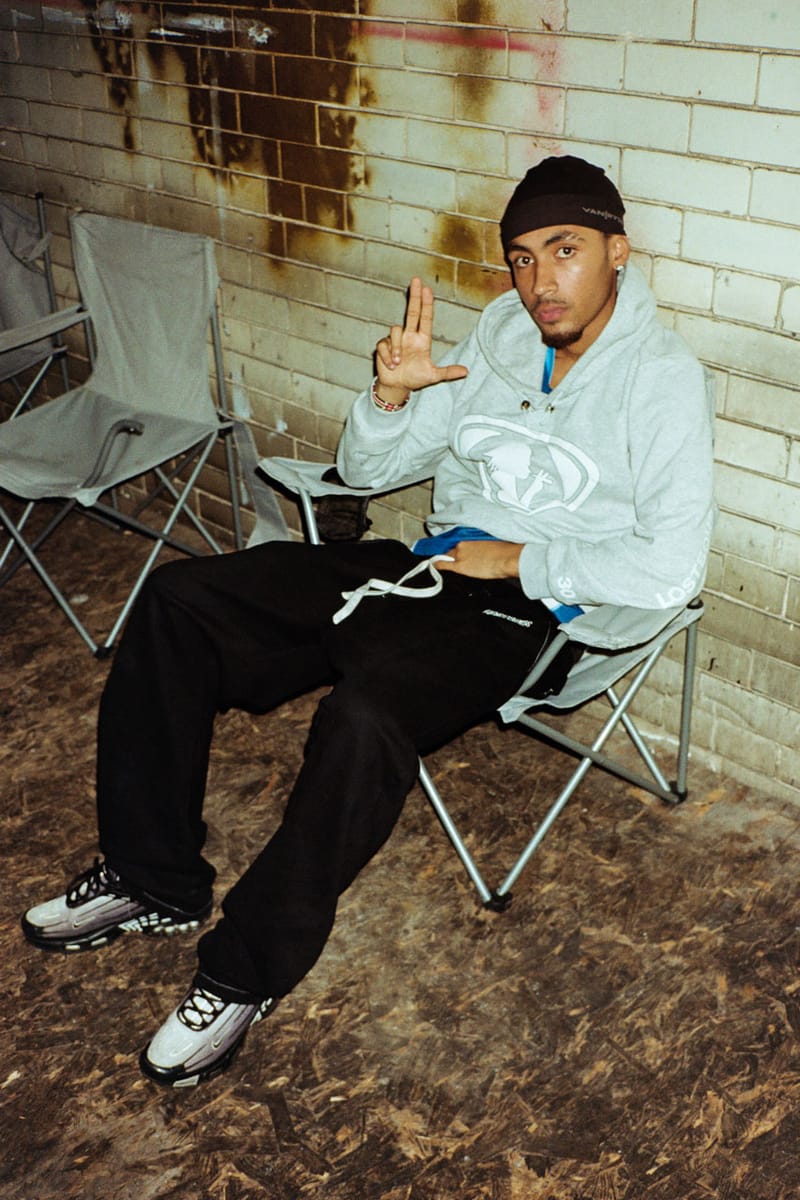 @migg._2 of 3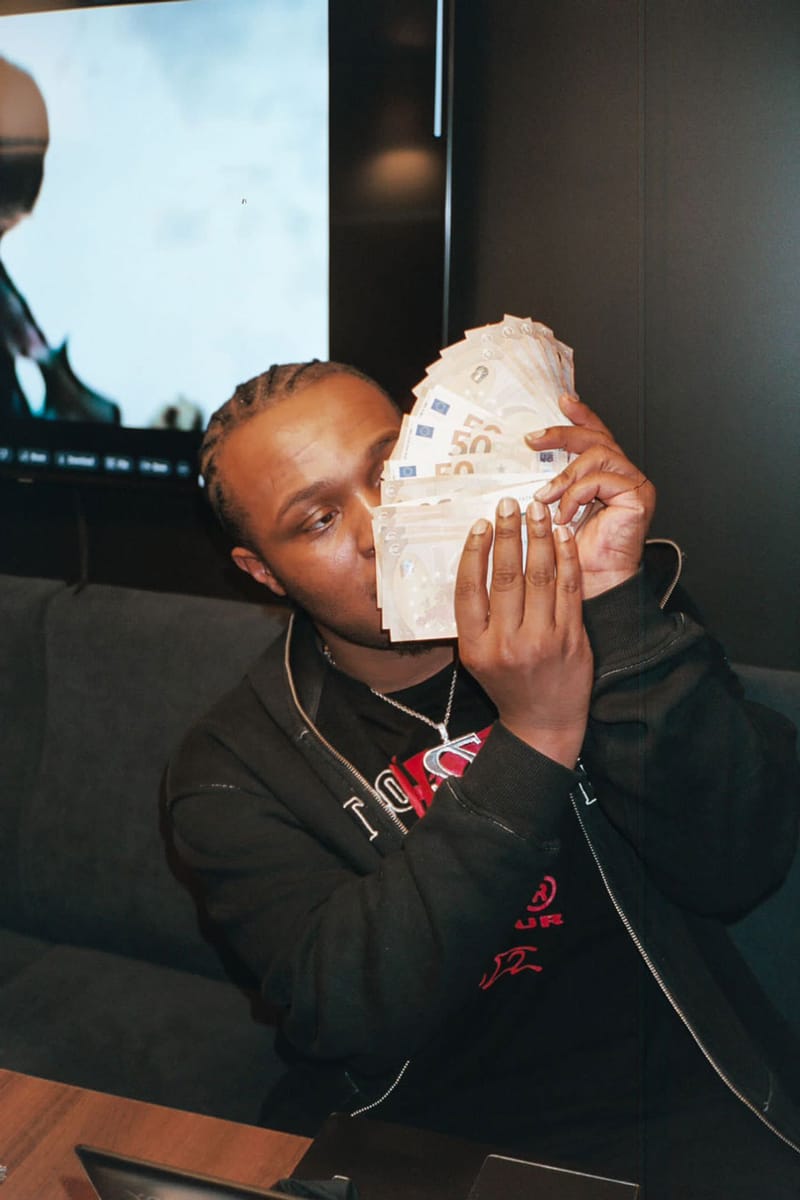 @migg._3 of 3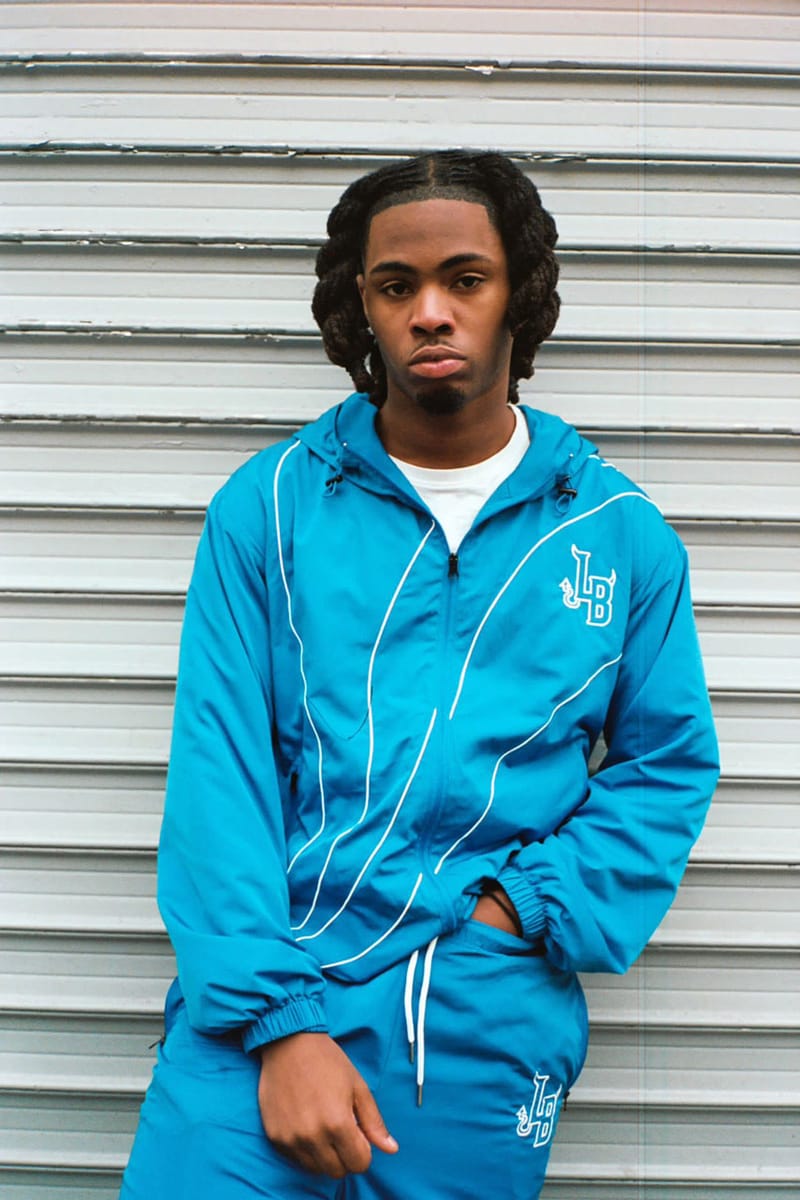 @migg._
Creativity is at the core of everything LostBoys does, but there's a sense of maturity that seems to be years ahead of their visible youth. The group ranges from the ages of 18 to 25, yet each member's input is solidified, with a skill set and an attention to detail that each member has acquired since being a child.
"Growing up on the ends makes you grow up, quick," Mullz says, while passing a blunt, "You see things, even with family history – outside of the creative stuff – it's just real life. Our passion is that high for this, we don't let where we come from stop us from doing what we need to do. That's why I'm so mature, but I think it's the same for everyone."
"Just being from Nottingham," s5 adds. "There's nothing here, you may go to one little sky bar, but other than that, you don't go anywhere. You have to make something out of nothing. So, when I met these guys, we all had the same drive. We support each other and we all see a tunnel vision that we all understand. Through that, we've built an unstoppable force.
"When people go to university in Nottingham and say "it's lit", I get that. But growing up here, there's nothing. To some people, London is a holiday – and I get it, but as Mullz said, growing up in the ends, seeing your mum and your family struggle, you take it on. We're all men, it's a natural thing to make sure we change our destiny."
"There's so much talent here, we're like the UK version of Atlanta. So, I want us to get the other people out of the ends and show them that they can make a change."
When meeting the eye, it's hard to disagree with the lack of opportunities that come from Nottingham – with the city's crime rate sitting at 95% compared to the national average – however, music has always been a key driving force for opening doors to the rest of the UK.
For example, Young T and Bugsey – who have an international hit single that even appeared on one of Barack Obama's summer playlists – stand as living proof that talent can never be boxed in. "At the start, the only people we had to look at were Young T and Bugsey," Chef said. "They're from the ends in Nottingham and were the first people from where we're from to gain attention outside of Nottingham. We used to see these guys on the bus and they were talking about all of the things they were going to do – and they did it. So if they could do it, we could."1 of 2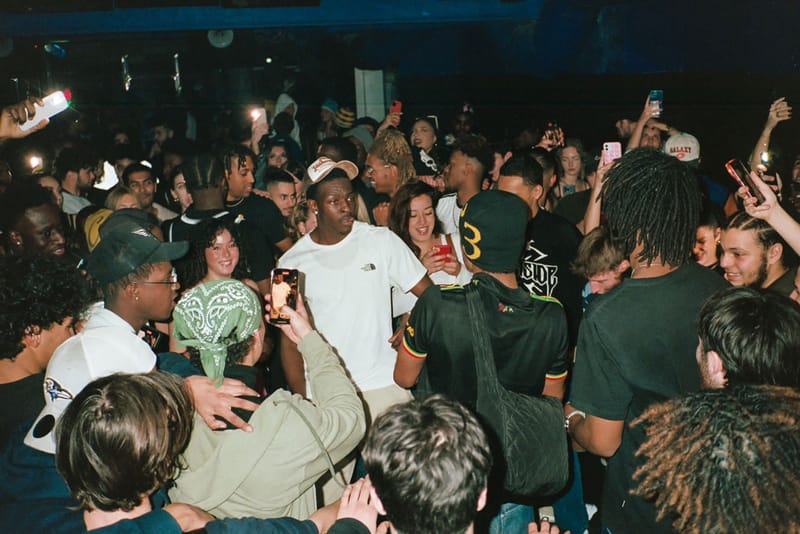 @migg._2 of 2
@migg._
The underlying theme in Nottingham's identity always stems back to community. Even before the inception of LostBoys, the group would often cross paths at the same recording studios, using the location as a hub for creativity and escape. "We were in other groups before, but we would all go to the same recording studios – with the likes of Young T and Bugsey – and everyone would come from that same spot," Eddz said.
"We all realized we had the same fashion and music taste, so it was honestly like fate. All of us are compatible, so we have built our own community and watched people grow. We also realized that it's important to remember where we come from. Yeah, we're from Nottingham, and we want people to know that. There's so much talent here, we're like the UK version of Atlanta. So, I want us to get the other people out of the ends and show them that they can make a change."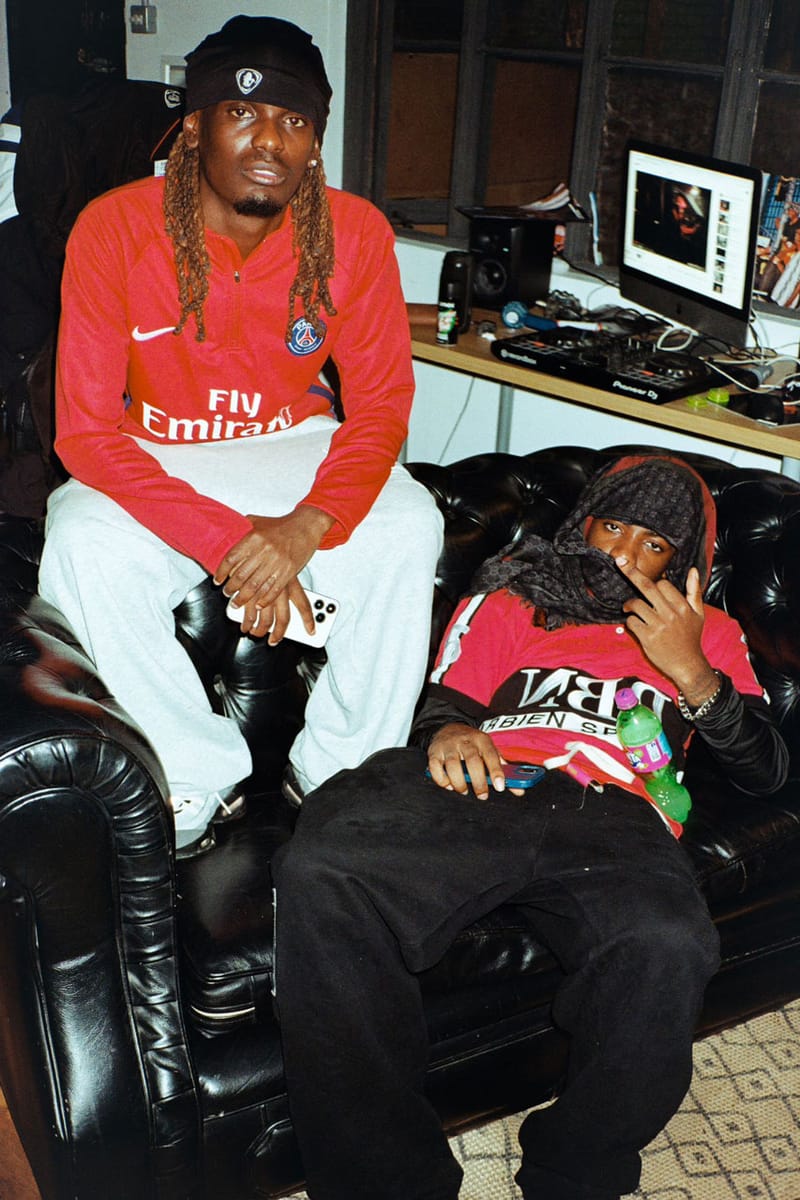 @migg._
While LostBoys Channel has grown from strength to strength through the launches of its innovative parties and events – take its most recent LostBoys "Last Boat Party" at Festival Pier, for example – the collective has been able to build a solid community of followers through its streetwear collections.
Described as drops that "bring fashion to the hood," LostBoys' sharp eye for fashion and current trends often take inspiration from football, unveiling branded jerseys adorned with customary branding and motifs. Additionally, the brand's regular tracksuit drops have solidified themselves as a mainstay, becoming the go-to uniform for those who want to let others know where they're from, in and outside of Notts.
Luke Akoto, marketer, model, and leader of LostBoys' Lost Files umbrella, said: "The clothing has only really started to go crazy this year, but when you see the clothing on someone in the ends, it's crazy. It's weird for me because I'm not from Nottingham, I'm from London. But, even in London, it's the same – I see it just as much there. London, Notts, and Manchester, we have the same presence. We get people sending pictures of their full collections! We just want people to feel inspired by us, enough for them to start their own brands and do something like we've done."
View this post on Instagram

A post shared by Lostboys Channel (@lostboyschannel)
For LostBoys to build the craze they have around its clothing, is an impressive thing. The current world of UK streetwear is more saturated than ever, and the collective mutually agree on doing things on "their own terms."
"If we ever have the opportunity to present a real show at Paris Fashion Week, we would have to do it in a way and location that represents us and where we come from to the fullest. We would take it to the block," Chef said.
Now, LostBoys find themselves in a good place. With further collections in the pipeline to drop in the coming weeks, along with parties and in-person installations – the success that has come – and is coming – will only be reinvested into the group and those closest around them. "My mum has never really understood, in its full entirety, what we do," S5 laughs. "But, I know the mission and I love the times she has to guess what we're doing because when the rewards come, she'll be the one that gets them. My mum, and these guys, these are the only people I care about."
So, what's next for LostBoys Channel? The group intends to navigate the industry by being themselves. "You know a LostBoy when they walk into the room, when they walk into the party." LostBoys' Creative Director, Eddz said. "We're going to keep doing us. We go out and we come back to this office. This is where the home is, and we know that every time we step out."
Source: Read Full Article